Last Updated on June 2, 2021 by Christine Kaaloa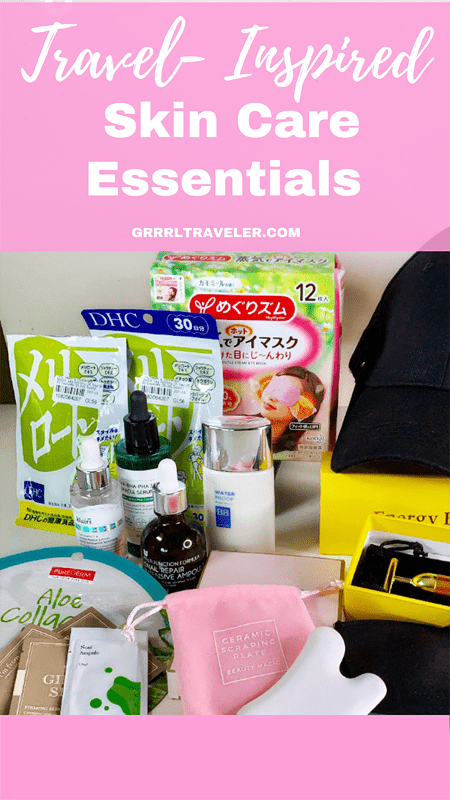 What are travel skin care essentials do you take with you in your travels? Long haul flights and changing weather environments can wreak havoc on your skin. So I thought I'd share my a travel-inspired skin care essentials and beauty haul, which helps me stay camera ready when i'm travel and filming my youtube videos.
Travel Inspired Skin Care Essentials you need in your Carry-on
Dear Klairs, Freshly Juiced Vitamin Drop 35ml
After a long haul flight- hours of dehydration, lack of sleep and a bad diet- I look to Dear Klairs, Freshly Juiced Vitamin Drop to revive my complexion and rehydrate me. Why?  The benefits of Vitamin C serum is skin brightening and collagen restoration, which helps revive haggard skin.   Containing 5% Vitamin C, it's gentle enough for sensitive skin and it goes on warm (yes, it feels like it's heat activated) and buttery.
The Faceshop Waterproof BB Cream
How do Koreans achieve glass skin?  Faceshop waterproof BB cream. Looking to keep your face camera ready even after a gym workout, a swim at the beach or traveling humid countries like India or Thailand?  There are many benefits of Faceshop BB cream, but the best BB cream to pack for summer travel, swimming and active travelers is Faceshop waterproof BB cream.  It lasts through sweat and humid weather, has moisturizer and protects skin from UV rays with SPF50+. At first I wasn't sure if i'd like it because it comes out watery. But it this means it spreads easily, covers imperfections, doesn't clog pores, hydrates and feels sheer and lightweight. I never feel like I have anything on.  It was discontinued for a while so i had to use my old one sparingly (i've made one bottle last years by using it only for travel and special occasions!) Thankfully, Yesstyle has stocked it again.  Colors: Natural and Light beige.
Some By Mi, AHA, BHA, PHA 30 Days Miracle Serum
Some By Mi, AHA, BHA, PHA 30 Days Miracle Serum is concentrated tea tree serum says it changes the condition of your skin in 30 days! I'm a fan of tea tree oil and occasionally travel with it or melaleuca, because it is an antiseptic. In this serum, it minimizes pores and if you're prone to breakouts, this helps.  AHA helps slough off dead skin, PHA is to retain moisture and BHA removes excess sebum. Other active ingredients: Gotu Kola, melaleuca, green tea.
Beauty Tip: You can use this in a variety of ways from making a night face mask, hydrating mist,  rice face mask and more.  See the video below:
Gua Sha : Liftly Ceramic Massage Tool
This ceramic message tool (aka gua sha) contains multiple curves for massaging the face, the chin and the neck for a lifting and slimming experience.  Gua sha boosts circulation and drains lymph towards the neck. It's great for pressure points around the eye and relaxing before bed.
Thailia Beauty Bar 24k Golden Pulse Facial Massager
Gold-tone facial massager comes in a sleek T shape and helps tone skin. The device vibrates 6,000 times per minute to massage skin and improve blood circulation.  Helps my skin to absorb the skin care products better. Requires one AA battery.
I will link these products below and if you use my referral code, you'll get an extra discount off your first time purchase!
Kao MegRhythm Steam Eye Mask
Kao MegRhythm Steam Eye Mask are gentle Japanese self-heating masks which rest computer strained and sleep deprived eyes. It warms to a comfortable 40 degrees,  just by opening the individual packet, slip over closed eyes for 15-20 minutes.
Pack this in your in-flight bag or travel luggage for when your eyes are computer-strained or for use before bed time when you want to feel well-rested for the next day of sightseeing. They come in 7 different types of scents (there is non scented also). 12 pcs in one box.
DHC Melilot, Leg Slimming
DHC Vitamins are popular quality vitamins and supplements from Japan and they are small. Formulated with coumarin-rich sweet clover extract, java tea, gingko leaf, these capsules promote blood circulation and release toxins that causes swelling in the lower body and legs. 30 day supply.
Baseball Cap with Face Shield
I want to be protected but as a travel vlogger, it's ideal for viewers to see my face (*think airlines food reviews*). So I got this baseball cap with face shield. The cap is free size with adjustable back. The vinyl is medium thickness and I like that it has visibility so you can see my face and I can see what's in front of me.  It's got a nice framing look to help round faces appear elongated, which is why I prefer baseball caps (vs trucker or anything else)! Cons: The shield stops a little short. Either way, I'll still likely wear my mask.
Ace Cap, Hat with Face Shield
I thought of this more for my mom, but she didn't want to look like a stereotypical ajumma.  The Ace Cap with face shield is a Korean branded bucket hat. The synthetic fabric is a little scratchy, but the clear PVC shield is sewn in and offers full coverage around the face and height-wise too. Seems like it would do a good job keeping water droplets out without obstructing vision.
Use my Yesstyle Rewards Code:

GRRRLTRAVEL

for a discount. What are your travel skin care essentials?