Last Updated on May 23, 2021 by Christine Kaaloa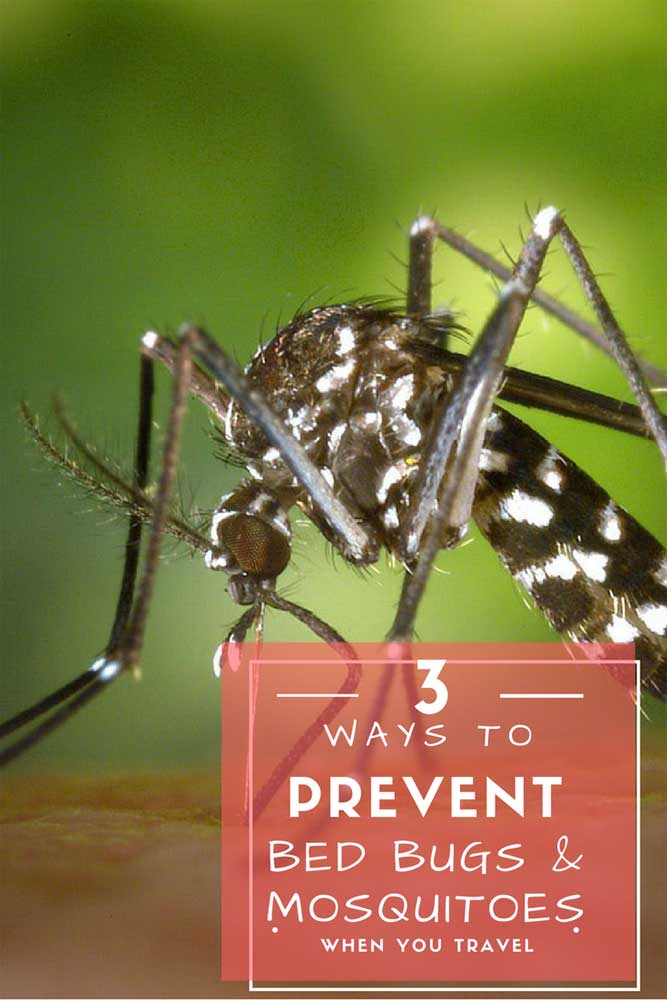 Mosquitoes, bed bugs, head lice,… oh my!
When my girlfriend returned from Costa Rica with a souvenir case of "bed bugs", it threw my traveler's hypochondria into a panic. I was nearing my Thailand trip and my budget agenda entailed hostels, guesthouses and trekking in the mountains.
Knowing that a travel buddy had fallen to bed bug bites – despite her religious safety precautions-warranted a call to my travel doctor for possible bed bug solutions.
How do you prevent bed bugs when you travel? Until then, I carried little travel- sized bottles of Febreze. That does no more than kill germs which create bacterial odor.
Ways to prevent bed bugs when you travel
This comes as either a spray-pump, spray bottle or aerosol that lets you administer water-proof bug repellent to your clothing,  sleeping liner, bags, etc… to keep away mosquitos and bed bugs. It does something like mosquito repellent and Ex-Officio BugAway clothing and lasts up to 6 washes.  Permethrin is a strong (and kinda toxic) agent, so try not to get it on your skin. Read more FAQ here.
It's definitely not a spray on your bed and immediately roll around in type of thing. After you spray it, you have to let it dry. This only treats clothing material and it is advised to apply Deet repellent to your skin in addition.  You can find it on Amazon here.
Solumel Melaleuca
Sol-U-Mel
is not sold in stores (it's sold a bit like Amway;  occasionally you can find some sellers online). Nurses and moms swear by it, as an effective all-purpose 'problem-solving' agent. Not only can it "kill bugs dead" but does so gently and without hurting you. This is an exciting "off-the-record" medical tip I received from both, my travel doctor and nurse.
You can apply its spray to your skin, clothing or surrounding areas. The concentrated cleaner is eco-friendly, made from Melaleuca (or concentrated Tea Tree oil
) and can be diluted for use as a spray. It can cut through the toughest stains, kill germs and odors, be used as a laundry detergent and it is rumored to be able to remove Sharpie pen marks from a scribbled photo, without damaging the photo itself.  Most of all for my traveling needs, it repels or kills almost any bug- from ticks, head lice, bed bugs, dust mites and mosquitoes.  Here's an article post on  Solumel's effectiveness:101 Uses for Sol-U-Mel
A Silk Liner
Silk liners are generally for camping. They are silk and they're used to line your sleeping bag for extra warmth. However, they can also be used to deter bed bugs (not so much mosquitoes though), as silk is woven very fine and is not breathable cloth. Unlike cotton sheets, bed bugs won't have an easy time permeating them.  An added benefit is when you're traveling during summer or spring, it works as a travel sheet and warm blanket.   I recommend Sea and Summit silk liners.
They're usually priced right as an investment and you'll find this handy in regular travels. Note: Do not get the cotton blend; it should only be premium or 100% silk to keep the bed bugs out.
How to Prevent Mosquitoes
Mosquitoes can be annoying or they can occasionally carry mosquito borne diseases like malaria, chikungunya or dengue fever.
Use repellents which contains at least 20%  DEET
This helps protect against mosquitoes and ticks. Note: this may not actually be effective in preventing malaria or dengue fever, but it will help reduce the risk. Repellents like Off! Deep Woods and Cutter Backwoods are good places to start.
Get the malaria vaccination
Getting vaccinated for malaria usually involves taking oral prescription tablets before, during, and after your trip.  Common malaria prescriptions in the U.S. are:  malarone, mefloqine, chloroquine, and doxycycline. Depending upon prescription, you started 1-2 weeks prior to departure, take the pills during your trip (depending upon the brand, you will either take it daily or weekly) and then 7 days to 4 weeks after your return.  Travelers may decide that the risk of malaria is not great enough to warrant its side effects and costs. Talk to your travel doctor about what vaccinations are required and are suitable for the regions you're traveling.
 Other repellents protect against mosquitoes but may not be effective against ticks or other bugs:
Picaridin
Oil of lemon eucalyptus
Cover up
This may seem obvious but you'd be surprised how it isn't, especially when travelers are in hot or humid countries. Long sleeves shirts and pants should be worn at day and night in areas there may be mosquitoes. Tuck your shirt in your pants.  Don't forget to cover your feet too. Sometimes, I've gotten bitten in odd places like between my toes, so it's often that one place the punk doesn't reach or you forget to spray.  Also, light colored clothes should be worn so that you can spot them easily.
Use a mosquito punk or electronic emitter
Mosquito punk or an electronic mosquito repellent emitter can be used in your room to help ward off mosquitoes. I list this lastly as they can be a hit or miss solution, although helpful in offering peace of mind.
Share ways  to  prevent bed bugs when you travel. Leave it down in the comments.
Related Posts
Travel Essentials for staying in hostels
Travel Tips for Staying in Hotels