Last Updated on October 13, 2020 by Christine Kaaloa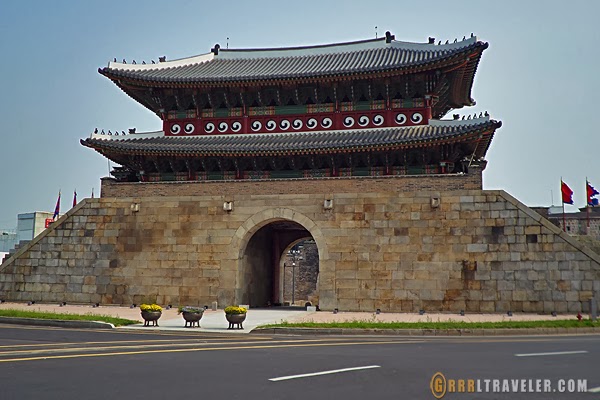 When I stepped outside the Suwon Station, my eyes grew wide, astonished. Suwon was a sprawling mecca of buses going here, there and everywhere!  It was a much larger city than I thought and it presented quite an itinerary for my weekend.
Historically, Suwon is known as being the walls of City of Filial Piety. Sitting 30 miles south of Seoul As a UNESCO site. Here is my Suwon Travel Guide:
What to do in Suwon in 24 hours
1. Visit Paldalmun Gate
Paldalmun gate is the southernmost gate landmarking the entrance to Old Suwon. Left of the gate (and down an alley) is the start of your hike on the fortress walls surrounding the city. Go right and you can explore the streets and the many markets spreading out beyond the river.  There's a nearby river canal and sometimes, on the weekends in the late afternoon they have live musical concerts.
Getting there: Take Bus #11, 13, 36, 39 to Paldalmun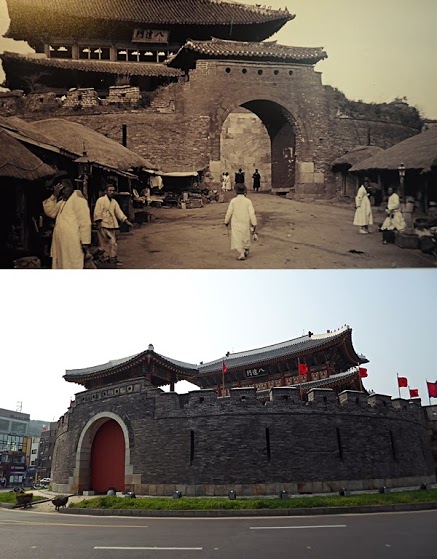 2. Hike Hwaseong Fortress:  Suwon City's Ancient Walls
While Suwon is a large city, you can easily walk the perimeter of the heart of Old Suwon. Hwaseong Fortress is a world heritage landmark completed in 1796  to keep invaders out and away from the King's temporary palace.
The entire hike takes around 3-4 hours depending on your fitness level. Admission is 1,000 won.
You can start at any one of the fortress gates, such as Hwaseomun (west), Jangjanmun (north) and Changnyongmun (east), but the main one is located near Paldalmun (the south gate).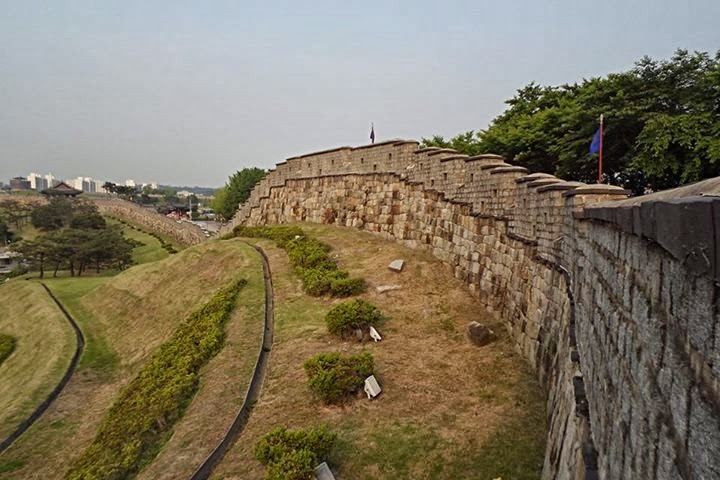 3.  Hwaseong Haenggung Palace 화성행궁
Hwaseong Haenggung Palace was a temporary palace that many kings went to for relaxation and a getaway. The palace was once the seasonal home of King Jeonjo, who would escape from his palace in Seoul. Located within the Hwaseong Fortress walls, you can explore the palace grounds and even in some of the live reenactment shows and sword fighting performances on the grounds.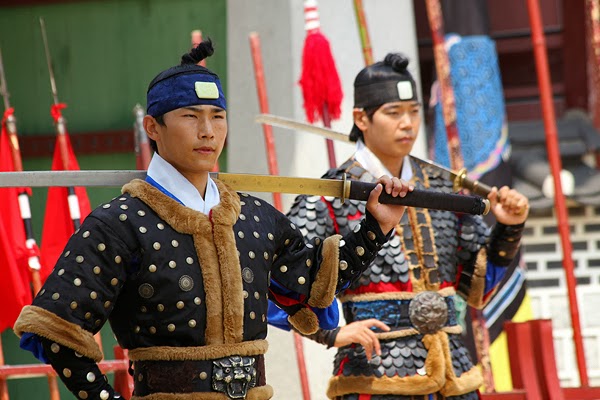 4.   Archery at Yeonmundae
Ever wanted to know what it was like to be a Suwon warrior or try your hand at archery? Located inside the city walls is an archery field. For 2,000 won, you get 10 arrows to test your aim at the target and see if you have what it takes to be a Joseon Dynasty soldier.  Best 2,000 won I've spent in a while!
For 1,200, you can also take a trolley around the fortress.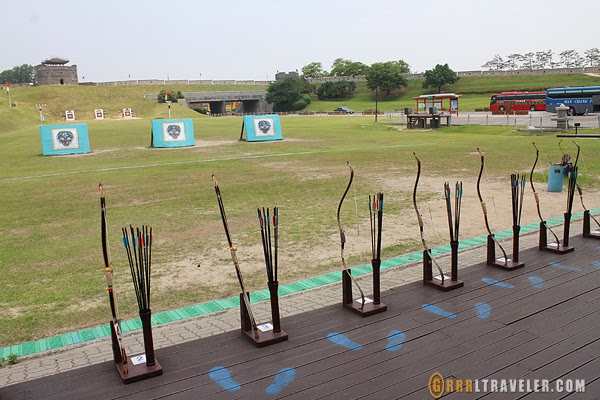 5.   Suwon Hwaong Museum
AFter seeing the fortress and the palace, I was really curious about the history so it was ideal to make this stop at the museum. The Suwon Hwaong Museum focuses on the history of the Suwon Fortress and the lifestyle within it. There's two main exhibitions, starting with computer reenactments of the palace and fortress construction process. Impressively, giant wooden beams were constructed to accurately fit snugly and precisely into pre-cut grooves. The second exhibition focused on were archived photos, traditional clothing and miniature models of lifestyle in Suwon from older dates.
6.   The Toilet Museum (aka Mr. Toilet or Haewoo Jae)
Ever seen a museum in the shape of a toilet bowl before? Well, this one isn't only shaped like one but is dedicated to one of the main focal points of our lives… the toilet.  Founded by Suwon's ex-mayor–who rumor has it, was born in a toilet–  the Toilet Museum is a small but fascinating look into Korea's toilet history. The main exhibition is the sculpture garden outside, showcasing models of Korean toilets from a royal bowl to an outhouse hovering over a pig pen with hungry pigs.

7.   Jjimjilbang it at Buksuwon Spa
I have to say, this is the best-est spa I've stayed at yet. While it may not have bunk beds, like my beloved Silloam Spa, it's got a wealth of cool saunas to try, as well as join-in yoga classes and free WiFi!  If you have any digital gadgets to charge, arrive early, because wall-outlets begin to fill up around 8pm.
Getting There:  Take the metro to Sunkyughwan Daehakkyo Station and take exit #2.  Look for the spa symbol at the top of a tall, non-descript building. You can see it from the station. It may be a little hard to find although the building is within a block or two from the station and on a slope. Around the building is a supermarket. You can enter through the door next to it. It's also known as Buksuwon Oncheon.
Read my Guide to Jjimjilbangs and Korean Spas

8.   Yungnung- Royal Tombs
Korea is the first culture I've seen to build burial mounds over their graves. This is due to the fact they bury their dead in upright coffins, so their corpses can face towards some more spiritual part of the land… than the sky . So whenever you drive past a mountain and see a stretch of land covered with mounds, it's a cemetary.
Getting to Yungnung Royal Tombs can be like a day trip. It's located only  thirty minutes from the city, but outside it.  You can get there by bus from the city terminal. Once you get let off the bus, getting to the tombs themselves, are a bit of a mini-hike . On the weekends, the wooded park lands leading to it are populated with families enjoying picnics.  There seems to be two paths to get to the separate tombs of Prince Jangjyeon and Princess Hong. Personally, I was underwhelmed upon seeing the  tombs. You walk on path through a beautiful wooded forest to get there and you see two simple mounds that you have to view from a distance.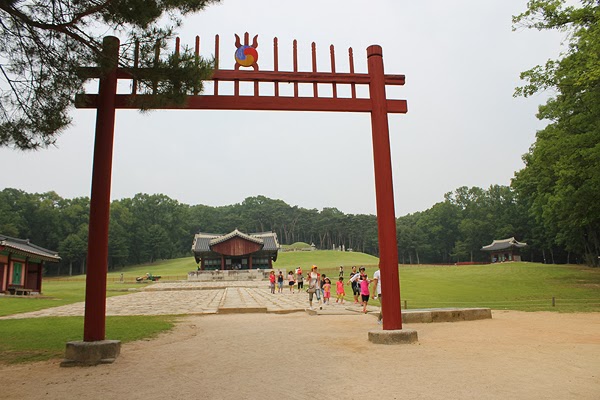 Sightseeing Suwon in 48 hours
At the very least, you'd want to give Suwon at least two to three days.  On day #1, took the city bus tour in the morning, which left me the afternoon to explore the markets, take in a little sightseeing on foot and take in a late afternoon hike of the Suwon city walls. The best way to get around the city and outside to Yungnung Royal Tombs is via bus. There's a plethora of bus stops going to various locations around town and right outside Suwon Station.
Visit the Suwon Tourist Information Center
The Suwon Tourist Information Center is an easy place to find and is an ideal stop for your itinerary needs. Located in a green kiosk shop  directly outside Suwon Station (train and metro), it sits in front of an enormous shopping mall. The center is extremely helpful to travelers, with maps, bus route information and directions. It is centrally positioned amongst all the bus terminals.
Take the Suwon City Bus Tour
For 11,000 won (approx. $9), the Suwon City Bus Tour took me from major landmark to major landmark, museum to museum, all in half a day.  It makes it possible to visit a city on the weekend without feeling rushed to see everything.  It gives you a glimpse of all the main sites of the city so that you can decide what you'd like to return to for a more relaxed viewing. A reservation is recommended, however, you can also try to join via walk-in. You can sign up for the city bus tour at the Suwon Tourist Information Center as that's where the bus tour starts from.  Suwon City Bus Tour website :  www.suwoncitytour.co.kr
There's two courses: one city route, the other going out to Osan and the Royal Tombs.
Where to Stay in Suwon
There's hostels and hotels. While I spent my nights at jjimjilbangs, Suwon has hostels and hotels. Check Agoda for a map of hotel reviews and listings.
Related Posts:
5 Travel Tips for Korean Culture
Renting a Phone in Korea
5 Travel Tips for Seoul
10 best things to do in Seoul
Things to Do in Busan in 48 hours.