Last Updated on June 20, 2021 by Christine Kaaloa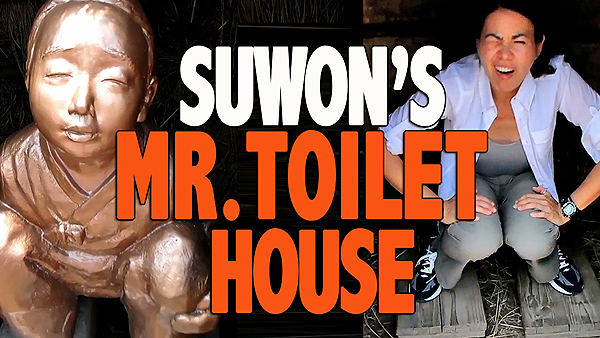 If you know me by know, you know travel stirs in me, a strange preoccupation for toilets…
Suwon city is known for housing ancient and historical sites in Korea, but did you know that Suwon has a proud reputation for having some of the cleanest toilets in Korea, such that there is a toilet museum?
It's said that Suwon's former mayor,  Sim Jae-duck,  was born in a toilet stall, thus earning him the nickname of Gaetongg-i (or "doggy poop") amongst his childhood classmates.  That's harsh.  As a result, many feel that this is why he made it his personal mission to improve the public facilities in both, Korea and in developing countries.  Today, he's better know as Mr.Toilet, the founder of The World Toilet Association and the founder of Mr. Toilet Museum in Korea | Suwon.
Read Traveling Suwon in 48 hours
Table of Contents: Visiting Mr. Toilet Museum in Korea | Suwon City
Visiting the Mr. Toilet Museum in Suwon
The Toilet Museum (or Mr. Toilet ) lovingly called Haewoojae in Korean, is the first toilet museum in Korea I visited.  The Toilet Museum is a cute but small museum in the shape of a giant toilet bowl ring, which you can only see from the air.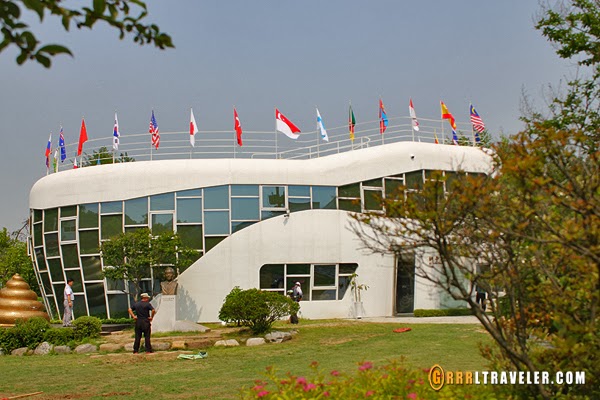 Mr. Toilet Museum in Korea
The history of potty use and squatting in Korea
On the grounds directly "backside" of the toilet museum is perhaps the most interesting and informative exhibit of the entire museum and one that's most important for Korea.
The outside garden exhibition is the main load  (pun intended) of the museum.  It shows the history of Korean toilets, ranging from the Baekjae, Goryeo, Silla, Joseon Dynasty. It's helpful to take a brochure from inside the museum before going out back, as the history of Korean toilets is quite fascinating.  Half the exhibits, I didn't know how they used or what it was for.  Like a sculpture of a rope strung between two upright sticks. My lucky guess said it was to wipe up after (albeit painful and imagine sharing the rope with others…eww!)
My lucky guess was correct. Double ewww!  (Watch my video for an inside tour of fun)
Some toilets aren't hard to guess.
For instance, the outhouse squatster  below  ('Tongshi Toilet") was common to old Jeju Island, where you'd do your business and feed the pigs all in one go, providing purpose, economy and eco-friendliness  (I saw that in a Korean drama)
Then there's a maehwaeul,  a porcelain portable bowl for the king.  After his morning defication, his stool would be taken to the royal doctor to be tasted and examined to see if the king was healthy (… hope that guy got paid a lot of money for that job!).
Tip: Get the map inside the museum before visiting the outdoor exhibition. It maps things out with explanations.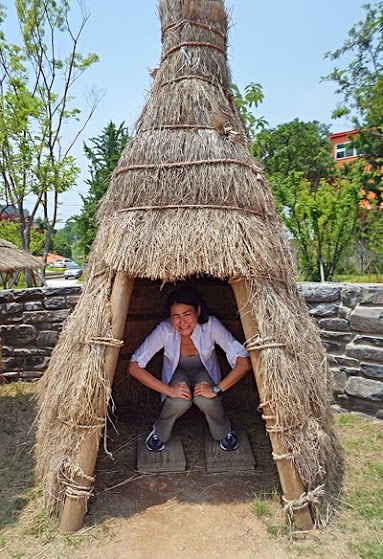 Old Korean outhouse (Boy, this had to have really smelled on a hot day!)
But for the most part, historical Korea used to have a lot of  squatty potties.  … Unless you were a king; then you'd get a box throne to sit on for privacy, with a potty underneath it.
Read How to Use an Asian Squat Toilet
Inside, there's a small exhibition on international toilets. One centrally-placed exhibition was on male and female toilet signs from around the world. It is meant to be an entertaining chart, more than a realistic chart of international symbols.  Being it was  in a museum, there's a logical tendency for one to take anything in there as being somewhat factual.  But this is where you have to be wary of Korean museums. The can take liberties and lay slapstick humor in there;  which while cute, will only confuse you further as you try to  disseminate truth from fiction.
There is also video and interesting interactive screen panels, which test your toilet trivia skills.
Then upstairs, there is photo documentation of Sim Jae-duck's life work…. which is mostly in Korean, so we won't really bother with that.
All in all, it was a very fun and poo-filled day.
Getting to the Toilet Museum in Suwon
First of all, getting to Mr.Toilet can be done quickly, economically and efficiently through the Suwon City Bus Tour (this is one of its first stops on the route). However, although the museum is quite small,  the time you're given to fully explore it is still too short. You'll want to go back. That's exactly what happened to me.
So I took the public bus out there with a girlfriend and we overshot the stop. Luckily, some Korean bus drivers can be both, understanding and helpful to foreigners. Our bus driver flagged  down an on-coming bus for us, explained our situation to that bus driver and we got out and exchanged buses.  Kamsahamnida!
Directions: From Suwon station, take bus 92 or 310 and ride to Dongwon High School. It's a bit of a ride but keep in mind this is located outside of the city center and in a more remote location. Tell the bus driver you're going to Haewoojae (he might recognize this more than Toilet Museum) and try to sit up front, so he can tell you when to get off. Once you get to Dongwon High School stop, get off and look for an underpass.  Turn right at that immediate intersection towards the high school – it's about 500 meters (towards the end of the street– here's a map and a list of more bus stops). It will be on the right.
 Watch Video: Visiting the Toilet Museum in Korea
The Toilet Museum (aka Mr. Toilet) Information 
Gyeonggi-do Suwon-si, Jangan-gu, Imok-Dong, 186-3
Korean address: 경기도 수원시 장안구 이목동 186-3
Website: http://www.haewoojae.com/
Hours: 10am-5pm (10am-6pm March-October) – closed Mondays
Admission: free
Phone: 031-271-9777
Travel Resources for your Korea trip
Booking.com – Hotel bookings. No cancellation fees
Safety Wing – affordable travel insurance with COVID coverage
NordVPN – Online security and the ability to watch Netflix. Use "grrrltraveler" for 70% off 3-year plan + 1 month free
Klook – Book tours in Korea and Asia
Get your Guide – book tours in Korea
Korea SIMs – for prepaid travel SIM Cards
Korea Rail Pass – for getting around Korea