Home to raw fish markets, bridges, beaches and adorned with clustered hillside neighborhoods, Busan is the second largest city in Korea, next to Seoul. Approximately 1 hour outside of Daegu , Busan is dubbed Korea's San Francisco, for the fact, it's got the largest port.
It was 11:00 PM Friday evening. I didn't know if I wanted to visit Busan for the weekend.  What did I know about traveling Busan, other than the largest port city in Korea?  I decided to see how I felt in the morning.
9:30 AM Saturday, I woke up and decided–  Ding! Yes, I wanted to travel Busan !
Living in Korea, my travel choices can feel impulsive, at times. My Busan sightseeing itinerary was a giant question mark.  What could I do and see in Busan in 48 hours?
Busan Travel Guide:  Busan in 48 hours
Busan is not an intuitive or easy city to travel if you're short on time. It's a large, sprawled out city and subway lines don't always offer door-to-door service to popular tourist attractions.
Excursions to well-known temples will cost you a bus trip that could take a little guesswork, if you haven't directions prepared in advance. I spent half a day attempting to find places via metro and bus lines. I  gave up on it, frustrated.  Noteworthy attractions as the Gwangali Live Fish market and Rodeo Art Street literally felt like a mile hike away from the subway… and I still didn't reach them!  Haeundae Beach is easy to get to, by bus, if you know the number. Otherwise, it's a 10-15 walk from the metro station.
What to do and see in Busan in 48 hours
Busan travel guide: here are memorable highlights to visit in Busan.
1. Busan Travel Tip: Take the Busan City Bus Tour
While traveling Busan isn't difficult, it also doesn't  inspire ease. I have one big recommendation… take the Busan city bus tour. Located right outside the Busan KTX station is the Busan City Bus Tour set up by the city of Busan.   It's a quick, easy, cheap and wonderful way to get an overview of the city highlights as well as, door-to-door access to some of the obvious attractions. The tour offers two courses:  a Haeundae Beach route and a Taejongdae route . You can transfer from one course to another. Admission gains you entry aboard a double-decker bus and discount on admission to participating museums, memorials, etc…  Admission: 10,000W Adults;  8,000W for KTX ticket holding passengers. What about sightseeing Busan at night?
Where to catch the tour: The tour starts at Busan KTX station (photo below). Step outside, you'll see a bus stop far off to the left on one of the side streets. This is where you can pick it up. Pay when you board the bus. If you can't find it, ask at the Tourist Information Desk in the station.
Want more bus tour options,  check out this list of Busan bus tours (day tours).
2. Jalgachi Fish Market
If there's a photogenic grit or raw edge to traveling Busan, the wharf area of Jalgachi Fish Market hits a memorable note. Keyword- rubber boots! (You'll see a lot of them here)   Ajummas (meaning middle-aged or married woman in Korean) and ajosshis ("uncles") are this fish market's working population and you'll see fish in a way you've never seen them before.  Whether dried and hanging, toothpick splayed, skinned or live, I'm convinced there's an art and pride to the fishes on display. You can check out the daily catch and then have the seller cook it up for you inside.   Just make sure you don't get splattered on. Hours: 8am to 10pm daily, arrive at 5a to see vendors set up their stalls.
Want to learn Korean cooking while you're at it? Explore Jalgachi and Bupyeong seafood markets while taking a cooking class.
Getting to Jalgachi Market: Get off at Jalgachi Station, exit 10. Follow Jalgachi 3 (sam-gil) street. It's a 5 minute walk towards the wharf (Same station as PIFF).
What to do and see in Busan in 48 hours: Visit Jalgachi Fish Market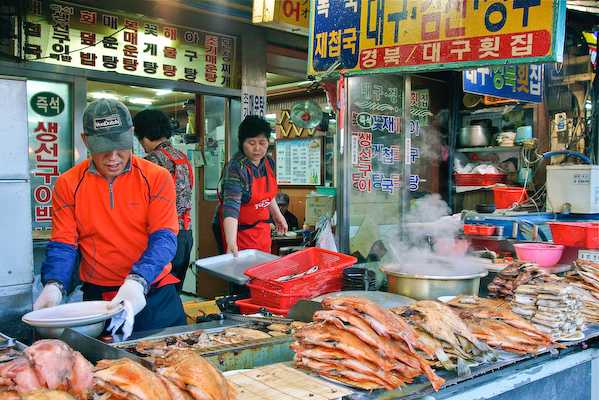 3. Fresh & Live Sushi at Jalgachi Seafood Restaurant
A Busan trip would not be complete without sampling the seafood pleasures of Jalgachi. But if the grit of the outdoor tented fish stalls are not your thing,  head to the end of the street to Jalgachi Seafood Restaurant. The restaurant is a big building, housing two levels of eating and viewing spectacle. The ground floor houses is a warehouse of vendor stalls, with tanks and live fish, clams, crustaceans, where you can choose the food you want cooked for your plate. The 2nd floor is a large open restaurant, populated with drunken groups of Koreans dining on tables and in booths. Want a view while you eat? The seventh floor of the building has a rooftop skypark! Hours: 5am-10pm
Note: Busan prides itself on the "freshness" of its catch. Just make sure the contents or decor on your plate aren't wiggling before you bite into them.
Getting to Jalgachi Market: Get off at Jalgachi Station, exit 10. Follow Jalgachi 3 (sam-gil) street. It's a 5 minute walk towards the wharf (Same station as PIFF).
4. Shopping at Nampo-dong
Nampo-dong is Busan's shopping paradise and activity central. Similar to Seoul's Myeongdong (and Daegu's Banwaldong) in Korean maze-alley street shopping, you'll find anything from boutique shops from moderate to inexpensive clothing, Korean skin care shops to street vendors selling street food. It is very lively at night when Koreans come out to eat, relax and shop.  Nampo-dong also houses the annual Busan International Film Festival, Gukje and Bupyeong Markets and is next to Yongdungsan park and Busan Tower.  Hours: 9a – 8pm, Cash mostly.
Getting to Nampo-dong: Nampo-dong Station, Exit 1
5. BIFF Square
Did you know that Busan houses the annual Asian Cannes? Each October PIFF square, is a flood with fans wanting to see their favorite Asian stars, as the red carpets roll out for the Busan International Film Festival (website and event schedule). It's  been running since 1996 in the Busan Cinema Center.  Off-season, the area is still crowded with shoppers and tourist.  Check out Star Street and Festival Street where you'll see your favorite star's handprints enbronzed like the Hollywood Walk of Fame.  The BIFF archway is also a favorite landmark for your  Instagram selfies!
Tip: During PIFF week, the KTO runs free shuttles from Shinsegae Centum City Department (the largest department store in Busan, the home of Spa Land).
A giant maze-like shopping and restaurant area reminiscent of Seoul's Myeongdong shopping area or Daegu's Banwaldong, making BIFF Square a fun spot, day or night. Local food and product vendors sprinkle throughout the alleys and streets to add to the flavor. But if you go deeper into the maze, you'll find clothing shops and restaurants.
Food Tip: Be on the lookout for Ssiat Hotteok, a street fried pancake specialty of this area. Jalgachi Restaurant is a stone's throw from here. For travelers who are still squeamish about trying Korean food, across the street from BIFF Square you'll see a giant Lotte Mall. In the basement, there's a food court, if you're starved for something western or modern Korean.  Check out Korea's most western friendly stores.
Getting to BIFF: Take the metro to Nampo-dong station, Exit 1. Or Jagalchi subway, exit 7
6. Gukje Market & Bupyeong Market
Next door to PIFF is Busan's largest traditional market, Gukje Market. Originating from the 1950 Korean War, Gukje Market was once a market for  commerce of U.S. military supplies and foreign goods. Today it is stocked with household appliances, clothing and homeware products at inexpensive prices. It also houses Gukje Food Market, where you can snack on Korean street food bites like tteokbokki (spicy rice dumplings), hotteok (sweet pancake crackers), dried seafood and more. Next door is Bupyeong Market, also known as kkantong (meaning "cans" in Korean) market. It used to be known for selling canned products but now sells domestic to imported products and Korean snacks.  Note: Cash mostly.
Hours: 9a-8p . Gukje Market address: Sinchang-dong 4-ga, Jung-gu, Busan
7. Experience Korean Spas at Spa Land Centum City
If you want visit a luxury jjimjilbang (Korean bathhouse & spa) and get your Korean drama location tour started, Spa Land Centum City is the largest and most stylish Korean spa in Busan (read more). Located in Shinsegae Department Store Centum City, the spa has 22 spas from a natural spring pumped from 1,000 feet underground and sports several themed treatment rooms and an ice room. Word is that children are not allowed (which is unheard of in Korean jjimjilbang culture which tends towards family friendly). Also, stays at Spa Land are limited to four hours where the tendency is 24 hours.  Entry fee: Approximately $11 weekdays, $13 weekends.  Hours: Daily 6a-midnight
Read my guide to jjimjilbangs before going!
Getting to Spa Land: Centum City Station (Busan Subway station, Line 2). The station is connected to the complex. Located in the ground level of Shinsegae Department store
8. Yongdusan Park & Busan Tower
One of the best spots to view the city is at Youngdusan Park and Busan Tower.  Yongdusan Mountain is shaped like a dragon's head (yongdu) is and is one of Busan's top three mountains. It houses a park, monuments and Busan Tower.  Tower Observatory Hours: 10a -11pm Admission:  8,000 won adults
9.  Hiking Taejong-Dae
Taejong-dae park is known for its rock cliffs and pine trees and has more than meets the eye. It is named as a Busan monument and is the soul of the city. Taking a hike up to this cliff side lookout is a nice way to absorb nature, breathe in the salt air and take in some temples. But when you get to the lighthouse, a stroll down to the rocky and watery edges below will find Sinseon Rock (named after gods and goddesses relaxing here).  Among it you will find many outdoor seafood tents selling fresh catch to your plate. Ajummas with large visors and long-sleeved shirts will hail to you to visit their restaurant area. Each vendor has their own area selling oysters and fish they've caught by seaside and they'll prepare a sashimi meal for you as you gaze languidly out to sea. Read more from Wikipedia here.
Getting to Taejongdae: From Busan Station, take Bus 88 or 101. The Busan City Bus Tour also makes a stop here.
Taejongdae, Busan
10. Haeundae Beach
On a nice day, Haeundae Beach strikes a nice balance of casual beach chillaxing and people-watching. Young couples stroll the boardwalk fashioning trendy outfits from the Korean version of couples' Vogue – heels, man-purses and sports coats- which make you think Boys Before Flowers (a popular K-drama). It's very Seoul,  but ala beach. All around, you see family beach picnics, frisbee playing and beach volleyball. Nearby is the Busan Aquarium for added recreation and a tourist information office for help. The few chic hotels which line the main boardwalk turn into the nightlife hotspots of the area. It's not a very big area but it adds a small glitz to an otherwise dark and quiet town.
Getting There: Take the metro to Haeundae Beach station (Line 2, Green Line). The walk to the beach will take you about 10 minutes.
Where to stay in Haeundae:  Toyoko Inn in walking distance from Haeundae Beach (reasonable price with breakfast included). Map of places to stay in the area.
Haeundae Beach can also draw a strange crowd

11. Clubbing at Haeundae Beach at Night
Due to Haeundae Beach's upscale beachfront hotels and a great boardwalk to stroll, Haeundae Beach has become a chill spot for nightclubbing. There's a handful of chic bars and hip hop clubs in the hotel area and you'll see Koreans all glammed up.
For a list of nightly events, check out Busan Haps nightlife calendar for Haeundae.
12.  Haeundae Spa: Spend a night at a Jjimjilbang
Wondering where to bathe, sleep in and spend part of your weekend? Why not experience a jjimjilbang on your Busan trip. Unwind in the herbal and mineral pools, get your sweat on in the sauna and then scrub yourself down for bed time. An 8 minute walk from Haeundae beach, I spent a night at Haeundae Spa. Once known as Halmaetang (aka Grandma Bathtub), Haeundae Spa's natural mineral waters were known to heal many ailments and sicknesses. It's not my favorite jjimjilbang, but it's pretty darned good and its a favorite for Koreans visiting this area.  You get a night smock and towel. You provide your own toiletries. Sleeping rooms are communal as you can see below and there is a snack area for fast food and treats. Hours: 24 hours, www.haeundaespa.com . Map here.
Read Things to Know About Korean Bathhouses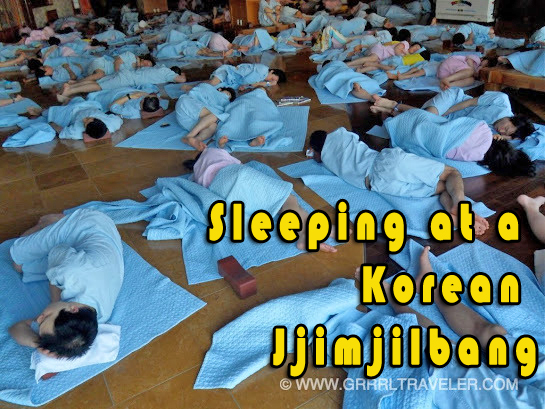 Day trip to explore East Busan
13. Haedong Yonggung Temple
Haedong Yonggung Temple or the Temple By the Sea, takes about an hour to get to via bus (and I didn't have time to get out there), but you'll find a tempestuous heaven at the Buddhist temple which sits calmly on cliff rocks overlooking the sea. It's a favorite for photographers and looks as romantic as it sounds.
Recommended: day tour exploring east Busan
( Haedong temple, Songdo Cable Car, skywalk and mural village).
14. Oryukdo Skywalk & Oryukdo Island
Oryukdo Skywalk (or "walking in the sky")  is built upon the border between the Eastern and Southern Sea and Oryukdo Island (which is comprised of stone rocks). It's about a 15m semi-circle glass walkway set alongside a cliff so you can see the dramatic cliff rocks and waves below.  Reminiscent of the Cliff walk at Vancouver's
Getting there: From Busan Station take bus #27 to Oryukdo SK View Humun
15. Songdo Beach walk
Traveling Busan would not be complete without visiting a share of beaches and what beach with a raised 365 meter beach walk promenade wouldn't strike your fancy? Songdo Beach was the first public beach of Busan. There is an even more lovely Instagram-worthy red bridge connecting Songdo Beach to Amnam Beach.
Getting to Songdo Beach: From Jalgachi Station, exit 2, take bus 7, 9, 26, 30, 71 and get off at Songdo Beach stop
16. Songdo Cable Car
The Songdo cable car opened in 1964 and then reopened in 2017 adding on more distance to its cable route. Now, the Songdo Cable Car  goes from Songnim Park to Amnam Park Observatory.  Some cars have glass bottoms so you can freak yourself out as you hover over the glassy seas below.
Getting to Songdo Cable Car: From Jalgachi Station, exit 2, go to Chungmudonggyocharo bus stop, take take bus 7, 26, 71 or 96 and get off at Songdo Beach stop
Getting around in Busan
I recommend either getting the Busan All-day unlimited metro pass (about 5,000 won), if you plan visiting several places. It's more economical and it will allow you to get lost. There is usually a nearby attendant to assist you with directions or to show you how to use the metro machines.
The second way I like getting around is the Busan City Bus Tour . The cost of 10,000W is unbeatable for an overall tour of the city's highlights. Taxis are always available as is the local bus (info here), however with the city being as large as it is, transportation is either,  costly or you'll take your gamble getting lost. Read more about Busan's Transportation.
Communication & Internet in Busan
Korea's wifi and internet system is good and super fast. The only question is if you'll have access to them. Traveling Busan, often you'll find public wifi asks you login from your Korean mobile provider. Not helpful if you're a travelers. These are my recommendations:
Renting a phone or SIM card in Korea is inexpensive and handy for 114 emergency calls to the Tourism office for help or for Google Maps.  You can rent an inexpensive Korea 4G WiFi egg. And you can also get a Korean SIM :
Pickup Seoul: Korean 4G SIM card – pickup in Incheon Airport (international)
Pickup Seoul: Korean 4G SIM card – pickup in Gimpo Airport (domestic)
Pickup Busan: Korean 4G SIM card – pickup at Gimhae Airport
Flexible pickup:  Korean 4G SIM card- pickup any main airport in Korea
Where to stay in Busan
Busan is such a large city, you won't find yourself at a loss of options for places to stay within your price range. The main question to ask is where? From hostels, to  love motels, budget hotels and luxury hotels, Busan has it all.
Deep wood tones and marble, Park Hyatt Busan is one of the best hotels of Busan. A view of the ocean and Gwangan Bridge make it a romantic escape.  This is for the traveler who wants to do Busan in style.
Under $50/night moderate hotel is Toyoko Inn (near Busan Station); while I haven't stayed there, they've been recommended to me as a decent chain of budget hotels throughout Korea.
Lion Hotel is budget friendly yet elegance. Great for those looking for simple, clean… overall great bang for the won!
Directions to Getting to Busan
As Busan is Korea's second largest city, it's got a KTX station and Gimhae International Airport..
Getting to Gimhae International Airport
Gimhae International Airport has airport shuttle buses leaving and arriving from various cities. Call the tourist information hotline #1330 for the exact schedule– the online schedule at KoBus (kobus.co.kr) isn't always accurate. Keep in mind, airport bus services don't start until 8am.
Outside of Busan:   Gimhae International Airport is now accessible via metro line and light rail. For an early morning flight  and if you're coming into Busan from outside, take the KTX to Gupo station (yellow line/light rail). Light rail service doesn't start  until 5am and runs every 11 minutes.  The airport is the second stop from that transfer at the Gangeseo-gu Office.  LR Fare: 1,300-1,500 won.  If you're concerned you still won't have enough time, book a hotel in Gupo and take a taxi.
From Busan:  Take the metro to Deokchan station and transfer to the Light Rail (yellow line).  Get off two stops later at Gangeseo-gu Office. 
Busan metro map
---
Korea Travel Essentials (video playlist)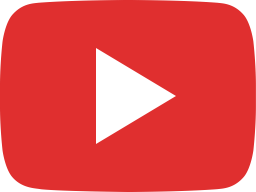 TRAVEL SKIN CARE HAUL + My COVID Face Shields Fashion for Travel | $100 Korean Skincare Haul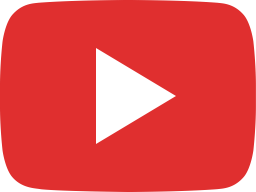 KOREAN 7-ELEVEN FOOD HAUL + INCHEON AIRPORT TERMINAL 2 Tour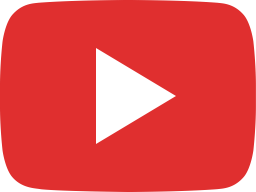 KOREAN AIRLINES FOOD Review + INCHEON Airport TERMINAL 2 Tour
---
More Korea Travel Tips
Jeju Island travel guide
9 Best Neighborhoods in Seoul
Best souvenirs to buy in Korea
Suwon in 48 hours
Things to Do – Jeju Island
Quirks you didn't know about Koreans
This post has affiliate links. If you buy through it, I get a tiny commission at no extra cost to you. Any profit goes into maintenance of this site and I'd be grateful!