Busan Travel Guide: What to do and see in Busan in 48 hours
It was 11:00 PM Friday evening. I didn't know if I wanted to visit Busan for the weekend.  Afterall, what did I know about Busan, other than it's a port city in Korea?  I decided to sleep on it and see how I felt in the morning.
9:30 AM Saturday, I woke up and decided–  Ding! Yes, I wanted to go to Busan!
My travel choices can feel impulsive and random, at times. I like to plan things in advance… but I'm also not very good at it. My sightseeing itinerary however, was a giant question mark.  What could I do and see in Busan in 48 hours?
Mapping Busan in 48 hours
Busan is the second largest city in Korea, next to Seoul. Approximately 1 hour outside of Daegu , Busan is dubbed Korea's San Francisco, for the fact, it's got the largest port. Thus, it's home to raw fish markets, bridges, beaches and occasional adorned with hilly and clustered neighborhoods resembling San Francisco city.
Busan is not an intuitive or easy city to travel if you're short on time. It's a large, sprawled out city and subway lines don't always offer door-to-door service to popular tourist attractions.
Excursions to well-known temples will cost you a bus trip that could take a little guesswork, if you haven't directions prepared in advance. I spent half a day attempting to find places via metro and bus lines. I  gave up on it, frustrated.  Noteworthy attractions as the Gwangali Live Fish market and Rodeo Art Street literally felt like a mile hike away from the subway… and I still didn't reach them!  Haeundae Beach is easy to get to, by bus, if you know the number. Otherwise, it's a 10-15 walk from the metro station.
What to do and see in Busan in 48 hours
For the short time I was there, I  explored a lot. Here are the memorable highlights of my weekend  and places I would definitely return to.
1. Busan City Bus Tour
While Busan doesn't shout "hard" to a tourist, it also doesn't  inspire ease. So I have one recommendation.. Located right outside the Busan train station is the Busan City Bus Tour. Take it.  It's a quick, easy, cheap and wonderful way to get an overview of the city highlights as well as, door-to-door access to some of the obvious attractions. The tour offers 2 courses:  a Haeundae Beach route and a Taejongdae route . You can transfer from one course to another. Admission gains you entry aboard a double-decker bus and discount on admission to participating museums, memorials, etc…  Admission: 10,000W Adults;  8,000W for KTX ticket holding passengers
Where to catch the tour: The tour starts at Busan KTX station (photo below). Step outside, you'll see a bus stop far off to the left on one of the side streets. This is where you can pick it up. Pay when you board the bus. If you can't find it, ask at the Tourist Information Desk in the station.
2. Jalgachi Fish Market
If there's a photogenic grit or raw edge to Busan, the wharf area of Jalgachi Fish Market hits a memorable note. Key word- rubber rain boots! (You'll see a lot of them here)   Ajummas and ajosshis are this fish market's working population and you'll see fish in a way you've never seen them before.  Whether dried and hanging, toothpick splayed, skinned or live, I'm convinced there's an art and pride to the fishes on display. You can check out the daily catch and then have the seller cook it up for you inside.   Just make sure you don't get splattered on.
Getting to Jalgachi Market: Get off at Jalgachi Station and walk towards the wharf.

What to do and see in Busan in 48 hours: Visit Jalgachi Fish Market
3. Sushi at Jalgachi restaurant
If you want to try some of the culinary pleasures here, but the grit of the outdoor tented fish stalls are not your thing,  head down to the end of the street to Jalgachi restaurant. It's a big building, housing two levels of eating and viewing spectacle. The ground floor houses is a warehouse of vendor stalls, with tanks and live fish, clams, crustaceans, where you can choose the food you want cooked for your plate. The 2nd floor is a large open restaurant, populated with drunken groups of Koreans dining on tables and in booths.
Note: Busan prides itself on the "freshness" of its catch. Just make sure the contents or decor on your plate aren't wiggling before you bite into them.
4. Shopping at PIFF Square (Gujke Market)
Did you know that Busan houses the annual Asian Cannes? Each October the PIFF area, is a flood with fans wanting to see their favorite Asian stars, as the red carpets roll out for the Pusan International Film Festival (website and event schedule). It's  been running since 1996 in the Busan Cinema Center.  Off-season, the area is still crowded with shoppers and tourist.
Tip: During PIFF week, the KTO runs free shuttles from Shinsegae Centum City Department (the largest department store in Busan, the home of Spa Land).
A giant maze-like shopping and restaurant area reminiscent of Seoul's Myeongdong shopping area or Daegu's Banwaldong, making PIFF Square a fun spot, day or night. Local food and product vendors sprinkle throughout the alleys and streets to add to the flavor. But if you go deeper into the maze, you'll find clothing shops and restaurants.
Tip: Still a bit squeamish about trying Korean food? Across the street from PIFF Square you'll see a giant Lotte Mall. In the basement, there's a food court.  It runs a little pricy, but if you're starved for something a bit more western or modern Korean, this is a sure shot.  Check out Korea's most western friendly stores.
Getting there: Take the metro to Nampo-dong station (Line 1, Orange line).
5. Youngdusan Park Tower for the best view
One of the best spots to view the city is Youngdusan Park Tower. An integral resident of the PIFF area, you can stroll to the top of the tower to get a view of the surrounding city.
6.  Hiking Taejong-Dae
Taejong-dae park area has a bit more than what meets the eye. Taking a hike up to this cliff side lookout is a nice way to absorb nature, breathe in the salt air and take in some temples. But when you get to the lighthouse, a stroll down to the rocky and watery edges below will find you among many outdoor seafood tents selling fresh catch to your plate. Ajummas with large visors and long-sleeved shirts will hail to you to visit their restaurant area. Each vendor has their own area selling oysters and fish they've caught by seaside and they'll prepare a sashimi meal for you as you gaze languidly out to sea. Read more from Wikipedia here.
Taejongdae, Busan
 7. Spa Land
How would you love to visit a luxury Korean spa and jjimjilbang? If there's something I love, it's Korean bath houses and spas. Unfortunately, I found out about this place a little late. But I've only heard rave reviews of this place so I'll have to believe what I've heard. So far, everyone I know who's visited Spa Land comes with tales of all the sauna choices and impressive facilities.
Getting There: Located outside  Centum City station (Line 2, Green Line)
8. Haeundae Beach
On a nice day, Haeundae Beach strikes a nice balance of casual beach chillaxing and people-watching. Young couples stroll the boardwalk fashioning trendy outfits from the Korean version of couples' Vogue – heels, man-purses and sports coats- which make you think Boys Before Flowers (a popular K-drama). It's very Seoul,  but ala beach. All around, you see family beach picnics, frisbee playing and beach volleyball. Nearby is the Busan Aquarium for added recreation and a tourist information office for help. The few chic hotels which line the main boardwalk turn into the nightlife hotspots of the area. It's not a very big area but it adds a small glitz to an otherwise dark and quiet town.
Getting There: Take the metro to Haeundae Beach station (Line 2, Green Line). The walk to the beach will take you about 10 minutes.
Where to stay in Haeundae:  Toyoko Inn in walking distance from Haeundae Beach (reasonable price with breakfast included). Map of places to stay in the area.
Haeundae Beach can also draw a strange crowd

9. Partying at Haeundae Beach
Due to the fact there's upscale beachside hotels and a great boardwalk to stroll at night, Haeundae has become a chill spot for nightclubbing. There's a handful of chic bars and hip hop clubs in the hotel area. While clubbing isn't my thing, it wasn't hard to notice that at night, the clientele in this area glams up.
For a list of nightly events, check out Busan Haps nightlife calendar for Haeundae.
10.  Sleeping at a Jjimjilbang
Finally, wondering where to bathe, sleep in and spend part of your weekend? Why not take in one of Busan's jjimjilbangs. Unwind in the herbal and mineral pools, get your sweat on in the sauna and then scrub yourself down for bed time. It's not my favorite jjimjilbang, but it's pretty darned good. Especially if you want to be a stone's throw from the beach, check out Haeundae Spa.
Read Things to Know About Korean Bathhouses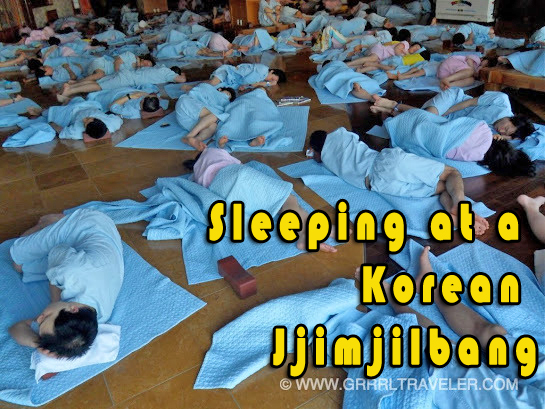 Getting around in Busan
I recommend either getting the Busan All-day unlimited metro pass (about 5,000 won), if you plan visiting several places. It's more economical and it will allow you to get lost. There is usually a nearby attendant to assist you with directions or to show you how to use the metro machines.
The second way I like getting around is the Busan City Bus Tour (mentioned above). The cost of 10,000W is unbeatable for an overall tour of the city's highlights. Taxis are always available as is the local bus (info here), however with the city being as large as it is, transportation is either,  costly or you'll take your gamble getting lost. Read more about Busan's Transportation.
Where to stay in Busan
Busan is such a large city, you won't find yourself at a loss of options for places to stay within your price range. The main question to ask is where? From hostels, to  love motels, budget hotels and luxury hotels, Busan has it all.
Under $50/night moderate hotel is Toyoko Inn (near Busan Station); while I haven't stayed there, they've been recommended to me as a decent chain of budget hotels throughout Korea.
How to Get to Busan
As Busan is Korea's second largest city, it's got a KTX station and Gimhae International Airport..
How to Get to Gimhae International Airport
Gimhae International Airport has airport shuttle buses leaving and arriving from various cities. Call the tourist information hotline #1330 for the exact schedule– the online schedule at KoBus (kobus.co.kr) isn't always accurate. Keep in mind, airport bus services don't start until 8am.
Outside of Busan:   Gimhae International Airport is now accessible via metro line and light rail. For an early morning flight  and if you're coming into Busan from outside, take the KTX to Gupo station (yellow line/light rail). Light rail service doesn't start  until 5am and runs every 11 minutes.  The airport is the second stop from that transfer at the Gangeseo-gu Office.  LR Fare: 1,300-1,500 won.  If you're concerned you still won't have enough time, book a hotel in Gupo and take a taxi.
From Busan:  Take the metro to Deokchan station and transfer to the Light Rail (yellow line).  Get off two stops later at Gangeseo-gu Office. 
Click here for a Busan metro map
---
Watch my videos on Korea Travel Essentials
Watch : Top 5 Tips for Traveling to Seoul