Last Updated on August 3, 2023 by Christine Kaaloa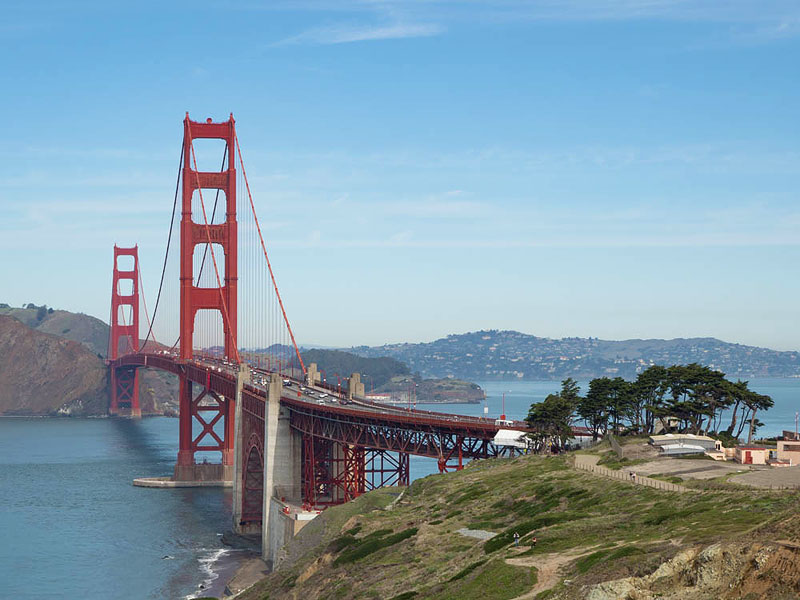 This post may contain affiliate links. Never leave home without travel insurance. Click for the insurance finder tool. and affordable insurance for COVID/quarantine protection.
Penned under our expert traveler series, this guest post is written by travel blogger and San Francisco native of over 21 years, Carol Guttery of Wayfaring Views. She will be your San Francisco travel guide to San Francisco travel tips.
San Francisco has a lot going for it. It's a liberal, technology-forward city with great food, fabulous views and quirky culture. But San Francisco can also be tricky to navigate and it's one of the most expensive spots in the United States. So have fun in the city but be smart about it. This San Francisco travel guide shares 11 things to know before traveling San Francisco.
11 Things to Know Before traveling to San Francisco
1. San Francisco has an open culture
In San Francisco, you can just let your freak flag fly because the city is very tolerant of people who just want to be who they are. San Francisco was ground zero for both the hippie movement of the 1960's as well as the LGBT civil rights movement.
Haight Ashbury
You can explore the hippie culture by hanging out the the Haight Ashbury neighborhood. The Haight was home base for the 1968 Summer of Love, the anti-Vietnam war movement and free love. You can still find vestiges of its hippie history in some of the boutiques and record stores.
The Castro
You can also explore San Francisco's LGBT side by hanging out in The Castro. This traditionally gay neighborhood has fun bars and theaters that welcome everyone. One of the other aspects of its open culture is that there is always someone walking around naked. Nudity is a thing in San Francisco and you can't attend a parade, festival or even sometimes walk down the street without seeing a naked person. Just go with it. The police don't care and neither should you.
Where to stay in Haight Ashbury: There aren't many hotels directly in the Haight area. Check out this neighborhood map on where to stay in Haight.
Where to stay in The Castro :  Beck's Motor Lodge , Parker Guest House, Willows Inn.
As  San Francisco's most open neighborhoods, Haight Ashbury and the Castro are great neighborhoods to stay in.
2. San Francisco weather is chilly
Why those people are walking around naked is a bit of a mystery because San Francisco has chilly weather, especially in the summer. The warm summer air from inland California pulls in the cold ocean air, covering this city in a blanket of cool fog. And just to confuse you even further, each neighborhood in the city has a different micro-climate. Some areas are sunnier, some are warmer and some are foggier.
Tip: Check your weather app before packing and bring layers. You don't want to be that dorky tourist who had to buy an overpriced "I Left My Heart in San Francisco" sweatshirt because you forgot to pack a jacket. Bring a slightly larger purse with a sweater and jacket layer and you won't regret it.
3. What to wear in San Francisco
A thing to know about San Francisco is that it is an open culture so you can wear whatever you wish. The tech start-up culture in San Francisco means that the typical "corporate" uniform is a dark pair of jeans and an expensive hoodie.
Smart casual is the way to go here and you don't need to worry about dressing up for dinner….unless that's your thing. The best way to see this city is on foot, so bring something cute, but comfortable so that you can wander around without getting blisters.
4. Where to walk in San Francisco
Now that you are wearing comfortable shoes, where should you walk around in San Francisco? My favorite walking spot is the Embarcadero. It's a wide pedestrian walkway that goes from the Giant's Stadium in SOMA six miles around the bay to the Golden Gate Bridge. Walking any or all of it will give you a great street-level view of the city.
Also, check out the Mission neighborhood. Do a walking tour of the Mission District and you'll find a Latino neighborhood with great street art. It is also the home of the famous Mission Burrito.
The Presidio is a big green hunk of western San Francisco which is part of the National Park Service. There are 25 miles of hiking trails that you can explore.
You can also take the ferry to Angel Island State Park and spend a day hiking around what was once an army base and immigration station.
Lastly, a trip to San Francisco would not be complete without a walking tour of Chinatown, one of San Francisco's most popular cultural districts.
5. San Francisco is very photogenic
San Francisco is a peninsula surrounded on three sides by water and because the city is hilly, it's not hard to find a great ocean or bay view. Taking a hop-on-hop-off tour of San Francisco will help you see all the top attractions so you can narrow down what you want to spend more time on.
For sky-high views:
Climb Coit tower
Hike up to the top of Telegraph Hill
Visit Dolores Park
Go to Alamo Square.
There are also viewing spots on the platform at the DeJong Museum and you can have drinks with a view at the top of the Mark Hopkins Hotel.
Best views of San Francisco city are from the mid-span of :
Alcatraz Island: Do a sailboat cruise of San Francisco Bay and Alcatraz
Angel Island

Baker beach is beautiful free beach just west of the Presidio .    Photo: Carol Guttery
6. Don't go to Pier 39. Just don't.
Pier 39 and Fisherman's Wharf always top the "must-do" lists of people who write about this city, but who have clearly never been there. Pier 39 is a touristy, pickpocket magnet of the worst sort with overpriced food and tacky souvenir shops. There are better places elsewhere in the city to get seafood, like the Ferry Building ( a restored Victorian ferry terminal), better shopping (like Fillmore St), and cooler attractions (like the Exporatorium).
That said, if you are into sea lions, they do have a resident population on the pier and it's fun to watch their shenanigans.
7.  Alcatraz Tour
It's also worth taking the Alcatraz tour, which leaves from Pier 39, but be sure to book it ahead (you can book 90 days in advance). The view of the San Francisco Bay from the ferry is photo lust-worthy. The official site for the Alcatraz ferry is Alcatraz Cruises.
Tip: For the ferry to Alcatraz, arrive at the terminal 30 minutes prior to your departure. For more information, check the website for directions to the Pier, prices and times. If you must visit Pier 39 (as mentioned above) to catch the boat to Alcatraz, for heaven's sake, don't spend more than an hour hanging around.
8.  Speaking of Pickpockets, Homeless & Panhandlers
San Francisco is a generally safe city, but like many popular tourist cities, they do have a pickpocket problem. Just watch yourself at Pier 39, the cable car turnaround on Powell and around Union Square.
Check out my list of 11 Anti-Theft Bags for Solo travelers
San Francisco also has an intractable homeless problem. The homeless are generally harmless but you will get hit up for spare change, especially in the Union Square area. See my travel tips on dealing with beggars.
Also mind yourself in the Tenderloin neighborhood, which is just west of Union Square. There are a lot of decent and reasonably priced hotels and hostels in that neighborhood, which is great. But there is also a lot of panhandling and low rent housing. It's safe enough to walk around, even at night but watch yourself.
9. Getting around San Francisco
The San Francisco airport is located 15 miles south of the city. Cabs or Uber into the city center will cost about $55 and take about 25 minutes without traffic or an hour at rush hour.
For ~$10, you can take the BART subway into downtown and it takes about 35 minutes. However, if you want to take BART back to the airport, pay careful attention to get on the right train, because not all of the trains going in that direction stop at the airport.
Once you are in San Francisco, the MUNI system of buses and light rail will do a pretty good job of getting you around to the most popular sites. They offer a 1-day pass but it's probably just cheaper for you to pay the $2.75 fare when you want to get somewhere.
For areas not well served by public transport, you can easily catch an Uber. Uber was founded in San Francisco and they have excellent coverage in the city.
10. Saving Money: Free events in San Francisco
In addition to leveraging public transportation, there are a few other tricks that will help you save dough while in this cultural city. Most museums offer a free entry day at least once a month, usually on the first Sunday or Tuesday (see freemuseums.org for a list of free museums).
There are also many fun things to do that are always free like: hanging out in Dolores Park, hiking in the Presidio, walking across the Golden Gate Bridge, watching the Bay Bridge light up at night and hanging out at Ocean Beach.
In summer, there are free concerts in Stern Grove and during lunchtime at Union Square.
11. Cheap eats in San Francisco
San Francisco is a foodie town and you can spend your whole paycheck at Michael Mina's five-star restaurant…or not. There is plenty of great…and cheap…food to be found.
Food trucks are a thing here and they cluster around certain spots in the city on the regular schedule. Check the Off the Grid schedule to find out where to go on the day that you are in town.
The Ferry Building is a foodie paradise, offering gourmet food at a variety of price-points. They also have a farmer's market and food trucks on Saturday, Tuesday and Thursday.
There are a bunch of taquerias in the Mission that offer excellent gut-busting burritos for under $10.
For after-hour drinks, there are a lot of fun bars in the SOMA neighborhood (near the Giant's Stadium) and most of them offer a happy hour from four to six.
Conclusion
Open yourself up to San Francisco's kooky culture, foodie spots and cool vibes and you'll have a great time on your visit.
---
– San Francisco Travel Guide added by GRRRLTRAVELER –
Where to Stay in San Francisco
San Francisco has a handful of charming and culturally diverse neighborhoods for travelers to stay in. Here's our San Francisco travel guide breakdown of the best San Francisco neighborhoods for travelers to stay in.
Union Square
Union Square is San Francisco's pulsing and busy heart of the city with access to shopping, restaurants, the plaza, and theaters. Where to stay in Union Square for best budget hotels & traveler faves.
Midrange San Francisco Hotels :Hotel Fusion C-Two Hotel has a trendy and modern vibe, with a bit of homey warmth that is perfect for the stylish traveler. It's located in Union Square, near the Powell Street Cable Cars and Powell BART station,
Cute and Unusual Theme Hotel: Hotel Zeppelin San Francisco is all about the stylish decor (retro, hip, modern, artsy, and just plain fun, the atmosphere transports you. It's in the Union Square neighborhood, so you'll be close to shopping and restaurants!
Fisherman's Wharf
Fisherman's Wharf is popular for tourists and an iconic spot for those who want bay views and lovely strolls to Pier 39 and Ghiradelli Square. Where to stay at Fisherman's Wharf : The Wharf Inn, Hi San Francisco Hostel
Fairmont San Francisco In an iconic historic building, the Fairmont San Francisco is a luxurious and historic hotel that'll make you feel like royalty! Located on top of Nob Hill, with amazing views of the city!
SOMA
SOMA is a great place to stay if you want close access to museums, trendy restaurants and nightclubs.  Where to stay in SOMA, see best budget hotels & traveler faves.
HI San Francisco Downtown Hostel this San Francisco hostel has a stylish decor, free breakfast, guided tours, dorm rooms with bunk beds and outdoor patio where you can meet other travelers and enjoy the sunshine. It's in the SOMA neighborhood, 7 minutes from the Chinatown Gates and close to Yerba Buena Gardens.
The Mission
The Mission is a convenient neighborhood with a cultural flair.  The heart of the Latino and Hispanic neighborhood, it has street art, Latino food and gorgeous views of downtown from the famous Dolores Park. Where to stay in the Mission neighborhood
What San Francisco travel tips would you recommend? What are things to know before traveling San Francisco?
---
Travel Essentials for San Francisco
Recommended Essentials for San Francisco.  Click to Shop.
---
If you enjoyed this post Pin it to Pinterest

 Note: This post contains affiliate links to partners we use. It is at no additional cost to you and by clicking on them and purchasing something, you will help support my site's work.  
Things to Know Before you Visit Posts:
Things to Know about New York City
Things to Know about Los Angeles
Things to Know about Chicago
Solo travel tips: