Last Updated on June 28, 2019 by Christine Kaaloa
Top 5 Travel Tips for New York City |
.
 As the most reknown cosmopolitan city in the world, New York City has a lot of sightseeing activities to fill several trips.  Most travelers experience a great surge of energy when visiting, due to the verve and drive around culture, arts, finance, fashion and business. The city is a hotbed of activity. So I'm going to share with you travel essentials for New York City to help you plan your trip to New York. Here's some things you should know…
17 Things to Know Before visiting New York City
1. New York's religion is time
Time is next to God in New York.  As a busy metropolis, New York City revolves around three things: time, speed and efficiency.  In fact, a lot of Manhattanites live by mental checklists and they often feel like there's never enough time to do everything they want and need to do.   To compensate for all that lack, New Yorkers try to get that extra edge in life,  by cultivating speed and efficiency. Understand this principle rule and you'll see how the city tics …tick.
Planning to move here? Read my New Yorker's Bible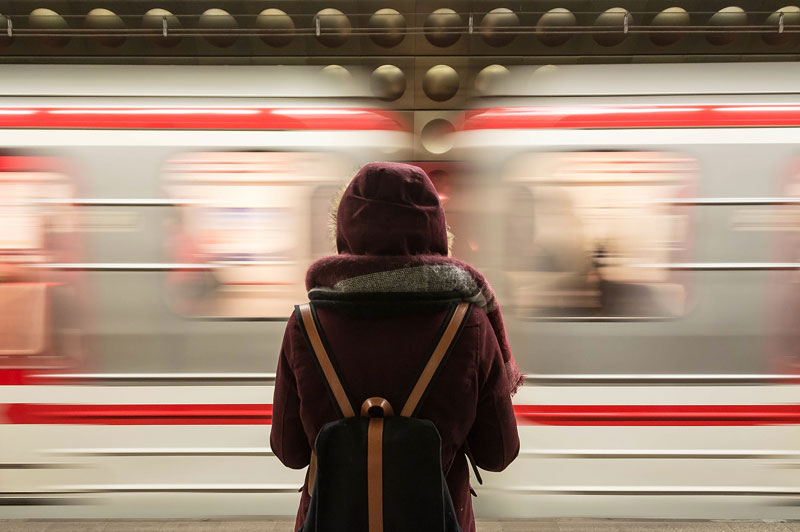 2. Bring comfortable shoes
New York City is a pedestrian city. Now I know many of you have probably watched Sex & the City and the women in it always wear high heals.  That's because they were taking taxi cabs everywhere. Unless your'e taking taxi cabs everywhere, be prepared to walk … a lot.  You'll be walking up and down stairs, you'll be taking the metro and bus all around.. and you will be walking blocks and blocks and blocks.  Being from Hawaii I was practically born in flip flops and when I moved to New York, I realized that they just didn't work.
3. Don't stop in the middle of a busy sidewalk or the entrance of a subway station.
I like to think of busy New York City sidewalks as the pedestrian version of the German Autobahn.  Nothing will irk a New Yorker more than if they're in a rush and you halt in front of them.  This is where the coined term 'weaving and dodging' comes in to New York lingo. As pedestrians, you'll find many New Yorkers weave and dodge their way through foot traffic as if they're on a freeway.
If you're going to stop in the middle of a sidewalk or the entrance of a subway station, pull off to the side, so other people can pass you by.
4. Be wallet-ready
If you're waiting in a checkout line, have your wallet ready when you get to the cash register. New Yorkers are very impatient.  If you wait in a checkout line, get to the front and let the cashier ring you up before opening your bag to take out your wallet,  you might not make the cashier or the people behind you very happy.
5. Expect cranky customer service
You might find most places you shop or dine at, cashiers and waitresses greet you with a welcome smile, a "Thank you" or "Have a nice day!"  as part of standard hospitality. Instead, you might get a grumpy look or hrmmph! reaction to your requests. In New York, good customer service and smiles are not a requirement… it's an option and you will still tip your service person as you would good customer service. Even that tip might not get you a smile.
6.   New Yorkers don't smile but they have heart
You can always notice a tourist to New York.. it's the sloppy grin that gives them away.  New Yorkers   don't smile nearly as much as their west coast counterparts do and you shouldn't feel offended by it. New Yorkers take their lives, ambitions and careers seriously and in a city as large, pedestrian and diverse, New Yorkers have to live on guard. Aside from their cold-rude stern stereotype, New Yorkers actually have large hearts (as evidenced by 9-11 and how the city bonded together). They will take time out to help if you're lost or in an emergency. Need help– just ask.
Read the 15 Shocking Things about New Yorkers.
7. New York has budget options
People think that Manhattan is an expensive place to live as well as visit.  Accommodations and apartments is going to be your highest cost. Beyond that, budget and free options can be found.
Manhattan actually has a lot of free activities like concerts in Central Park or Shakespeare in the park.  You don't need to rent a car, you can always take public transportation.  In fact you buy daily, weekly and monthly unlimited metro passes.
If you love to eat, there's always a lot of hole-in-the-wall restaurants with good food (like in Chinatown or Lower East side)… for cheap! There's even the occasional street food trucks and breakfast-bagel carts, where you can get a coffee and bagel for a little over $2.
Also if you love shopping New York does not have any sales tax on clothes purchases under $100.
8.  You can essentially walk most of Manhattan
New York is a pedestrian city with great public transportation to get you around in subway, taxi, bus. It consists 5 Burroughs- Manhattan, Brooklyn, Queens, The Bronx, Staten Island. Manhattan is the easiest to get around on foot.  As an island -13.4 miles long and 2.3 miles wide- its streets run parallel and vertically to one another.
Essentially, if you wanted, you can walk Manhattan from end to end in one day.  Yes, I've had lean MFA student years where I was saving on metro fare and walked daily from 22nd to 50th, from school to home. I've walked more. Question is~ would you want to?
Before mobile apps, my favorite pocket Manhattan metro map was Streetwise Maps

Manhattan Metro Map | Photo: Creative Commons.
9. Jaywalking is illegal but so common, it's almost legal
A travel tip for New York is that jaywalking is technically illegal in Manhattan, yet a lot of New Yorkers do it and the police don't flinch twice at it, even if it's in front of them.  Jaywalking is not heavily enforced.  You'll also notice New Yorkers stand off the curb (into the street) when waiting for the crosswalk signal to change- it's that unconscious need to gain an edge on your competitor and your ultimate destination.
10. Be prepared to climb stairs
New York City is occasionally thought of as a treadmill lifestyle, as New Yorkers are always on the go. But I think of it like a Stairmaster lifestyle. You'll see emergency ladders on apartment buildings everywhere (the signature architecture there) and many old tenement buildings have no elevator life so locals climb flights to get to their apartment.  But for the traveler in general~  if you're taking the subway you'll be climbing a lot of stairs too. While the stairs are not steep (and omg, nowhere like the subway stairs in Korea!), they can feel plentiful to the rest of the world.
11. MTA confusion usually happens on the weekend
The MTA Subway system has frequent servicing on the weekends(you can check the map on this site but it's a little confusing).  During this time they either close trains and/or reroute through others. You might accidentally find yourself on a train you thought made local stops, shoot by a stop and hit only express routes. I've made this mistake several times and ran late for work.  The MTA usually has some signs up but you can't always trust they'll be there. It's handy to download a free mobile app like
Free New York Subway Locator  so you get a headsup on service alerts. If you fly past your stop and did not buy an Unlimited Subway pass but have individual tickets, not to worry~ look for the next transfer station (usually they're big stops with several other trains coming into them). Get off there and rather than go outside the turnstile, find a tunnel underpass that takes you to the other side of the tracks. Note: This only works with transfer stations. If you accidentally leave the turnstile, you might try to talk to the ticket booth attendant, plea your case and if they're nice, they'll open the gate for you.
12. New York is a foodie capital
Foodies will love that New York is a foodie capital. The city is one of America's largest melting pots founded upon immigrant roots and its diverse cultures. The best international flavors from around the world can be found here.  Read  Best foodie neighborhoods in NYC
13. Visit the burroughs
New York City isn't only about Manhattan. New York City is made up of five burroughs ~ Bronx, Brooklyn, Manhattan, Queens and Staten Island. Each burrough has its own personality and food culture, for instance:
Brooklyn: Known for its trendsetting and artsy crowd with hip cafes, organic food and trendy clothing boutiques, Brooklyn Academy of Music (BAM) for great contemporary music and dance performances. There's is also Coney Island for beach boardwalk, carnival and sideshow amusement and MCU stadium park if you ever wanted to catch a Brooklyn Cyclones game.
Queens: Suburbs. Great food culture with ethnic melting pot. You can get great Indian food in Little India in Jackson Heights, Greek food in Astoria and authentic Chinese food in Flushing. You can MoMA PS1 and Socrates Sculpture Park in Long Island City.
Bronx:  Did you know the Bronx is the birthplace of hip-hop?  It's also home of the New York Yankees stadium and Bronx zoo. Fordham and Belmont are known as "real Little Italy," and if you love art deco, you'll find that in Grand Concourse /South Bronx.
For some of the foodie culture for these burroughs, check my foodie post here.
14. Where to find toilets?
New York isn't known for having a whole lot of public toilets and if did, I don't know if you'd actually want to use them. Public toilets can be found at:  Mc Donalds, Starbucks, Public Museums as well as,… the New York Public Libraries. Some parks will have them but I wouldn't necessarily count on them.
One handy mobile app I have is Sit n Squat by Charmin; it will locate the nearest toilet whether it being paid or free.
15. Safety for solo travelers
People are on the streets at all hours so overall it feels safe. But a populated city like Manhattan has its share of scammers, pickpockets, beggars, sexual predators and violence. Tourists are easy to pick out in New York City– they're not focused on where they're going, smile at everything, and they don't pay attention to their belongings. Be the opposite of what I just mentioned. Practice good solo travel safety tips and be cautious on crowded subway trains where pickpocketing can happen. Avoid jogging in the park at night.
Read how to outsmart pickpockets
16. What to wear in New York City
New York city is cosmopolitan but it can also be casual. You can dress with fashion or not. Try to avoid looking like a tourist, so you can blend. Winters get wicked cold so you'll want to  pack essentials for winter with a good winter coat, gloves, scarf. Fall is brisk and best with a light sweater and fall coat. Summer is horribly humid and hot, so wear light fabrics with breathability ( I usually like wearing knee length skirts).
Recommended Travel Essentials for New York City.  Click to Shop.
17. Best Apps for Getting Around NYC
Getting around NYC is easy. The city is small, grid-like and although the burroughs stretch large, NYC public transportation is one of the best in the world. It's really built around a pedestrian lifestyle. But with all the subway stops and lines, it can still be a little confusing. Here's best apps for getting around NYC.
Google Maps
Google Maps is fairly straightforward but for subway/metro cities, they've added that transportation feature so you can easily plug in your address for directions.
Free New York Subway Locator
The Free New York Subway Locator app displays a list of the nearest Subway Stations to your current location.  The app also includes the Official MTA Subway Map for offline viewing and alerts to subway construction and reroutes. Manhattan does have occasional subway construction and rerouting or turning express (vs local).
Transit App
Transit App  "Gives you the best route to where you want to go" – New York Times. Enough said. This app not only helps your best route in NYC but 135 other cities.
---
What are travel essentials for New York city. What are things to know before you visit New York City?
Planning at trip to New York City? Pin this to Pinterest