Last Updated on December 23, 2014 by Christine Kaaloa

VIDEO| Breakfast Trucks in New York City | NYC Attractions
.
Some cultures build their day around their breakfasts.
Not New Yorkers.
One thing you're gonna want to do if you visit New York City, is to get a morning coffee, bagel, or both, at one of the breakfast trucks! Breakfast food trucks, coffee trucks, doughnut and bagel trucks are all the same.
What are Breakfast Trucks in NYC?
It's a food truck that serves up morning brew and grab-n-go breakfast foods from 5am-11am each work day. They are one of the most common and popular foodie things that a fast-tracked and busy New Yorkers like to stop at for food on their way to work.  Breakfast food trucks are one of my favorite GoTos for a morning coffee and bagel ( if not a neighborhood deli).
Watch as I take you inside eating and ordering from a breakfast truck and bucket list this food spot on your next trip to New York!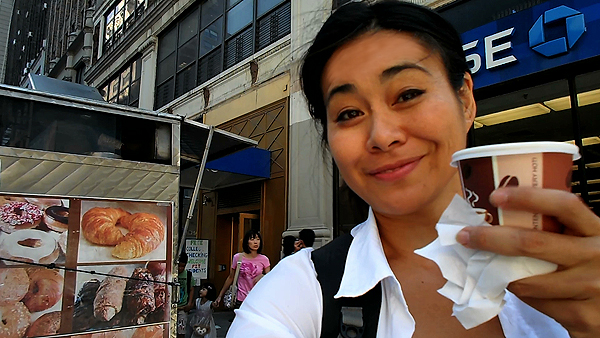 How to Order at Breakfast Trucks in NYC:
Some breakfast trucks actually serve quick breakfast to go meals, while others may  offer the basics of coffee, pastries, bagels and drinks/snacks.
•  The menu is usually located somewhere on the truck.
•  Know what you want before stepping in line (Don't read the menu in line unless you're a fast reader or it's a long line!)
•  Have your dollar bills ready. A coffee is usually under a dollar.
•  Ordering coffee-  Milk, sugar, non-fat milk, black?  Let the vendor know how they can prepare it for you.  Some will ask; some might assume you want milk and sugar unless you tell them.
•  Note: The guys working these trucks generally have given me the best smiles to start my day and smiles can be a rarity in Manhattan. It's complimentary more than standard to a service!
Have any favorite breakfast food trucks?  Leave them in the comments section below!