Last Updated on July 15, 2023 by Christine Kaaloa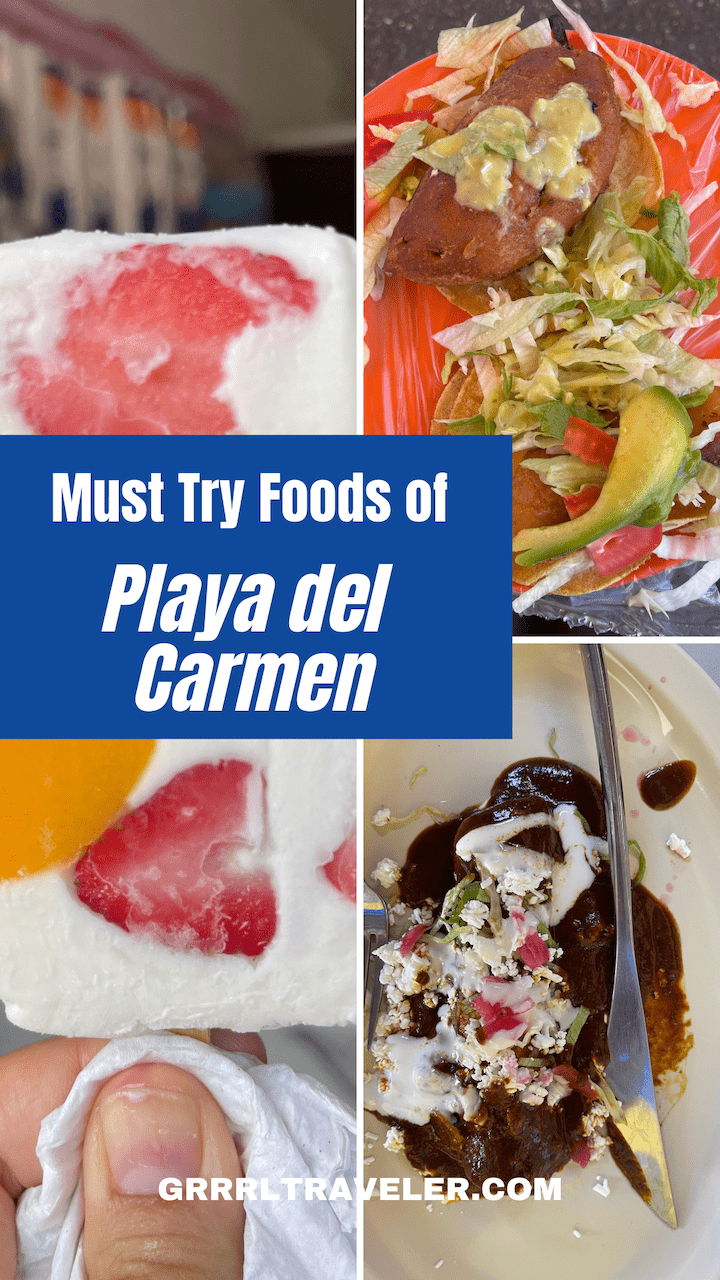 Playa Del Carmen is a favorite stomping ground for travelers and expats and it is certainly not at a loss when it comes to food. But decoding where to get authentic local food isn't easy or obvious.
I took a Playa del Carmen food tour with Eating with Carmen to learn about must try foods of Playa del Carmen, their ingredients and how to order food for a special vegetarian/pescatarian diet as mine. We explored the neighborhoods near 5th Avenue and Juanita Benez  to learn about food from the locals.
Going beyond the food and restaurants in the Centro area
The centro district (namely the streets around 5th Avenue) of Playa del Carmen is tourist central. It is crawling with over-priced restaurants and loud, throbbing nightlife bars catering to tourists on spring break, attracting a loud base of western music, expats and tourists and flashing lights. I'm thinking of a Cancun spring break here.
 My first couple of days in Playa del Carmen exploring the area, I found myself diving into tourist restaurants on 5th Avenue. I was eating Playa del Carmen foods, but what westerners and expats were drawn to. William, my roadtrip buddy was starting to crave familiar foods and a western restaurant experience. Another night I met with a travel blogger girlfriend living in PDR and we she took me to enjoy Argentinian food and the next night, Italian food.  I was seeing a different side of Playa del Carmen.  Not necessarily what locals might eat in an authentic or daily Mexico food experience. I knew I needed a food tour specifically for Playa del Carmen to see a more local side of life.
Our Playa del Carmen food tour met in the centro district near Founders Plaza , an open air plaza that's an entrance to the beach. It was founded by Fernand Cortez, a Cuban explorer. After a short history lesson of how Playa del Carmen took 122 years to change its name from Shamanha to Playa del Carmen, we started off on our food tour.
Watch my Best Foods of Playa del Carmen experience
Doing a roadtrip in Mexico?  I recommend Discover Cars with the lowest prices.
Must Try Foods of Playa del Carmen
1. Quesadilla
As tortillas are used often in Mexican dishes, Henry gave us a tip to decode things:
If you put cheese on your tortilla, it is a quesadilla
If you put food on your tortilla, it is a taco.
Simple isights like this help me understand the categories and forms that tortillas take. It's easy to be confused when you're always seeing a flour or corn tortilla.
Quesadillas are corn tortilla with Mexican cheese.  We stopped by a humble cafe for some quesadillas, flour tortillas with cheese and huitalacoche. The huitalacoche is a valuable fungus that breaks down starches. It's said to have a lot of health benefits. The huitalacoche quesadilla was a little bitter and super subtle. It needed more flavor and it wasn't my favorite, but I appreciated the knowing how it's a popular thing for Mexicans.
On the table there are typically three sauces that you'll find as condiments- orange habanero, green habanero and red habanero sauce.  All I can say is — Watch out for the Green habanero… it is the hottest sauce which will make your nose water and your face feel flushed!
2. Tamales
Tamales are corn tortilla bread steamed with a banana leaf and stuffed with anything from meats (pork, chicken, beef ) to beans and cheese. In Valladolid, I tried bean tamales from a street vendor; they were dry and bland. Our guide shared chicken tamales from his favorite vendor and these were juicy and delicious. I didn't try the chicken; but the corn wrap around them looked and tasted different from those I've seen previous. They were moist and spongey and maranated with the juices of the chicken.
The Mexicans have a believe that when you share food with corn you are giving your flesh, because we all originate from corn. Thus there was a misinterpretation by foreigners that Mexicans were savages, due to giving and eating of flesh that was tamales.
3. Poblano mole
Poblano Mole (aka mole from the Pueblo) is an oily thick paste or sauce sourced from various ingredients, such as nuts, seasonings, spices, fruits and Mexican chocolate. . It's said that each household and Mexican grandmother makes their own mole with varying ingredients from anything handy. So no mole is ever the same. Mole is served with chicken or with enmoladas, which are enchiladas with mole sauce.
Our guide took us to Antojitos playa del Carmen  (aka "Munchies").. a non-descript small warehouse looking shop. It is known to have mole that chefs of the big restaurants come to eat, such that doors open at 4a
The mole sauce is warm, buttery and makes you go "mmmmph".  I practically licked my plate.
4. Playa del Carmen Market visit
There's no better way to learn the different ingredients vital to Mexican cooking than a market visit. There's a variety of chillies, garlic, avocados and cactus. They even had a variety of agua frescas.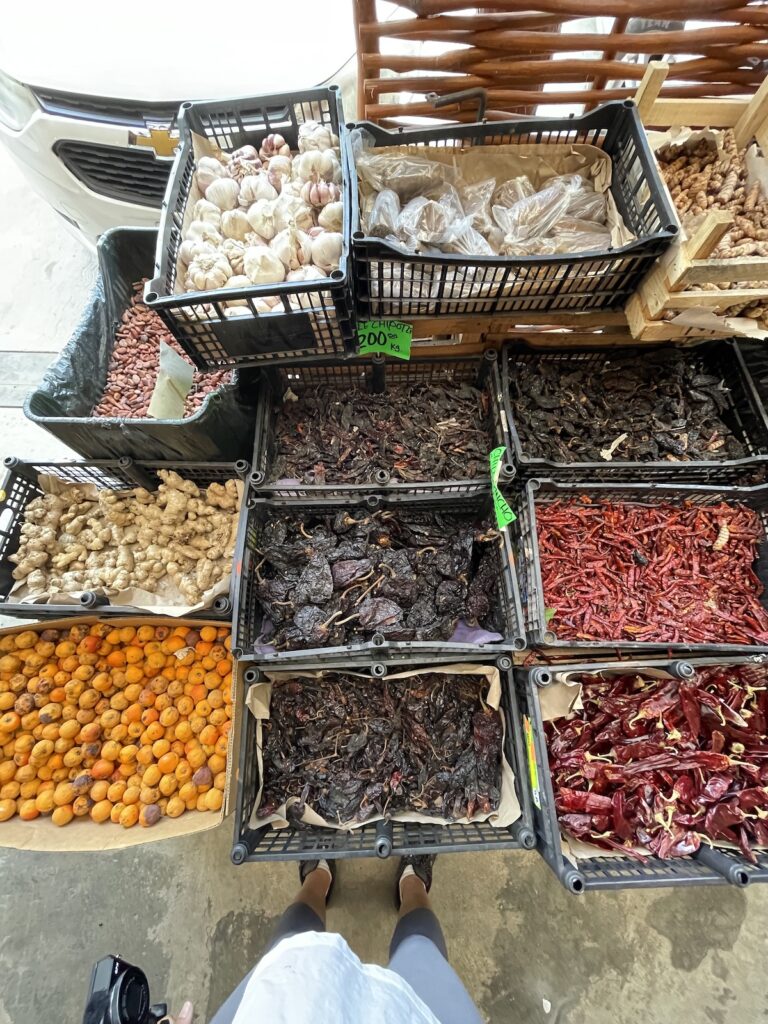 5. Cactus (aka Napoles)
Mexico has a special cactus that does not have thorns. This cactus is edible and is considered a vegetable with many health benefits.
I have seen cactus sold in supermarkets like Walmart and have tried cactus in Napoles con queso gorditas at Gorditas in Merida.  Cooked, it's a little bitter and tastes like a close cousin to bellpepper.  If there's tomatoes and cheese mixed with it, it can kinda taste like stew.
6. Agua Frescas
Agua Frescas ("fresh water") are cool and inviting fruit juices. Sometimes they come bottled in markets, restaurants, convenience stores and heladarias (ice cream shops).  Popular favors are:
Tamarind is a plum-like sweet taste and an ingredient you'll often find rolled in chili powder and served as Mexican candy.
Horchata – sweet rice drink. It's not my favorite, because it's like drinking sweet watery rice. Being a Asian and a rice eater, you'd think I'd love it but nope. Not my thing.
Pina (or Pineapple) – you cannot go wrong with pineapple.
Jamaica (or HIbiscus)– this is really pleasant and a soft berry like drink with a little sweetness. Jamaica and Tamarind were my favorite flavors and I ordered them often.
Tip about water and ice in Mexico: Many folks will say do not drink any water with ice in it, because the water in Mexico is not good.  I will agree that the water in Mexico is not drinkable (I even brushed my teeth with bottled water; when I should've asked my hotel if their water was filtered). But ice and drinks in restaurants, businesses, even street vendors are taken from filtered water. Mexicans cannot drink their water either and no business wants the bad reputation of making locals sick.  However, I've only experienced Yucatan and Quintanaroo states. I cannot claim this for all of Mexico. This is also why taking a food tour is helpful. 
Visiting Mexico cenotes? Check out my coral safe sunscreen guide for sunscreen that is safe for your skin and won't harm the environment.
7. Street Tacos
Street tacos are popular in Mexico and yet, you'd need to know where to go to find them. I've seen them in the back of big parking lots, in abandoned lots and on the side of popular shopping streets. They cost around $20-$40 pesos (roughly $1-$2) and they're basic meals for hungry pedestrians and local workers.  Compare to taco restaurants like Don Sirloin – a popular local chain restaurant mentioned by travel bloggers, where I paid up to $8 for three small-sized flat tacos- street tacos are inexpensive.
Many street vendors have signs (like the one below) to advertise their menus. The banner in the photo (below) states their offerings: tacos, tortas, burritos, quesadillas, gringas . The fillings menu below it reads:  pork, pastor beef, chicken, chorizo.  Street taco vendors have signs with pictures, so you cannot go wrong with ordering.
Special diets aren't as straightforward but you can ask for modifications. My guide ordered me a rajas (fat green chili) and camarones (shrimp), even though it was not stated on the menu.
Many street vendors still have a bottle of hand sanitizer for customers. I've found food and businesses in Playa del Carmen to be pretty conscious of that.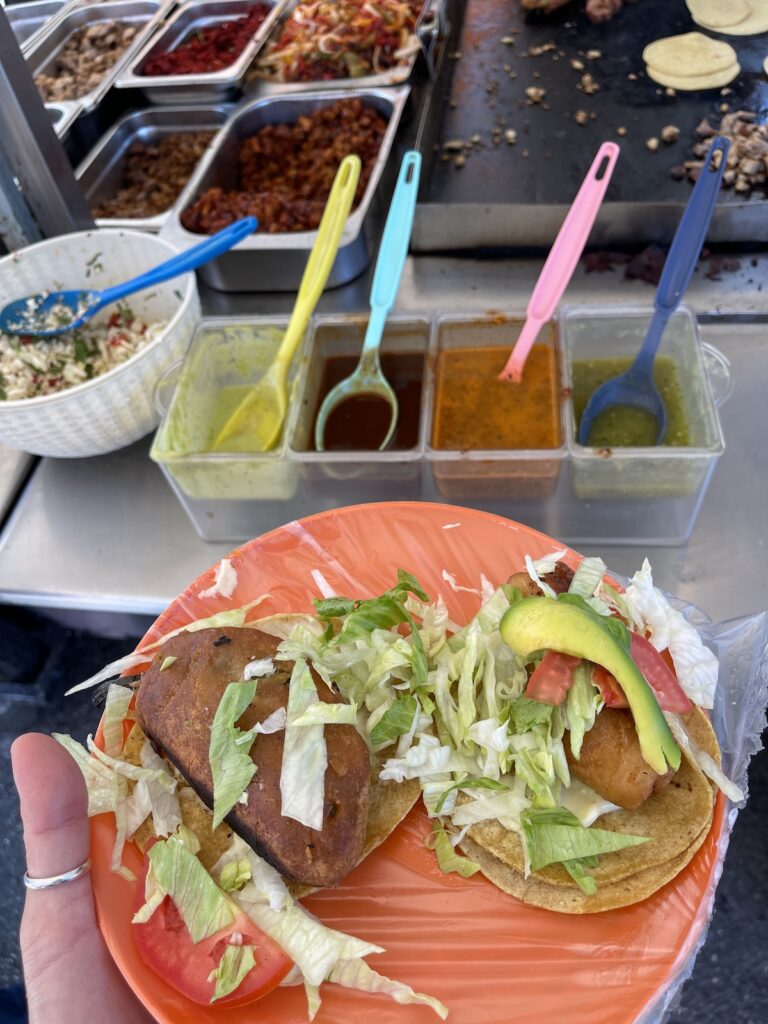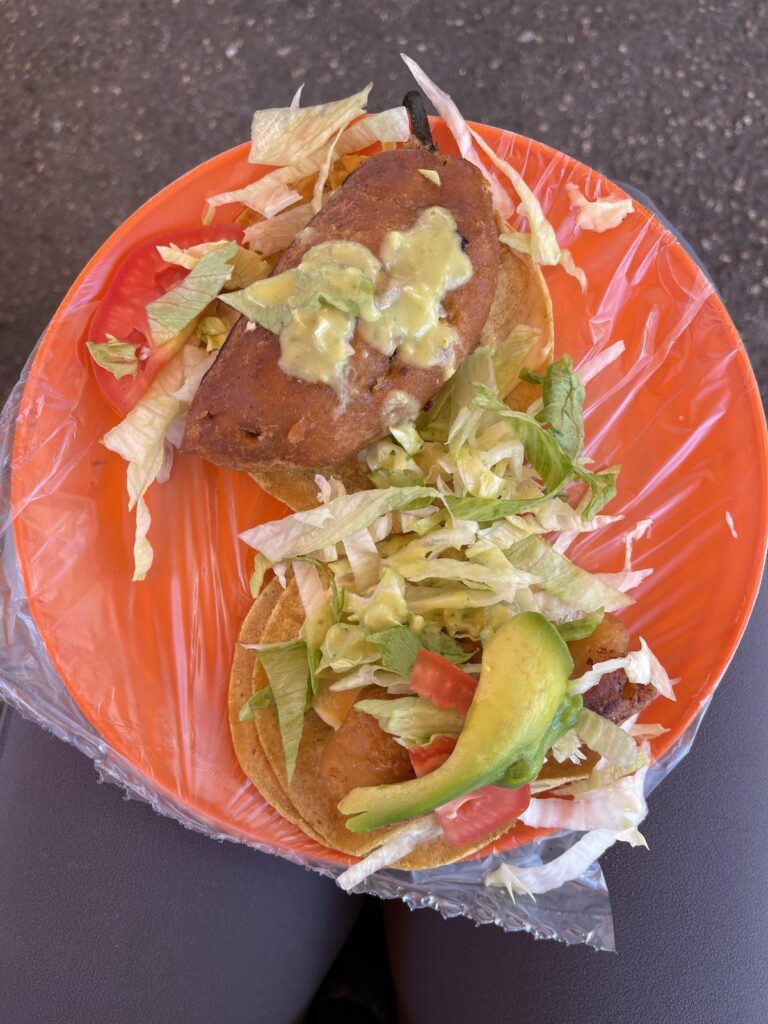 8. Palettas
Palettas are Mexican fruit popsicles that are made with natural fruit! When you bite into them you can taste bite-sized chunks of fruit which adds a refreshing and solid taste to satisfy you on a hot Mexican day.
The milky frozen treats are fun too. One of my favorites, not shown here are pineapple with chili powder. A little heat mixed with ice— it's nice.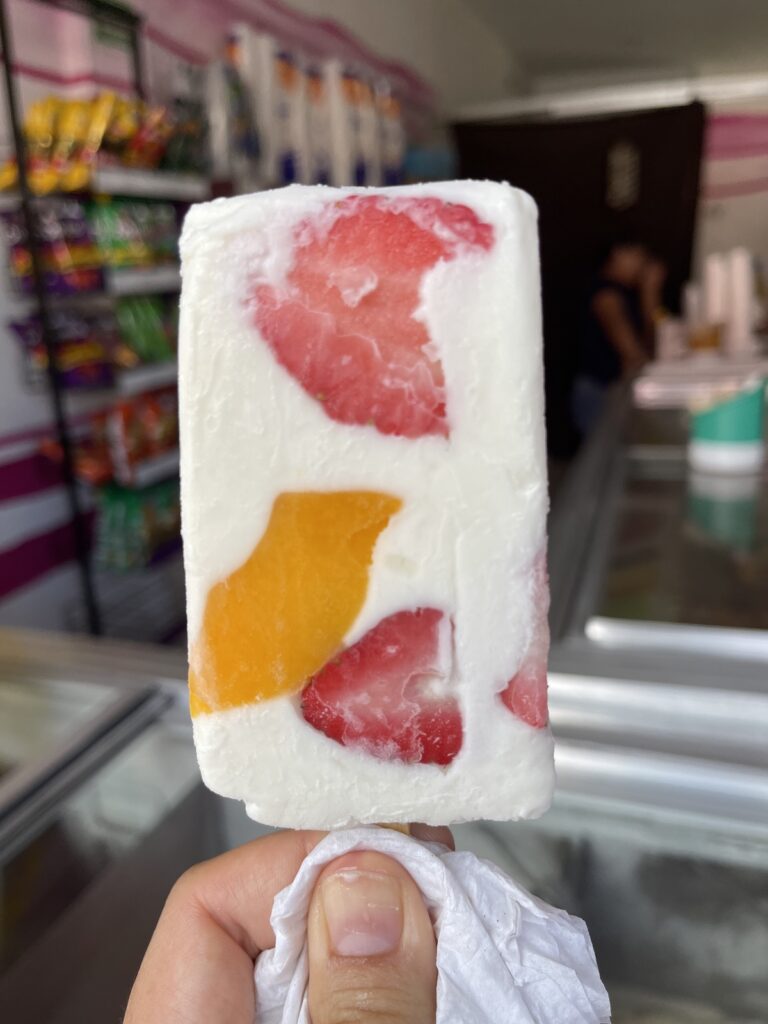 9. Deep fried crickets
Henry brought out a container of deep fried crickets for us to try.  This surprised me a bit. After trying six deep fried insects in Thailand, Cambodia, South Korea, the idea was not as shocking as it would've been had it been my first time.
The crickets are farmed crickets originating from Chiapas,  a region in Mexico that has had political unrest and is known to be economically undernourished.  Bugs offer protein to diets and it's a deep local snack. You'll find bug carts around (although I never saw one while I was there).
Surprisingly for a country that puts chili spices on everything, these crickets were not spicy.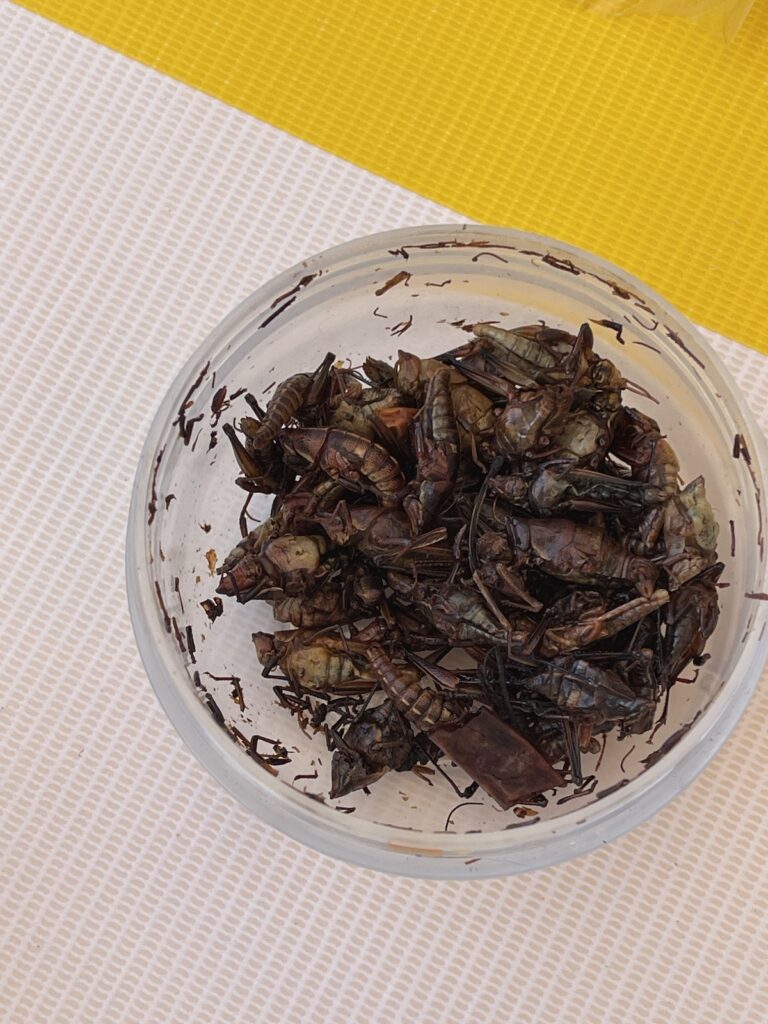 From Playa del Carmen, take a ATV and Ziplining tour to burn off the calories with an adventure!
Playa del Carmen's colorful mural neighborhood
We did a lot of walking to get around to these food joints while Henry shed insight on the neighborhoods. You'll find mural arts frequently in Playa del Carmen on building walls, in residential areas, under the freeway overpass and tucked away in obscure places.
A well-loved mural arts community is Pinto o Muerte (translation: Paint or Die) and they have a lot of colorful murals in the Centro area. Their murals can be fun but many also communicate political activist themes, spoken through images, portraits and paint colors.
Rebel Woman ("Zapatista") was my favorite mural and tucked into a parking lot. It was made by Eddie Colla (IG here). In Spanish, 'El mismo cielo el mismo sol' translates as "Same Sky Same Sun". The spray painted mural is intense, powerful and refers to the Zapatista movement in the state of Chiapas. It was perhaps my favorite mural.
The Best food tour of Playa del Carmen?
Conclusion
Doing a food tour with Eating with Carmen food tours was a valuable and unforgettable experience in learning about local Playa del Carmen foods that you'll find outside of the tourist trail.  If you ask me- Eating with Carmen offers the best food tour in Playa del Carmen and in other Mexico cities.  Their guides are local and knowledgable about what makes for a great foodie and insight driven experience. Their food spots are also curated for the best experience for travelers in food safety and cleanliness.
For a touristy and expat heavy city like PDR, this was enriching, eye opening and educational. It's a must if you're visiting this city!
What foods of Playa del Carmen would you add to this Mexican food tour list?
Best selling reef-friendly sunscreen: