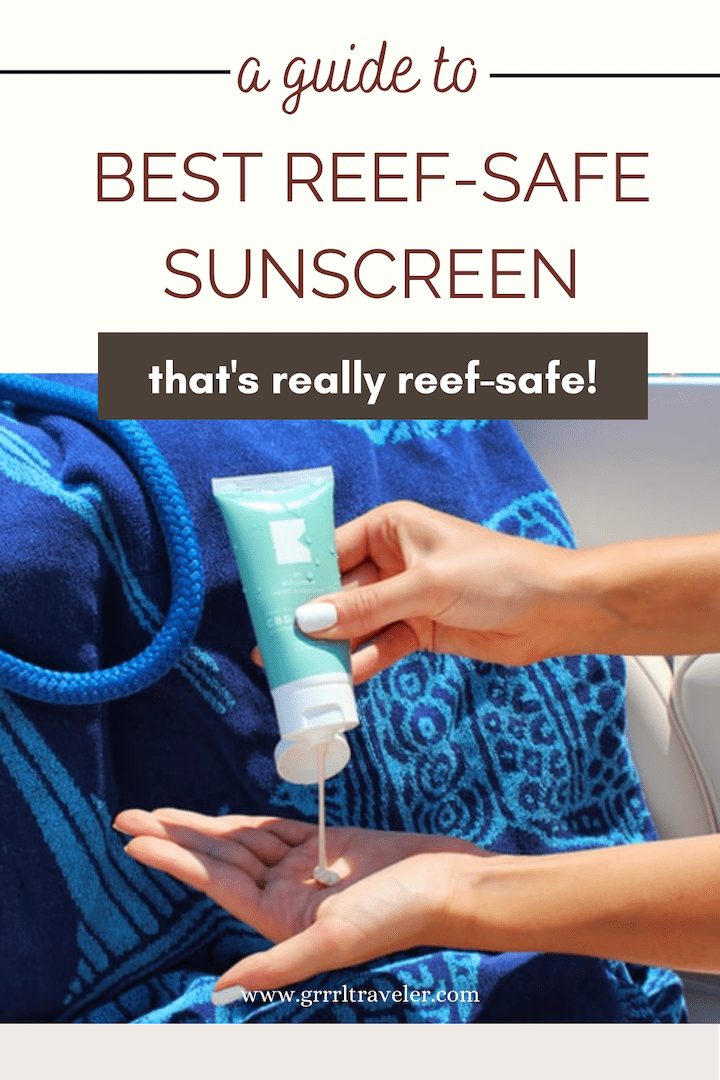 Spending time in the sun is a staple of any tropical destination such as Hawaii, Florida, Australia, and Mexico. But with the ongoing threat of coral bleaching and damage to the ocean's delicate ecosystem, as responsible travelers, it's important to consider the impact our sunscreen has on the environment. I know as adventure-loving but ethical solo travelers, you want to do your part.
In this reef-safe sunscreen guide, I share 10 best reef-safe sunscreens for travel and tips for buying real reef-safe sunscreen, so you can protect yourself and the environment on your next beach vacation.
Read Eco-Friendly tips to Ethical Travel
Note: This post contains affiliate links which help me maintain my blog and provide free travel information. All opinions are my own.
Why should you buy reef-safe sunscreen vs any cheap one at your local drugstore
Whether you're planning a trip to any destination where you'll be swimming in a beach, lake or biosphere preserve, it's important to know the sunscreen regulations beforehand. Hawaii has a law that bans sunscreen that is not reef-safe.
Cenotes and eco-parks in Mexico request travelers to use reef-safe sunscreen only or even better, avoid sunscreen altogether in an effort to respect and protect the natural environment and precious biospheres it aims to preserve.
According to reports, Hanauma Bay saw an average of 2,600 visitors per day, averaging a daily deposit of 412 pounds (about 50 gallons) of sunscreen. That's crazy!  Aside from Australia's Great Barrier Reef, which experienced widespread coral bleaching, Hawaii, Guam, and American Samoa hit the worst coral bleaching records in 2017. The pandemic gave these environments some time to rest from ongoing bleaching, but now that travel has re-opened and tourism is flooding back, those records are threatened to continue rising.
Infographic: https://oceanservice.noaa.gov/
Is Reef Safe sunscreen is a requirement at all beaches?
Hawaii implemented the Hawaii Sunscreen Ban in January 2021 to protect the coral reef. The law bans oxybenzone and octinoxate sunscreens." – BiologicalDiversity.org
Mexico also has a restriction against non-reef safe sunscreen to protect their oceans and cenotes.
While these destinations restrict and ban unsafe sunscreen from their waters,  this can not stop travelers from bringing and wearing their own dangerous sunscreens. You wouldn't purposely use harmful sunscreens if you knew it damaged coral reef,  which are the habitat and grazing grounds for marine life and endangered species, right? By making a small shift and buying reef-safe sunscreen, you'll lessen the overall harm to the ecology by doing your part.
What sunscreen ingredients should you AVOID?
Harmful sunscreen ingredients to avoid include oxybenzone and octinoxate. Coral bleaching is brought on by oxybenzone and octinoxate. They can cause stress, harm, and ultimately destroy coral reefs, fish, shrimp, and sea urchins.
But other experts claim there are more common ingredients in chemical sunscreens which cause further damage, as well: homosalate, avobenzone, and octocrylene. These chemical ingredients that help keep the UV shield up while you're in the sun are active ingredients that can harm both you and the environment.
And according to NOAA (infographics above), nano- titanium dioxide and nano zinc oxide are harmful for marine life even although they are considered mineral sunscreens.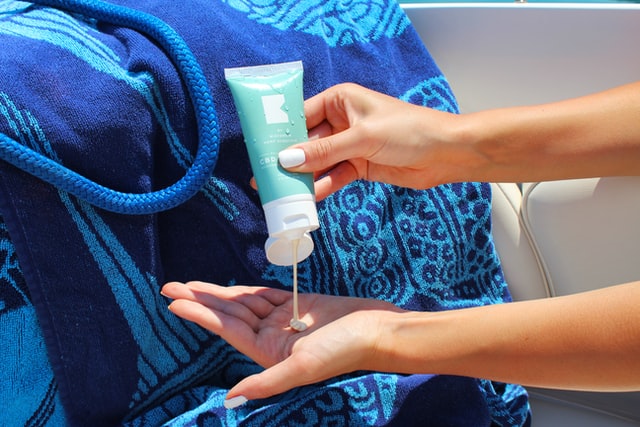 What is the healthiest eco-friendly sunscreen ingredient?
If the above is hard to remember when you're looking at an ingredient label, look for sunscreen with only one or two ingredients: titanium dioxide or zinc oxide.  These are far easier to remember.
Not only are these safe reef-safe sunscreen ingredients for humans but they are the most eco-friendly and organic choice, as it is a so-called "mineral" or "physical" sunscreen.
These are what surfers wear but they can go on pretty thick and white.  I have to do a bit of patting for it to absorb into my skin to look natural for regular daytime use when I go shopping or meet with friends, but I wear it in bold white streaks, when i'm engaged in water sports and outdoor activity.
What is the difference between chemical and mineral sunscreen and why is chemical sunscreen more harmful?
Many folks prefer chemical sunscreens because they can be absorbed into the skin, but they don't know that this option is more harmful. The chemicals soak into the skin to activate a chemical shield against UV rays. But absorption also means that you're ingesting chemicals; they're entering your bloodstream and pass through your urine, where it can have harmful effects for both your body and the ocean.
Mineral or physical sunscreen does not absorb into your body. When it is applied, it rests on the surface of your body, so you have a natural shield deflecting UV rays It doesn't need other ingredients to activate under your skin. This is the ideal sunscreen, but the drawback that some folks may not care for is that it can feel thicker and leave a white color if you've not rubbed it in well.
The good news is that these days, there are more "tinted" color mineral sunscreen like Raw Elements Tinted Facial Moisturizer Sunscreen which blends into your skin while moisturizing it. So we can have now have our vanity, health AND environmental ethics. 
False "Reef-Safe" Sunscreen Advertising Scams
Reef Safe and Reef Friendly sunscreen labeling are sometimes a fraud!
Today's store shelves are covered in several "Reef Safe Sunscreen" labels. It's even passed under the watchful eye of Hawaii's sunscreen laws.  These are just marketing gimmicks to get you to purchase them. The ability of sunscreen makers to destroy coral reefs is not required to be tested. Some claim to be vegan, organic, natural, or "oxybenzone/octinate free," yet nevertheless include substances that are dangerous and are prohibited in Hawaii.
Examples of false- advertising sunscreens sold in local drugstores and on shelves:
Sun  Bum Reef Safe SPF 50 Vegan Sunscreen (Do not trust the bum!  Contains avobenzone and octocrylene )
Alba Botanica Hawaiian Sunscreen SPF 50 ( Sold in stores and Costco, but contains avobenzone, octocrylene, homosalate)
Hawaiian Tropic Antioxidant+ Sunscreen lotion 

( I once bought this because the Reef Safe sticker was shown beneath it in a large, bold. Complete con! It contains avobenzone and octocrylene)

Hawaiian Tropic Island Sport
Buying Reef-Safe Sunscreen Tips
 Shop online and read the ingredient labels.
You can more easily read ingredients while shopping online. For instance, Amazon lists components for their products. See my list of recommended sunscreens above, and then read the ingredient labels!
 Avoid chemical and spray sunscreens.
The chemical sunscreens apply easily like lotion and usually have more dangerous ingredients for the ocean and you. They can accept a broad interpretation of "Reef Safe."
The zinc oxide or titanium dioxide in "non-nanotized" (aka avoid nano zinc oxide and nano titanium dioxide) mineral sunscreens is better for you and aquatic life. These ingredients can be a little thicker as their job is to deflect UV rays; they require rubbing in and goes on thick, but it is better overall.
10 Best Reef-Friendly Sunscreens
Hawaii Made
More reef safe products
Facial Sunscreen Sticks
8 Ways to support eco-conscious travel ?
To change the state of environmental damage we contribute to on a daily basis, we can change our consumer habits and practices through baby steps:
1. Read the ingredients label and use only reef-safe or coral-safe sunscreen.

It might cost a dollar more, but it will go a long way- you will be doing your part to preserve our earth and waters. It typically takes hundreds of ocean swims to finish an entire bottle of sunscreen.
Warning Tip: a lot of dangerous sunscreens are still on the market and will tout themselves as "Reef Safe." Before making a purchase, do take the time to read the back label.
Pay it Forward Tip: As I can't pack liquids larger than 4oz on carryon, I donate my reef-safe sunscreen leftovers to the next tourist before leaving the beach and explain the importance of coral-friendly sunscreen. While i'm paying it forward, I'm passing on my eco-conscious awareness to the next traveler.
2. Do not use sunscreen at all.
If your objective is not to get a suntan, but to enjoy water activities like visiting a Mexican cenote (many are cave-like environments which do not see daylight) or diving (you're spending time underwater vs above it), etc… you do not require sunscreen.
3. Rash guards
As I grow wiser with age, I love wearing rash guards for water and beach activities for various reasons from better coverage, cute fashion, moisture wicking and quick drying, better insulation when I'm in the water for long periods and I can use it for the gym too!  My favorite is my Body Glove smoothie but I love the zip up rash guard as a very light-weight sun jacket (and it also cuts a cuter figure than the Body Glove).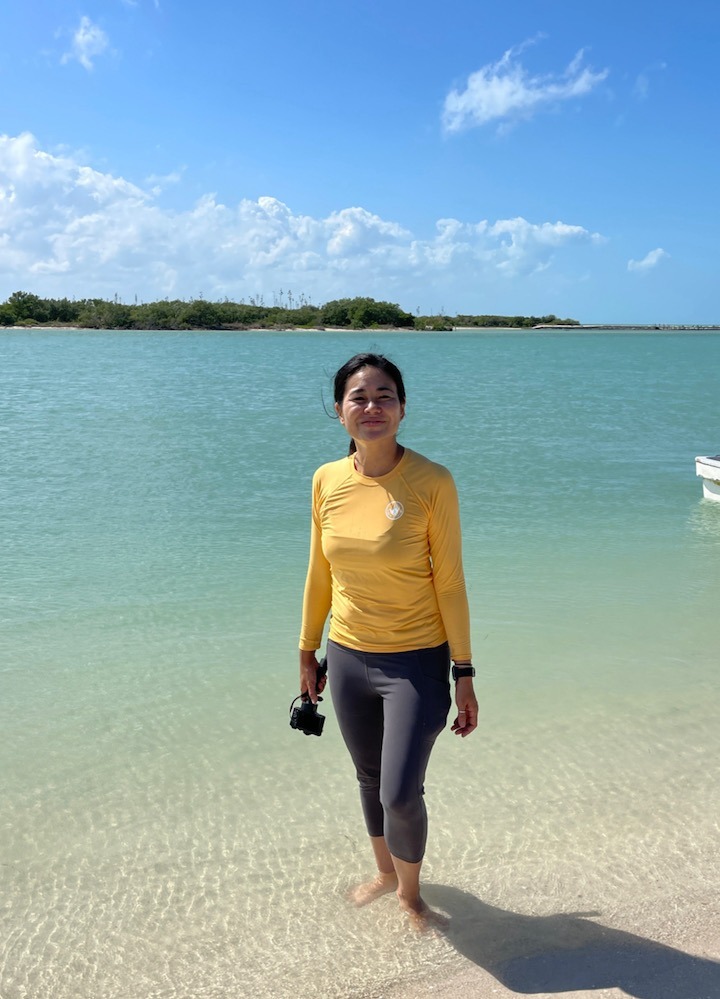 4. UV protection apparel
These days there are more apparel with UV protection and they are good to use, as added protection, such as long sleeved shirts and beach coverups.  Popular brand are :Columbia Sportswear, Solbari, and Coolibar
5. Wide brimmed hat or GRRRLTRAVELER cap
I've always worn baseball caps (and GRRRLTRAVELER adventure caps) to shade my face from the sun.  For my Mexico trip I bought a wide brimmed UV coated hat because I knew I was going to be in the sun for hours and Mexico can get hot.  I like some fashion but also packability and functionality of not flying off my head on a windy day.
6. Organic beauty products
By consciously choosing more organic beauty products, we reduce our reliance on chemical products. Products like perfume, makeup and deodorant have chemicals that can be harmful, not only to our bodies but to the ocean as well. While it will take me a while to reduce my reliance upon products like Korean BB cream (i love Korean brands because they use natural herbs in their beauty products), I discontinued my use of manufactured perfume for lemongrass oil and lavender oil.
If I know i'm going into the ocean, I'll avoid applying deodorant. I'm a heavy sweater, so unfortunately, I still carry a travel sized sports deodorant as a backup to keep my armpits from smelling. But I like to pack other substitutes like Crystal stick deodorant, a mineral salt stick that you just apply water to and rub on and Natural Aloha Pit balm, a plant based balm that is in a tiny balm container that is perfect to carry in a purse!  I also just started using Schmitt's Aluminum Free Natural Deodorant, I love the lavender scent!
7. Share this ecofriendly sunscreen guide with others
Let friends and family know how important it is to start saving our oceans and planet.
What would you add to this 10 best reef-safe sunscreen guide? What are your ecofriendly sunscreen tips for buying the best reef-safe sunscreen?
Share this blog post! Pin to Pinterest