Last Updated on June 7, 2023 by Christine Kaaloa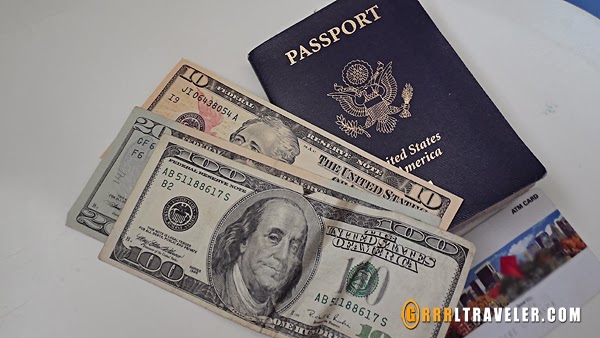 This post may contain affiliate links. Never leave home without travel insurance. Click for the insurance finder tool. and affordable insurance for COVID/quarantine protection.
A few months ago, a friend posted a video on my Facebook profile about how your luggage can be tampered with out you noticing. Insert ballpoint pen into zipper and run the rails to open. Then use the zipper to zip it close.  Mortifying. Thieves are continually coming up with new ways to outsmart travelers. So I'll show you tools and ways to avoid those pickpockets and thieves!
Can travelers avoid travel theft?
In many ways, travel theft is unavoidable. But the good news is that it is preventable with minimizing opportunity for theft and creating obstacles to make theft more unlikely by not appearing an easy target.
I was in Morocco traveling with a girlfriend when the airlines lost our luggage. As a travel experience, it proved to be a fun adventure, buying local clothes and products to get through the basics of our travels.  But when our luggage was finally returned to us, my girlfriend had quite a few things stolen from her.  One thing missing was a diamond engagement ring! Other items included a digital camera, and necklaces. Luckily, she was smart to buy trip insurance! While her ring was lost and the full cost of it could not be met, she was able to get some money from her insurance company to cover her missing items and the days our luggage was delayed.
With excitement and juggle of travel, unpacking, and repacking between locations, we can all make pretty idiotic mistakes. It isn't about your travel experience or inexperience; she was a seasoned traveler!
As solo travelers, we must try not act like prime targets, naive, unfocused and vulnerable.
Recommended: Get travel insurance so you're fully protected with insurance that covers lost or delayed baggage and travel theft protection. Read more here.
27 Ways to Outsmart Pickpockets and Thieves when you Travel
Prevent travel theft
1. Minimize your valuable
 Unless you're jet-setting to the Riviera, frolicking with a posh crowd, or staying at a cousin's house, there's no reason to bring expensive jewelry.  Theft can happen in transit as well as, in hotel rooms and if you're constantly on the move, it's also something you can easily leave behind by accident.
 These days many of us travel tech-heavy with DSLRs, video cameras, and mobile phones. As a solo creator, I don't have a choice- travel is my job and my camera gear and laptop help me do my job in the field. These create added stress for me to protect, so I try my best not to flash them around.  I only bring out my DSLR when I have to and when I do, I tuck it under my arm to conceal it or hold it strapped around me like a professional photographer. Sometimes, I even tuck it between me and my bag to add another layer of the wall to get through.  The way I wear my camera and gear let others know that it is my top priority and won't part with it easily, unlike someone who disregards it for recreational use.  Also, I follow up with the next tip…
2. Disguise your valuables.
Find a way to make it look a little trashy and personalized. That way, it's easily identifiable and not item thieves will target to resell.  I intentionally add stickers or mark things up in ways that make thieves know straight off that reselling it will be hard.
One of my latest techniques for disguising my laptop (photo below) was a hacking tip that Spanish travel blogger, Nelson Mochilero of Mochileros.org contributed to a travel hacking post I did. For a laptop case, I take used DHL (or FedEx or any mailer with bubble padding) and resize it as a laptop case. Do the trick and the bubble wrap ensure padded protection? Now I use this hack all the time. The gaff tape I used to seal the edges dumbs it down further (I also take a bit of that very tape along in the case I need a heavy-duty sealing tape- it's the super durable electrical tape used by Hollywood lighting guys because it doesn't leave a residue). Folks are usually surprised when they see my laptop emerge from it; some also think I can't afford to buy a laptop travel case.
3. Hide money in multiple spots in your bag.
I am not a traveler who likes to have all my eggs in one basket. Lose a basket and you've lost all your eggs. So I split up all my valuables and hide them in my bag. I choose about 2-3 dedicated places in my bag. If one spot is discovered, that's usually enough to satisfy a thief and I'll have two other places to go to.
4. Be creative about where you hide valuables
I've seen innovations using emptied sunscreen bottles and chapstick holders. I always stash some money in a designated sanitary pad (clean, of course) that I stuff close to the top of my pack for quick and easy access.
Tip: Always remember where you put it. I accidentally mailed my cash home, when I decided to use my sanitary pads as padding for a souvenir box I was shipping home.  It didn't arrive for four months- thanks Korea Post!
5. Avoid keeping money in your back pocket or your backpack
When you store your wallet and money in a place that you cannot see or feel, then pickpockets and thieves can easily lift it from you without your notice. Some folks will say that you put your money in your backpack, choose a place few will look, or keep a dummy wallet upfront to lure thieves to the wrong target.
Tip: I like to stash my valuables in an unsuspecting place, like deep in my bag under clothes, wrapped in a pair of clean undies or in a hidden pocket.
Invest in anti-theft travel gear
6. Backpacks with hidden pockets.
I tend to look for luggage that has hidden pockets for additional storage.  Both, my backpack (a Northface Terra 35) and day pack (a hiking day pack I bought in Korea) have dark pockets that are flush inside the lining of my pack and against my back. Okay, the backpacker's backpack was my old style of travel. But it had a crapload of pockets to access from the outside.
My Eagle Creek Doubleback 22 is my favorite convertible roll-on-backpack and it has a few hidden pockets as well. These are places I might place a copy of my passport and information too.
7. Bags with hidden organizer pockets
Ditch the purse and go with a sturdy day pack. Many will disagree with this advice, claiming a backpack makes you look more like a well-targeted "tourist". Maybe so, but daypacks hold more and are harder to rip off your back by a thief.  Call me crazy but when I look at purse-toting tourists, my assume four worldly things fit in it– credit cards, an I.D., a mobile phone, and money! Backpack wearers assume to stash jackets, water, and snacks and if you can fish through them all you might find the money.
Messenger bags look and tend to be bulky and they certainly hold more… but the straps are sturdier and tends towards a rugged look. I like them because they are camouflaging. They carry gym clothes, work papers, shoes, DLSR's… it's the mysterious black hole of personal storage.
When carrying expensive cameras (I carry two!)  and gadgetry, I recently bought an Ape Case Messenger Bag, which I've been traveling with and love for all its hidden pockets and quick access.
Some could argue that only backpacks don't blend and that makes you stand out as a tourist. I disagree. As a backpack wearer carrying a load of expensive media in my bag (I'm a travel blogger and vlogger, so technology is the tool of my trade!), I've analyzed my situation amongst locals. Did you know college students and laborers wear backpacks too?  Also, it takes effort to steal a backpack; you can't easily rip it off someone's back. Before I used to use a hiking day pack but now that I need a gear pack, I use a Targus 15.6 VIP Checkpoint Friendly backpack which helps organize my gear in the process.
Sling bags are part purse, part backpack.  I like them a lot and use them for home, travel, and work on television sets.  My favorite is the Ameribag healthy back sling bag.   I actually have two of these!  If you're a pocket maniac like me, who likes having separate compartments to organize your things, this is it.  In fact, there are so outside pockets, secret pockets, and pockets within pockets in this that a thief wouldn't know which pocket to look in.  The only drawback with this bag is, with all the options, you might just forget where you've put things!  As I mentioned above, another recommended brand is  Travel On anti theft bag. While a bit pricy, they have slash-proof protection to deter savvy pickpockets!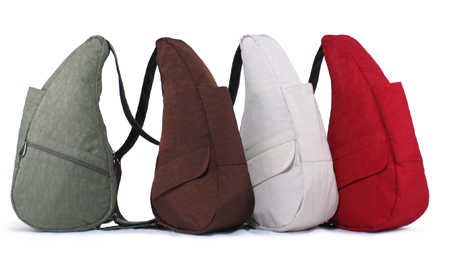 8. Slash proof purses
If you insist on wearing a purse, get slash proof purses like the Travel On anti theft bag.  The bags are constructed with steel wires in the straps so straps cannot be slashed on drive-by in places like Cambodia or Vietnam.
Drape your hand over it to let offenders know you're aware of your possessions.
9. Clothes with smart pockets
I've seen running shirts with side zippers but usually, I like to have them in front of me.  One brand I've tried that I like is the Clever Travel Companion, a line of clothing (shirts, underwear, long johns) with built-in pockets created specifically to stash valuables.  Read my review here.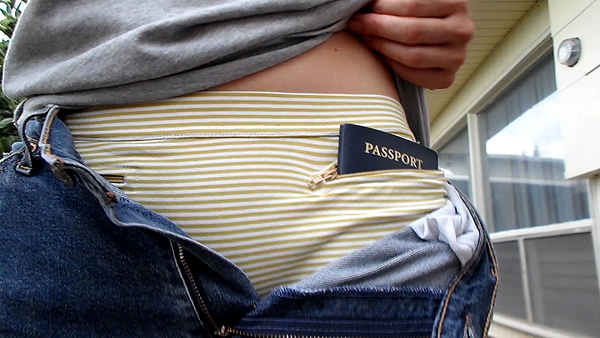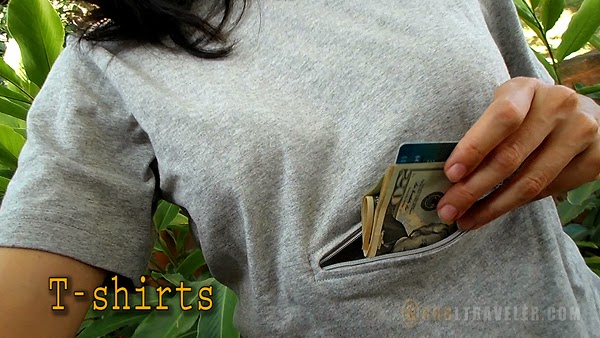 Scott eVest has been around for a while. They make vests and clothing for both, men and women, that features several hidden pockets which let you stash your phone, money and various type of valuables. They're a little pricy but as travel apparel, they are very functional, practical and are great for someone who wants options for organization and hiding.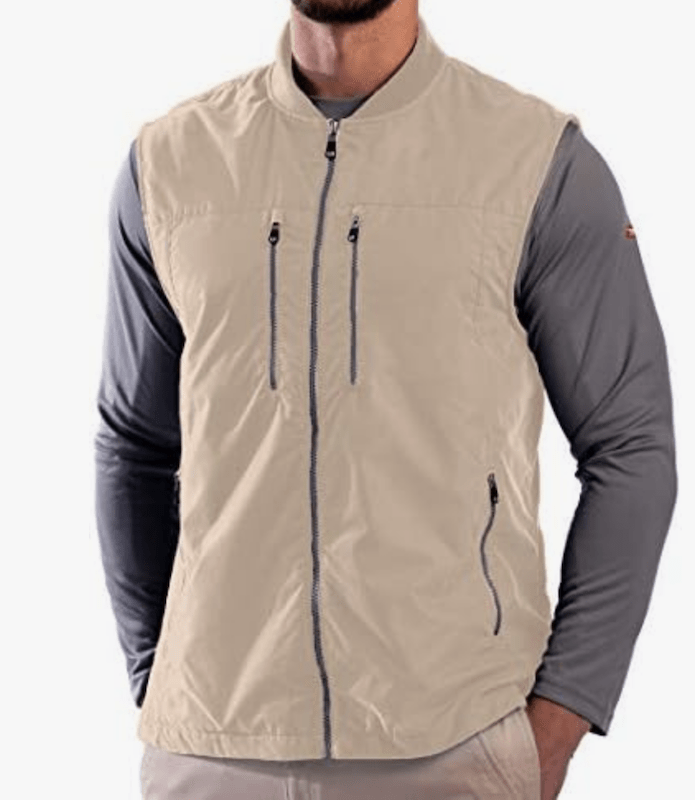 10.  A money belt
Money belts have been handy for a long time and many travelers feel comfortable wearing them. Generally, I equate them with the Rick Steves type of travel nerd, which tends to be smart, and cautious but still curious.  But I actually still take one with me, but I use it as an organizer to stash my passport and some backup cash (and keep it in a hidden pocket in my day pack). This Lewis & Clark money belt is simple, while this Zero Grid money belt offers RFID protection, RFID sleeves and a $300 Trip Assurance protection! (wahhhht?).
If you don't want to necessarily have to run to the bathroom to remove moeny from your money belt, I recommend the HERO Neck Wallet. It's got RFID Blocking Passport Holder and it's handy for going through TSA because you can carry your passport, flight tickets and mobile phone in it! I just got it and love it.
11. Hidden pockets: Spibelts & PortaPocket
SpiBelts are something I occasionally use for jogging and hiking but at the waist, they can be discreet and worn directly in the front without calling attention to yourself.
Likewise, PortaPocket
strap-on pockets are an inventive way to conceal your money, credit cards, and small valuables.  You can wear them outside or underneath your clothing, around your waist, thigh, or upper arm.   They come small enough to fit your credit cards or large enough to fit your passport, with an 18″ velcro strap.  I personally like the smaller size, which you barely feel on you.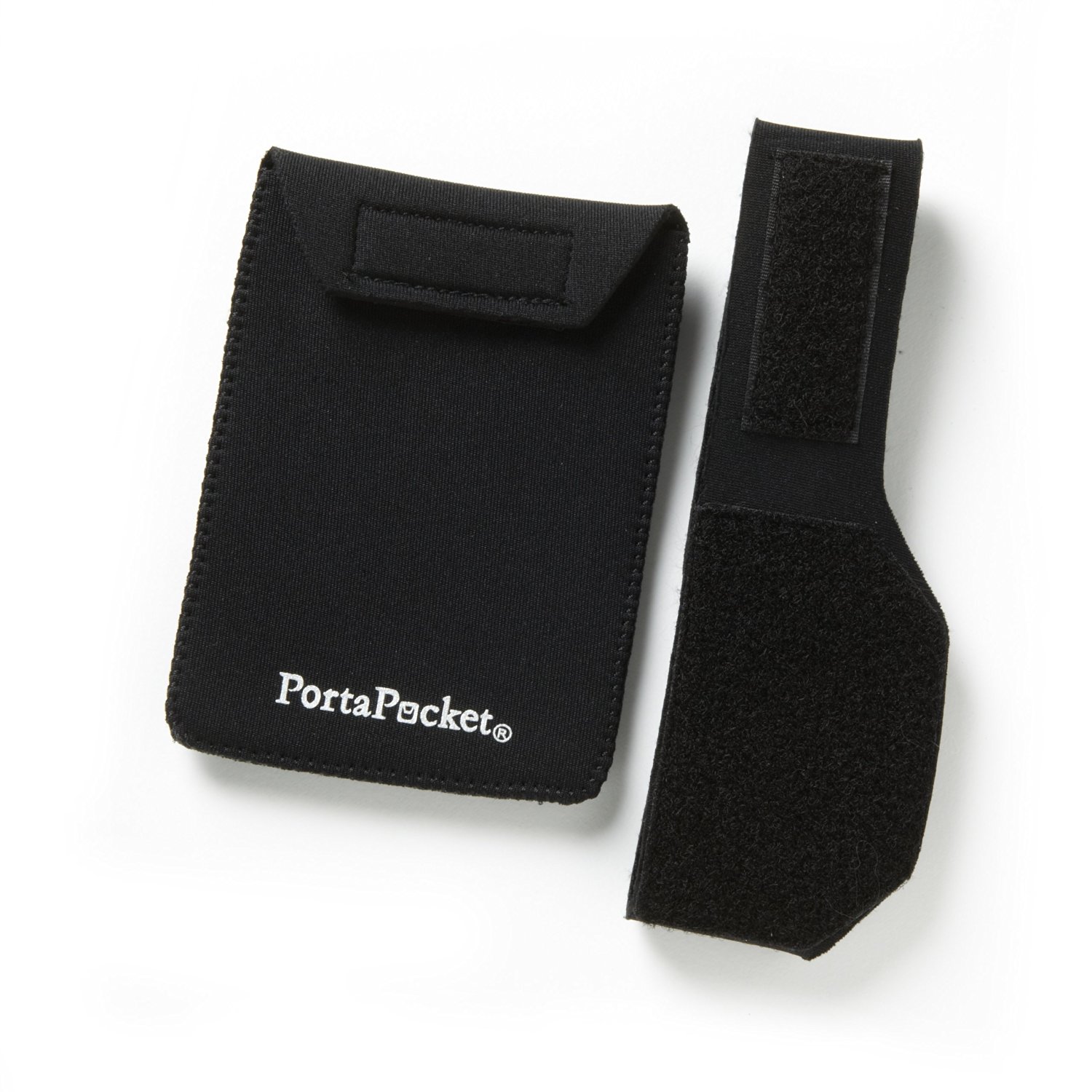 12.  Wrist wallets
This one stumps folks all the time! Initially made for joggers, these wrist wallets come in handy for travel.  Today, due to mobile phones, they store iPhones to credit cards and money. I've been using Sprigs' Bangees Wrist Wallets for years. They camouflage well as jogger sweatbands or fashion bracelets. I use these as my market purse because I can fit just enough money in it for shopping. Often I find locals are continually surprised when I bring money out of them and yes, someone would need to cut off my hand to get to it. I try not to think about it.
I've loved my fashionable Bangees wrist wallets to the point of disintegration. They are just too convenient and clever in both, concealing and accessing money.

Watch how I use mine for travel and going to the beach!
13. Scarves with stash pockets
Pickpocket proof infinity scarves come with stash pockets for you to store anything from a phone, passport and money. The Clever Travel Companion Infinity scarf makes a good one. Just don't forget to leave your scarf behind!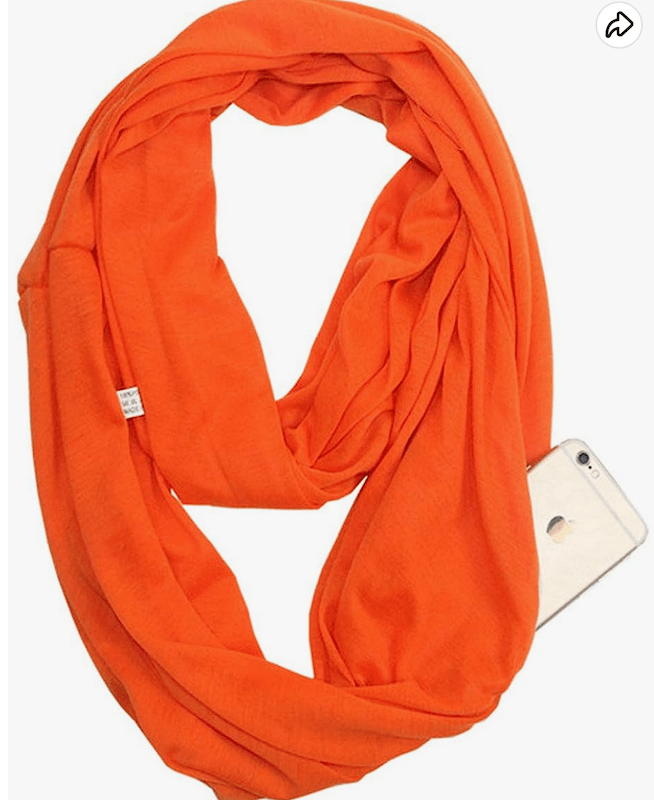 14. Sock wallets
Travelers were long claiming how stashing money in their shoes worked for them. But with Flippysox Zipper Sock Wallet you can avoid the foot odor and stash cash straight your sock's wallet. So secret agent!
How to avoid travel theft in hotels
15.  A hotel safe or lockbox
Valuables are only safe outside your belonging if you trust the source storing it. I've never used a hotel safe in my life, but I imagine they must be safe.  But I still avoid storing my valuables separate from my belongings for the simple reason that when I'm in a rush (which I normally am),  I might forget it.
>> See my hotel routine here.
If you're the type of person that will remember if you've left your money in a safe or anywhere else in your room. Let me know how that works for you.
16.  Always have some of your valuables on or near you.
Let me reiterate- because of my video work, I carry an obscene amount of digital technology on me when I travel. Unless I find a safe locker I feel I can trust, I store it all in my day pack and it seldom leaves my sight or back.  I've made this my religion. When flying, I keep my gear daypack between my feet as my first choice. If I have to split up my luggage on a flight, I take out a fold-up bag to keep my valuable items with me.
17. Avoid storing valuables in luggage storage rooms that allow anyone to enter.
I occasionally leave my luggage in hostel and hotel storage rooms, even with tour agencies. But I don't keep my money or valuables in them. They aren't guaranteed to be safe and often, it's open to travelers and staff. I've known travelers to still get items stolen from them, as some places don't monitor who enters the room. Many storage facilities allow travelers to enter to get their own luggage.
Tip: If you choose to trust a hotel luggage storage, ask about their system. Do they give you luggage claim tags?  Is one person in charge of the storage facility ? Request the name of the facility people and attendants who take in your luggage so you have a breadcrumb trail (and so you can personalize your experience when you pick up your luggage).
18. Bring a personal lock.
Some hostels give you your own personal locker for your bag and belongings. These are great but I'd bring my own lock.  If you don't bring your own lock, then only put valuables in them when you're in the room.
19. Don't leave valuables unattended in your hotel room
When staying at hotels, there's my laziness always tempts me to leave my laptop open on my desk.  I have to remind myself to put it away. Not all hotel staff want to steal your belongings. No one wants to lose their job. But I don't like to take chances. Any valuables or technology left out exposes me as someone who's got something to steal. Pack it up before going out.
Read my Travel Guide to Staying in Hotels
Practice travel theft safety precautions
 20. Travel  Insurance & Travel Theft Protection
In the case you do get something stolen, travel insurance takes a load off your stress factor and softens the loss. I've used World Nomad's Travel Insurance – they offer low rates (especially for Americans) and the best coverage if you ask me . The insurance is aimed at backpackers, who tend to experience a gamut of things from theft, sickness, luggage loss, accidents, etc. Their packages include theft protection. In order to qualify for it, keep accurate records. Sometimes, I go as far as writing down my serial numbers and keeping receipts.  What is necessary: If your valuables were stolen, report the crime to the police.  If your baggage has been lost, get a report from lost luggage baggage at the airport.  Whatever you do, file a report as that will be necessary for you to report your loss to your travel insurance company.
How to Avoid Being a Target for Pickpockets
21.  Dress like a local
Locals, vendors, and thieves, all size you up the moment you stand in front of them. Dress neat and respectable to blend with the culture.  Avoid standing out or looking like a tourist with wads of cash socked away in your wallet.  As a solo female traveler, I also dress down… a lot.  I don't want to attract too much attention to the fact I'm a lone female or that I've got money. As I carry a lot of expensive camera equipment I dress down even more!  I want to appear as unsuspecting as I can.
22. Don't wear clothes that make you look like you have money
People like to shop for new clothes and accessories before going on their trip.  I say, don't. Use what you have and in some cases, I'd take old clothes or your less-than-nice-purse.  You don't want to attract thieves by looking as if you have money.
Tip: This will also open space in your luggage to do souvenir shopping when you get to your destination.
23. Swivel that bag or backpack to your front in crowds and public transit
I'm not a big fan of wearing my daypack in front of me as if I have a baby bulge. Still, I swivel it in front of me and place my hand over it, especially when i'm in crowded trains and markets.   I do it to let pickpockets know I'm not an easy target.  A thief will have to physically move my arm to get through me. When choosing between me and someone who looks distracted by their personal belongings, there will be no contest who they'll choose.
Photo Tip: I also use that swiveled forward technique to prop my camera up for a steady shot.
Watch my video on safety tips for solo travelers.
I share street smart tips for how to hold your bag and more!
24.  Walk with your hand over your camera or purse
I hear a lot about techniques where thieves snatch your bags off you from a motorbike. If i'm carrying a camera (or purse), I place a hand over my camera to outwardly indicate that you will need to grab my hand to get to my camera.
Watch how I do it in my solo travel safety video below.
25. Keep wallets on the inside pockets (vs outside ones)
This might be obvious, but avoid stashing your wallet or valuables in the outermost pocket (Usually it's the one most exposed to theft). Instead, put it in the pocket nearest to your body so you have a better chance of feeling a thief's hands.
26. Look and be aware of your belongings at all times
I actually make this rule my number one focus, when I travel.  I don't want to have anything stolen and so I pump my guard on high and I make this my travel religion. When someone nudges me in a weird way, my hand immediately goes to my backpack zippers to see if any were tampered with. I always drape my arm over my belongings and if I have a DSLR out, I always hold onto it (sometimes, with both hands). The more value I have on myself, the more I'm conscious about protecting it. I never sling my bags or packs over a chair when eating. it's always in my lap, so I know where it is. It's the same as if you were protecting your child. Treat your belongings like your child.
27. Don't act or look like an easy target
As a traveler, you will probably always look like a tourist, no mater how much you dress yourself up or down. What you can alter is to avoid looking like an easy target.  Theft starts from looking easy, distracted, confused and a bit naive. So don't look it. Look focused and aware at all times.
Of these techniques, try what works for you.  I've actually used all of them and employ several of these techniques at the same time to ensure I'm well-guarded.
For more travel tips to outsmart pickpockets read:
What are techniques you've used for travel theft protection?  How do you outsmart pickpockets and thieves? Share it in the comments below.

.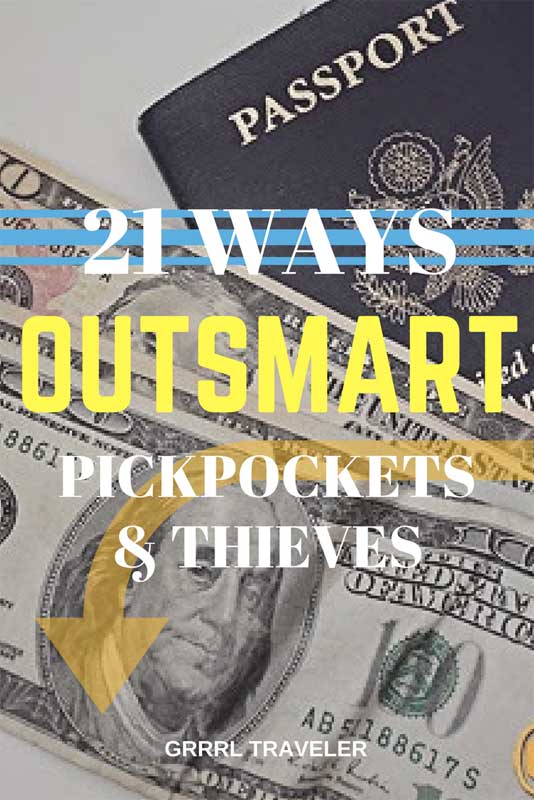 Note: This post contains affiliate links of which we receive a tiny commission. Each purchase made through using them helps us maintain our site and bring you free content.  This is at no extra cost to you.