Last Updated on July 13, 2023 by Christine Kaaloa
This post may contain affiliate links. Never leave home without travel insurance. Click for the best travel insurance for gear protection and best insurance for COVID. Want camera gear advice for your film trip? Book a vlogging gear advice session with me.
What to pack for a film shoot abroad?
Traveling as a female solo travel vlogger and freelance camera operator, I chase and film story assignments in exotic and new destinations. This post shares an essential packing list for travel vloggers and adventurous filmmakers.
Packing for a film shoot abroad, I know I am the sherpa of my video camera equipment and content creation gadgetry.
 Living from hotel to hotel, filming myself eating street food and uploading my day's adventure to social media at night as I backup my day's shot footage is not a healthy lifestyle. Traveling solo is one thing. Travel filmmaking as you are solo traveling a destination for the first time… is another beast entirely.
Packing List for Travel Vloggers & Adventure Filmmakers
Here are 15 essentials to pack for a film shoot abroad.
1. Travel documents
Passport, visa, immunization shots, medical records and Covid vaccination shot card.
2. Equipment Insurance
What are the odds something could happen to your camera equipment gear when you're on the road?  Many travel vloggers, bloggers and freelance videographers I know carry insurance for their gear, whether at home or abroad. Homeowner's Insurance is a popular one.
I purchase World Nomads travel insurance for its tech equipment coverage for lost, stolen or damaged gear.
2. A good travel camera bag
A good solo travel camera bag can be your production assistant in the field. Buy a bag based on your equipment and your travel shooting style.
Cinematic travel filmmakers take time with their shoots and like bags they can rest and unzip to see its organized contents.
Travel vloggers might have a more vlogging or journalistic approach and like to keep fluid, capturing the Keroac essence of motion. They require bags with quick access to equipment.
Find a bag that works for you and don't be disheartened if you've not nailed it on the first try. I've gone through a handful of bags to find my perfect fit. See my travel camera bag reviews.
Recommended: Manfrotto NX CSC Backpack, Manfrotto NX CSC Backpack
2. Compact luggage
If you've book a rental car and a nice hotel to plunker down in for your entire stay, whipping out your behemoth rolling suitcase may work.  But for adventure travel filmmakers who will be using public transportation and filming in remote locations, you want your luggage to fit in small spaces like crowded country buses. The minimal packer can fit into more local spaces without standing out.
Highly recommended: Eagle Creek Expanse 21″ and Load Warrior 22.  Read my review.
3. Pants with pockets
You might be tempted to wear jeans or a skirt if you're going for Instagram shots, but if you're travel and filming your trips, you want comfortable and practical pants focused around your job as a video creator.  Comfortable cargo pants with many pockets is something I wear for film crew jobs. Often you're going from location to locations, deep pockets allow you to hold batteries, power bars and anything set life throws at you. Additionally, I've been loving yoga pants with side pockets where I can quickly stash my keys and mobile phone.
Travel filming gets adventurous when you traverse several changing environments in a day. For those situations, I adore rugged convertible pants which zip off your legs to don shorts. It helps you meet unexpected and adventurous settings.
4. Comfortable closed-toe shoes
Being a traveler on a sightseeing adventure is one thing. Being a travel vlogger filming your sightseeing adventure, you have your camera gear backpack glued to your back and you're going to be on your feet for hours- running, walking, standing, trekking, filming, setting up shots for the 'gram, etc… Thus, you want to wear comfortable walking or athletic shoes. You also want to bring a pair of snazzy GRRRL flip flops to let your feel rest when you get back to the hotel.
Tip: For days you know you will be on your feel for a long time, bring compression socks. 
5. Light-weight windbreaker
Light-weight packable windbreakers are ideal to store in your day pack. You never know what an environment brings in weather conditions or when you stay outdoors for hours, into the evening. The jacket will keep from having to run back to your hotel before going to dinner.
6. Power banks and backup batteries
Essential to any packing list for travel vloggers are batteries and power banks. Traveling to different shoot locations, you will have little down time to charge your batteries outside of your hotel. Bring power banks and backup batteries to ensure you're prepared.
Recommended: Anker 10,000 mAh for a day's charge. A 5,000 mAh lipstick charger holds one full mobile charge.
7. Extra memory cards
Memory cards are not something to scrimp on when you're a serious travel filmmaker. The last thing you want to happen is to find yourself in the midst of crucial filming when your card hits Full. Memory cards are inexpensive to buy and you will always find a use for them. If you are not offloading footage to an external SSD drive while traveling, but are waiting to do this when you get home, taking a card per day is sufficient.
8. A SSD Storage Drive
Backing up memory cards onto a SSD storage is a godsend. SSD's are a bit pricier, but the benefits are tenfold. SSD storage drives are lightweight, compact and ultra rugged. They are a literal godsend if you're porting around your gear like a sherpa.
Recommended: I take two 2T SanDisk Portable Extreme SSD with me. Read my review.
9. Headlamp
You never know where your travels will take you or the travel resources available when you arrive. Headlamps are always handy. You can use them for outdoor activities like caving, camping or night safaris, but they have their practical moments for adventurous situations like staying in villages where your toilet is located in an outhouse.
10.  Emergen-C packets
I love dissolvable vitamins and Emergen-C Multi-vitamin packets are my no-nonsense solution to Airborne. Not only do they flavor my dull water but I carry them in my camera bags for an extra pick-me-up!
11. Instant meals and power snacks.
For a great pick-me-up snack or food substitute power bars are the best. As a vegetarian, I often either have to bring my own food or pack an instant pick-me-up meal options in the case I can't find things to eat or have to chow on the run. Protein/power bars, granola, dried fruits and nuts are the quick-n-easy health snack on the run (I take them when I'm hiking, as well).
Also, many hotels offer a standard coffee maker in your room to boil hot water. I pack a couple of packets of Instant Quaker Oats Oatmeal (Costco offers it in a big variety box) or dehydrated soups ( like instant miso soup) where you just add hot water!
12. Flip-flops or slippers
Slippers are my second most packable footwear other than the running shoes I'm wearing when I board a plane. They are a must if you're planning anything from temple-hopping to staying in hostels and they are an ideal foot vacation, after a long day of filming in your shoes. Check out my super soft GRRRLTRAVELER flip flops and  Ready Set Jet flip flops for the jetsetter in you.
13. Hair accessories
Okay, so this is more of a girl or a long-haired guy thing… Cap, bandana, hair ties… If you have long hair, you want to keep your hair back and out of your way. Travel vlogging is a whole body activity. When days are hot and sweaty, you might be juggling cameras, camera straps, swiveling your backpack around for lens changes, packing/unpacking your tripod or selfie stick and hair can get stuck under straps. It's a small thing but when you are juggling traveling with finding and filming stories with your gear bag, it's the small things which can add to frustration.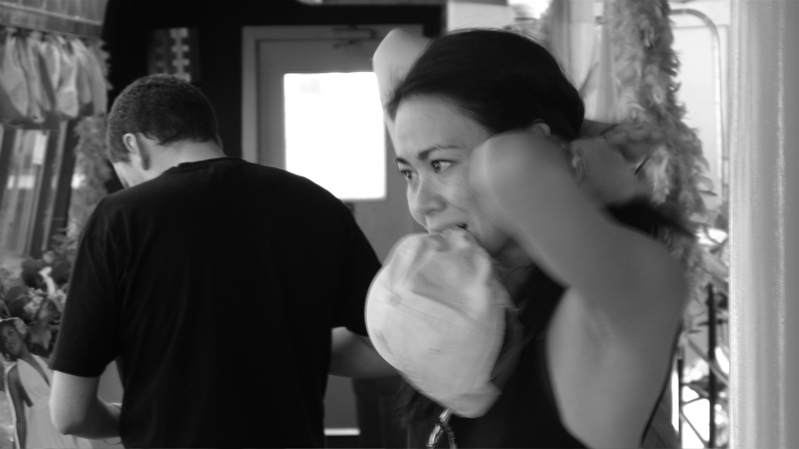 14. Microfiber cloth and carbon pen
A microfiber cloth should never be far from your camera. It's important to clean you camera and lenses before and during each shoot. With dust, humidity, fingerprint smudges, the last thing you want to discover in your edit bay is that your precious video footage had schmutz over its lens.
I like to carry a Carbon Pen as well. Carbon-tipped pens are a powerful tool which picks up dirt particles, when your microfiber cloth just seems to be pushing the oils around.
15. Dust blower
A dust blower shoots air into your lens to get fine particles of dirt out. Ideal for dry and dusty locations.
Interested in more professional travel vlogging tips:
Tips for Creating a Home Vlogging Studio
Travel Resources for any trip
Booking.com – Hotel bookings. No cancellation fees
Safety Wing – affordable travel insurance with COVID & quarantine coverage
NordVPN – Online security and the ability to watch Netflix. Use "grrrltraveler" for 70% off 3-year plan + 1 month free
Klook – Book tours in Asia
Get your Guide – book tours
What items would you add to this Packing List for Travel Vloggers and Adventure Filmmakers?