Last Updated on July 13, 2023 by Christine Kaaloa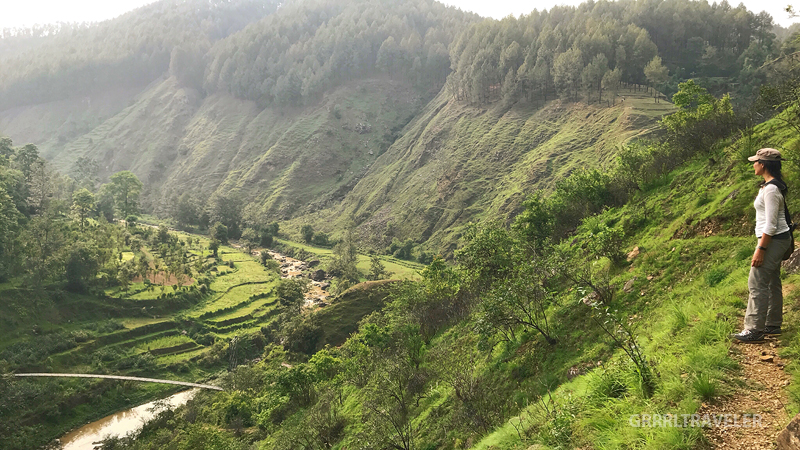 How many times have you told yourself you'd start a YouTube channel or blog to share your travel stories? This post shares the benefits of using YouTube for business.
Travel can take you to unexpected places, force you outside your comfort zone, push you to your limit and make you realize you're grateful you trusted yourself with the leap.  It's understandable to want to share it. You feel transformed, inspired, it's the ultimate adventure and once you tackle it, you're in a position to look back and help those behind you.
Stepping into your Story on YouTube
I started documenting my solo travels on my blog in 2008/9 and a few years later, I continued my travel journalism on YouTube. A first I did a lot of it for my family. They were nice about watching my videos at first, but they got tired quickly. Travel and travel videos aren't for everyone- I needed to find my tribe, audiences interested in the journey I was invested in. I found my audience with solo travel.
When I finally found my audience, my YouTube brand started growing. Filming my solo travels helped me dive deeper into my travel journey. It connected me to my audiences and the concerns they had with taking the leap to a foreign country. Knowing my audiences need me to experience things, I push my willingness to do/explore something a little more than I might if I were not filming it.
For that, I needed to step into my story, ride the adventure and live my legend.
It's challenging to see hard travel lessons as a gift, like getting Delhi Belly, getting scammed by a tuk tuk, getting into a motorbike accident in India, going to the dentist in Bangkok or having a wallet stolen at Halong Bay … but when you're sharing your travel story with others, those hard knock lessons suddenly feel like they have purpose and not all was lost.
12 Benefits of Using YouTube for Business
YouTube has been a business for me for over eight years. It has helped me grow my solo adventure tribe and get found by countless opportunities. From being written up in major publications to working with brand deals and finding my family of loyal fans who support the craft I bring, YouTube has allowed me to grow my brand in ways I never expected.
Building your tribe


YouTube is a platform where various niched personalities share their specific passion, creative style and lens on life. It's like a clubhouse, where audiences come to belong, feel entertained knowing their favorite YouTubers are a click away.

Discoverability & Free Traffic

YouTube is the second largest search engine next to Google. Owned by Google, YouTube operates by a similar science of search engine optimization, meaning you can get "discovered" when people search for solutions to their problems and YouTube or Google recommend you. That means free advertising for the world's two most powerful search engines. Say goodbye to wasting money on paid ads!

👉🏽 Download TubeBuddy to help you get discovered.

Video is a powerful lead magnet


Videos offer a high trust factor and word-of-mouth recommendations to audiences. When audiences see you and relate to your experience, they invest emotions with your journey and thus, any sales conversion is higher than a still photo or written text advertisement. But from a marketing standpoint, it's also easier to sell things if people can see a product/service and how it works, which is why brands pay YouTubers for product endorsement, a shout out or integration.

I posted a video on How to Make Travel Videos 2021. Within 24 hours of publishing my video I got 24 signups for my YouTube masterclass and 19 downloads of a lead magnet to my email funnel. That video only got 1,200 views, so you see, you do not need to get viral to achieve success.

Relatability


Relatability, personality and authenticity are successful keys to growing an audience on YouTube. Audiences are more inclined to gravitate to YouTube personalities they can relate to or see themselves being friends with.

Low budget production

YouTube does not require a large production budget.  Filming with your iPhone is an ideal way to start your travel channel if you don't know how to begin and have a non-existent budget. You can create your entire video production system on your mobile phone if you had to. Download a cheap video editing app like InShot or Videorama and voila! you can edit your videos on go.

On YouTube, value driven videos are more popular with viewers over high production quality and slick videos.

 Passive Income

What makes YouTube different from social media platforms is you can grow your passive income and turn your video making hobby/dream into a side hustle. Once you meet the requirements of the YouTube Partner Program, you are eligible to earn money through Google Adsense. But don't have to stop there. Sell your own products/services and grow income with affiliate sales through your YouTube video as well.

👉🏽 Turn passion into profit with your videos. Get my Profitable YouTube Starter Kit .

Grow your brand globally & be a celebrity

YouTube is a global television set and many YouTubers become real celebrities to their fans. Once a video or channel gains traction, your video can cross the globe. When I travel, I occasionally have fans approach me- it is both, cool and awesome to know your life has made a positive impact on another person around the world. 

 

Video is Evergreen

Unlike social media, YouTube is a video portfolio which is set on evergreen. Your videos stay on YouTube for as long as YouTube operates and you can search for them. This means they can go viral at any time, even long after you post it.

Video is experiential


YouTube is the most immersive platform there is. It allows you to experience sight, sound, emotions and it demands your full attention. For that reason, when audiences watch a travel video, they can feel like they are there traveling with you going through your thoughts and experiences as if it were their own. Thus, it's a highly powerful medium because it communicates a lot in each second.

Peer-to-peer learning

YouTube allows us to teach and learn from each other. It allows us all to be experts of our own experience. You don't need to be anything you are not – you just need to have an opinion and the ability to share your experience.

Opportunities find you

The beauty of YouTube is when people around the world find you through your videos and they come holding opportunities you never imagined you'd get.

When I started my YouTube channel it was because there were no job opportunities in Hawaii for me to survive my zone of genius, film video stories OR create a lifestyle where I am paid for it. As an aspiring actress, I despised being on the waiting end of opportunities for auditions and roles. I bounced between the frustration of pitching my resume to people who didn't want to know that a female could handle the job of filming and directing a video and waiting for someone to take a chance on me so I could start my future.

On YouTube, people with opportunities find me because my genius/skills fit their project. They want me to share my story, audition as a host for a TV show idea, to travel to promote their destination, etc… They are knocking on my door ; not the other way around.
Benefits of YouTube marketing for Influencers
I am excited to announce that I have opened enrollment for new YouTubers who want to grow their influencer brand and business on YouTube.
𝐕𝐢𝐝𝐞𝐨 𝐉𝐮𝐦𝐩𝐬𝐭𝐚𝐫𝐭 𝐀𝐜𝐚𝐝𝐞𝐦𝐲 𝐁𝐨𝐨𝐭𝐜𝐚𝐦𝐩 is a 𝟏𝟐 𝐰𝐞𝐞𝐤 𝐘𝐨𝐮𝐓𝐮𝐛𝐞 𝐠𝐫𝐨𝐮𝐩 𝐜𝐨𝐚𝐜𝐡𝐢𝐧𝐠 𝐦𝐚𝐬𝐭𝐞𝐫𝐦𝐢𝐧𝐝, focused on fast tracking your YouTube  journey and creating a bullet-proof influencer brand and business.
Learn my signature framework, where we start with seeding the foundation of your brand to grow influence, sculpt your message to attract your tribe ! This bootcamp has six modules aimed to help you clarify your yummy influencer brand before we jump into learning about content creation strategies, showing up on-camera confidence, being discovered on YouTube. You get a bird's eye view of the YouTube landscape that experienced and professional YouTube influencers work in.
Brand Building & Business Mindset
Seed your Niche, Unique Brand Story & Value. Laser-focus on your niche audience and unique IT factor personality to build your brand and business mindset to strategize your growth. Discover the unique IT factor and secret sauce to sculpt a magnetic brand that stands out in the YouTube sea.
Profitable Content Strategy
Seed juicy content to grow your tribe and monetize at the same time. Create a content strategy, learn about content hacks, traffic building and income boosting content techniques.  Effortlessly create videos which connect with your tribe, dramatically increases engagement & creates income while you sleep!
On-Camera Confidence
Get confident that you're on the right path to success. Learn tricks to bring out your dazzling personality and let viewers fall in love with the real YOU.
Discoverability
Easily navigate YouTube SEO by understanding the algorithm.
Harness the power of YouTube discoverability, optimization and accelerate your traffic. Understand the YouTube script and overcome doubts about who you should be on-camera and why your audiences will love you for who you are!
Personal Feedback & Accountability
Whether you are in travel, food, crafting, financial, etc.. you get feedback on your ideas and accountability from the group. You will be in the dark when making decisions on your brand ideas and business.
Seed, Sculpt & Sell Framework™
Learn my framework to work smarter, not harder and experience MORE RESULTS in views, quality subscribers and income! Step into your "Legend "and sell inspiration to transform audiences, while building a sustainable business.
What's included in Video Jumpstart Academy Bootcamp:
12 week (or 3 month) group coaching mastermind where you are walked by hand through six modules of YouTube branding, business and strategy
(1) 1:1 Coaching session with Christine for branding
Private kick-off call
Group Voxer support & a Private Facebook Group so you can network with your group
 Action taking Worksheets, plug and play templates, step-by-step checklists and mindset sessions
Accountability & Direct Feedback on your Branding and Business ideas.
Early bird special: $500 OFF + 𝐁𝐨𝐧𝐮𝐬 𝐬𝐞𝐬𝐬𝐢𝐨𝐧 "Media Kit & Sponsorships"
 What benefits of using YouTube for business do you seek?
Interested in more professional travel vlogging tips:
Tips for Creating a Home Vlogging Studio
Watch How to Make Travel Videos (video playlist)