Last Updated on June 28, 2019 by Christine Kaaloa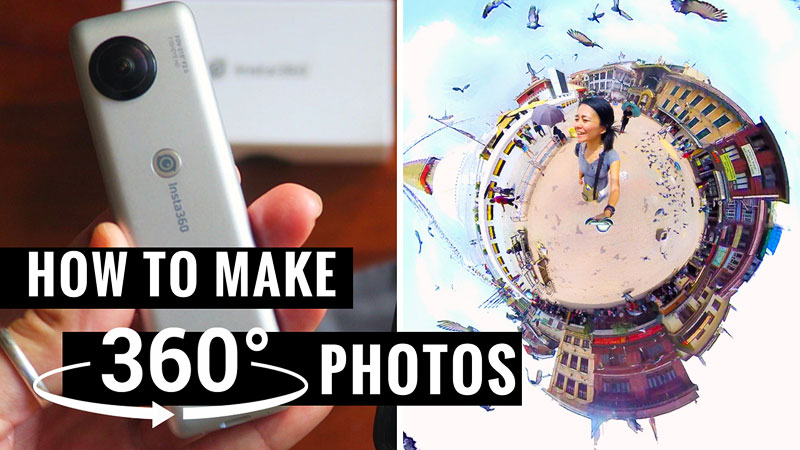 You've been seeing  some of the cool, out-of-this-world 360 degree travel videos and photos I've been posting on  Instagram account and Facebook. If you don't know what I'm talking about go to my Instagram account.
Insta360 Nano Review
Some of you are wondering, today how I make those photos, so I'm going share my secret. I'll be unboxing and reviewing the Insta 360 Nano camera.
Insta360 sent me their Insta360 Nano camera last December. I think they hoped I'd make 360 degree travel videos for YouTube, but instead I've fallen in love with it for my Instagram photography with "my360soloworld" series. It's fun to play with and this is fabulous for the traveler who wants to capture a wider experience in a fun way or just a hobbyist who wants to explore what they can do with 360  degree videos and photos. I think it's the best 360 camera on the market.
There are pros and cons to this camera which I'll quickly run through, and show you what it comes with and its features.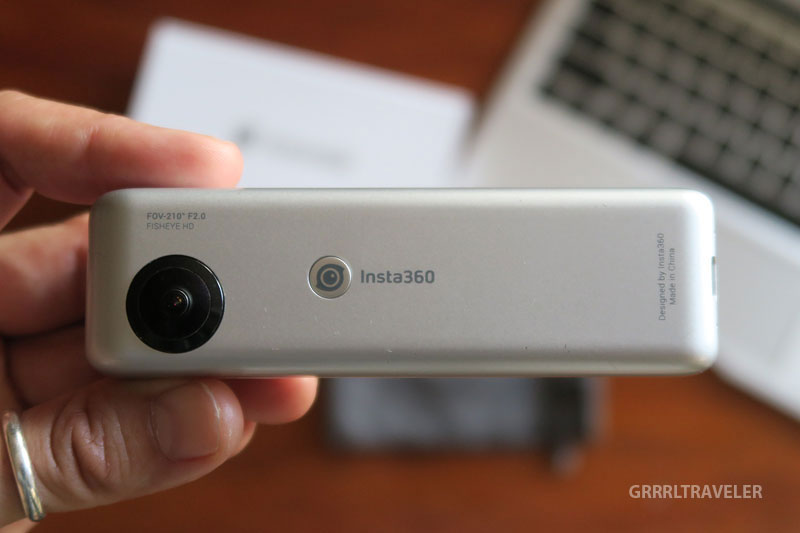 What's included in the Insta360 Nano Box:
The Insta360 Nano
A carrying pouch which you can also use as a lens cloth.
A charging cord
A really cool VR box similar to a Google VR headset, which is an additionally fun caveat for those who want to view what they record in

 

3D. I'll show you that later.
Records on a Micro SD card which is not included.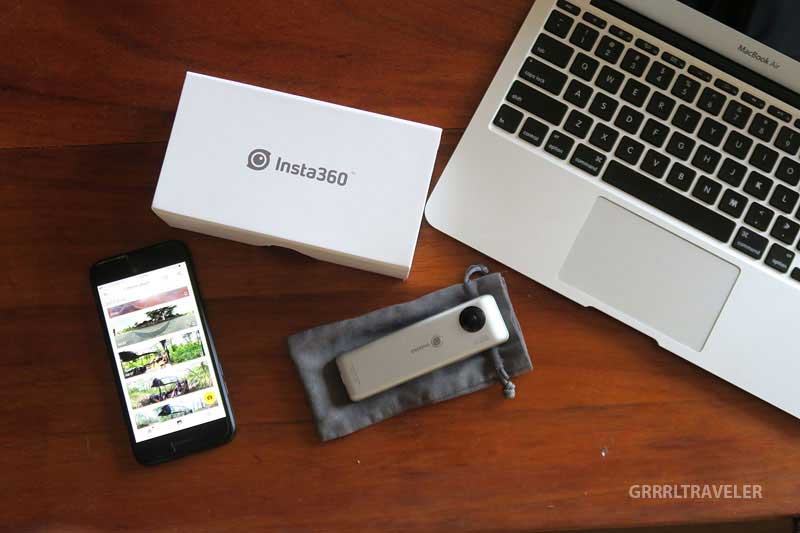 Reasons to love the Insta360 Nano camera
There's many reasons which make the Nano the best 360 camera on the market for travel videos.
Film from your smartphone or as a standalone
The most unique caveat of the Insta360Nano is that there are two ways to use it— smartphone or standalone. You simply insert the camera into the bottom of your iPhone via lightning port (Note: the lightning port does not power your camera… keep reading. This means you can view and upload your footage/photos, all from your mobile device. I adore this feature! This is something 360 cameras do not possess, so you often have to guesstimate your image. This comes in handy as landscape in the distance does not show well on a 360 camera; not to mention, you can view and play with you shot immediately, without having to upload your footage to your computer.  Essentially, you don't even need a computer.
Compact and lightweight
I love this aspect because packing as many cameras as I do, I get to feeling guilty I have too much (see my film gear list here). This fits in my pocket and weighs barely anything at all. Also when I take selfie photos, I can be discrete because I'm not  whipping out a honking camera. Size is compact and lightweight :  4.3 x 1.3 x 0.8 inches, 2.5 ounces
Decent quality 360 degree travel photos
The Insta360 Nano captures decent 360 degree photos with a dual lens. It actually has a 210 degree f2.0 fisheye lens. You wont notice the difference. The F2.0 fisheye lens lets in a decent amount of light, especially in low light situations. Images are crisp. Low light shots are decent; however, on bright days ( like if I'm filming at a beach at noon, I've noticed a halo or fringing and detail washes out.  Noticed the trees in the image below. This isn't as bad as this; I'm wondering if I didn't accidentally have a thumbprint on the lens.
Video is slightly lagging, so I haven't used it for my YouTube channel yet. The quality is choppy and pixelated and nothing like the sharpness of its photos. Even when uploaded at highest bit rate, quality is still strained and won't make the weight of traditional cameras.
Tip: Beware of leaving thumbprints. Luckily it comes in a soft case/lens cloth so you can wipe your lenses before you film.
Easy to use
You don't have to be a serious photographer to use this. This is a no brainer. To power it on, you simple plug it into your lightning charger and it pops open an app.
Unleash your 360 world creativity all from your phone
A photo is a photo but with the free downloadable Insta360 app, you can play and manipulate images and videos before and after you shoot them. So you can get an idea of what you're getting before investing the time in taking your shot. The app also allows you to zoom in and out, and switch between modes like Fisheye, Tiny Planet and Ball.  It also allows you to capture 360 degree travel photos from video frames. This is a game changer; it means I don't need a laptop for editing. Your 360 travel photos just surpassed itself in creativity.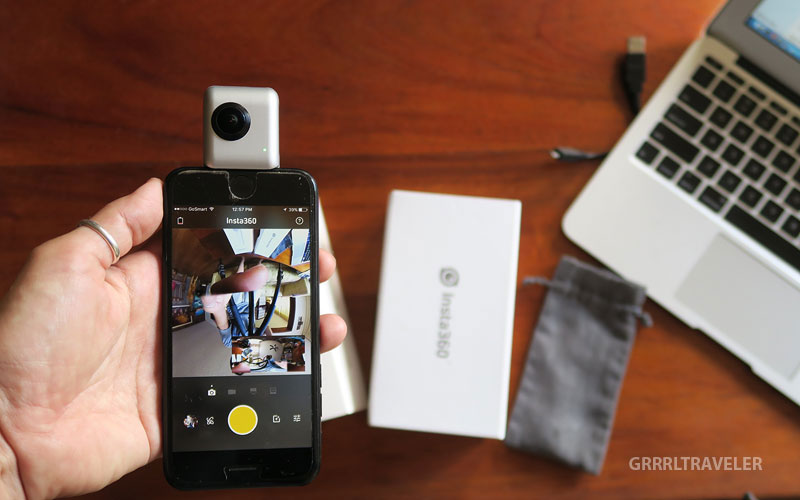 Live streaming to YouTube, Twitch, Facebook and Twitter.
For those interested in live streaming from your Insta360 Nano, you can.  Currently, you can live stream to Facebook, Twitter, YouTube and Twitch. I haven't tested this aspect out because let's face it, filming in 360 will capture all of me and all around me. I usually have a mess of bags hidden somewhere out of frame when filming myself.
Powers separately
The nano does not draw power from the Lightning connection. Some might see this as a disadvantage, but when I updated my Unlocked iPhone 7 to the new OX11, my battery started chomping through time in light-speed. So I love that the Insta360 Nano does not bite into my iPhone battery.
Battery life is pretty darned good
In a normal shooting day of stop and go, my Insta360 Nano can last a day. If I'm filming a lot using mostly the Insta360Nano, the battery begins to fade around late afternoon.  This is also if I'm viewing my photos a lot, which happens because you just want to play with it.
Tip: Always take a portable external charger if you want your Nano to last longer in the field!
You can edit from your smartphone
The Insta360 Nano app allows you to use filters from your phone. The filters are pretty limited and not any that I would use, so I import my images to another 3rd party app like Snapseed or Meitu in order to give it a little filter sparkle or tweak exposure and detail. At least you know its an option.
This isn't an issue of the Insta360 Nano but most 360 degree cameras in general~ 360 cameras film whatever is holding it, which in this case can be either your hand or your tripod. As a 360 degree camera, it records it all.  The Insta360 app allows you to upload your logo as a cover instead, which is nice.
Also, you can get a Insta360 base (sold separately $40) for your Nano, to mount it on tripods and selfie sticks. I definitely bought one!
Upload everything directly from your smartphone
The beauty of the Nano is that you can do everything and upload it directly from your smartphone.  So if you didn't have a laptop, no worries. Unfortunately, there's no video stitching or editing in the app although you probably can find a third party app online.
Click the play button to see the Tiny Planet video I uploaded directly from my iPhone.
It has a small but passionate community
Mostly for selfies and hobbyists, Insta360 has a vibrant online community, interested in 3rd party use and innovations (some creators mount it on their drone for great aerials). There's a passionate Insta360 Community on Facebook which helps troubleshoot issues and 3rd party hacks.  There are 3rd party apps you can download to create artwork, with 360 degree videos. Roll World and Living Planet are popular apps and free but comes with a learning curve as neither come with instructions.
Cost is the best on the market
The Nano comes in approximately $150, while its competitors are $350-$400. Keep in mind, my review is a year late so Insta360 is out newer models of the Insta360 Nano S ($239) and the Insta360 One ($299), where it comes with a disappearing selfie stick and the resolution is 4K.  I'd love to test drive the One but if I had to use only one,  the Nano has been perfect for my needs.
For all the Nano offers, it's the cheapest and easiest to use 360degree camera out there. The cool 360 degree videos you see often don't come from consumer or prosumer cameras but from high end commercial models with unfathomable price tags. I was on a Dr Phil shoot in Hawaii and the 360 rig they used was phenomenal, beyond expensive and had several camera heads on it to capture and magnify details with insane crystal clear quality.
The cons of Insta360 Nano camera
There are irksome qualities of the Insta360 Nano.
Requires the latest upgrades:  The Insta360 Nano can only be used on an

 

iPhone 6 or later.

  Yes,

I had to upgrade my iPhone5C to

iPhone 7

just to use it. I'm still kinda pissed about that because I was going to wait out my upgrade until when absolutely necessary.
As the the mobile app does not edit video, Insta360 has a downloadable computer editing software, which requires at least an Mac OS Sierra system.  I was reluctant to upgrade to Sierra because I had old software, so it was a laborous ordeal to backup my laptop and test the upgrade with each software. After downloading, I realized I could only do light editing. Bah humbug! Although I received the camera complementary, I lost bigger money on the upgrades and time involved researching.
The Insta360 Nano camera mounts on your smartphone upside down.  I don't know the logic behind this, but it installs in your phone charger port, which is not convenient for mounting your phone on tripods or selfie sticks. An overwhelming majority of smart phone holders fit over the off/volume buttons. I've had it power off on me or take continuous snaps just trying to fit a holder on.

 

As a standalone camera,  the p

ower/shutter button can be frustratingly confusing and take time to get used to.  One click takes a photo (it takes a while to process, so don't move after you snap). Two clicks activates the video recording (the green light blinks intermittently, but slowly; you're not sure if you're taking a photo or a video).
360 Travel Videos on YouTube and Facebook are soft and choppy and pixellated.  While Tiny Planet videos perform well on Instagram and the interactive features of the 360 degree videos work well, the quality of the 360 degree travel videos is not something I can stand solidly behind on this camera. As a travel vlogger, details are essential for making viewers feel like they experiencing my adventure.  Even when uploaded at highest bit rate quality via the mobile app itself, quality is severely strained on Facebook and YouTube. The foreground image sometimes falls into focus, but more distant images blur heavily.  Sometimes the video is downright blotchy and severely pixelated if the internet connection is slow. A 360 travel video can be useless if it cannot capture detail. Video quality has a low maximum bit rate at 13Mbps, so even if the resolution seems high or 4K, the camera underperformed. However, I've seen the quality of Samsung and Nikon and none of them perform exceptionally or well. Nonetheless, it is a 360 experience and you can interact with it! So that's where you'll pick and choose what's important to you.
Editing Quality of Insta360 videos
What I'm using to edit my 360 videos?
The Insta360 Studio is not a video editing software is pretty much crap.  I wouldn't waste your time. When you watch 360 videos you'll notice there's very few editing cuts and FX. Unless you have the latest software which allows you to export 360 videos,you have to shoot a bit in long format and make simple cuts as 360 does not work with layers well. It also has its own encoding settings and information that you need  to include. I really didn't invest much time in going deeper into figuring it out — my version of Premiere Pro is old and i'm not planing to upgrade to a subscription, so I found a free mobile app, VEER Editor. It very basic and does simple edit cuts and adds text and music to the videos. It even lets you adjust color and stuff. In it's own way,  VEER editor app  is a robust app for 360 mobile app editing and the best I've found and tested yet. This is perfect for prosumers who want to be able to put out a video even if they don't have experience with editing.
Insta360 Nano Specifications
Lens:  210-degree f2.0 fisheye lenses
Resolution: 3024 x 1520
Storage Medium: TF card or microSD
Compatibility: iPhone 6 and 7 (including all the versions in between)
Size: 110mm(D) × 33mm(W) × 21mm(H)
Watch my tutorial and unboxing of the Insta360 Nano
Watch my 360 Video Tour of Nepal
Insta360 Nano Essentials
Recommended Essentials for Insta360 cameras. Click to Shop.
Conclusion
With the Insta360 Nano good is really good and the bad is like eh. In the end they kind of balance off and  its up to you if its a deal breaker or not. Overall the Insta360 Nano is fun to play with and easy to love.  I think it's the best 360 camera around. I imagine the latest models as being even better, having improved upon issues of the past! We'll see… For now, the Insta360 Nano creates perfect 360 degree travel photos and selfies for the traveler, who wants to level up their creative game with cool 360 degree content.
Wanna know what I use for filming and why? Interested in becoming a travel YouTuber or blogger?
Sign up for my free Equipment eguide
Disclosure:  Insta360 gave me the Insta360 Nano to use for my work and did not specify expectations. This review is of my own opinion – I adore the camera and I highly recommend it for travelers.
---
Enjoy this post? Pin it to Pinterest