Last Updated on June 7, 2023 by Christine Kaaloa
Packing Tips for Carry On Luggage.
.
This post may contain affiliate links. Never leave home without travel insurance. Click for the best travel insurance for gear protection and best insurance for COVID.
How often do you pack for a vacation and then realize you never used half of what you packed?  It happens to all of us.
Being a female solo traveler who is jet set for an adventure, I have to be a minimalist traveler. I pack carry-on luggage and it is my only luggage aside from my daypack of camera and tech gear.
If you watched my last video on Why I broke up with my Backpack over  Carry On Luggage, this is part two.
Ultimate Packing Tips for Carry-On Luggage
Getting through Airport Security
1. Get a versatile hand luggage
Versatile hand luggage makes a difference in the confidence and joy you will feel traveling minimally. It will feel like your best travel buddy.
I've traveled with my Eagle Creek Doubleback22 3-in-1 Carry-on Luggage. (read my review here) for over five years now and it terrifies me to think of ever replacing it. It transforms from rolling luggage, to a hand carry, and backpack and it fits in the tightest of places. It downsizes my packing a lot but is quite expandable, so I can overpack and throw it in baggage on my way home. Unfortunately, they discontinued my model (whhhhhhy…?). No worries, its replacement is the Eagle Creek Expanse 21″ and Load Warrior 22. I know a handful of travel bloggers who would vouch for any of these. Highly recommended.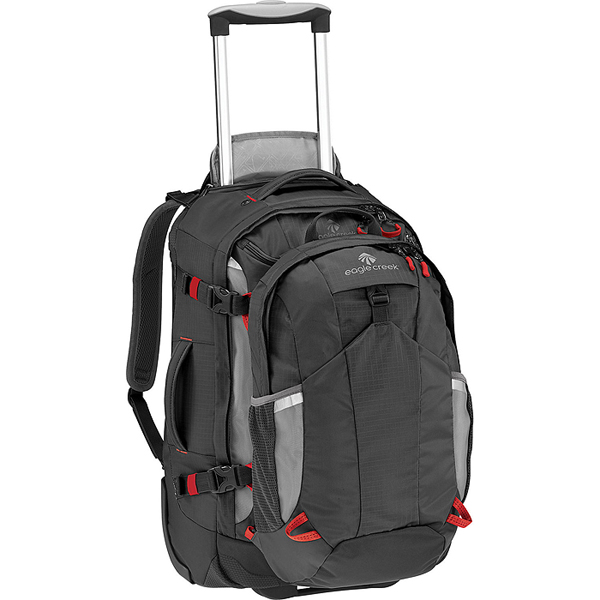 2. Stay within your liquid limit with travel-sized bottles
3.4 ounces (100 ml) bottles of liquid are safe clearance for the airport security checkpoint. I carry them in a quart-sized ziplock or plastic see-through toiletries bag. You can pack liquids, aerosols, gels, creams and pastes in your carry-on bag if it can fit in that quart-sized bag. If I have a favorite product, like Korean CC cream or facial moisturizer or Stila CC  Correcting Cream
, I just squirt it into a  travel-sized bottle the size of a contact lens container. It usually lasts me anywhere from 1-3 months. Then I'll put them in  plastic travel containers
that fit regulation.
3. Dry your toiletries
As I am not checking luggage, I have to watch my liquid count. Look for dry replacements of liquid products. Dry shampoo, a soap bar, facial cleansing tissues and baby wipes are all travel hacks to substitute for a product.
Ethique shampoo bars are a vegetarian, zero waste, eco-friendly bars (and they're great for dandruff!). Some camping folks I know swear by laundry soap sheets.
4. Buy toiletries when you arrive
If I take liquid items, I bring used up travel-sized versions. As I like shopping local skincare and beauty products, I know I will likely want to try them and this is the perfect excuse to do so! Shop a local product and discard your old one along the way.
5. Check luggage weight
For some, it's just best to use scales. While I've used the size of carry-on luggage to keep my luggage weight under control, these days airlines are much more concerned with measuring scales. If you're trying to avoid checked luggage fees starting at $25 (first bag, usually around 50 lb allowance), you may try to downsize to carry-on luggage.
For those who try to go the route of carry on luggage (this is me), you'll notice super budget carriers can draw you in with low fares, but cabin luggage restrictions are as low as 7kg (15 lbs). That's the equivalent of a daypack.
Check here for an airline chart of baggage fees as there are varying rates.
6. Wear your heavy and bulky items
In order to keep my luggage light, I try to wear my heaviest and bulkiest clothes when I fly.
If I am packing for a winter trip, it is likely my luggage will be filled with bulky items like sweaters, pants, walking shoes and winter boots. To reduce bulk, I wear my parka coat rather than packing it. I also wear my comfy Nike Revolution jogging shoes or BearPaw water-resistant boots and pack my sandals or flip flops in my daypack for in-flight comfort.
Read : Packing list for Winter Vacations  |  Packing list for Summer Vacations
7. Know your banned items per country/airlines carrier
Travel isn't as easy as it used to be. It's actually getting trickier, so travelers have to be on top of regulations or risk forfeiting their prized belongings, either at security checkpoints or at the gate.
Electronic bans aren't common but they can happen depending upon the destination.  With the entrance of the coronavirus, this may change too:
Laptops- Traveling from any middle eastern country into the U.S., laptops are banned from the cabin. Some airlines might have you check your laptop while others, like Turkish Airlines, will have you place it in a plastic ziplock to keep it from being used in-flight.
 Lithium batteries and batteries-  You cannot pack lithium or portable charging batteries in luggage. Instead, you must carry them in your hand luggage so they must go through TSA.  Chinese checkpoint security is strict about lithium batteries and portable batteries which charge devices. If you carry one through security, it must have a visible mAH printed on it,  so security can see what voltage it is and that it is an external battery.  If it is not visible, they will confiscate it. I just lost my favorite lipstick charger due to the fact the back was heavily worn from all my use.
Mobile phones- Chinese carriers going to China have a ban against mobile phone usage.
Tips for Minimalist Carry-on luggage
8. The 1/3 Downsize Rule
Whatever you think you need for your trip,  in reality you probably just need 1/3 of it.  So pick the essentials. Despite how long I'm traveling for, I make it a point to leave 1/3 of my bag empty. Thus, my bag is 1/3 clothes, 1/3 travel gear (electronics, travel gear, toiletries and meds) and 1/3 open for souvenirs, snacks, etc…
point to leave at least 1/3 of my carryon empty.
9. Dress in Layers
Layering allows you to change on the go and adjust your warmth accordingly.  Scarves, legwarmers , a spandex tank top or long sleeve shirt are just a few that are my favorite items. You can remove them when you get hot or put them on when you get cold. Best of all, you don't need a changing room.
I go everywhere with my  green pashmina scarf. I got it for $5 at a Manhattan street fair several years. The size is around 78×28 inches so it's pretty big and keeps me warm. I can transform it into a shawl, scarf, towel, blanket, etc..
 Why do I recommend  "ballet" leg warmers?  They're made thigh-high, soft and comfortable, specifically to keep legs warm and mobility free.
10. Convertible clothing
I am a firm believer that you can carry less without sacrificing options to choose from.  I am a fan of clothing which multi-task. I look for items with a two-in-one usability.  I love wrinkle-free dresses which change into skirts and pants that change into knickers or shorts. Leggings match with a lot and can be used as pajamas as well.
NorthFace convertible pants 
 are not  cheap, but all you need is one and it'll last  you years and eternal trips. They're especially good for rugged outdoor activites like hiking, caving, trekking. But the zip-off legs makes it ideal for hot days when you want to strip down to shorts and can't find a public changing room. They're good, durable and transforming.
11. Roll clothes tightly
Rolling up your clothes is actually a technique of packing used by the U.S. army.   It's the best way to get your clothes downsized and compressed.   More on this~ check out spacesaver bags and packing cubes below.
12. Use odd pockets of space
There's always odd pockets of space, either in your luggage, shoes, a water bottle, etc… I try to make use of it, by stuffing socks, underwear  into it. If there's a hole with a space in it, something is going into it.
13. Take a package travel tote
I always take a packable travel tote or Travelon packable backpack for those "just in case" moments when I need a last minute in-flight bag or I go a bit overboard with souvenir shopping. On rare occasions when I've had to downsize on trips, I've used them to split my luggage into an overnight bag.  When you don't need it, just pack it away!
Essential tools for Minimalist packing
I love being able to share travel gear and items that I'm using in the moment and then some!  Keep your eye on my upcoming post, where I'll share reasons why I love these products and why I know you will too!
13. Space Saving bags
I love using Space Saver bags to keep my clothes compressed in my tiny carry-on.  It's like a large ziploc where you can squeeze the air out so that it flattens.  Space Saver bags helps decompress bulky items like winter jackets and thick sweaters. It also protects your clothes from funky airplane smells or from leaking toiletries.
14. Packing  Cubes
When I discovered packing cubes, it was game over.  I love my Eagle Creek packing cubes. Ebags also offers inexpensive version with additional sizes like this one. Both brands offer durable travel solutions. Packing cubes not only compress clothes into a neat space but they can also help you organize your clothes and separate dirty from clean. The tiny cube stores my undies, swimwear and socks. The medium one is for my shirts and blouses and the largest cube holds my pants. Packing cubes helps me organize my clothing articles a little better;
What are your packing tips for carry on luggage?  
—– More Solo Travel Smarter Posts —–
Top Travel Beauty Products
Essential Tips for Staying at Hostels
21 Ways to Outsmart Pickpockets and Thieves
5 Ways to Trim your Travel Wardrobe