Folks often ask me how I feel about China Eastern Airlines because the pricing can appear to be one of the lowest in international fares to Asia. I thought I'd do a China Eastern Airlines review to satisfy your curiosity.
Firstly, anyone can have a good or bad airlines experience based on how the day turns, the cabin staff that day and the passengers you're surrounded by…
I've flown China Eastern Airlines a good handful of times. So when the Himalaya Travel Mart conference, hosted a blogger trip,  booked me a round trip 36 hour flight itinerary through China Eastern airlines, I was taken aback, but wasn't turned off.  My goal is to convert layovers into free trips and while I do have favorite airlines carriers that I always keep my preferential eye on- Asiana Airlines and Korean Airlines come to mind…–  China Eastern Airlines isn't bad a budget airlines.
But I did not originally feel this way.
 China Eastern Airlines Review
My first flight with China Eastern Airlines felt a little… annoying and rough. I was on a route from New York's JFK Airport to Thailand. It wasn't that the check-in queue was long and filled with Chinese travelers taking a lot of oversized boxes home, which carried the scent of dried seafood. I've had a predominantly Asian upbringing, so dried seafood, while not as an unpleasant smell, as it is a familiar one.
Nor was it the fact that at boarding, most of the Chinese travelers turned into a pushing mob to get onto the plane. A little shocking… but I've been to New York's Chinatown to know there are rough aspects to the Chinese community at times.
What was off-putting to me as an Asian-American Pacific Islander, was that the Chinese flight attendants seemed to treat me like a passenger with second class needs, when it came to dealing with the comforts of Chinese nationals.  Whether I was sensing a culture clash, a reverse racial profiling or it was just a bad flight attendant, it was a bad experience .
My horrible first impression of China Eastern Airlines
A  young Chinese mother (younger than me) with a baby was sitting in a crowded middle front row (it's the seats up against the TV wall) . She wanted to move to an aisle seat for more comfort for her and her child. The flight attendant approached me to ask if I would voluntarily downgrade my aisle seat in exchange for that mother's shit seat in a crowded aisle. Hells NO!
Before I sound like a jerk, let me preface by saying, the flight was not sold out or near full.  There were several open seats around me and being an aisle seat in the middle row, there were much better seats than mine!  In fact, many were next to fair-skinned Caucasian travelers, which if you're from Asia, is a prize and a photoshoot prospect to sit next to!  But yes, I had an open seat next to me- one in which a Chinese grandmother was trying to commandeer with her bag. But we'll get to that later… The flight attendant asked me three times, if I'd give up my seat. My answer was always no and yet, she lingered, hoping I'd change my mind. What is up with that?
Now I occasionally get that Asian cultures assume I'm they're nationality. It happens all the time. As a result, certain Asian cultures treat me like a second rate citizen, expecting me to assume their cultural hierarchy. I am assuming that in Chinese custom, only specific customers are king and it is not all equal. But nope, full-blooded American here! (raises hand)  I took the specific effort to reserve my aisle seat online in advance. This was an 11 hour+ flight and  I have long legs, which periodically cramps (I'm obviously not doing any yoga there!). Not to mention, a mild case of undiagnosed claustrophobia.  I also have a weak bladder so I'm constantly going to the bathroom. There was no way I was giving up my aisle seat!
After that subsided, the tiny Chinese grandmother next to me, started complaining to the attendant that she needed my aisle seat because her "legs" were not comfortable. Again, the same Chinese flight attendant requested I voluntarily downgrade my aisle seat for tiny granny's middle-of-the-row seat, stating that the grandmother had a cane. WTF? The attendant lingered again. When does No not mean NO??? 
When the grandmother could not get her way, she lifted the bar on the open seat between us and sprawled out with her bags and body, while overlapping my seat. I felt targeted, pressured, offended and upset with everything Chinese on that flight. I swore I would never fly China Eastern Airlines for a while.
But feelings change with travel budgets. When I lived in Korea, China Eastern Airlines was the international carrier with the most consistent budget deals for international travel between Asia, Southeast Asia and the U.S. Their flight prices consistently beat out my favorite carriers, by large savings. So I started flying with them again.
Here's my likes and dislikes about China Eastern Airlines
Chinese etiquette vs International
China Eastern Airlines acts more Chinese than it does international, despite its international routes.  As noted in my worst experience above, the flight attendant asked me to surrender my seat for a mother/toddler and a grandmother. In Chinese culture there is a hierarchical regard for those two demographics and it's quite possible a Chinese passenger of my age might offer her seat to be nice. Maybe. But I am not that Chinese (I think I have Chinese blood in my left toe!)
A flight attendant acting on international protocol would look for open seats, rather than go down the aisle, disturbing  passengers by asking them to give up their seat to another passenger. I know this, because I've gone to flight attendant job interviews: Every customer is king no matter what and it's your job to find a way to satisfy them without it being at the expense of another.
The Chinese flight attendants of China Eastern Airlines are also occasionally coarse in their language. It's more noticeable with the females and when a pretty attendant with the face of a porcelain doll addresses me as  "He" (vs She) or even as "Lady" as if we were haggling in a market (i.e. "Hey lady,…"). It's like being around a Victoria Secrets model that burps and farts openly.
Complimentary In-flight Chinese Meals
I like that China Eastern Airlines still offers complimentary in-flight meals and soft drinks. If you want water or peanut snacks, they make them available at their stations. With many budget airlines, you pay for these services.
Meals are interestingly Chinese/Asian, or influenced by the destination you're flying to, so often I get rice or noodle dishes, with seafood, fish or chicken options. I like the food!   As a vegetarian – pescatarian diet, there is almost always an option available and I certainly prefer the Asian meals over western ones!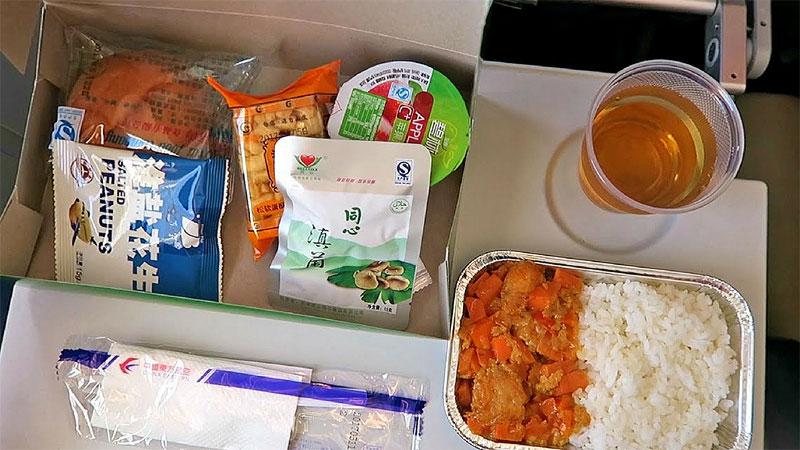 Two

free checked-in luggage + hand luggage (carry on + purse/briefcase)

I've only ever taken China Eastern Airlines internationally, but you're allowed one checked-in luggage and a carry on (+purse). This is huge as western and first class carriers, do not always allow complimentary checked-in luggage.  This often leads me to condensing all my luggage into one normal sized carry on (20-25 lbs limit)  and a day pack. In fact, this latter is my standard way to travel. With China Eastern, I can choose to check my carry-on bag as luggage– sometimes I do and sometimes I don't.

Also, hand luggage requirements are not as strict as SUPER budget carrier airlines like Scoot or Air Asia, which restrict hand luggage to  "7kg" (aka 15.4 lbs… I hate having to convert weight ).  No additional allowance for a purse or briefcase.

In this way, China Eastern is leagues better than the SUPER budget and some first class western air carriers.
No mobile phone use… ever.
Mobile phone usage is prohibited on all Chinese carriers. It's a strange regulation but a serious one, as the attendants may yell at you if you're caught. It's possible it might even get you detained at the airport by officials. Laptop and iPad usage however, is okay.
Chinese In-flight Entertainment
You will only ever see Chinese films play on China Eastern Airlines. This is when you're departing or returning. East-West bound, it won't matter. You'll get a Chinese movie playing on a screen, from an overhead cabin projector. The movies are often subtitled but the subtitles are so small, you either need 20-20 vision or binoculars!  The unique part of their inflight program is their Tai Chi video for passengers, so you can do Tai Chi stretches in your chair!
Comfort
Seats in China Eastern Airlines aren't so bad. Their leg room isn't the cramped nor spacious but in-between. They are better than budget carriers like Allegiant and Jetstar.
Aircraft restrooms and hygiene
The bathroom conditions can range with flights. Often China Eastern Airlines uses a strong floral deodorizer to mask the overall smell, which can get funky on a long flight.  Most flights I've been on have had a predominance of Chinese passengers and Chinese tourists can have a bad reputation with tourism hospitality workers as they have been known to be messy at times.  Personally,  I'm cautious of any country where spitting is a norm. I would never walk barefoot on the carpet or with my socks ( I've seen passengers do this and it mortifies me). Often, I don't even rest my daypack on the floor under my seat.
International layovers in China
I almost always get a layover in Beijing or in Shanghai when traveling to Asia.
The pro: China now offers a 72 hour free travel visa for travelers, so you can essentially gain an extra free trip if the layover is long enough.
The con: Shanghai Pudong International Airport is the most popular hub for China Eastern Airlines and it is a tricky hub if you simply have a connecting flight. Any transfers at this hub take time as you are required to check in again. This means you must pick up your luggage at baggage, go back upstairs to the check in counter to check-in and collect your onward ticket …and do the entire TSA process again.  If you have any connections in Shanghai/Pudong, make sure you give yourself time to do this entire process.Read more here.
Also, as an airport, Pudong International Airport kinda sucks- shopping is lame, the wifi is wonky, and there's not much to do here other than surf the internet. Even if you did manage to get onto their crap wifi, many popular sites are restricted in China– you need a VPN to check your email or Facebook.
Customer support in booking
I have never had to deal with China Eastern Airlines booking or ticket support directly. Nor do I ever hope to have to, to be honest. Although since I've originally written this post, they have created a website for U.S. travelers, as a budget carrier with occasionally rusty English, I do not expect easy customer support if you're encountering problems with changes or mileage points. But to be fair, I can't really say. Reputed airlines like Korean Air, Air Asia, are generally known for having excellent customer support. Delta, United or Hawaiian Airlines services have dropped due to outsourcing their customer support services and will only offer standard treatment in support as long as its an easy cut-n-dry issue.
Anyone has had experience -good or bad- with their phone or online support, feel free to comment below.
Conclusion
Overall, I would recommend China Eastern Airlines as at least one of the better budget airlines to fly with internationally. It is much better than super budget carriers and a just a slight step below first class ones. While you can certainly get cheaper flights domestically within Asia and Southeast Asia, China Eastern Airlines  offers-  good value, free checked luggage and carry on,  it is a class above most budget carriers, has yummy food and cares about offering a good flight experience overall.
As I've updated, I have not yet tested their customer support in booking or mileage issues, so I can't say the degree of difficulty should you encounter schedule changes.
I've had good flights and bad flights on many airlines . Any airlines can be a hit or miss.
Other Airlines Reviews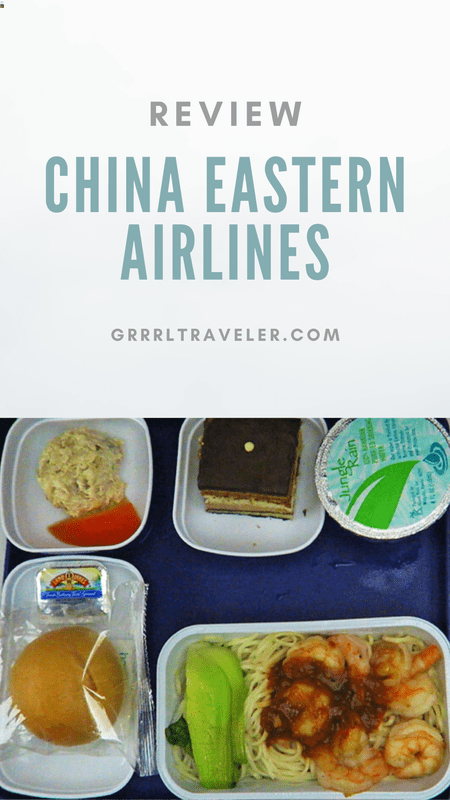 Watch my food review experience with China Eastern Airlines
Part 1: Honolulu to Shanghai
Part 2: Thai and Nepali food on China Eastern Airlines (Shanghai> Bangkok > Kunming > Kathmandu)