Last Updated on May 9, 2022 by Christine Kaaloa

As travelers, we are all potential victims of street crime, theft and pickpockets. 
Thus, safety is a priority when traveling alone as a woman, and choosing a good anti-theft bag should be a consideration when visiting a new country for the first time or entering a country you know has pickpockets. Here's anti-theft bags for travel in 2022.
I've been fortunate that with as much expensive gear and gadgets that I carry, I have always averted travel theft. But I've witnessed it and seen it happen many times to travelers, both naive and well-heeled ones.
Table of Contents: 11 Anti-theft bags for travel in 2022
What to look for in anti-theft bags for travel
1. Hidden and multiple pockets
I have forever been a fan of backpacks and bags with multiple pockets and hidden pockets on the inside liner.  All my gear backpacks and daypacks have had – at the least-  inside pocket nestled against the back of the backpack or an outside pocket hidden against my back. Pickpockets cannot enter it without notice.  Bags with hidden pockets are great for stashing a money belt, extra cash and important documents like a passport.
Best anti-theft hidden/multiple pocket bags:
Leaper Canvas Anti-Theft Crossbody Messenger Bag – hidden pocket on back, mesh strap, combination lock, sturdy zippers, external battery charging port with built-in charging cable, stylish.
NicGid sling Bag Laptop Backpack Crossbody Messenger Bag Travel Outdoor– hidden pocket, multiple pockets, hold 14″ laptop, reversible strap.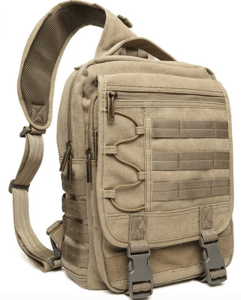 2. Crossbody or sling bags
Crossbody bags let thieves know you're not going to be an easy target. A cross-body bag sits in the center of your gravity and offers you the option of wearing it on your back or against your chest. The latter lets your arms doubly ensure that no one can enter your bag against your guard.
Best anti-theft cross-body bags for minimalist travel
Travelon Anti-Theft Classic Slim Dbl Zip Crossbody Bag– flat, 5 point security:  slash-proof body and straps, RFID blocking, interlocking zippers and lockdown zipper, convertible straps – crossbody to backpack.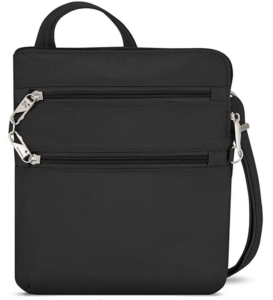 Waterfly Crossbody Sling Backpack – sleek for travel, waterproof hiking, daypack.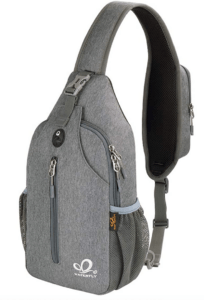 3. Slash-proof
Purses signal obvious money to any pickpocket and their straps are always thin. But Travelon is known to make great slash-proof purses with a wire mesh inside the lining, making it sturdier and unbreakable.
Best anti-theft slash-proof bags for stylish travel:
Travelon Anti-Theft Classic Essential Messenger Bag– 5 point security: slash-proof body and straps, RFID blocking, interlocking zippers and lockdown zipper, water and dirt resistant fabric.
Travelon Anti-Theft Cross-Body Bag, Two Pockettrave-  slash-proof, interlocking main compartment.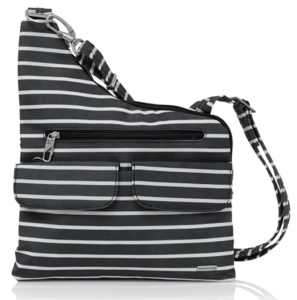 4.
 

RFID blocking protection

These days, theft doesn't only happen in the old school way of bag theft, but through the theft of identity and personal information, as well.  Bags with built-in RFID-blocking technology give you peace of mind that your personal info is protected.
Best anti-theft RFID protection bags:
Baggallini RFID Journey Crossbody – RFID blocking, removable strap
Baggallini Crossbody Bag Water Resistant Travel Purse– RFID blocking, water-resistant, adjustable strap with cross-body option.
Baggallini Women's Pocket with Rfid Crossbody Bag– RFID blocking, hidden pocket.
5. Locks to fixtures
Anti-theft laptop backpacks with the ability to secure your bag to fixtures are a great feature to have. Additional features include sturdy and locking zippers for further security, knowing that thieves will not be able to open your zipper!
Best anti-theft locking backpacks for laptops:
PacSafe Women's Citysafe CX 17L Backpack – RFID blocking, interlocking zipper, slash-proof, can be locked to fixtures, 16″ laptop, fashionable.
Pacsafe Metrosafe LS450 25L Laptop Backpack – lockable zippers, slash-proof, 1 RFID pocket, can be locked to fixtures, 15″ laptop, non-descript look to keep the bag looking valuable.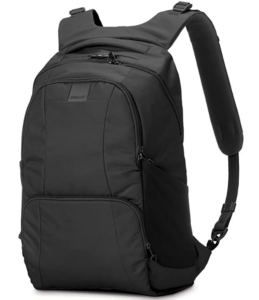 Are anti-theft bags worth it?
Although antitheft bags can sometimes be more pricy,  it is always best to be safe when traveling alone. It's always good to be additionally cautious when protecting your valuables when you are traveling alone or to a foreign country known for picking pockets.
What makes a bag theft-proof?
What makes a good anti-theft bag are a variety of features to aid in the safety and protection of your valuables and personal information, such as hidden pockets, cross body, slash-proof, RFID blocking protection, sturdy locks and locks to fixtures. A good theft-proof bag can have one or many of these features. The important part is that you are comfortable using it.
Want additional protection from travel theft?
SafetyWing travel insurance offers inexpensive trip insurance for digital nomads and vacationers. It includes COVID protection, with prices you cannot beat! World Nomads travel insurance however, covers theft.   I've used the latter when I know my adventures will be rugged and a little iffy where travel theft is concerned. Read more.
For more smart travel safety hacks, check out my list of pickpocket-proof items.
Have any recommendations to share on anti-theft bags for travel?