Last Updated on September 2, 2023 by Christine Kaaloa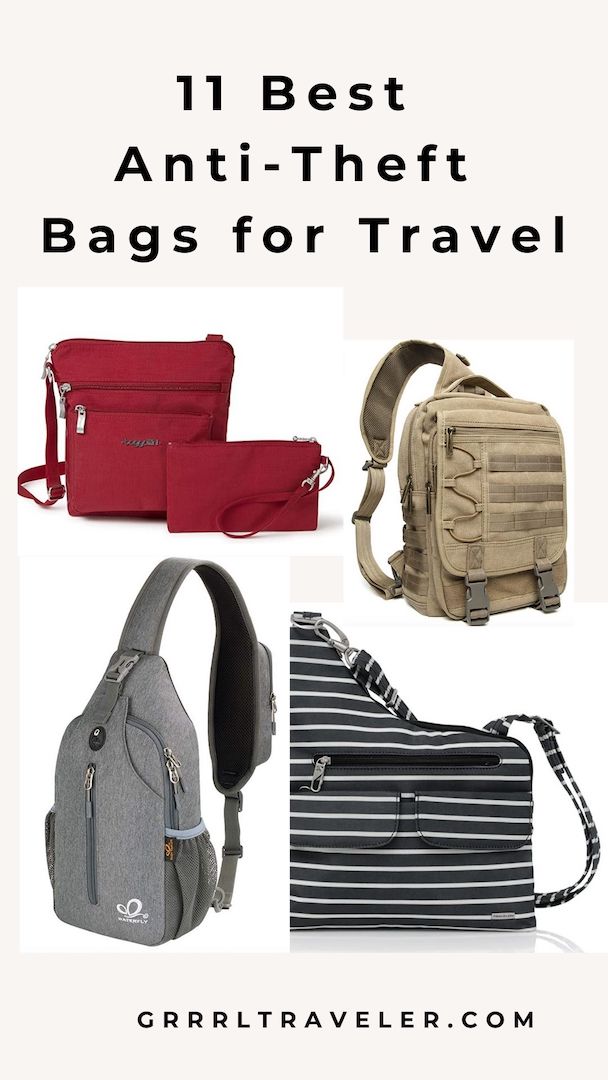 This post may contain affiliate links. Never leave home without travel insurance. Click for the insurance finder tool. and insurance for COVID/quarantine protection.

As travelers, we are all potential victims of street crime, theft and pickpockets. 
Thus, safety is a priority when traveling alone as a woman, and choosing a good anti-theft bag should be a consideration when visiting a new country for the first time or entering a country you know has pickpockets. Here's anti-theft bags for travel in 2022.
I've been fortunate that with as much expensive gear and gadgets that I carry, I have always averted travel theft. But I've witnessed it and seen it happen many times to travelers, both naive and well-heeled ones.
Are anti-theft bags worth it?
Although anti theft bag brands can sometimes be more pricy,  it is always best to be safe when traveling alone. It's always good to be additionally cautious when protecting your valuables when you are traveling alone or to a foreign country known for picking pockets.
What features make a bag theft-proof?
What makes a good anti-theft bag are a variety of features to aid in the safety and protection of your valuables and personal information, such as hidden pockets, cross body, slash-proof, RFID blocking protection, sturdy locks and locks to fixtures.
A good theft-proof bag can have one or a combination of these features.
But ultimately, the important part is that you are comfortable using it.
What to look for in anti-theft bags for travel
1. Hidden and multiple pockets
I have forever been a fan of backpacks and bags with multiple pockets and hidden pockets on the inside liner.  All my gear backpacks and daypacks have had – at the least-  inside pocket nestled against the back of the backpack or an outside pocket hidden against my back. Pickpockets cannot enter it without notice.  Bags with hidden pockets are great for stashing a money belt, extra cash and important documents like a passport.
Best anti-theft hidden/multiple pocket bags:
Leaper Canvas Crossbody Messenger Bag – This stylishly cute canvas messenger bag has a hidden pocket on the back, two outer access pockets for documents and note pads, the main compartment that fits a 14-inch laptop. Additional features are a combination lock, sturdy zippers, and an external battery charging port with a built-in charging cable.
It's a very practical but fashionable urban-looking bag. You can carry it sling-style as a messenger bag or hand carry it.  Measurements: 11.4 x 15 x 4.5in
NicGid sling Crossbody Messenger Bag– This outdoor backpack sling bag has a hidden pocket on the back and multiple pockets from access pockets to main compartment. It resembles a military bag and has a rugged build. It holds 14″ laptop and has a reversible strap with an anti-theft pouch to store valuables such as money, mobile phone, etc… Measurements:11.8in x 15in  x 3.5in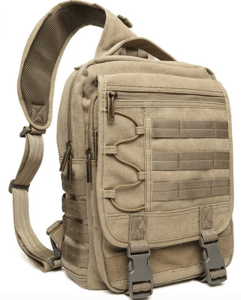 Try my Free Ultimate Packing List tool to know what to pack for your next trip!
2. Crossbody or sling bags
Crossbody bags let thieves know you're not going to be an easy target. A cross-body bag sits in the center of your gravity and offers you the option of wearing it on your back or against your chest. The latter lets your arms doubly ensure that no one can enter your bag against your guard.
Best anti-theft cross-body bags for minimalist travel
Travelon Anti-Theft Classic Slim Bag– TravelOn is a good brand for slash-proof bags. This Classic TravelOn Slim Crossbody Bag is a flat travel bag featuring five-point security:  slash-proof body and straps, RFID blocking and interlocking zippers, and a lockdown zipper so no one can enter without your permission. The cool selling point for this bag is that it has convertible straps and you can wear it both, crossbody and backpack. Measurements: 9" x 10.5" x 1"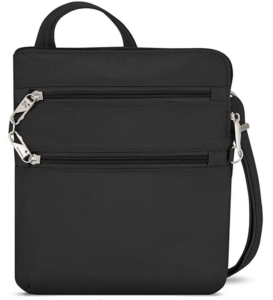 Waterfly Crossbody Sling Backpack – For those who love messenger-style crossbody bags, this Waterfly crossbody sling backpack serves as a sleek waterproof daypack for hiking and urban maneuvers. It has two mesh bag holders for a water bottle or umbrella and an adjustable and reversible strap that can carry a mobile phone (screen size under 7 inches). It has three outer access pockets so you can have items in convenient reach and there are a few pocket compartments inside so you can be organized. All over, it is a sporty toolkit bag for the minimalist who has many small items to store. Measurements: 7 x 3.5 x 15 inches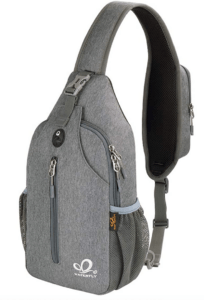 3. Slash-proof
Purses signal obvious money to any pickpocket and their straps are always thin. But Travelon is known to make great slash-proof purses with a wire mesh inside the lining, making it sturdier and unbreakable. Slash proof travel sling bag anti theft is good also.
Best anti-theft slash-proof bags for stylish travel:
Travelon Anti-Theft Classic Essential Messenger Bag– This simple and classic cut travelon anti theft crossbody bag is constructed with a water and dirt-resistant fabric and is ideal for the solo traveler who is on a simple mission… sightseeing. It also has TravelOn's famous five-point security: slash-proof body and straps and RFID blocking so thieves cannot get scan your credit card and valuable documents. It has interlocking zippers and a lockdown zipper with one main compartment and an access pocket on the outside.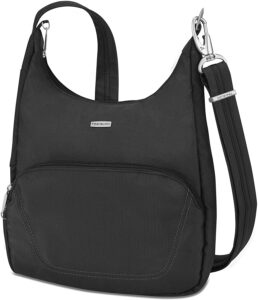 Travelon Anti-Theft Cross-Body Bag, This simple travelon anti theft crossbody bag has a thin strap that is slash-proof. There are also interlocking zippers on the main compartment and two access pockets on the outside. Comes in a variety of print colors. Sleek, simple and stylish. Measurements: 14.5 x 12 x 1.5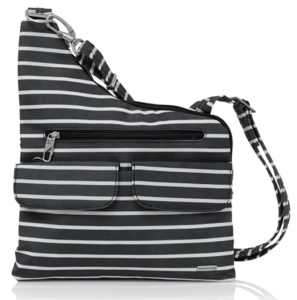 4.
 

RFID blocking protection

These days, theft doesn't only happen in the old school way of bag theft, but through the theft of identity and personal information, as well.  Bags with built-in RFID-blocking technology give you peace of mind that your personal info is protected.
Best anti-theft RFID protection bags:
Baggallini RFID Journey Crossbody – Functional machine-washable bag with built-in RFID-blocking technology. There is a hidden pocket in the back of the bag as well as pockets to store smaller documents and credit cards. Simply cute, durable and lightweight, this is for the traveler who navigates with the essentials.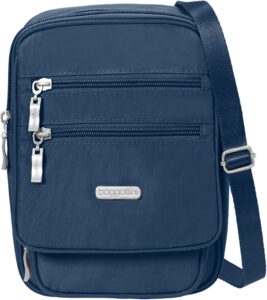 Baggallini Crossbody Bag Water Resistant Travel Purse– This Baggalini crossbody purse is made of durable and water-resistant nylon.  There are many pockets so you can stay organized. The wide base is deeper front-to-back than the top, so when it's loaded with items, the bag stands upright by itself. This is ideal for packrats, as it stores more than it appears to hold. It includes a detachable RFID blocking wrist purse. Overall, very nice, practical design and a popular choice for women. Measurements: 8.5 x 11 x 4.5.
5. Locks to fixtures
Anti-theft laptop backpacks with the ability to secure your bag to fixtures are a great feature to have. Additional features include sturdy and locking zippers for further security, knowing that thieves will not be able to open your zipper!
Best anti-theft locking backpacks for laptops:
PacSafe Women's Citysafe CX 17L Backpack – RFID blocking, interlocking zipper, slash-proof, can be locked to fixtures, 16″ laptop, fashionable.
Pacsafe Metrosafe LS450 25L Laptop Backpack – Durable, water-resistant, the Pacsafe Metrosafe 25L Laptop backpack is a likeable and easy-to-love anti-theft backpack for any occasion.
Three access pockets with lockable zippers, slash-proof straps and two side pockets for waterbottle and umbrella. It has one RFID pocket that can be locked to fixtures and chairs so thieves cannot run away with it. The backpack has a non-descript demeanor to keep it from looking like a valuable bag and it holds a 15″ laptop.  Travelers love it for its comfort, ability to store enough from a weekend to longer, its safety and quality. 9″H x 11. 8″W x 6. 7″D.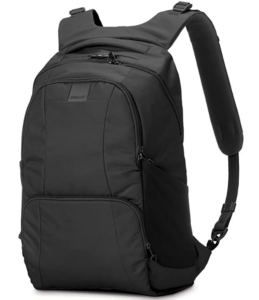 Want additional protection from travel theft?
SafetyWing travel insurance offers inexpensive trip insurance for digital nomads and vacationers. It includes COVID protection, with prices you cannot beat! World Nomads travel insurance however, covers theft.   I've used the latter when I know my adventures will be rugged and a little iffy where travel theft is concerned. Read more.
For more smart travel safety hacks, check out my list of pickpocket-proof items.
Have any recommendations to share on anti-theft bags for travel?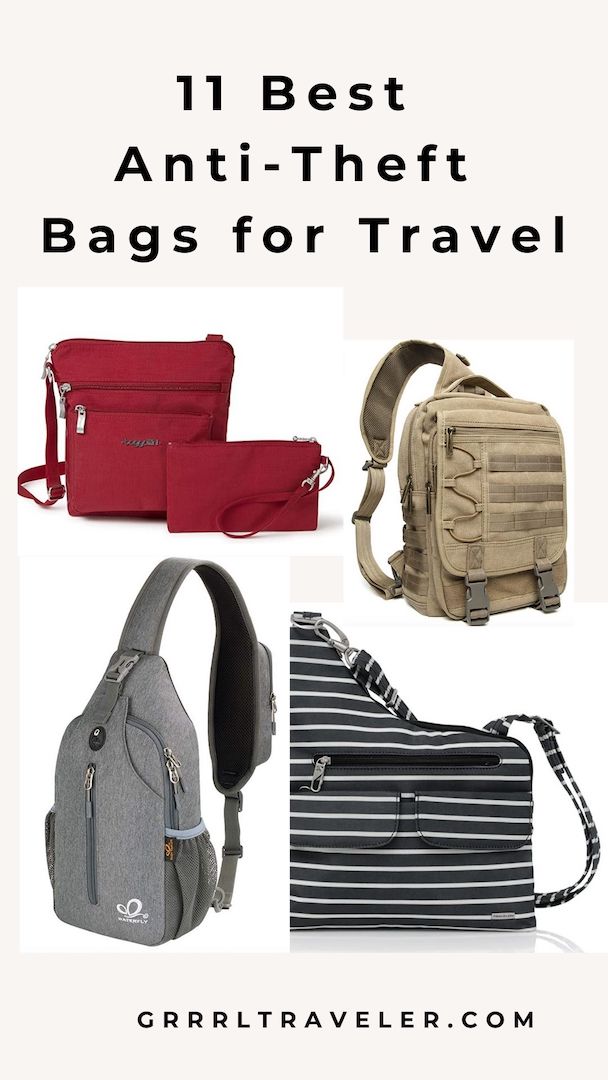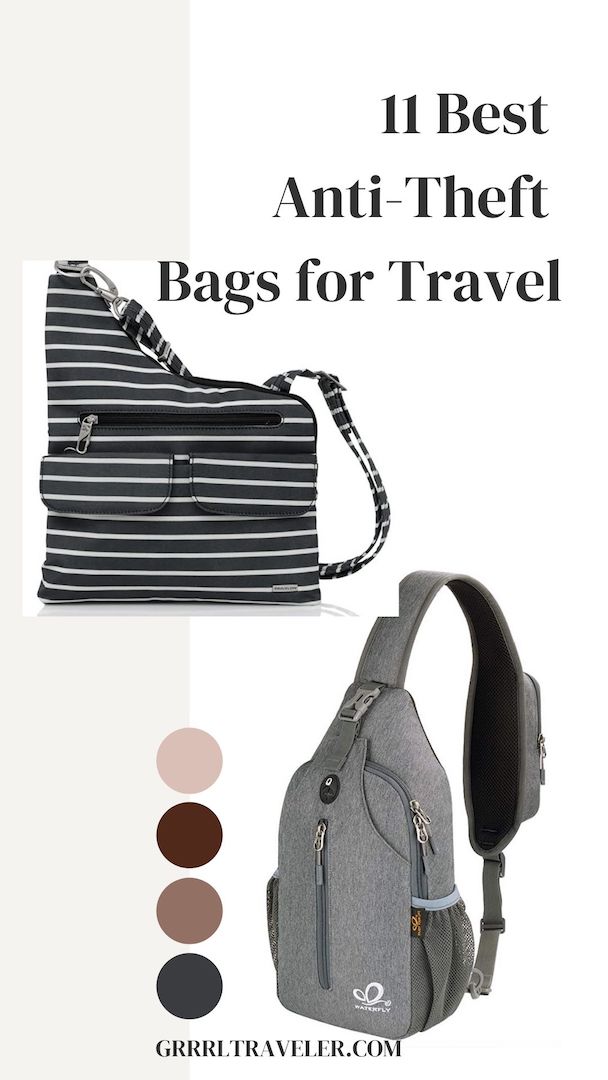 [web_stories title="true" excerpt="false" author="false" date="false" archive_link="true" archive_link_label="https://grrrltraveler.com/anti-theft-bags-for-travel/" circle_size="150″ sharp_corners="true" image_alignment="left" number_of_columns="1″ number_of_stories="2″ order="DESC" orderby="post_title" view="carousel" /]