Last Updated on November 12, 2023 by Christine Kaaloa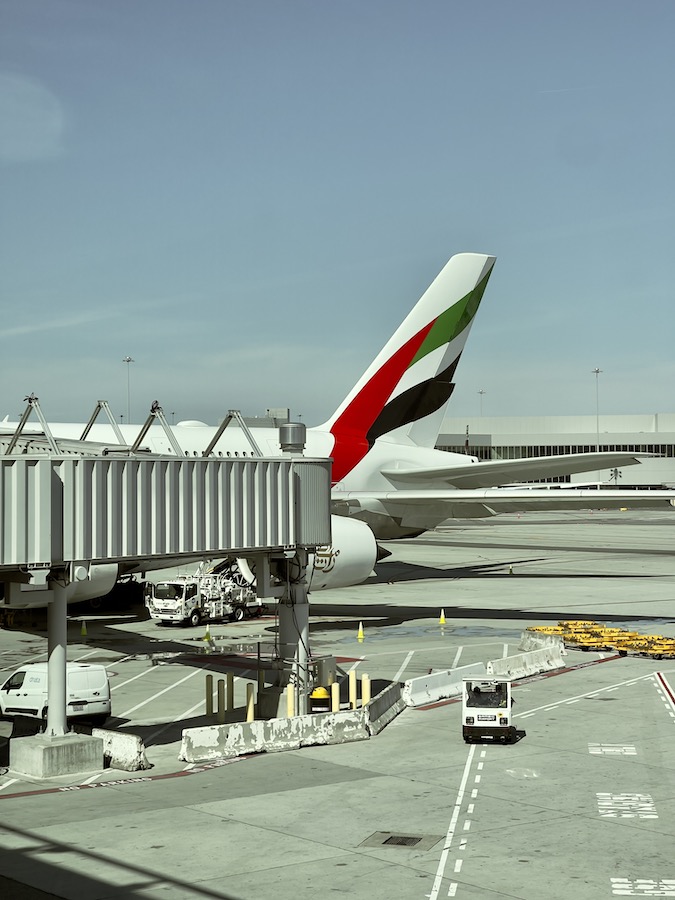 Emirates Airlines Economy Review: Is it the Best Airlines for Long Haul Flights?
If you're planning a long-haul flight, choosing the right airline can make a significant difference in your overall travel experience. Emirates Airlines has built a reputation as a premium airlines carrier, even if you're in economy class. It ranks among the world's 20 safest airlines too. In this Emirates Airlines economy review, we will dive the pros and cons that make flying with Emirates the best choice than competitor airlines.
This post contains affiliate links. Trip insurance is one of my in-flight trip essentials. Here's a trip insurance finder tool  to find one that matches your budget. I use World Nomads as it covers adventures, gear and travel theft. 
Watch my Emirates Airlines economy video review experience
Emirates Airlines economy review
I was returning to Kathmandu, a guest of the U.S. Embassy invited to speak about YouTube Monetization at the Creator Mela, the first conference for creators in Nepal.
Ordinarily I'd have to book a U.S. airlines for the U.S. Embassy to be about to cover it, but this was a very last minute booking with very specific dates and there's only a couple of U.S. airlines that have airlines partners that connected to Nepal (or so it felt!). It was a tricky booking, when you're dealing with 1-2 day time differences, passing through various time zones, layovers and connecting flights,…  Airlines prices jumped by the day and my options of cheaper airlines carriers dwindled. Over 30 airlines connect to Nepal, but there's no straight shot from Honolulu; you're looking at multiple connecting flights.
A seat in Emirates Airlines economy became my saving option and the cheapest option.
My cheap ticket price was more than anything I'd paid in my life for a flight ($3,400 USD), but I needed to be in Kathmandu in a week for a very professional gig.  As a guest speaker, I was going to be reimbursed for my flight expense.
This is the first time my route was not passing through Asia but through the Middle East.
I had heard of Emirates Airlines being a premium carrier but did not know what to expect. I had been on premium carriers before but some did not live up to their hype. Would Emirates Airlines be any better, especially with… a 16 hour long haul flight?
Emirates Airlines Economy Pros
 Emirates' amenities are stylish & sustainable
In Emirates Airlines economy class, I was treated to a personal amenity kit. First, you get a stylish and washable, 70% kraft paper pouch amenity bag that can be used for toiletries, pens, or makeup. It included socks, a toothbrush and toothpaste, and an eye mask.
But Emirates doesn't stop there. They have a sustainability policy and the amenity items and pouch is made from recycled rPET plastic, recycled paper or wheat straw.
Furthermore, each seat comes with a plush blanket and pillow, ensuring a more enjoyable journey.
Emirates Air Seat Spacing and Seat Pitch
Emirates Airlines seat spacing is known to be generous in space and pitch, even in economy class. I had ample ample legroom to stretch out during the 14.5-hour flight. It did not disappointed.
Seat width was 17.5″.  Pitch was 32-34″. What those numbers mean is that my legs and body had ample room to wiggle around and stretch. I was not cramped. I could even set a purse next to me. This is hugely different from my Qatar Airlines seat spacing, where we sat ridiculously shoulder-to-shoulder in economy class or my Turkish Airlines 777-300R bad seat experience! Some airlines should not be long haul carriers.
Furthermore, these were ergonomically designed seats, equipped with adjustable headrests.
Emirates Airlines A380 aircraft (double deck plane)
My EK 226 flight operated on the Emirates Airlines A380 aircraft, an impressive double-deck aircraft. I'll be honest—I didn't know I was on a double-decker plane until I saw the in-flight safety video (you'll see it better in my YouTube video review).
I did not know that the Emirates Airlines A380 aircraft is known for its quietness and smooth ride, so I didn't pay close attention to the sound factor. But it was not a noisy engine, so I can see how it's a popular choice among travelers for long-haul flights.
Being in economy, I did not go upstairs. The upstairs cabin is roped off to ensure the upper cabin has privacy.
Emirates Airlines In-flight Dining
Emirates Airlines excels in its in-flight dining options, even in Emirates economy class. The Emirates in-flight dining options on EK 226 offer an array of international dishes, catering to diverse tastes. Passengers can choose from a selection of main courses, and complimentary beverages are served throughout the flight. Special dietary requirements are also accommodated, ensuring a satisfying dining experience for everyone.
My flight got four meals and a pizza snack! Yep, you read that correctly- I was given a lot of food! I was served more food than the average airline for 15-hour flights. Generally, you'd get three meals at most, so Emirates feeds you extra.
Food was delicious, and stocked with more than the average items you might find on most airline carriers. There were premium items from granola snacks to high-quality cheeses. The sections that I misread as condiments came with extra snacks like breadsticks and cheese or chocolate, even if a bread roll was included. I was very impressed.
Additionally, Emirates Airlines wants to do their part in reducing waste and plastics so trays and dishes are washed, ground down, remade and reused.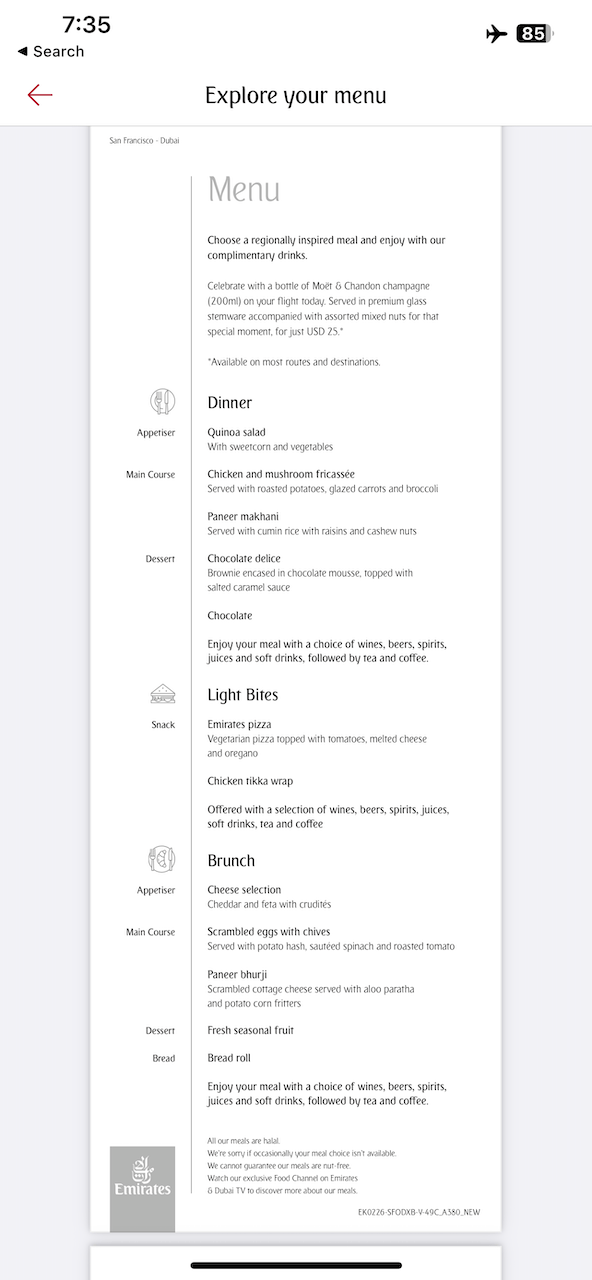 Emirates Hospitality
Emirates Airlines is widely recognized for its hospitality, and this extends to economy class on EK 226. The flight attendants are attentive, friendly, and dedicated to providing top-notch service. Their warm and professional demeanor creates a welcoming environment for passengers.
Emirates Airlines  Lavatory
There was always a queue for Emirates Airlines lavatory; it could be due to the amount of complimentary meals, so I won't complain . I didn't mind so much because their lavatories were quite nice. With wood paneling, it had a warm charm and it was well-maintained to carry a certain freshness during that long-haul flight. Toilet paper was always stocked and the toiletries were nice. I forgot the eau du toilette they had but it was a lovely scented spritz. I think they also had facial mist, but I could be wrong.
emirates economy review long haul flights
Emirates Airlines In-flight Entertainment
In-flight Channels
Entertainment is a key aspect of any long-haul flight, and Emirates Airlines offers a state-of-the-art personal entertainment system at every seat, featuring an extensive library of movies, TV shows, music, games, and more. You'll get the standard Hollywood, Europe, Asia, and Bollywood shows. But being that Emirates' headquarters is in Dubai, their influx of passengers leans towards the Middle East and Northeast Asia. Thus, Emirates Airlines' entertainment channels include movies from those country regions. Pakistan was one of them.
I'm hosting my first tour group to Pakistan and wanted to learn about its culture through in-flight entertainment, so I stayed on that channel during my flight.
Entertainment Console
I was initially underwhelmed by my Emirates in-flight entertainment console on this flight from San Francisco to Dubai. It seemed standard, basic, plain. Nothing particularly special to improve my flight experience that much more. But at least it had a console. In Alaska Airlines, you need to use your mobile phone to stream movies!
But on my return flight, I had an entertainment console that was all tricked out and included a gaming console!
Tech and Charging Ports
The EK 226 has charging ports. There was the standard USB port under the entertainment console and (gasp!) a multi-plug outlet below the chair near the leg in the passenger in front of you. Plug outlets on airplanes can sometimes feel standard these days, until you get a plane that doesn't have them (Qatar Airlines and Korean Airlines… I'm looking at both of you!). Being that I work on my laptop often times, I look forward to flights that have them.
Multi-camera View
A cool feature that almost goes unnoticed is the airplane multi-camera. You can see camera views outside the airplane, so when you're taking off, you can see the runway and the tiny city below the plane wheels. You can also see other angles. Watch my videos for a fuller experience.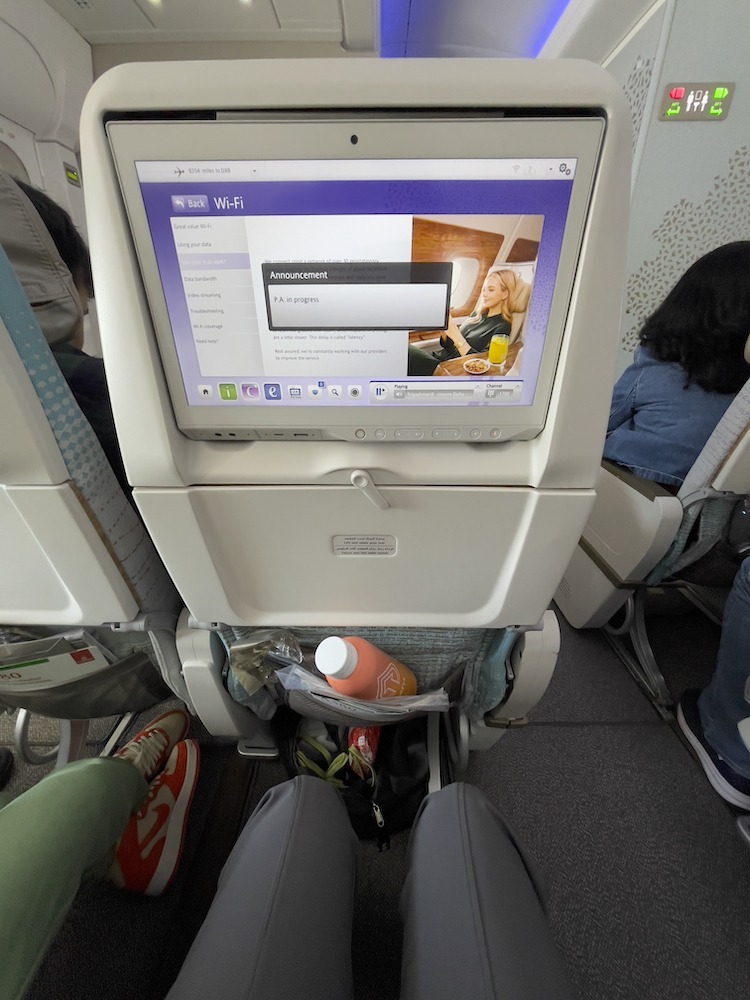 emirates air review entertainment counsel legroom
Emirates Checked Luggage Allowance
In Economy, you can check one or two bags for free, depending on the fare you paid. Nice! I was allowed two free checked luggage, but only had one (drats!). Luggage can be no heavier than 50 pounds (23 kg) each.
You're also allowed the standard of one carry-on bag and a purse. Your carry-on luggage cannot be heavier than 15 pounds (7 kg) and cannot be larger than 22 x 15 x 8 inches.
Emirates' positive impact : sustainability & recycling projects
In this Emirates Airlines EK 226 review, I want to point out a few initiatives that Emirates Airlines supports in their operations and it's quite impressive. It's something I only read about much later, when I began to research points from this review.
First, there's a recycle and reuse program, where anything from amenity kits to meal trays, even your blanket is re-made from recycled plastics and ethically sourced. The in-flight blanket they loan you is actually made from 28 plastic bottles! This just makes me adore them more!
They support wildlife and Dubai desert conservation  and even have a plane dedicated to reminding you about protecting wildlife and endangered species.
Emirates Airlines Economy Class Cons
Dubai International Airport Gate Experience
If I have one complaint about Emirates Airlines, the Dubai airport gate experience would be it. Dubai airport is Emirates Airlines' headquarters, so the entire wing of Terminal 3 in Dubai International airport is dedicated to it.
The problem is you're kept in gate limbo until 45 minutes before your flight. So if I just got off a 14.5-hour long flight into an 8-hour layover, (read this guide on how to choose layovers) then reason stands that I'd be exhausted. I wanted to go to my gate to collapse and take a nap. Instead, I was obsessively checking the timetable every hour to look for updates. I was anxious that they'd put me at a gate far away.
Although they had comfy lounge chairs for the in-limbo passengers, it wasn't nearly enough to accommodate every passenger, who who had to wait for their flight. It was continually filled with sleeping passengers.  Instead, I was continually checking the flight timetable to see when they would list my gate!
Dubai International Airport Terminal 3
Terminal 3 has all the basics of a pharmacy, tech and souvenir shopping and restaurants. There are water and hot water refill stations. Of course, there is a McDonalds. Prices are not expensive for airport prices, but they're moderate. Mc Donalds sells a veggie burger for under $5, so not bad. But after my Emirates Airlines in-flight meals, I didn't feel so hungry.
Still, if Dubai airport prices are still too high for your budget, they have a ramen noodle vending machine, where you can buy an instant noodle meal for a dollar and there's a free hot water refill station right next to it.
Emirates Travel Tips
Book Early: Emirates Airlines is a popular choice for travelers, so it's advisable to book your flight early to secure the best seat and avoid disappointment.
Join Emirates Skywards: Enroll in the Emirates Skywards loyalty program to earn miles and enjoy various benefits
Download the Emirates Airlines mobile app. It's very handy!
Check for Free Stopover Offers: You can book a free stopover in Dubai. Emirates offers a way to explore Dubai and break up your journey. Had I more time to research or to arrive earlier, I would've tried to book a stopover in Dubai to explore it for a day or two.
Check for In-transit hotel stays for long layovers, over 8 hours. Emirates' Dubai Connect offers you a free in-transit hotel (along with Turkish Airlines free hotel, China  Eastern Airlines, Qatar Airlines, etc..), meals and even a short term visa for qualifying tickets.
Emirates Airlines EK 226 review Conclusion
Flying economy on Emirates Airlines EK 226 from San Francisco to Dubai is undoubtedly worthwhile if you can afford it, especially when compared to competitor premium airlines. Generous amenities, comfortable seat spacing, excellent food menu, outstanding hospitality, and diverse entertainment options ensure that you'll enjoy your long-haul flight from start to finish. Emirates Airlines should be at the top of your list. Happy travels!