Last Updated on May 11, 2019 by Christine Kaaloa

20 Best Things to Do in Los Angeles (Video)
Los Angeles.  The entertainment capital of the world. Ready for it?
People have asked me for advice on things to do, but the bucket list of best things to do in Los Angeles can feel endless.  What to do? Well, it all depends what your fix is and how much time you've got- Hollywood stars, museums, L.A. hip dining and nightlife, outdoor activities, beaches…
I'm sharing my Los Angeles travel guide for the first time tourist.  It's doable within 36 hours and I've categorized them by neighborhood to help you do so.
20 Things to Do in Los Angeles
Rather than get too deep into it when I have a video accompanying it, I'll be brief and share a rundown of the areas these things are in, so you find the best strategy to tackle it.
Los Angeles Travel Guide Read Things to Know Before Visiting Los Angeles
Los Feliz
Los Feliz is quiet and semi-upscale residential artsy area with a  few cafes, bars and boutique stores. While it had its heyday in earlier years, now it seems to be a place where you pass through in order to get to the hip and artsy cove of Silverlake. 
1.  Griffith Observatory & Park
As the famous film location of Rebel without a Cause, Griffith Observatory sits on the slop of Mount Hollywood overlooking downtown Los Angeles.  The road leading up to it is winding and is a lovely park to explore and hike during the day. At the top of the hill sits a statue of James Dean in commemoration of the famous actor who put this location on the map and there's Griffith Observatory. At night Griffith Observatory has one of the most beautiful views of Hollywood lit up below.
Getting There: There are two entrances: through Vermont & Hillhurst Aves ( you'll pass the Greek Theatre) or Western Avenue. Observatory Parking costs: $8-10. Address: 2800 E Observatory Rd, Los Angeles
Hollywood Boulevard Landmarks
2. Hollywood Boulevard
Hollywood Boulevard is tourist central, full of souvenir shops, celebrity look-alike performers, fast food joints and tours to see star homes.  It's the home of the Hollywood Walk of Fame and a handful of historical landmarks. Off-shoot side streets house bars and performance venues.
Tip: If you take a photo with a celebrity look-alike performer, be prepared to pay. They're not dressed up for nothing! Also parking isn't cheap but finding street parking in the residential areas isn't always easy. For a list of parking garages and prices, check Parkopedia. Base rate starts at $5.
3.  Dolby Theatre (formerly the Kodak Building)
Located on the corner of Hollywood and Highland is the Dolby Theatre (formerly the Kodak Building), the home of the annual Oscars event. You can take a photo on the steps and visit some of the boutique and kiosk shops in the complex. While there isn't much to do other than takes selfies there, the best view of the Hollywood sign is taken from the platform in the shopping arena behind the Dolby Theatre. Address: 6801 Hollywood Blvd, Hollywood, CA ,  (323) 308-6300
The El Capitan Theatre is a historical landmark and restored movie palace which resides on the Hollywood Boulevard across Mann's Chinese Theater. Today, it is a working theater with a stunning old Hollywood styled interior featuring center stage, the Mighty Wurlitzer, a 1920's large pipe organ. 
Address: 6838 Hollywood Blvd, Los Angeles, CA,  (818) 845-3110
5. Hollywood Walk of Fame/ Star Walk
The top bucket list thing to do in L.A. is to see a star.  Why stop at one? the Hollywood Walk of Fame and Star Walk stretches across Hollywood Boulevard from Vine to La Brea.
Address: Hollywood Blvd | Vine to La Brea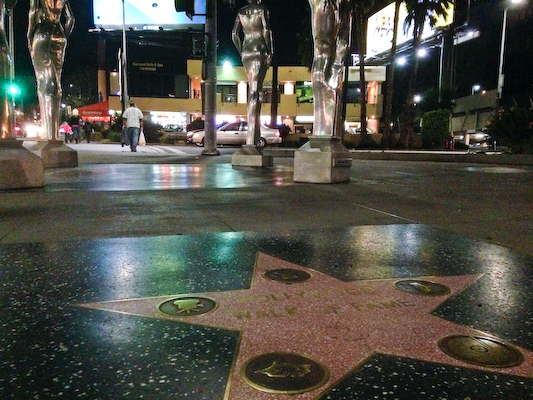 6. Mann's Chinese Theater
Across the El Capitan Theater, boldly sits Mann's Chinese Theater (formerly known as Grauman's Chinese Theatre ). You can't miss it- the Chinese styled architecture should give it away!  The theater is a working theater and will occasionally hold special movie premieres where they roll out the red carpet for attending stars. This is where you'll find the historical Hollywood Walk of Fame continues but holds more notable star names, which you might want to match hand prints and take photos with!
Address:  6925 Hollywood Blvd, Hollywood, CA,  (323) 461-3331
At the Hollywood Forever Cemetary you'll find a lot of star sighting. Okay, so they're dead, but you'll still feel starstruck as some of the tombstones carry their own story. Hollywood icons, such as Tyrone Power, Cecille B Demile, Joey Ramone, Valentino, Mickey Rooney, Douglas Fairbanks Sr, even the dog that played Toto in The Wizard of Oz.. all make this cemetery one of the hottest pieces of Hollywood real estates. Stars are just dying to get in!
The cemetery is open to the public and tourists. But keep in mind, the cemetery is a working cemetery, which holds services. Tip: Buy a map from the gift shop, located near the entrance gate.  You can also take a walking tour to hear about the lives behind the tombstones.
Website: Hollywood Forever Cemetery, Hours: 8:30 am – 5:00 pm, Location: 6000 Santa Monica Blvd, Los Angeles, CA 90038
Watch my video to see what type of experience you'll have :  5 Unusual Museums in Los Angeles
8. Sunset Boulevard/ Sunset Strip
Going west past La Brea, Hollywood Boulevard turns into residential and you best jump onto Sunset Boulevard for sightseeing.  From Havenhurst Ave in West Hollywood to Sierra Drive in Beverly Hills, Sunset Boulevard turns into what's known to many as Sunset Strip, a mile and a half stretch of splashy Hollywood billboards plastered along buildings, rock clubs, nightclubs, hotels and boutiques.
9
. Hollywood Sign
The moment you fly into Los Angeles, look out your window and bam, there it is- the Hollywood sign nestled in the Hollywood Hills. It is a reminder of all the dreamers who come to this city in search of stardom.  It used to be illegal to hike to the sign but apparently now it's okay. There are three trails that access the sign. For more hiking information see HollywoodSign.org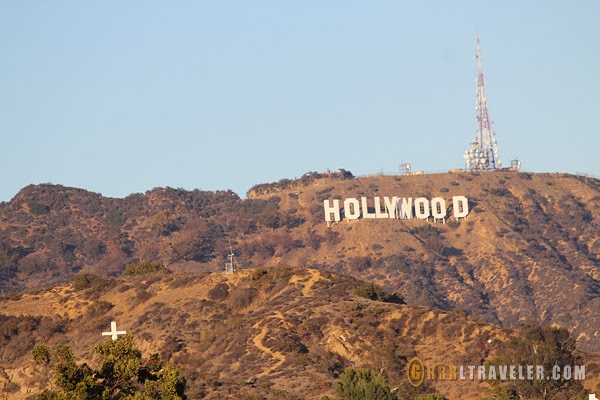 10. Runyon Canyon
Los Angeles city is a dynamic blend of street grids and miles of asphalt. So for a quick escape into nature, much of Hollywood will go to Runyon Canyon. Sitting on the slopes of the Hollywood Hills, Runyon Canyon is a convenient hotspot, where you'll find Los Angelenos working out, people watching, walking their dogs or doing yoga. Depending upon your physical condition it can be an easy loop trail hike of well-worn paths. 
Address: 2000 N Fuller Ave, Los Angeles, CA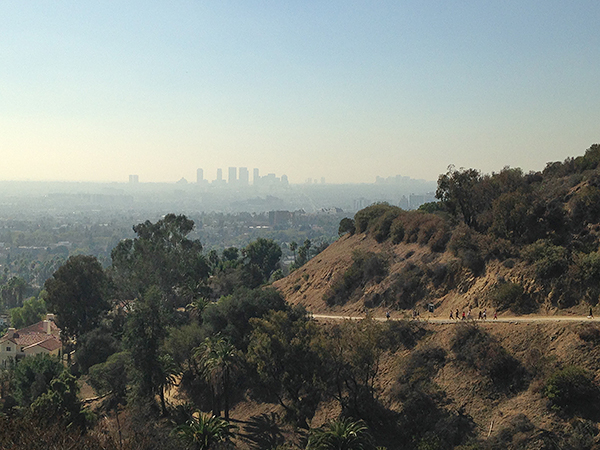 11. The Guitar Center's Rock of Fame
Interested in a musician's Hollywood Hall of Fame? If not, then how about a guitar? As one of Hollywood's age old rock-n-roll landmark stores, the The Guitar Center has been around for decades, styling musicians and wannabe rockers with instruments.  But right outside its doors on the ground you'll find a Rock of Fame. A spin off of the Walk of Fame, the Rock of Fame is a humble homage to… you guessed it, famous musicians.  Address:  7425 Sunset Blvd, Hollywood, CA
12. The Comedy Store
Do you like to laugh? Hollywood's prime standup comedy venue of  is The Comedy Store. Opened since 1972 by comedians, Sammy Shore and Rudy De Luca, The Comedy Store has an impressive alumni of comedian greats who got their start there. The venue can hold a few shows a night from different performers in different rooms from Dave Chapelle, Jim Carrey, Whoopi Goldberg, Gallagher, Pauley Shore are just to name a few. Entrance is free but there is a two drink minimum.
Address:  8433 Sunset Blvd, Los Angeles, CA , $$
13. Free Live Tapings
Did you know that television and talk shows that are filmed with live audiences are always looking for their live audience?  Generally, if you sign up, you're confirmed a seat.  But just a headsup~ once at the studio, filming can take some time.  Be prepared to do a lot of waiting. Still, it's definitely a fun to be part of the taping experience and an opportunity to see behind the scenes of what your favorite talk show is truly like.
Check out Audiencesunlimited.com & On Camera Audiences
Fairfax Avenue/ Wilshire Boulevard
Fairfax area is lightly known as the Jewish district, but you'll find the Grove Mall and Farmer's Market along the way. Where it intersects with Wilshire Boulevard, you'll find Miracle Mile and some of the listed museums.
14. The Grove
The Grove is a trendy shopping complex with shops, theaters and restaurants and it is located on parts of the old Farmer's Market.  Parking at The Grove is not cheap but starts at $4/1st hour.
15. Canter's Deli
Canter's Deli is Hollywood's fun 24 hour restaurant and late night hotspot. Located conveniently on Fairfax Ave amidst restaurants and bars, Canter's Deli is a large deli with a menu of late night eats and Jewish fare (my favorite was matzo ball soup!). They have a bakery selling delicious Kosher baked goods. At night, occasionally they have live music in their small side bar. Definitely a fun spot to people watch and hang out when the nightclubs close.
Address: 419 N Fairfax Ave, Los Angeles, CA,  (323) 651-2030
Museums
16. La Brea Tarpits
La Brea Tar Pits and Museum are a group of tar pits around Hanock Park. Tar pits used to trap animals and encase them so over years, it's preserved old bones. The museum is dedicated to the science and learning about the ice age period and the beasts which roamed the earth during that time.  Admission: $13 Adults, $10 Students.
Address: 5801 Wilshire Blvd, Los Angeles, CA ,  (323) 857-6300
17. Los Angeles County Museum of Art
If you love contemporary art, Los Angeles County Museum of Art or LACMA is one of Los Angeles' biggest and best museums.  From modernist to contemporary art exhibitions, LACMA always finds special exhibitions to excite your artistic sensibilities. Address: 5905 Wilshire Blvd, Los Angeles, CA,  (323) 857-6000, $10 Admission
Other museum recommendations:  Getty Center, Hammer Museum, Natural History Museum, MOCA Grand Ave, La Brea Tar Pitts, Los Angeles Museum of the Holocaust. 
18. Museum hopping and Free Museum Days
Did you know there are over 250 museums in Los Angeles? Yeah, there's a reason why I didn't list them all. But it's safe to say visiting museums in Los Angeles can quickly add up. The good news is that Los Angeles, being an arts and culture city, has Free Museum Days and some of the biggest ones are listed here.
Venice & Santa Monica
Part of the trendy sprawl of Los Angeles but a bit outside the Hollywood and West LA scene, you have Venice & Santa Monica. A bit on the yuppy side, Santa Monica has got a boardwalk, shopping malls, restaurants and its own nightlife scene. Meanwhile, Venice is its wilder, but mellower and more artsy neighbor, with trendy cafes, hip boutiques and restaurants. If Hollywood had a beach community, Venice would be it.
Book a hotel stay in Venice Beach.
19 Venice Beach
My all-tie favorite people watching beach is Venice Beach.  Founded in 1905, Venice Beach Boardwalk was known as a seaside resort, with various neighborhood attractions such as beaches, canals and a 2.5 mile long ocean-side boardwalk for pedestrians, artists and side show performers, fortune tellers and vendors. It's known as one of the Best American Beach Boardwalk's  next to New York's Coney Island. Today, it still retains a bit of that charm with street performers, crafts sellers, and artists.  There is a skateboard park, paddleboarding, and has a path alongside the boardwalk, where you can rollerblade or bike. The aged historical buildings give off a slightly dilapidated charm, while funky murals embuing it with a force of youth, creativity and energy. Muscle Beach is its re-known outdoor gym where body builders flex and preen while tanning under the sun.
Venice Beach is located between Santa Monica and Marina Del Rey and it's really not too far from the airport. Find nearby hotels here.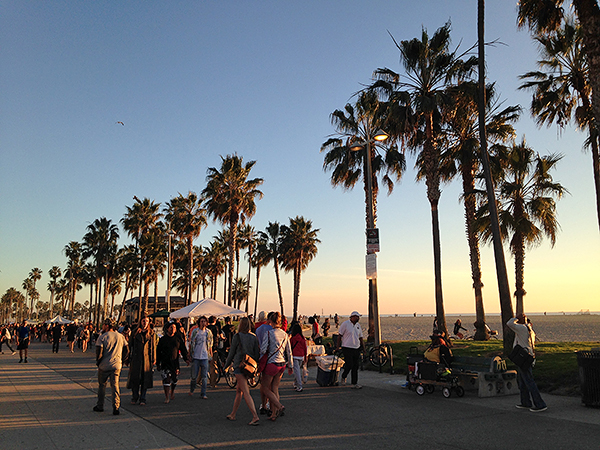 20. Drive the Pacific Coast Highway (PCH)
The Pacific Coast Highway (aka the PCH) is a gorgeously scenic coastal drive from Santa Monica to Malibu. It's a very romantic drive. Wind in the hair, sea salt in the air, it's practically a must to stop by one of the seaside restaurants to taste the catch of the day. Best restaurants along the way: Gladstones, Duke's Malibu, Nobu Malibu.20. Eating in Los Angeles
Los Angeles is a haven for privileged eaters and folks with special diets. Perhaps partially due to Tinseltown, "trim and healthy" is where it's usually at. The Californian diet, from San Francisco to San Diego, is flexible to almost all diets and  Los Angeles is no exception:  Kosher, vegetarian, vegan, raw, wheat or gluten-free… however picky you are as an eater, Los Angeles has your back, babe!
Read Food Tips for Vegetarians
Where to Stay in Los Angeles
Hotels aren't cheap in Los Angeles. Even a ratty motel might cost you $75. What to do?
You'll pay a premium for any hotel (or motel for that matter) in the Hollywood area… a Best Western Hotel costs over $150/night! That said, there's three options:
1) Do your best Hollywood budget hotel search
2) Treat yourself like a star and stay at a top celebrity hotel near/on the Hollywood strip: Loews Hollywood Hotel,   W Hollywood, Mondrian (home of the famous Skybar; I stayed here years ago and it was total celebrity hipster!) or Sofitel Los Angeles at Beverly Hills (read my review).
3) Stay on the outskirts of Los Angeles away from the happeningness (avoid Hollywood, Santa Monica, Downtown LA, Westwood, West Hollywood).
4) Hook up on  AirBnB (use my code and get $40 off). Air BnB turns up the best deals for shared apartment stays. Many Los Angelenos rent out a place in their apartment and sometimes, they're in it (which occasionally makes for a local guide).  The standard going rate for a room to yourself is around $50/night in a shared apartment or house in Hollywood.  I stayed in one with two dogs and two cats and although the owner was nice and got us comp tickets to the Comedy Club- it was not my favorite stay.

What do you think of this Los Angeles Travel Guide? What are your 20 best things to do in Los Angeles? Leave a comment below!