Penned under our expert traveler series, this guest post is written by San Diego based travel and food blogger, Angelica of Things to Do & See, who shares the best budget-friendly activities and the most delicious local foods from places she's traveled. She will be your guide to showing you the best things to eat in San Diego.
San Diego is one of the best places to eat.
That's not me being biased because I live in San Diego. Yelp recently ranked San Diego a #5 in best foodie U.S. destinations ! The huge increase in signature dishes and talented chefs secured its spot on the list, according to the study.
But if you ask me, San Diego has been a foodie destination for years. It has access to so many fresh ingredients. It is a melting pot of different lifestyles and cultures and that mix created so many unique dishes.
What should you eat in San Diego, if you want to try the things that foodie locals would say really represent the taste? It can be hard to decide, because there are so many popular restaurants, favorite dishes, and great places to eat! So I put together this list of some of the many foods and restaurants that represent the flavors of San Diego or are popular with the locals. When you finally make it to your trip, check out these 10 best things to eat in San Diego!
Top 10 Must Try Foods of San Diego
Note: If you're vegetarian or just aren't used to eating a ton of meat, you might notice that food in San Diego is extremely meat heavy. Some of the dishes in this list are meat-free, but for the meat-full ones, I added some delicious vegetarian alternatives when possible!
1. Carne asada fries
Carne asada fries started in San Diego, so you have to try them when you're here. If you don't know what these are, picture crisp fries topped with flavorful, perfectly grilled carne asada, shredded cheese, cotija cheese, guacamole, and sour cream. It's a little like Canadian poutine! The toppings can vary a bit depending where you go– sometimes there's pico de gallo, and sometimes there's grilled shrimp!
Lolita's Mexican Food usually takes the credit for being the original restaurant that created this dish, but it's only one of the many places you can try them. Another popular restaurant to try carne asada fries and my personal favorite is La Puerta. Go during their happy hour if you're on a budget!
For a vegetarian alternative, check out Pokez Restaurant, a vegetarian friendly Mexican spot, and order the tofu fries. Their tofu is full of flavor and while the vegetarian version is arguably a bit better for you, you'll still have that super full feeling like with the carne asada fries, even if you split them.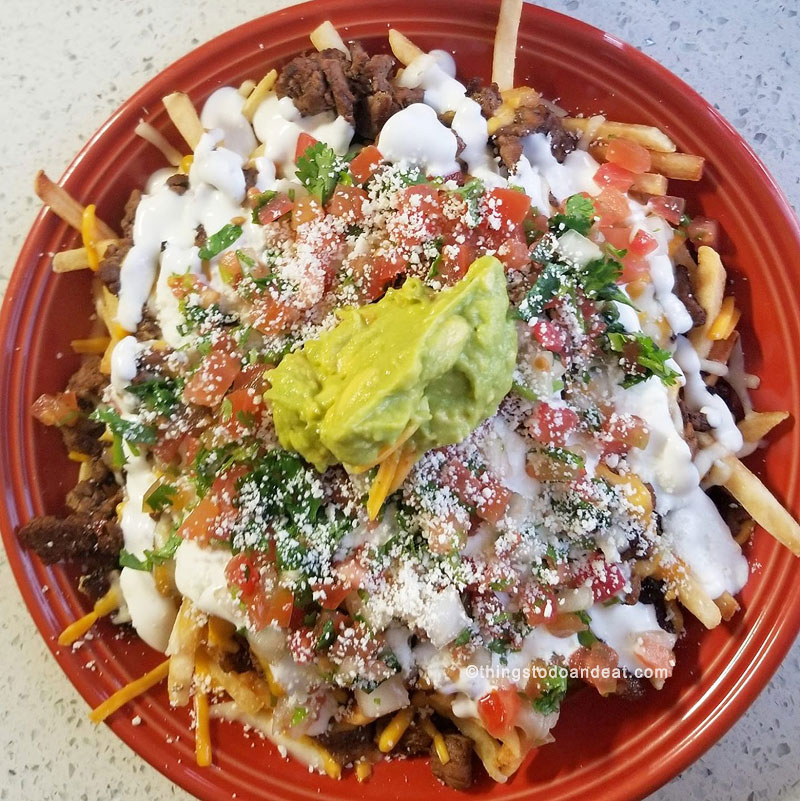 2. California burritos
California burritos are basically the above but in a burrito– so carne asada, fries, guacamole, etc. But don't be deceived by the name– different cities in California have their own style of burrito. And California burritos are the ones that started in San Diego.
You can find these almost everywhere- from 24 hour taco shops, to bars, to high end restaurants. A popular local favorite and my personal favorite is at Taco Surf PB. Their carne asada is perfection, and their prices are so reasonable! Also if you aren't used to finishing 1 lb burritos on your own, you might need to split these with a friend.
To get a tasty vegetarian version, check out Ranchos Cocina! While they don't exactly have a vegetarian California burrito, their vegetarian version of carne asada burritos are amazing! These are like the California burrito, but without fries.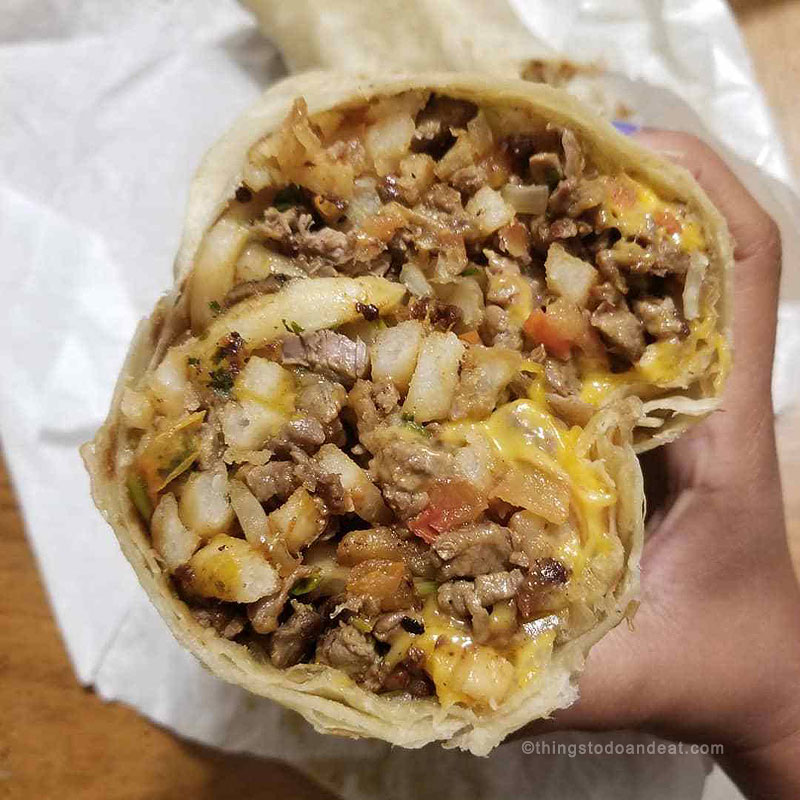 3. Fish tacos
With the ocean and Mexico so close by, it's not that surprising that amazing fish tacos are so popular and easy to find in San Diego. Again, every taco shop and bar will have these, and they're another can't miss staple in a San Diego diet!
For people who love affordable, fresh, and creative fish tacos, check out the local Fish Shop restaurants, with locations in Point Loma and Pacific Beach. These have a rotating freshly caught fish that you can base your taco on and is a popular spot for a quality fish taco. For the classic, authentic Baja-style fish taco that San Diego is known for, you need to check out the food truck Mariscos German. It can be a little out of the way if you're just focused on staying in the main parts of San Diego, but it's a quick, must do trip for any foodie!
4. Avocado toast
If you're anything like me, you might roll your eyes at this section. Yes, you can get avocado toast in many places around the world, but trust me- it won't taste the same as avocado toast in San Diego!
Did you know that San Diego grows 60% of Californian-grown avocados? The avocados are so fresh here, which makes the toast next level. I didn't think there would be such a noticeable difference until I moved to San Diego. Trust me!
You can find these almost anywhere, from brunch places to coffee shops. I personally like Parakeet Cafe, a ridiculously cute, local coffee shop with a few different San Diego locations like La Jolla and Little Italy. Their avocado toast is great, but they also have other creative toasts- like mushroom toast! And for a full on, avocado toast bar, check out Son of A Toast.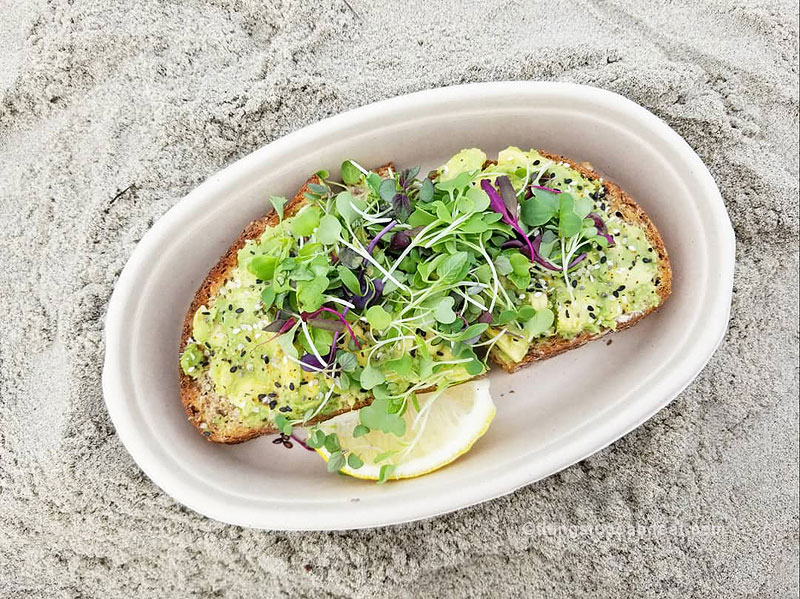 5. Bacon Cheeseburger at Hodad's
Hodad's is San Diego's hyper local fast burger joint. Like In N Out for California or Dick's for Washington, state- except Hodad's has actually made it on a ton of "top burgers in the US" lists- from Zagat's to Men's Journal's to Insider's, etc. Its double bacon cheeseburger is its signature burger, and they even offer mini sizes for people with smaller appetites. Be prepared for a long line full of both locals and foodie tourists!
Note: People will kill me for saying this, but I prefer Burger Lounge for another extremely popular, local Southern California fast burger. Their beef is all grass-fed, and they have an amazing quinoa veggie burger!
6. Donuts from Donut Bar
If you're looking up "can't miss places to eat in San Diego", Donut Bar is almost always on everyone's list. And for good reason- their yeast donuts are amazing and creative! I didn't even like donuts or sweets until I had their donuts. You can't go wrong with any of their donuts, but some of the more popular ones are their French toast donut and their pop tart donut (yes, it does have an entire pop tart inside).
Don't be daunted by the line because it moves quickly, but do head early because they close once they run out of donuts. Since it's also a bar, if you end up craving donuts for dinner, they reopen at 5 on Fridays and Saturdays and have beer and milk on tap!
7. Brunch at Hash Hash A Go Go
Did you know that Hash Hash A Go Go, one of the restaurants that's on food shows like Man vs Food, is actually from San Diego? The Las Vegas location gets a lot of press in food media because it's in Las Vegas and delicious, but you have to check out the original location in San Diego!
Known for delicious, gigantic portions of "Midwest" style brunch, their creative Bloody Marys (like their BLT Bloody Mary – which could pass for a meal) and their fried chicken eggs benedict (aka the definition of perfection) are my personal favorites. Their red velvet waffle is a close second too. Make sure you go with a group, because their portions will probably be too big for you to finish on your own!
8. Pork Sandwiches at Carnita's Snack Shack
You might think that good pork is more of a Southern or Midwest US thing, but the pork sandwiches at Carnita's Snack Shack are a massive local and national favorite. This is the place to get a sandwich that has way more flavor than what you actually paid for. Their sandwiches range from pulled pork, bacon, and pork loin to pork belly, ham, and bacon. It's pretty ridiculous, but there's a reason that so many top food magazines have written about them.
Unfortunately there are no good vegetarian main dish options or analog here, but if you love pork, you have to check out their sandwiches!
9. Fried chicken sandwiches at The Crack Shack
More of a chicken person than pork? Then you have to check out The Crack Shack! This is one of the most popular restaurants in San Diego, and for good reason, because their sandwiches are awesome. It's like Carnitas Snack Shack for chicken lovers. If you want something lighter than a sandwich, get the chicken oysters, which are basically like adult chicken nuggets, made with real chicken.
10. Acai Bowls
The perfect way to cool down along the beach (besides with a margarita) is with an acai bowl. Because they were popularized in this region, they're so cheap and delicious here compared to other cities! If you haven't had them before, acai bowls are almost like smoothie bowls made with a super fruit berry called acai, then topped with anything from fruits to nuts to chocolate. You can find these almost anywhere along the beach, and they make a quick and satisfying snack.
If you want Instagram food, get an acai bowl inside of a pineapple from Rum Jungle Cafe. If you want one of the most popular, less sweet acai bowls check out Everbowl when you're in Little Italy.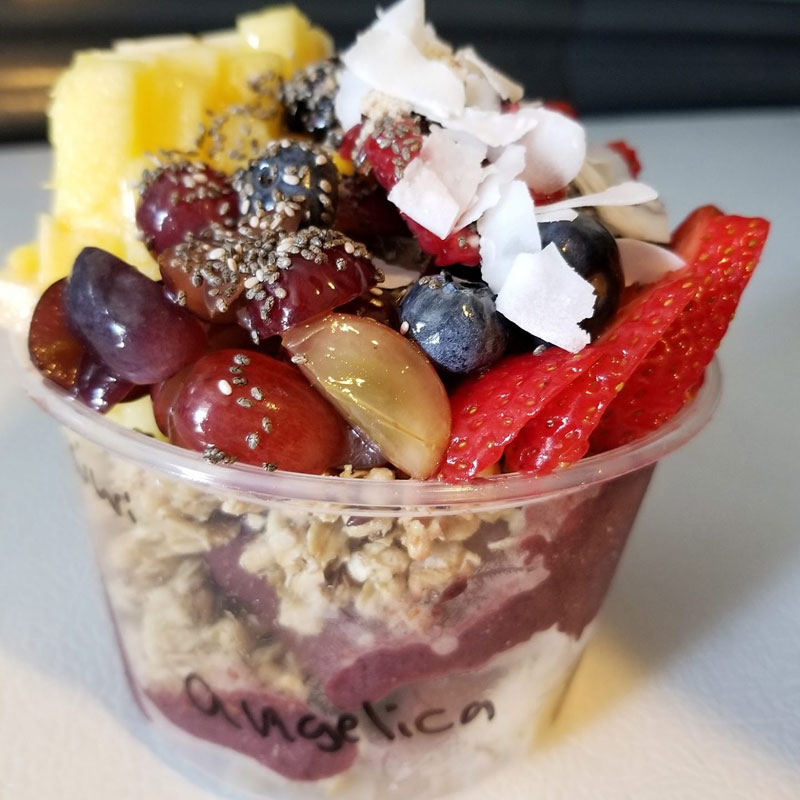 Looking for more foodie travel guides for North American destinations? Check out my travel guide on San Francisco, Los Angeles and Vancouver.
What did you think of these Top 10 Must Try Foods of San Diego? What would you add to this list? Comment below.
[web_stories title="true" excerpt="false" author="true" date="false" archive_link="true" archive_link_label="https://grrrltraveler.com/10-best-things-to-eat-in-san-diego/" circle_size="150″ sharp_corners="false" image_alignment="left" number_of_columns="1″ number_of_stories="2″ order="DESC" orderby="post_title" view="carousel" /]