Last Updated on June 30, 2020 by Christine Kaaloa
Penned under our expert traveler series, this guest post is written by travel blogger and Australian native, Erin Holmes of Explore With Erin, who with two children, travels the world. She has lived in Sydney for 13 years, Perth for 19 years and Melbourne for 2 years!  If anyone knows the Australian food scene it's Erin! She will be your guide to showing you Top 10 Foods In Australia.
What are the must try foods in Australia? You may have no idea what to eat in Australia and you wouldn't be alone. Australia does not have its own cuisine. We don't "Chuck shrimp on the barbie" although we do like a good barbeque with a few snags (sausages) and tinnies (beer). Lamb is also prevalent with never an Australia Day passing without some advert promoting how un-Australian you are not to eat lamb.
But what we are good at is our own types of food. And below and the things I crave the most when out of my home, the great Land Down Under.
10 Must Try Foods in Australia
1.  Freakshake
Born in Canberra you will find every city offering up this incredible dessert meal called freakshake. No, this is not a milkshake. This is a meal. For the inexperienced, the milkshake merely forms a base. It is topped with every imaginable topping you could desire. Cake, candy, Nutella, donuts, waffles, even cheeseburgers and chicken. It is the ultimate Instagrammable meal.
Where can you find it? My favourites are located in Melbourne. Check out Sugar Buns in Hampton Park, Ten One Ate in Essendon or  Three One 2 One in Richmond.
2.  Meat Pies & Sausage Rolls
Speaking of meals there's not many in Australia who don't grab a meat pie for lunch. You can imagine the devastation when travelling through the US and the only pie I could find was a sweet, fruit kind served ala mode. No gas station stocked them. But in Australia every fuel station and bakery will carry meat pies and sausage rolls. Always top with sauce, which in Australia will usually cost you at least 50 cents.
Where can you find it? Everywhere. Any gas station, bakery, food trucks or supermarkets.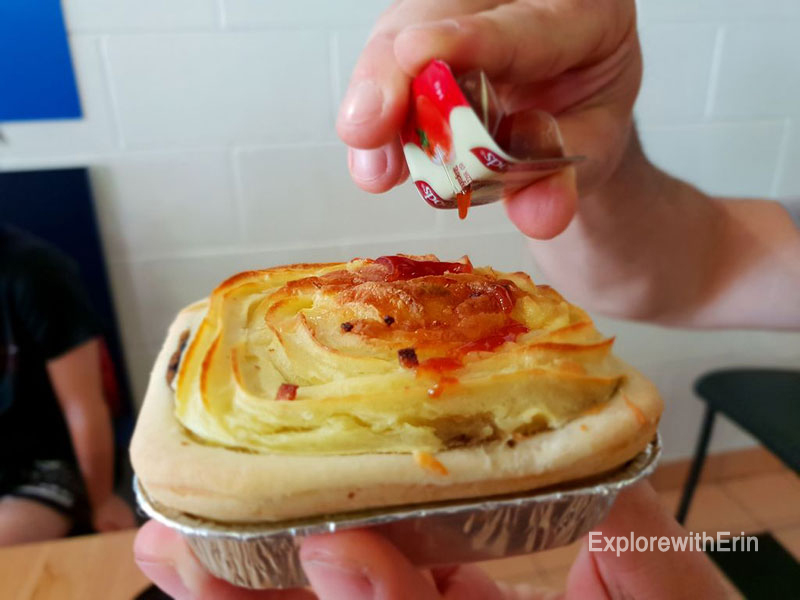 3.  Chicken sushi
I'm sure chicken sushi isn't Australian, but other than Canada out of 75 countries I've never been able to find chicken sushi. It's not rare! Although I hear some Asian countries have commenced that now. But here we like it cooked. Usually Chicken Teriyaki with cucumber or avocado. You can also get a crispy chicken commonly referred to as katsu chicken.
Where can you find it? Sushi restaurants are not hard to find. Most malls will have at least 2. In Melbourne you buy them in rolls for under $3. In Western Australia they are often cut and served in plastic for nearly $8.
4.  Avo Smash
One of the top foods in Australia has to do with breakfast. We love brunch and here in Melbourne we have the highest number of cafes and restaurants per number of people than any other city in the world. So, we all brunch on the weekend and that usually consists of the divine avocado smash– smashed avocado and feta on a sour bread toast, often topped with a poached egg or two. Drool.
Where can you find it? Cafes all over Australia serve this, including chains like The Coffee Club. The best I ever had was served with pomegranates at The Glass Den in Coburg, Victoria.
5.  Vegemite
Anybody not grown on Vegemite professes a hatred for this yeast extract that forms a salty spread for toast. But having been born and bred in Australia I love it and so do my kids! It's not Nutella so spread it thinly and always on top of a lot of butter.
Where can you find it? Supermarkets sell Vegemite, but most cafes in Australia will offer vegemite on toast, as well as a small packets on offer at buffets.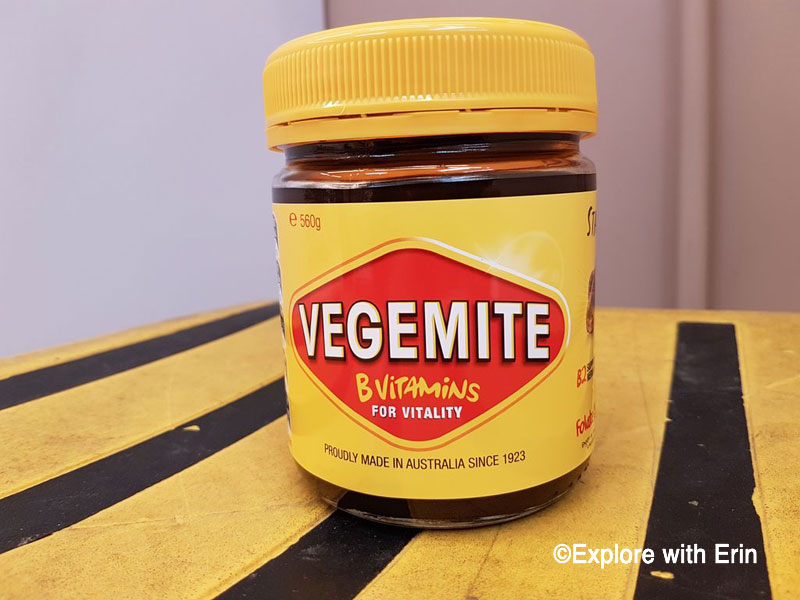 6.  Strange Animals
I believe Australia may be one of the only countries that eat its national emblems. That's right in Australia you can order kangaroo and emu off the menu. Don't want to eat furry or feathers? Don't worry we got you covered try the crocodile. But stay away from koalas – you'll cop a fine for that one (translated: you will be charged).
Where can you find it? Buy your meat in your local supermarket or head to an Australian restuarant. Hint: It's not Outback Steakhouse.
Read Vegetarian tips for Travelers
7.  Lamington
Once you've finished your meal it's time to try Australia's National Cake of Australia. Lamington is a delicious soft sponge cake coated in chocolate and covered in coconut. Light, fluffy, delicious!
Where can you find it? I buy my kids Lamington Fingers from the bakery section of the supermarket, but most bakeries will have these on offer. If they don't, they are not Australian.
8.  Vanilla Slice
If sponge cake is not your thing then head to any bakery for a Vanilla Slice. Also, fondly nicknamed 'The Snot Block'. A block of yellow custard between two pieces of pastry and usually topped with icing. It's heaven. There's nothing like it.
Where can you find it? Cheap ones are available in the refrigerated section of the supermarket, but most bakeries will have these on offer. The best can be found in Ackland Street, St Kilda, Victoria.
9.  Tim Tams
Chocolate covered biscuits with a chocolate centre. Nothing describes the absolute decadence a Tim Tam is. Everybody wants them, many countries copy them but only Australia does them best. Hence why we all know that if we were ever granted 3 wishes one would be a never-ending packet of Tim Tams.
Where can you find it? In the supermarket or the gas station. Check the biscuit isle. No, you won't find US type biscuits there, it's crackers and cookies.
10.  Fairy Obsessed Desserts
We are obsessed with fairies. I don't know why, but the best things start with fairy-like fairy bread. A white piece of bread, buttered and then covered in hundreds and thousands (sprinkles). This is any children's party staple.
We also love our Fairy Floss. Australia's version of cotton candy. But I prefer the type you melt with syrup to reveal an absolutely incredible breakfast burger inside!
Where can you find it? School fetes, carnivals, circuses, royal shows all sell fairy floss on sticks or in buckets. Fairy bread is made by mums at school parties. But you can find the fairy floss burger at Long Story Short Cafe in Brunswick, Victoria.
Note: All images on this post are subject to copyright ©Erin Holmes of Explore with Erin with special usage permissions to GRRRLTRAVELER.
What top must try foods in Australia would you try?  What would you add to this Top 10 Foods of Australia?
Enjoy this post? Pin it to Pinterest