Last Updated on June 30, 2022 by Christine Kaaloa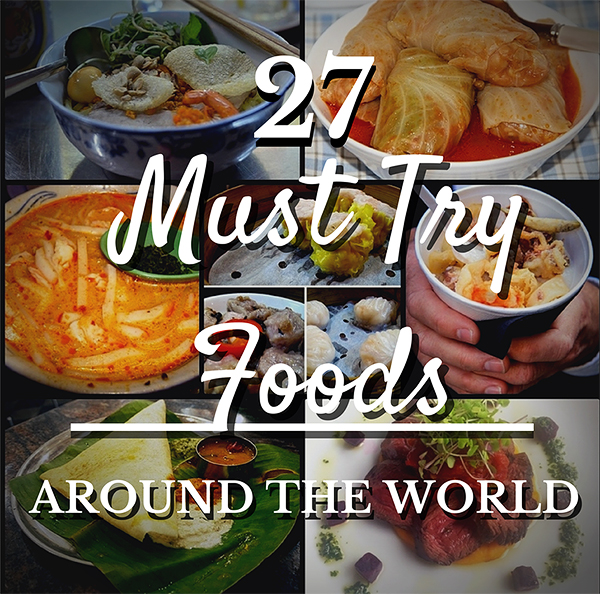 .
There are many reasons to travel. Food is obviously, one of them! When visiting a country,  there's always a handful of must-try foods out there… dishes, which serve us the essence, flavor, aroma, and culture of the country.  You've read about them in magazines and blogs, had friends and guidebooks recommend it to you or maybe you've discovered some of these dishes on your own, from locals, and your own travel experiences. Either way, these must-try foods will add another souvenir experience to the country you're visiting.
27 Must-Try Foods Around the World
I asked top travel and food bloggers for the inside dish on the 27 must-try foods around the world! Here's what they said…
Argentina:   Asado
The Argentinian Asado is not only one of the most representative meals from Argentina but an important part of the culture.
If you've been invited to anyone's home to taste it while chatting, drinking mate, while your meat is being cooked you can feel more than blessed in your trip. This kind of event was my favorite, while I was living more than two years in Argentina.
Argentinian meat is also worldwide famous since is very common to use very high quality meat for the Asado.  Vacío, bondiola, bife, cuadril, paleta, molleja, entrecot... every Argentinian knows the name of all the finest cuts and you can be sure that the taste will be something to remember.
–   Nelson Mochilero,  Mochileros.org,  Twitter @mochileros_org
Australia:   Kangaroo Loin
Before I go anywhere, I research unique foods for that country. When I looked up Australia, I saw that kangaroo was an option. Yeah, they're cute and all, but when I saw that you could eat them, I knew that I had to try it no matter how weird it may be. After I arrived in Sydney I immediately found a restaurant that offered kangaroo loin.
I was a little nervous to eat it, but it actually was not too bad. It was extremely tough and a bit hard to chew up, but tasted a lot like steak. I probably wouldn't ever order it again, but I am glad that I tried it while I was there… and it makes for a good story.
–  Cory Woodard,   Curb Free with Cory Lee,   Twitter  @coryleetweets
China:   Jiaozi
As China is divided into 34 provinces, it has a lot to offer – from stews, filling breads, steaming-hot noodle soup to Beijing roast duck, chicken and mushrooms with oyster sauce and traditional dim sum.
One of the most delicious Chinese dishes are definitely jiaozi – traditional Chinese dumplings – best breakfast option on the cheap in China. Jiaozi are wrapped in a yuanbao (silver ingot) shape, deep fried, filled with mince and veggies and served with spicy sesame oil. If you are not a big fan of meat, you can order vegetarian jiaozi stuffed with mushrooms, chives, cabbage or smoked beancurd and eggs. An order of six dumplings is generally under RMB 10 and you can find them in every Chinese restaurant and street food vendors.
–  Agness Walewinder,  e-Tramping , Twitter @Agnesstramp 
Costa Rica:   Gallo Pinto
Gallo Pinto is a traditional Costa Rican breakfast of rice and black beans, scrambled eggs, and a small tortilla. In some sodas (local eateries) gallo pinto comes with fried banana too, which off-sets the usually slightly salted rice. If there's no banana, you can opt for a cup of chan seeds in sweet water instead.
At the farmer's markets, many locals like to scoop out the flesh of a ripe avocado to go with it. This staple is not only vegetarian, but it's filling, delicious, healthy and cheap. A gallo pinto will usually set you back only 1000 colones ($1.80). Eating gallo pinto at local sodas and markets is one of my favourite ways to live well for less here in Costa Rica.
If you're vegan and don't eat eggs, then you can say "sin huevos" (without eggs), and you can add on some extra avocado and fried banana.
–  Charlie Marchant, Charlie On Travel,  Twitter @CharlieOnTravel
.
Czech Republic:   Czech Goulash and Bread Dumplings
If there's one dish I kept eating over and over again during my trip to Prague it was goulash with bread dumplings. Although goulash originated in Hungary, the Czech Republic has a slightly different version. While Hungarian goulash can contain potatoes and vegetables, in Czech goulash beef is the star ingredient. Beer can also be added to the stew, and this results in a thick hearty sauce. The goulash is then paired with bread dumplings made with flour, milk, eggs and stale bread cubes, formed into a loaf and boiled. The result is a light, fluffy bread which is perfect for soaking up the goulash. It's the perfect pub grub, and it only costs a handful of Euros.
–   Audrey Bergner, That Backpacker ,  Twitter @thatbackpacker
Denmark:   Danish Smørrebrød
They call it an open-faced sandwich, but that's like calling a zebra a horse.  Smørrebrød starts with a slice of super hearty Danish rugbrød (a Danish specialty) layered with a mixture of artistically presented toppings.  Most then add a primary ingredient such as a fish fillet, sliced boiled potatoes, pickled beets, liver, sliced fish balls or pork. Next comes a thick sauce, often remoulade or mayonnaise which are Danish staples. Each is then topped by fresh garnishes which range from thin lemon and bell pepper slices to tomatoes, caramelized onions, shrimp, asparagus, green onions or even fish eggs.
How do you eat it? That depends on the venue, though my favorite is on a park bench overlooking the lakes using naught but my hands. A meal typically consists of between three and six different pieces of smørrebrød and is alive with fresh flavor that has an incredibly rich depth and breadth based on the types of smørrebrød you choose and combine!  For a more, read here.    
–  Alex Berger, Virtual Wayfarer, Twitter @AlexBerger
.
Ethiopia:   Mahaberawi
An Ethiopian meal is all about eating a variety of dishes, each of them placed on top of a bed of injera (the staple starch, a spongy pancake made from teff flour). Go to any Ethiopian restaurant and order a mahaberawi, and you'll receive a mixed platter of the freshly prepared dishes of that day. Normally the mix can include things like Shiro wat (chickpea flour curry), misir wat (lentils stew), key wat (beef stew), Salata (tomato salad), and any number of other dishes.
Eating a mahaberawi is a great way to sample a variety of Ethiopian dishes in a single meal.
–  Mark Weins,   Migrationology,   Twitter @migrationology
.
France:   Escargot
I love escargots. That's right, snails. The creature everyone thinks of as "slimy". You wouldn't want to find one crawling across your bare leg, but if you haven't tasted them, you might be surprised by how good they are. (Or maybe it's the garlic-herb butter they're doused in. . .) Don't worry, you don't see a face or antennae or anything. They're a little rubbery, but no more so than calamari. I first tried escargots in Arizona when I was 18 and was hooked ever since.
Naturally, when I visited Paris, I had to order some. Because how can I love escargots and not eat them in the capital of France? I can't swear they tasted better in France, but they were actually served in the shell, which many restaurants in the U.S. don't do. Why should you try them? I did mention the garlic-herb butter, right? Also, snails are rich in Vitamin E, iron, and protein.
–  Gray Cargill,   Solo Friendly,  Twitter @SoloFriendly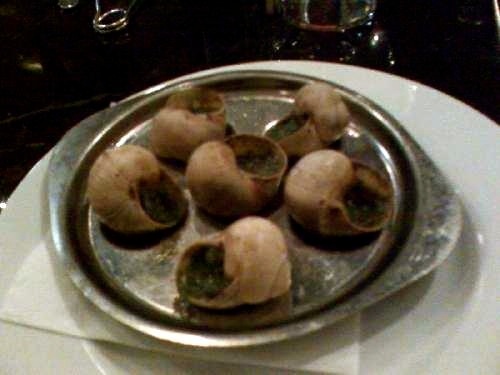 Germany:   Jägerbraten mit Spätzle
A classic south-German dish that's perfect in autumn and winter is "Jägerbraten mit Spätzle." This is "hunter's style" slow-roasted pork in a dark sauce with mushrooms, served with Spätzle.
.
"Jägerbraten" translates directly to "hunter's roast", and is usually made with pork, although beef is a frequent substitute. Side dishes include sauerkraut, red cabbage, or potatoes mashed or fried. However, the perfect side dish for the rich savory sauce is Spätzle, found just about everywhere throughout southern Germany. Also meaning "little sparrow" in Swabian, Spätzle (schpaet-zle) are soft egg and flour noodles or dumplings, served boiled or pan-fried with butter and topped with cheese.
.
With a tall glass of Weizenbier or Hefeweizen beer, the entire combination provides a very filling taste of southern Germany.  To drool over this and other delicious eats in Germany,
 visit here.
.
–  Henry Lee,   Foteins,   Twitter @fotoeins
.
Hong Kong:  Dim Sum
Dim sum is a traditional Cantonese cuisine, prepared and served as in individual, bite-sized portions, meant for tasting and sharing. It is a style of food that is indigenous to southern China (namely Guangdong) and Hong Kong, which are the two primary Cantonese regions of the area.
As with much of Asia, dim sum has deep-rooted historical origins and significance. It is inextricably linked to the tradition of "yum cha" or drinking tea. Tea houses had begun to pop up along the Silk Road with the purpose of serving the weary travelers.
At one point in time, it was not appropriate to combine tea with food. It was believed to cause excessive weight gain. As the digestive properties of tea started to become more widely known, small bites started to accompany the tea.
The words "dim sum" literally translate to mean "touch the heart" (because the bites were so small they would only touch the heart) and, today, it is a staple of Cantonese dining. Dim sum dishes range across the board and include things like shrimp dumplings, vermicelli rolls, barbecue pork buns, and spare ribs. Read more about the best dim sum in Hong Kong!
–  Jeremy Scott Foster, TravelFreak.net,  Twitter @travelfreak_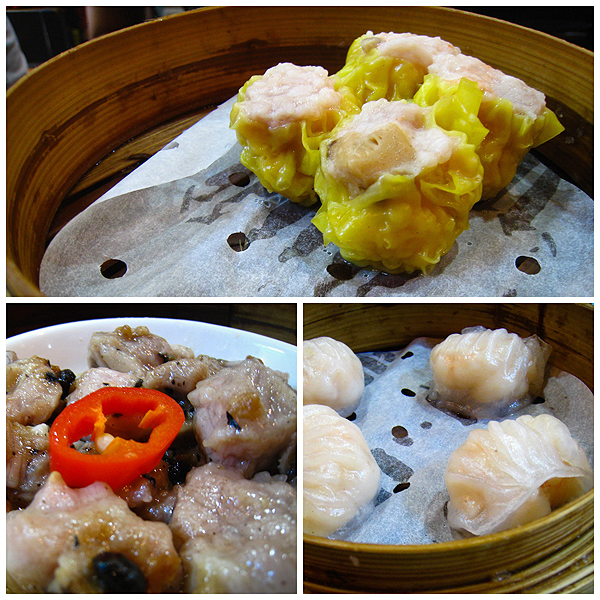 India:    Masala Dosa
India is an amazing country to travel in, it's a true assault on the senses in every way imaginable but especially when it comes to food. We loved getting stuck into all the curries, tandoori, rice dishes, and Indian street food we could get our hands on, but surprisingly, it was a breakfast food that really got our attention.
In the south of the country, Masala Dosa is a big hit with the locals and it blew us away! It's a very thin pancake or crepe made from rice batter and lentils, so it's gluten-free and veggie-friendly. The dosa is then packed full of deliciously fragrant, lightly spiced potatoes and onions and served hot, rolled up like a wrap. Sometimes the inside is coated with red chutney to give it a little kick. Most of the time you'll get a few small side dishes, we'll never forget the different chutneys; coconut, chillies, mint, coriander… so good!
As soon as we got the chance, we learned how to make Masala dosa during a cooking course we took in Kerala and we didn't do too bad a job, although it just didn't match up to the mouth-watering ones the street stalls serve up. With filling or without, rolled up or served flat, hot or cold, day or night, I highly recommend trying it if you get the chance.
–  Brian Barry & Noelle Kelly,  Wandering On, Twitter @wanderingon_bn
 Read How to Eat Street Food without getting sick
Indonesia:   Soto
In Indonesia the food varies a lot and most cities and regions have a dish they are known for. However, there are a few specialties that are found throughout most of the country. One of these is Soto, delicious meat, veggie, noodle (even egg…if you're lucky) soup served alongside rice that is filling, inexpensive and readily available.
Each city has a different version of it, from "soto betawi" in Jakarta to "soto sokaraja" in Purwokerto. To indulge properly, first add sambal (hot sauce) to the desired level and then begin slowly adding your rice to the soup as you eat out of the soup bowl. Expect this meal to set you back $ 1 USD.  
– Derek Freal, The HoliDaze, Twitter @the_HoliDaze
Italy:    Cicchetti
When you are visiting Venice and exhausted from a full day of walking and exploring all the confusing alleyways on this Island, then head over to a local Bacari (Venetian bar) and try some of each bar's specialty Cicchetti. These are typically Venetian small bites or antipasti as they are typically called throughout Italy.
Most Cicchetti is made daily from local produce like fish and freshly made bread. Go ahead and take a break, head over to a cool Bacari and enjoy some local Cicchetti.
–  Noel Morata,  Travel Photo Discovery, Twitter @emorata
Malaysia:  Cendol
There is one dessert worth travelling to Malaysia for, and that is Cendol! While you can find cendol across many Southeast Asian countries – Indonesia, Singapore, and Thailand among others – nowhere have I seen it being consumed more than in Malaysia. Cendol is made with coconut milk, palm sugar, green rice flour jellies, and shaved ice. It is an incredibly refreshing treat, especially if you've walked out in the sun all day.
You'll find variations of the recipe and some even include chunks of corn and kidney beans. Next time you find yourself in Malaysia, pick up a bowl from a street vendor. You'll be hooked on it for the rest of your trip!
–  Samuel Jefferey, Nomadic Samuel , Twitter @NomadicSamuel
Mexico:   Pozole
Pozole, more commonly known as posole in the United States is a classic Mexican soup with hominy and either chicken, pork, or a mixture of both. What makes this dish so great is that you build it to your own taste as it's served with sides of radishes, avocado, lime, onion, cilantro, and fried tortillas. It's easy to make, get this simple pozole recipe here.
  –  Ayngelina Brogan, Bacon is Magic,  Twitter @Ayngelina
.
Morocco:  Tagine
I've always wanted to visit Morocco, but didn't know much about its food options or if it had anything for vegetarians. One of my favorite discoveries was a popular Moroccan dish called Tagine. Tagine is a Berber stew cooked slowly in a special dome-shaped clay pot. The dome traps steam and returns it to the stew.   Tagine is often mixed with meat, such as lamb or chicken or – and this is my favorite part-  just vegetables! 
I had my first tagine in Fes and ever after, I was hooked. It's got a savory, smoky flavor with mild and musky spices. It is often served with couscous (like Moroccan rice) and eaten with the hands. It's absolutely delicious!
– Christine Ka'aloa,  GRRRLTRAVELER,  Twitter @grrrltraveler
.
Nicaragua:   Nacatamales
While prepping for my trip to Granada, Nicaragua last summer, every guide and blog post I read said that I had to try vigorón, a combination of mashed manioc topped with a tangy slaw and chicharrónes (fried pork skin), all served on a banana leaf. While I gave vigorón a shot, truth be told, I didn't really like it.
Fortunately, there's another popular dish in Nicaragua that really does live up to the hype – nacatamales. Usually eaten on Sundays and served with fresh bread and coffee, these labor-intensive snacks are made with corn masa and lard, scooped onto a plantain leaf. Before being wrapped, the base is layered with well-seasoned pork or chicken, potatoes, olives, onions, bell peppers, and tomatoes. Then, the nacatamales are folded and tied into neat bundles before being steamed to perfection for several hours. The result: pure Nicaraguan deliciousness!
 –  Dana Bell,  Time Travel Plans 
.
Peru:  Ceviche
Same as Japanese food (and sushi in particular) have become so popular around the world in recent years, I think Peruvian is next! Cuisine from Peru is extremely diverse (no wonder as the country spans from the Amazon Jungle to the Andes mountains and the coast), people are proud of their food (and that shows!) and there is always something for everyone's fancy.
Ceviche, a preparation typical from the coast, is probably one of the most notable examples of Peruvian gastronomy. Slices of raw fresh fish and (sometimes boiled) seafood are cured in abundant citrus juices until marinated to perfect tenderness. The lemony flavor is mixed with herbs, rocoto chili, and thinly sliced red onions.
Peruvian ceviche is normally served with boiled corn, fried corn and a slice of boiled sweet potato that helps balance the acidity in your mouth. Special versions of ceviche may include fried calamari and/or octopus on top, for an even more complete ocean-infused experienced.
Ceviche is an extremely refreshing treat where the delicate flavors of raw white fish mingle with the kick of the lemon juices and the crispiness of the fried corn. Peru is well worth a trip to for many reasons – and trying an authentic ceviche is certainly one of them!
–  Zara Quiroga,  Backpack ME,   Twitter @piggybackrideAZ
.Read 48 Hours in Lima- What to do, see, eat
Philippines:  Lechon
It used to be that in any celebration all over the Philippines, there would always be the lechon as the highlight of the feast. This delicious roasted pig is served whole, and once they go signal to eat is given (usually after prayers), guests flock to it first, vying to be the first to get the crispiest skin and the choices of meat.
Tip: get the ribs, they taste the best.
It's too expensive in the cities today to get whole Lechon served, so people just buy per kilo. If you're in the countryside, however, expect to see Lechon in any party you go to. It's a definite must-try when you're in the Philippines!
See the top classic foods to eat in the Philippines
–   Aleah Taboclaon,  Solitary Wanderer, Twitter  @ALEAHphils
.
Read Top Traditional Foods in the Philippines
Seychelles: Pwason Sale Rougay
Pwason Sale Rougay is a local specialty of the Seychelles, where I'm from. ) It's very traditional, although these days hard to find, dish based made from dried, salted fish (Pwason Sale), and a spicy tomato sauce (the roughly). It's usually served with rice, and a side of papaya chutney – a spicey salad made from grated unripe papaya. Delicious, even if the intense salty fishy flavor is a bit much for some!
 –   Lawrence Norah,  Finding the Universe, Twitter  @lozula
.
Singapore:  Katong Laksa
 Laksa in Singapore may be the ultimate embodiment of the Peranakan cuisine created by the descendants of the Chinese who immigrated to Indonesia and Malaysia from the 15th to the 17th century.
The history of laksa is as long and complicated as the dish itself. There are many variants, each incredibly delicious, but it's the Katong Laksa served at a little place around the corner from our old house in Singapore that won my heart … and my tastebuds.
Katong laksa differs from other types of Singaporean curry laksa in that the noodles are cut into bite-size pieces so you can eat it with a spoon.  The silky-soft noodles are served with strips of fish cake, sweet prawns, cockles and bean sprouts, all floating in a rich coconut curry gravy. The seafood is cooked in the bowl by ladles of hot gravy that are dumped in, swirled around and then tipped back into the giant curry cauldron. After three ladles, the noodles, seafood and sprouts are ready to serve with a spoonful of dried laksa leaf and a slug of sambal chilli paste.  Tip: Try it with a side of banana leaf otak-otak at Famous 328 Katong Laksa, 216 East Coast Road, Singapore.
 –   Barbara Adam,  The Dropout Diaries, Twitter @DropoutDiaries
.
South Korea:  Samgyetang
When people hear "Korean food" they immediately think of korean bbq or bibimbap, but there are so many other dishes that are amazing! One of my favorite Korean foods is a soup called samgyetang. It's simple, light and filling. Basically, it's just a very small chicken stuffed with ginseng, garlic, jujube (dried red date) and rice and then boiled until it's tender and delicious. This dish is served in a hot stone bowl while the soup is still boiling away. You might be surprised to find that this is a popular summertime food in Korea. Koreans believe that if you eat hot foods in summer they will help regulate your body temperature and protect you from the heat.
–   Meagan LeAnne, Life Outside of Texas, Twitter  @lifeoutsideoftx
.Read Tips on Korean Culture & Etiquette
Spain:  Chocolate con churros
Chocolate con churros or chocolate with long, freshly fried donuts, are the quintessential Spanish breakfast, not for every day but certainly for Sundays or on lazy mornings. The real thing is getting harder to find, replaced by mass-produced dough and instant chocolate. Here's what the real thing should be like: the churros are slightly crispy on the outside, with an airy dough inside, lightly sprinkled with sugar and served piping hot. The chocolate, served steaming in a cup, is almost scalding, creamy, so thick your spoon might just stand up in it.
.
A shop that sells churros is called a churrería, and a few authentic ones left. Walk in, order your churros wrapped in paper, and take them home. I'd rather eat out, in traditional cafés like the Chocolatería San Ginés, one of the better-known ones near Madrid's Puerta del Sol. Order three, order six… or more. If there's a fair or festival around, head on over – there's a good chance someone will be frying up a pan of churros!
.
.
Switzerland:  Cheese Fondue
One thing we were really dying to try whilst in the Switzerland capital of Berne was a traditional and original Swiss cheese fondue which is served almost in every restaurant in the city. We wanted to taste it but also watch the process of making it to learn how to cook it ourselves, that's why our Couchsurfing host decided to make and share a Swiss cheese fondue with us and explained every step to make sure we'd learn the original Swiss recipe of which she was proud of. We loved the idea of sharing from a big pot, it was nice and fun too. Needless to say that the cheese fondue was delicious, a great mix of carefully chosen cheeses that altogether created a unique taste – nothing like a simple melted cheese on toast – plus it is not too complicated to make either!
.
–  Dale & Franca,  AngloItalian FollowUs,  Twitter  @AI_FollowUs
Thailand:  Pad Thai
Complete with stir-fried rice noodles, fish sauce, tofu, bean sprouts, shrimp, and peanuts, pad thai is the ubiquitous Thai dish you'll find anywhere in Thailand. So why make the effort to go to the source?
If you're coming to Thailand, finding Thip Samai should be part of any foodie's pilgrimage.  For starters, the original Pad Thai restaurant is in a quaint part of Bangkok a little off the tourist path. They use charcoal heat instead of gas heat (an economical, space-saving shortcut for street stalls). They also use Chanthaburi noodles or thin rice-flour noodles; here they're milled and then sun-dried instead of pre-made from a plastic package. Of the eight varieties, try the one with crunchy veggies and shrimp. All but one are under 100 Thai baht (about $3.10 USD).
Get my travel survival guide of Bangkok
If food is a reflection on culture, pad thai definitely matches the Thai consciousness. It's made to order, filling, cheap, and humbly unpretentious. The made-to-order nature ensures freshness; being filling and cheap means it's an every day and every person's food. While I suppose a restaurant could try to fancy it up, Thais would know better –  Walk along Bangkok's Sukhumvit road around lunch, and you'll find the working-class descend to pad thai street stalls en masse. You'll find plenty of air-conditioned restaurants full of folks on their lunch breaks, naturally, but for the 'quick and easy' crowd it's hard to beat pad thai. For the tourist, it's an authentic slice of Thailand that's readily accessible and cheap. 
Tip: Thip Samai is at 313 Maha Chai Road Samran Rat, Phra Nakhon, Bangkok  
Read more on Bangkok's top street foods
 –   Chris Backe, One Weird Globe  ,  Twitter @oneweirdglobe
Ukraine:   Holubtsi
Holubtsi are cabbage rolls, stuffed with rice, meat, mushrooms and sometimes even raisins. The title means "little pigeons", a nickname for lovers in Ukraine. It is old-fashioned traditional dish which people used to cook many hundreds years ago. It's tasty and simple, available in all Ukrainian budget restaurants. Even though holubtsi is delicious when already served, it smells like shit while being cooked, so don't try to make it at home.
–   Nastia and Illia,  Crazzzy Travel, Twitter @crazzzytravel
Vietnam:    Mi Quang
Half soup, half salad, mi Quang is my all-time favourite Vietnamese dish and one that is well worth traveling for.
It originates from Quang Nam province in Central Vietnam and is considered one of the must-try dishes of the World Heritage-listed ancient trading port of Hoi An, one of Vietnam's most popular tourist destinations.
Traditional mi Quang uses just enough broth to wet the noodles. It's served with a pile of fresh leaves, usually shredded lettuce, banana flower, mint holy basil and baby mustard leaves. The authentic Hoi An version uses herbs grown in the nearby 100% organic "vegetable village" of Tra Que.
The original and most basic version of mi Quang contains pork and prawn, noodles, quail eggs, bean sprouts, roasted peanuts and shards of black sesame-studded rice crackers. There are many regional (and touristy) variants that include chicken, duck, pork rib, fish cake, crab and offal.
The soup, which is served so sparingly in the original version, is a delicious peppery pork and bone broth with an amazing orange undertone from the use of annatto seed oil.
–  Barbara Adam, The Dropout Diaries, Twitter @DropoutDiaries
What are your Must Try Foods from around the World?  Share your expert travel foodie opinion.
---
---
Ensure safe travels with travel insurance
American travelers often pay a premium on travel insurance.  World Nomads offers economic solutions for travelers who seek security and peace of mind.  It covers 150 countries.