Last Updated on March 26, 2022 by Christine Kaaloa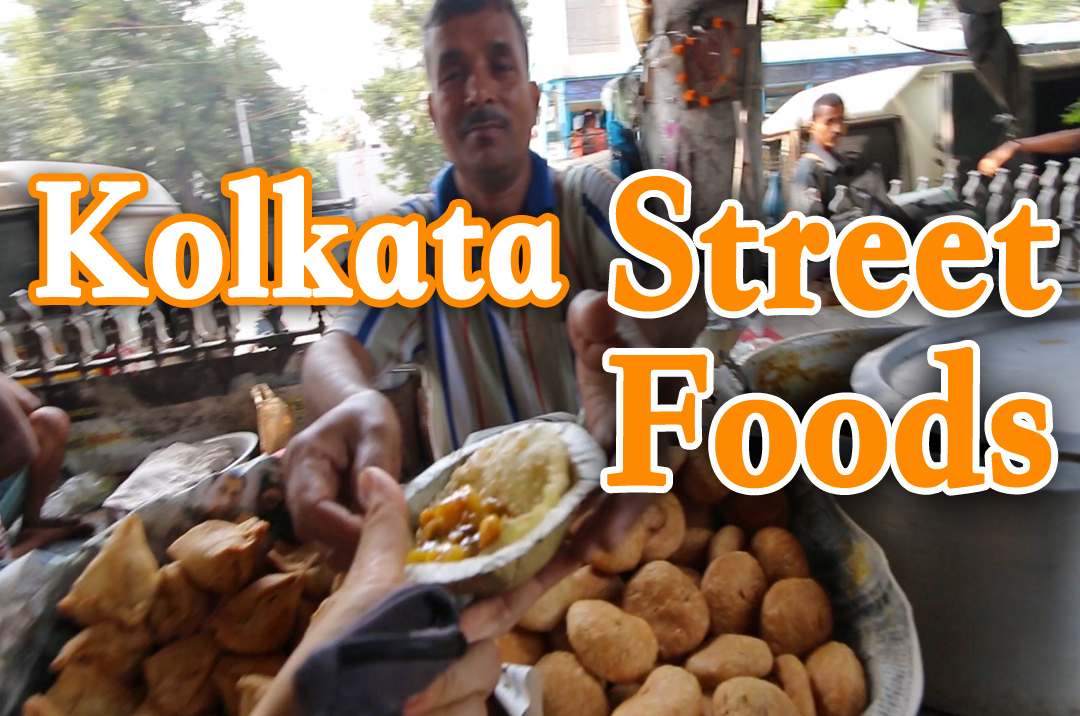 I love visiting cities which are street food capitals. In Northeast India, you'll find the best street foods in Kolkata.  The city of Joy is street food heaven for foodies with many top Kolkata street foods to try. Walking down a sidewalk is like walking down a buffet line. For a few rupees you can get a mouthwatering meal.  I'm sharing 10 best street foods in Kolkata I fell in love with!
Watch Street food in Kolkata Video
Watch this Street food in Kolkata video | Kolkata Street Food Tour
10 Best Street Foods in Kolkata
Chaat, chai, chow mein, puri chat, samosas, curry,… are top Kolkata street foods which make this city phenomenal when it comes to popular Indian street food. Some hawkers practically work and sleep in their stalls. Each morning, they wake up and prepare food, hot, spicy and savory, for hungry Kolkatan passerbys. As a traveler, I had to try the popular street food of Kolkata deliciousness.
1.  Kathi Roll
Kathi Roll is a popular fast food street kabob, of chicken or egg wrapped in an India paratha bread. Originating in Kolkata, the kati roll's popularity is growing in the U.S.
Where to eat Kathi roll:  Hot Kathi Roll at Park Street, Nizam Rolls in New Market
2.  Kachori Sabzi
Kachori Sabzi and Samosa are popular food items you'll find on the streets.  Kachori Sabzi is a deep fried puffed bread, which can be eaten with potato curry (aka sabzi) or with a samosa filling. You can get it off the streets. You can also find a cafe or local restaurant that sells it.
Where to eat Kachori Sabzi:  Mohan Bhandhar, a hole-in-the-wall eatery visited by Bollywood movie star Amitabh Bachan; Decker's Lane in BBD Bagh.
3. Samosa Masala & Samosa
Samosas are ubiquitous in India as a popular Indian food. You will easily find them on the streets to the local McDonalds.  A samosa is a deep fried triangular pastry puff with a potato and pea stuffing. Interestingly, they can sometimes be served with ketchup.
Samosa masala (pictured below) is the masala stuffing of a samosa over a kachori sabzi bread.
Where to eat samosa masala: Deckers Lane, BBD Bagh.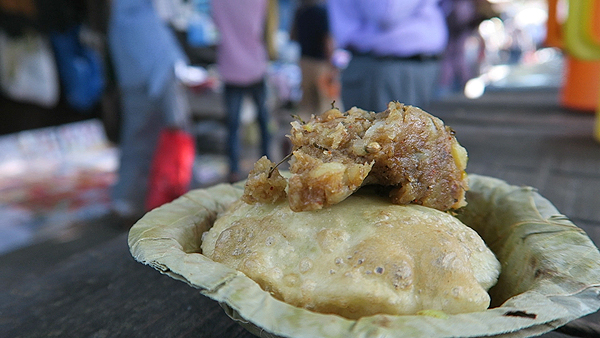 4. Chai
Indian chai in Kolkata is a  sweet, milky tea often served in clay earthen pot cups. The clay pots can be disposed after drinking or you can save yours for a souvenir.
5. Jhal Muri
Jhal Muri is a very popular street snack of  spicy puffed rice chaat .  Each vendor has their own masala mix from chopped onion, coriander, green chills, lime and chana dal, roasted peanuts, cucumber, etc… mixed with tamarind sauce, lime and mustard oil. It's mixed in a steel bowl It's spicy to pleasantly mild and refreshing.
A Volunteer Kolkata Street Food Tour with Kolkata Food Walk
Teeming with street food lining the sidewalks,  off-the-bat, I knew street food in Kolkata was the kitchen of India. So I wanted to learn as much as I could about it. After all, you can't be in a foodie capital and not sample what it's best known for!  Through some searches, I found Kolkata Food Walk, a voluntary food tour. Whuh?   The word free sounded too good to be true.
But it was true.
Kolkata Food Walk is all about taking travelers to famous local food chefs and small local eateries. They'll take you to the back alleys of the city so that you feel the local sense of the city. But for travelers who are reluctant to eat foods they are uncertain of, it's a wonderful way to eat from street hawkers and cafes, worry-free and having a local guide take you to popular local spots is invaluable. Kolkata Food Walk's local guides are volunteers, some are students working towards their PHDs, but they are passionate about their own city, its food and cuisine.  You'll "go dutch" and you pay for what you eat, but you'll hardly feel a dent in your wallet.
I met Srotoswini at Andomela, a huge and busy electronics department store in Ballygunge Gardens. She was a young, intelligent and tiny bespeckled college student with a hearty knowledge for Bengali food.  Hardly not the plump tour guide I was expecting.  She led me around the neighborhood, showing me a variety of foods from street hawkers to hidden restaurants and 200 year old sweet shops.
My advice– come with a very empty stomach!  All the food you sample will be to die for. By the end of the tour, you'll be gorging yourself, just so you can experience all the deliciousness at your fingertips. Tipping your guide is recommended; it's easily worth a tour price for a local's time and hospitality.   It also encourages volunteers to offer their time to the tour.  I had an amazing time and you will too!
A few of the things I tried through Kolkata Food Walk tour are below (but there were certainly more!)
6. Kolkata Style Papri Chaat
Around India, Papri chaat is a popular street snack. But this was Kolkata style papri chat,  a deep fried crust that's used as a bed for the chaat. It contains everything from potatoes, cilantro, coriander, onions, bhuja and sweet sauce. It has sweet, sour and spicy flavors and a crunchy texture.
Where to try papri chaat in Kolkata: Balygunge Market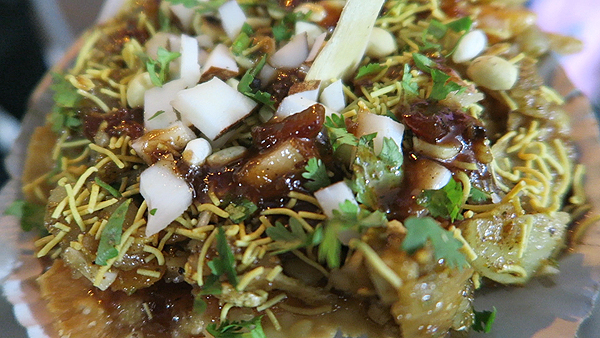 7.  Vada with Coconut Chutney & Sambar
From the outside, Ram Krishna Lunch Home did not look like a restaurant or popular eatery of South Indian cuisine. It looked like a cross between a guesthouse and a non-descript building, which might entail a secret door knock. Inside, the ambiance was bright and lively. Here, Srotoswini introduced me to Vada, a type of deep fried Indian donut with a soft and creamy texture inside. It came with two dipping sauces of coconut milk chutney and a vegetable lentil stew called Sambar.
8. Phuchka
 Golgappas, Panipuri ... this refreshing and satiating street snack favored by India has a few names, but in Bengal and is called Phuchka. Vendors cart round, dough balls of thin, crispy goodness.  The puschka or dough balls are hollow inside. The top is broken and the ball is filled with a slightly sour lime or vinegar water, mashed potatoes or chickpeas, chopped onions and other fixings. They are inexpensive and usually ordered in a bowl of several.  Eat them fast as the water will eventually make the crisp soggy.
9. Ras malai
 Ras malai is a decadent delight for a sweet tooth, as well.  Ras Malai is a sweet and spongy cheese dessert soaked in saffron milk. That extra twist of saffron makes it heavenly and unique. Absolutely yum.
Where to Eat Ras Malai: Makhan Lal Das & Sons
10.  Shondesh
Makhan Lal Das & Sons is a 200 year old sweet shop known for their hand-crafted sweets and their 2rs Shondesh. I visited their Ballygunge location, although it's original shop is inside Notun Bazar of the Jorabagan and that is where they sell the 2Rs shondesh. Shondesh was my favorite Indian dessert of the evening.  West Bengal sweets are mostly milk solids and I love my milk solid sweets! Shondesh is made of milk product, sugar and pistachio nuts and has a creamy and smooth taste. My favorite!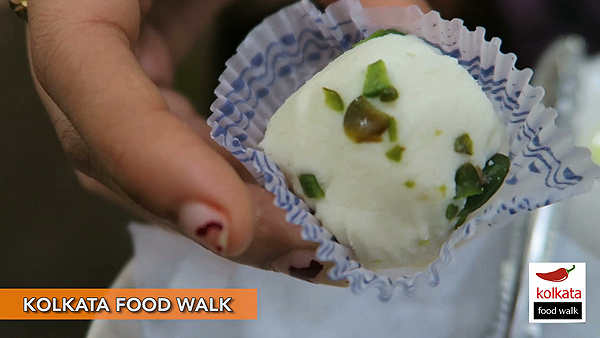 11.  Malai Chumchum
Malai chumchum is similar to ras malai in that it's cheese soaked in a sugary, milky juice.  This Indian dessert was a little more sweet than the others. The juice oozes out as you cut into it.
Where to Eat Ras Malai: Makhan Lal Das & Sons
6 Best Places to Eat Street Food in Kolkata
Of India, you'll find the best street foods in Kolkata. What Bangkok is to Thailand, or Osaka is to Japan, is what Kolkata is to India. It is a street food kitchen of the country.  While Indian foods range by the region and it might be unfair to other cities like Mumbai or Delhi, you'll find street food galore walking down certain blocks of this Bengali city.
1. Kolkata Food Walk
If you feel timid about trying new foods, highly recommended is the Kolkata Food Walk. It's a tour run by voluntarily by local foodies, where you get to taste the best and most mouthwatering street food in Kolkata at scandalously inexpensive prices.   You'll pay for the foods you try and you'll get to try a lot! Come with an empty stomach .  This is an exceptional food tour run strictly by volunteer, so a donation is suggested; please, tip your guide well!
For food tour options, check out this 15 Taster Private Food Tour and Evening Food Walk Tour
2. Decker Lane (or Dacres Lane)
In the BBD Bagh district you'll find Decker Lane, a street which is like a buffet line of street food vendors.  You'll find food hawkers line the sidewalk with samosas to chai, Chinese noodles, chat and … a stroll down this streets is like a walk down a buffet line. For a few rupees (costing anywhere from 5 to 45 cents USD), you can have a mouthwatering feast.   When in Kolkata, eating street food is a must.
3. Mohan Bhandahar
Mohan Bhandaharis a sweet shop where I had kachori sabzi . The shop was was made famous by the Bollywood film Piku and was visited by Amitabh Bachchan. You'll see photos of the star there. But the kachori sabzi is literally finger lickin good.
4. Ganesh Chandra Avenue (in Bowbazar)
Right off Ganesh Chowk Metro you'll be welcomed by Broadway Hotel (the hotel I stayed at) and Ganesh Chandra Avenue  in the Bowbazar district and several street food hawker stalls which line both sides of the street selling things from jhal muri to Hakka Chow mein (influenced by Chinese immigrants).
5. Makhan Lal Das & Sons
Makhan Lal Das & Sons is a 200 year old sweet shop known for their hand-crafted sweets, popular Bengal desserts (such as Ras Malai, Jol-Bhora, Malai Chumchum, Chocolate Misti, etc… )and their 2rs Shondesh. I visited their Ballygunge location, although it's original shop is inside Notun Bazar of the Jorabagan and that is where they sell the 2Rs shondesh.
6. Territi Bazaar
Terreti Bazaar or Old China Market is Kolkata's Chinatown. Home to over 20,000 Chinese India nationals, it houses a large population of Hakka Chinese. Its earliest settlers came to India 70 years ago. You can find Chinese food there from momos to lupcheong and Hakka Noodles.
How much does street food in Kolkata cost?
India street food is relatively inexpensive, compared over restaurants. On average, I paid 5 -15 Rs (around 8 to 23 cents USD) at the street stalls on dishes and snacks that were all filling. Laborers come from other regions for work and they don't rent apartments, but earn on average $5/day. A large population of Kolkata survives on street food.
What would you recommend as the best street foods in Kolkata? Do you have a  Kolkata street food tour you'd recommend?
Visiting Kolkata for the first time?
Traveling to Kolkata as a western traveler, you may encounter a little Kolkata Culture Shock.These are first impressions to prepare you for jumping into the Kolkata Travel Guide. And Where I stayed in Kolkata.
Check out my other Indian food posts
If you are new to Indian food, start with Decoding Indian Food. For 14 safety food tips which will save you from getting sick, read here. One thing in India you may experience is the culture of eating with your hands.
Trip planning for India ? Start here.
Planning your first trip to India? Start here.
What to Pack for India Backpacking? Check here.
Read about how to Get an Indian SIM , do you need a female urinary device?,  getting an Indian Tourist Visa for U.S. Citizens
Learn the India trip essentials from India scams, dress etiquette, itineraries, accommodations, food insights, how to take the bus, dealing with sexual harassment and indian trains, and staying at ashrams.
.