If you're a U.S. citizen, applying for an Indian visa for your India trip can feel overwhelming.  The application process can feel tricky, lengthy, invasive and confusing.  It might even make you think twice about visiting. So I put together a guide to help break things down for you.
How to Apply for an India Visa for U.S. Citizens
1. Getting an India Tourist Visa in the U.S. (* Recommended)
Applying for the India Tourist Visa in your home country will guarantee you the maximum term of days for your stay in India.
Processing can be fairly quick, approximately 3-4 days; however, expect slightly more if you mail your passport in.
If your application and background requires scrutiny, processing can take 2 weeks or more.
Validity of your visa starts on the date it is issued (not on the date of departure)
Application: The outsourced service that handles India visa application and processing for U.S. citizens is currently  CKGS website (aka Cox & Kings Global Services): www.ckgs.us.

 

Within the application process you'll be bouncing between the CKGS site, then the Government of India Online VISA website (https://indianvisaonline.gov.in) and finally back to the CKGS site.
You may walk your application into a CKGS center nearest you; otherwise, mail your application and passport in. CKGS locations in the U.S.:

Washington DC

, 

New York

, 

Chicago

, 

Houston

, 

San Francisco

 & 

Atlanta 

.
Read the CKGS website. They are very specific about the type of visa photo, application and packaging when mailing it in.

 

https://www.in.ckgs.us/visa/howtoapply#
Duration of Visa for U.S. Citizens, Entry  &  Fee
10 Years –  Multiple Entry $150
5 Years  –   Multiple Entry $150
6 Months – Multiple Entry $60
2. Applying for an Indian Visa Abroad
Getting an Indian visa whilst you're abroad may not guarantee you the full visa duration that you are entitled to receive in your country. You could get a lesser duration. When I lived in Korea, I was only allowed to get a 3 month/single-entry visa versus the standard 6 month/multiple-entry visa issued from the U.S.  I hear this appended visa duration is common for those getting their India visas abroad. I also paid around the same cost, if not a little more.
Getting your Indian visa abroad, you will also need to research the outsourced handler of the country you're applying in. For instance, the service for issuing Indian visas to foreigners in Thailand is www.vfsglobal.com. Processing time can be a little longer; afterall, you're going through an intermediary country rather than the U.S. 
Moral of the story: Get your India tourist visa in the U.S. if you want maximum benefits.
3. Getting an Indian eVisa in 72 hours
Getting an Indian Tourist eVisa online is probably the easiest and quickest method if you were ever in a hurry. But you're paying for a lesser duration stay.
Takes 72 hours to process
Apply at least 4 days before departure.
Validity starts from date of arrival.
You cannot extend the e-Visa and you can only apply for it twice in a year.
Arrival port must be one of the 17 major international airports in India
Application:

https://indianvisaonline.gov.in/

Instructions: https://indianvisaonline.gov.in/evisa/tvoa.html
Passport photos and passport bio page must be scanned for online upload.
Once processed, you will get your visa sent via email.It will look non-descript and can easily be mistaken as spam. (Print it out)
Duration of Visa for U.S. Citizens, Entry  &  Fee
60 days –   Double Entry $75
(note: below photo is pre-2017)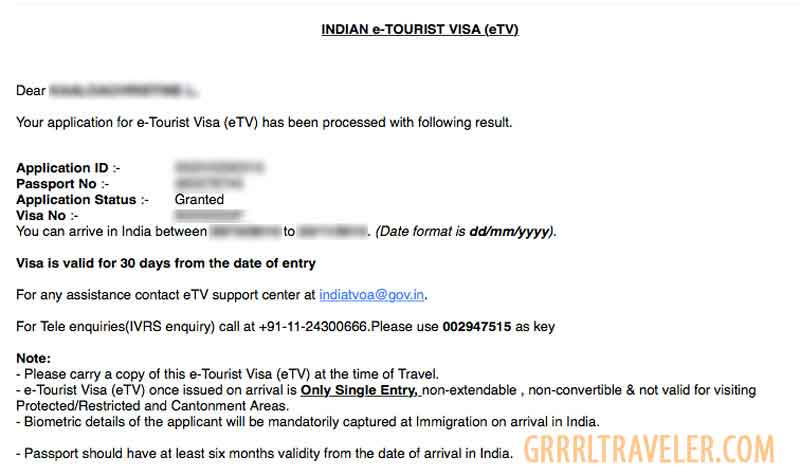 What you Need to Apply for an Indian Visa (for U.S. Citizens)
Applying for an Indian Visa can be tricky and confusing. It's probably the most intensive application process, next to my visa for China. Short-term vacation travelers and tourists on package tours will have an easier time than long-term backpackers and nomads, as you will need itinerary details and proof of bookings.
You will need:
Passport with at least 6 months before expiration
Details of the countries you visited in the last 6 months.
Details of your previous India visa (if you've visited India before)
Details of current citizenship
Printed and signed application form
Copy of your return flight ticket
Copy of your hotel booking for minimum of 2 weeks
A reference contact in India :  If staying with friends or relatives in India, you must get a written letter of stay and provide an invitation letter from the host with their supporting documents (like passport copy or Indian identity card copy )
Detailed Travel & Tour Itinerary:

 

Mention the cities you will visit in sequence as well as, your 'Entry' (aka Arrival location) and 'Exit ' (aka Departure location) in India.
2 Passport photos (Format: JPEG, Maximum 1 MB, 2 inches by 2 inches squared)
Note: Photos for visa cannot be the same photo in your passport) and must have been taken within the past 6 months. It must be printed on Glossy Photo paper. Photograph to be affixed (not stapled) on the application and show 80% of your face. Read the specifications on the website. It's very specific.
A scanned Bio page of your passport, showing photo and details

 

(Format must be PDF; Maximum 300kb).  *This is for eVisa applications.
Getting your passport page down below the 300kb can be tricky. In the end, your resize and compression may not be the 'actual size' of your passport page, but as long as the details of your information is clear, you should be okay.
Note: Just because you filled out the application form online, doesn't mean you're done and your visa application is submitted. Unless you are getting the India eVisa, you must still print out your application forms and mail them in.
If you feel lost or confused, see the website: https://www.in.ckgs.us/visa/howtoapply#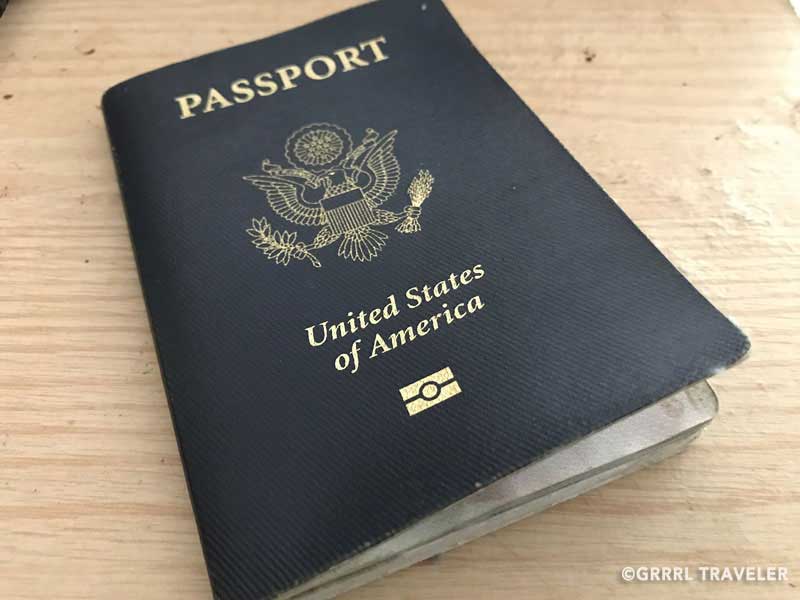 Listing References for your India Tourist Visa
Listing references and proof is the part which trips up a lot of travelers applying for the Indian visa. It's the stressful part because it forces travelers to lock itinerary details and long-term or nomadic travelers~ like myself~ usually like to keep part of their trip itinerary open.
References for your stay in India: If you're not staying with an Indian friend or family, no problem~ you can list your hotel or tour company as a reference.
Proof of a two week hotel itinerary:  If you are not planning on booking your hotels in advance, some travelers book hotel stays on Booking.com, where you are allowed to cancel hotel bookings without incurring a cancellation fee.
Proof of a return flight ticket:  You have to provide proof of onward travel or show an intent to leave India after your visa is expired. Most travelers have a return flight ticket somewhere or an onward travel flight. If I am traveling long-term, I usually use my overall round trip ticket or a return flight ticket (to home).
Visa Photo Requirements
Read the website specifications for the passport photos you must send in. It's very lengthy and specific.
I always make extra copies of my passport photos, for future travel purposes and the fact, if you're getting an Indian SIM card, you'll need two photos for your application.
What Profession should you list ?
Firstly, if you're applying for a Tourist visa, then your sole reason for visiting should be Tourism.
If you have a freelance job in India or you're a travel blogger, travel writer, photographer, freelance/professional media, yoga student (going for schooling or certification), etc… do not list these professions or reasons unless you're applying for a Journalist, Business or Student visa.  By acknowledging these professions or other reason for being in India, under a Tourist visa, your visa will be under additional scrutiny and you may be declined or flagged. I always just claim "Artist" or Salesperson or something standard to a tourist.  Even when I did my yoga teacher's certification, I was told to not mention that unless I wanted to apply for a Student visa.
Can I get an Extension on my Indian Tourist Visa?
No.
Do I need an India visa for layovers in India?
If you have a layover in India, and do not plan to leave the airport terminal (and do not need to go past immigration),then you do not need an Indian visa or a transit visa.
However, if your baggage is not checked all the way through to your destination an you need to retrieve it and re-check it, you will need an Indian visa.
Hope this guide on how to apply for an India visa was helpful to you! Applying for an Indian visa can feel overwhelming but visiting India is so worthwhile. Hope you love India as much as I do.
Related Posts on India Trip Planning
Getting an Indian SIM card
Guide to Indian Trains
What's in my backpack for my India trip
Trip Planning India: Popular Routes & Costs
Top 5 travel tips for India
Best Travel Insurance for India
Watch India Travel Guides for Solo Travelers!