Last Updated on July 9, 2020 by Christine Kaaloa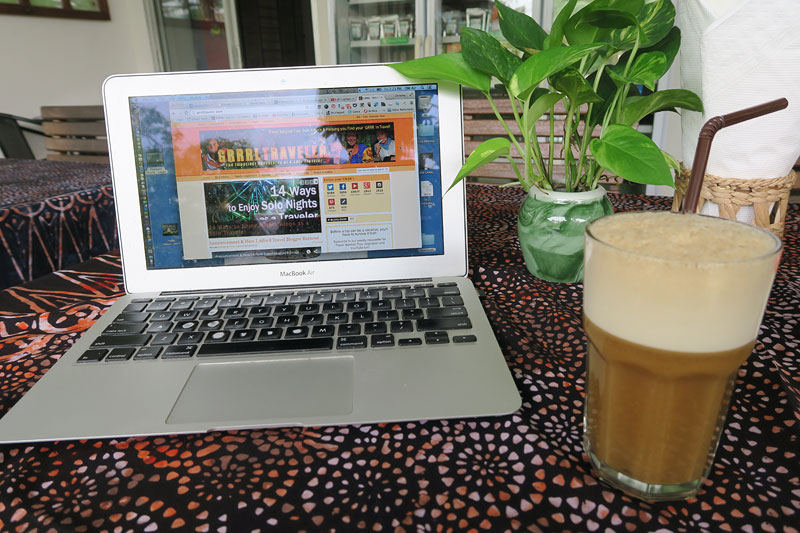 I occasionally get reader questions about how to start a successful blog.  Many folks assume I can nail this answer in 5 minutes or a simple paragraph. Nuh- uh.
Starting "a blog" can be as easy as opening a WordPress account and plunkering around. But starting and growing a successful blog is a monstrous question, which generally falls along the same lines as — How do I start a business from scratch and succeed at it?  
I wish people would think about their questions before they ask it.
Table of Contents: Travel Blog Success: How to Grow a Successful Travel Blog
How to Grow a Successful Travel Blog
A lot goes into maintaining a blog brand, growing it, gaining traffic and followers, engaging audiences and monetizing your brand to create an livable income, etc… You would need to do more than just read one article and I would have to write more than one blog post.
In fact, if you knew how much of a commitment running a blog brand is, it's likely you might rethink the endeavor and go back to the certainty your 9-5 job.
The Challenges of Travel Blogging
There are many unforeseen challenges of travel blogging.
It's a well-known fact to bloggers, that most travel bloggers spend more time on their content and brand than they do traveling.  …I know. It's a big gasper! But running a blog is basically, running a start up company. Your consumers are your audience, the product you're "selling" are your personality, blog posts, videos, instagram photos, and your currency is engagement, a click to purchase, a Like, comment, etc..  This is for starters until you start growing a loyal audience and get more successful.
A decent work week for bloggers like myself averages anywhere from 8-18 work hours/day.  I've average along the lines of 15 hours+ these past two years (and this is for days when I'm not employed outside), just to get my blog ramped up. Personally, the technical troubleshooting when my website acts up, or questions about how to practice better SEO or even how to monetize and work with sponsors, etc… is the most un-fun part of my blogging job.  It's the part about blogging I hate. It's work, a chore and I despise, loathe …okay, you get the point.  But the biggest time chomper of all is finding answers to questions.
Travel blogging is not a traditional job that many know how to go about.
Travel blogging is like the wild wild west and whenever I've had a blogging question, i've had to resort to Facebook blogger groups, tech forums or Google for blog articles on my query topic.  Guess work and finding answers takes time away from my real blog work.  So when newbies come to me for blog answers, you can bet I'm already overwhelmed.
That's where Superstar Blogging (formerly Travel Blog Success) comes in. 
Initially, I used to point beginners towards Matt Knepes' How to Make Money with your Travel Blog. These are for folks, who just want to toe-dip into the idea of making money through blogging. This was enough to light a fire under me and give me a decent start with monetizing my blog.
But for those, who are serious about developing a successful blog business and connecting it to an industry, I highlight Superstar Blogging.  It has answers to all the major questions and I guarantee, you'll want, need, pray for that more if you're on your own trying to figure this all out.
Growing a successful travel  blog requires a lot of research, research, networking with other bloggers, attending conferences and more research. We're all continually refining and re-sculpting our processes and practice.
How I've grown my travel blog (the free but laborious way)
In 2008, GRRRLTRAVELER initially kicked off as a hobby travel blog. It only really evolved during my time in Korea. Due to the fact Korea was still relatively new to the travel and ESL world, I blogged a lot. Somewhere within that, I grew a small following.  Upon  returning to the U.S. and finding my purpose and passion for blogging, I decided I wanted to take my blog to the next level. I wanted to inspire solo travelers to make their travel dreams happen; to do this, I needed my blog to be more successful.
Read Travel Jobs that Pay you to Travel
So for two years, I struggled to refine my content, gain followers, find work-travel opportunities and eventually, started selling a few ads a month, making a little money. But I also grew frustrated with the list of things I didn't know about growing a successful blog (…and no matter how much I researched, that list continually grew):
• How much to charge advertisers?
•  What tried and tested resources would make my job more time-efficient?
• How to get press trips or work with tourism boards?
• How to increase my traffic and navigate SEO?
• What techniques could I use to master social media and grow a following?
Instead of signing up with Superstar Blogging immediately (I was penny-pinching), I guessed at formulas, spent a lot of all-nighters researching blog articles to refine my practices and asked questions in blog forums.  There were times I felt like giving up, wondering if my blog would ever grow… a whole laundry list of insecurities evolved. My eyes grew bloodshot and I felt like my blog was sucking the life out of me. Even with my YouTube channel partially supported by Patreon, I was working 10x harder than I had before, but wasn't growing an inch! I was starting to hate blogging. Still, I was certain I could find all my answers for free!
What I was really doing was wasting time that could be better used blogging and enjoying life. So I finally broke down and joined Superstar Blogging. Now, I wish I did it so much sooner! My world didn't change overnight, but it felt more aided. The program gave me tips from successful travel bloggers who had gone down those road I was stuck at. I had structures and guidelines to follow. When I had a question, I simply went to the Facebook group to ask it.
What do you get with the Superstar Blogging program?
Superstar Blogging is the closest thing to a comprehensive workshop/self-study program, that is in an easily digestible and non-overwhelming format. I'd say I was at an intermediate level in my blogging and this still covered my questions, so it wasn't just for newbies.
A comprehensive and concise program from how to set up a blog, develop, grow, monetize and transform it into a business.
Note:  These modules only work if you put it into practice and work at it.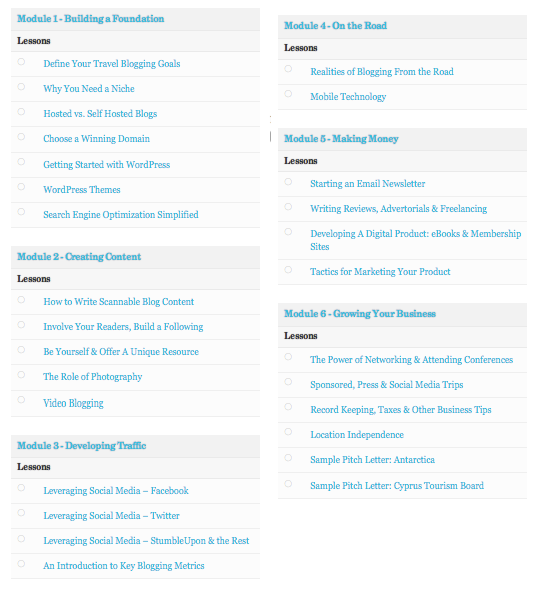 Audio interviews and webinars with top bloggers
(*I loooove this feature and find it super helpful; it's like additional trade secrets!)
Additional articles
Blog resources/tools which you can use to enhance your work style and load.
A secret Facebook group
(This is the bomb; an invaluable resource of blogger support at your fingertips! Got a question, you'll get some serious feedback from bloggers, who have already encountered success with your topic.)
Lifetime membership
30 day guarantee or your money back
All-in-all, you're getting a lifetime of professional advice for a one-time fee!
.
Why I think the Superstar Blogging program is worthwhile
I've been with Superstar Blogging for less than six months and implementation takes a bit of time, but overall, it's drastically improved my mind-set, by putting priorities into better perspective and pushing me to see where I want to develop my blog in the future. The price tag sounds like a lot but what you really need to look at is the time you save in figuring things out on your own, the networking opportunities and the insider knowledge.
Many gurus; one source
Instead of splitting my focus with multiple browser tabs open as I research several blog questions at once from different sites , Superstar Blogging gives me one concentrated go-to guru source, which is comprised of tips from successful travel bloggers (several of them.. a community in fact). So the information I learn here is resource I can trust, is tested and reputable.  All information is sculpted towards travel blogging and the travel industry. It's also written in layman's terms so you don't have to be a technical genius to understand it.
I'm not a slave to a blog; I'm a business.
It's very easy to feel like a slave of your blog. If you're spending over 40 hours/week working on your blog (which I guarantee, is fairly common), then you're not just working at a blog, but a blog business, whether you think of it that way or not.
Although my blog is probably 85% labor-of-love at the moment, remaining a slave to free labor is not a realistic formula for business survival, especially if I'm juggling a second (or third) career to afford this one! You have to think of your blog in business terms if you want to hang around for the next several years.
The time spent uploading photos, designing artwork, editing articles, shooting video, thinking of blog topics, tweeting or Facebooking and researching business and tech stuff  … is easily a fifteen to twenty man job collapsed into one person.  Meanwhile,  I need to find ways to pay rent, blog maintenance expenses, live a comfortable lifestyle and afford my travels in order to blog them!
Superstar Blogging helped me see my work as valuable, financially plausible and impactful in the travel industry market. It helps me develop a better business strategy, through others' examples. In the short months of being a member, I created e-books to sell for passive income and I continually weigh such things, as–  whether an unpaid press trip is enough compensation for the amount of time and days of labor I put into it.
Support group & mentorship
Learning blogging community trade secrets and how travel bloggers achieve success is helpful to me… beyond words! There's always a shroud of mystery surrounding the strategies and practices of successful travel bloggers.  How do they grow traffic, followers, price ads, or maybe you have question regarding a very specific business deal that just got dropped in your lap! Without guidance or anyone to go to for answers, blogging can feel stressful and you can easily sell yourself short.  But between the secret Facebook group and webinar/interviews,  I gain insight and recommendations for developing my business dealings in an informed way.
Wanna take your travel blog to the next level? Want to know how to grow a successful blog? >>>  Join Superstar Blogging now!!!