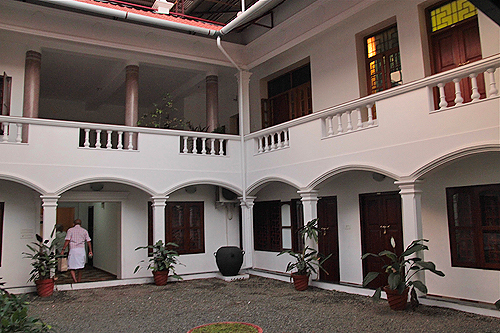 You'll find all types of accommodations in India but finding budget accommodations in India which match your standard can feel like a test of resourcefulness,A budget cradle spells the need for an open-mind, a crowbar of willpower and let's face it–  the room might not always match the higher rupee you're paying for an upgraded experience. During my three month backpacking trip, this is an account of budget accommodations in India where I stayed.
Types of Accommodations in India
• Guesthouses
Guesthouses are very common to India. They are family run lodgings which range from 100 Rs to 3000 Rs. If I'm 100 Rs/night cheap, I might find my room in the gut of a basement or tucked in a remote corner afraid to touch anything in my room.
• Mid-Range Hotels
Mid-Range Hotels cost a bit more than guesthouses, but it doesn't warrant instant peace of mind. The standards of Indian hotels and hotel house-keeping are different.  Some Indian businesses master resourcefulness and facilities may not get replaced until they're broken.. and even then. New, new-looking, newly-painted… are the five star way.
• Hostels
Hostels weren't a term  in India, but recently, a hip and boutique hostel chain opened up for modern travelers (wifi available). I've seen a couple of their hostels; book in advance as spaces  fill up fast.
• Ashrams
Ashrams are spiritual and yoga retreats where you follow an ashram discipline. It offers more than just lodging and meals but has a strict regimen schedule to follow. Learn more about ashrams here.
• Luxury Hotels
India has a handful of luxury hotel and resort chains with royal luxury: The Oberoi, The Leela, The Taj.
Tips for Finding good budget accommodations in India
1.  Metropolitan areas cost more
Expect the prices to be slightly higher in metropolitan cities or popular Indian vacation spots like Mumbai, Deli, Kolkata, Goa, Ladakh , Varanasi,  starting at $20. Areas that are central to city attractions will raise in price. Further outside the city center and in more residential areas, you'll find the prices drop considerably.  Some residential areas pose nice and cleaner environments, but may lack easy commute options, pushing your reliance towards taxis.  In small to medium towns, prices fluctuate between guesthouses and hotels. You might be able to upgrade to a hotel for the same cost as a guesthouse in a metropolitan area. Weigh your options.
2. Book your first night only
If you're booking your first night at a hotel that is site unseen, it's wise to only book your first night's stay and leave it open until you get there. If upon arrival, the guesthouse or hotel doesn't meet your standards, you can easily change the next day. For instance, I booked a hotel from online photos and discovered that my Mumbai hotel/guesthouse was an apartment located a bit outside of the main area and it was converted into a dorm! That was a shock.
I recommend a great site for accommodations in Asia:  Agoda or Booking.com
2.  A 100 ruppee stay is not always as ideal as it seems
A 100 rupee stay can stretch your dollar gaining your a small bungalow on the beach, but in reality might not always present as good as it sounds.  Always try to see the room first. Indian accommodations are almost always interesting and unique, like my Kolkata hotel.
3. An upgraded price doesn't mean an upgrade in quality.
The guesthouse and midrange accommodations are the least expensive, but standards can range in extremes from nicely furnished to sharing a hallway squat toilet . An upgrade in price doesn't necessarily mean an upgrade in facility.
In looking for a Delhi accommodation that wasn't Paharganj, I asked a local Indian friend for her recommendation. She told me of a guesthouse that her company recommends for business travelers and it was in the suburbs of Delhi, which meant it was safe. I upgraded my $20/night stay to $30/night and found the room more spacious but not necessarily any closer to my standards than I hoped (it was largely seeing woolen blankets on my bed, I think. Read the next part about my phobia with blankets). Additionally, this hotel was in a nicer part of Delhi, alright but it was far from tourist activity and the metro. This meant to get around, I needed to taxi it everywhere and get back earlier in the day to avoid searching for taxis at night.
4. Throw out expectations
Westerners have a different standard when it comes to accommodations. We just do.  My memories of staying at a Carlton Ritz, Sheraton or even a Motel 6 or Best Western…  Erase.  Re-program.
As I write this post from my room in Gokarna, there's a bug family celebration in my room– mosquitoes, moths, ants, gnats, roaches, giant geckos and you-name-it bugs are buzzing, attracted to my bedroom light. It's too much variety to keep count!  My inner freak-out is trying to calm itself, I'm religiously spraying my bed and I just invested in an electric plug-in mosquito repellent from the corner shop. Still, this "Lonely Planet India budget stay recommendation" has a firm bed, welcoming sunlight and thankfully, no large roaches.  It's all about learning rebalancing your perspective.
If you're diving into Mother India on a backpacker's budget, you can't have high expectations. I've learned to expect the worst, just so that anything remotely better, will feel like a gem!  And still, it amazes me how much I love this country.
My electric plug-in mosquito repellent
Culture shock examples:

Blankets: Do you really think the blankets on the bed of hotels get a wash each time a person leaves?  Personally, I don't even use the throws on at the five star resort hotels, so I am a bit of an American germaphobe! Indian housekeepers will generally hang their blankets out in the sun to dry and give it a duster beating.  A wash might not take place in a washing machine (I've only ever seen washers being sold in south India -Kerala area),  but in a local river or ghat.
When I was in Dharamsala, it was cold and thick woolen blankets were necessary. The one in my room had questionable "stuff" on it, so I asked to exchange it. The boy opened a dusty storage room, rifled through an old bundle of rags, pulled a grubby comforter from it, beat it with his hand once (producing a dust flurry) and then, handed to me. My jaw dropped. Standards in India can hit you in the gut like that.  I ended up keeping the blanket that was in my room.
Carpeting:  Is India's dirt dirtier than the west? With the unrestrained littering, roaming cows and public urinals in streets,maybe?  Do you really want to walk barefoot on that hotel rug, knowing that you're quite possibly mopping up the the residue of human piss and cow poo remnants from the sole of every person before you?
Behold, the  "vaccuum".
5.  Exercise blind faith
Feigning ignorance to things which might normally gross me out helps.
"Off-white" in India, doesn't mean unclean, but you 'll need to do less scrutinizing to get through it. While overlooking the hair on my bed will take mental training,… the soil on my sheets? Okay, maybe it's from the wash. You won't find many washing machines in India as much of the laundry is hand-washed in a river or bathing ghat.  I've sent my own laundry out to get washed through local services, which send them to dhobis of some sort.  In Mumbai, a large population of the city sends their laundry out to get washed by dhobis (a caste of launders).
6.  Shop around
Looks aren't everything, but choosing where to lay your head in India can feel like everything. Sometimes, you find a great bargain  straight off! Other times,  it takes shopping around on foot.
For 100 Rupees (approx $2.00), it was in a decent guesthouse run by good people. Located across the bus station, I was central. But when I first saw it, I didn't leap with Hallelujahs. The dingy lobby decor held stationary cot beds (for employee use), reminiscent of a homeless shelter and my shoebox room looked like a scuffed college dorm room, with a community bathroom that held a squat toilet. Hardly thrilling.
Only after shopping around, surveying the guesthouses in town and rudimentary mud huts on the beach, did things fall into perspective.  My room was neat, central to the bus and town, with a 15 minute walk to the beach. It was listed with Lonely Planet India
. It wasn't my worse nor my best accommodations, but I remember it as a good score of a place. Despite the bugs flying into the room from the outside (I had to keep my windows slightly open for ventillation), it me well for three nights. For the price, I couldn't complain. I met many western expat travelers who chose Gokarna as their an extended escape, making India their long-term home. I could understand why– rent was low, beach life was good and the town was laid-back.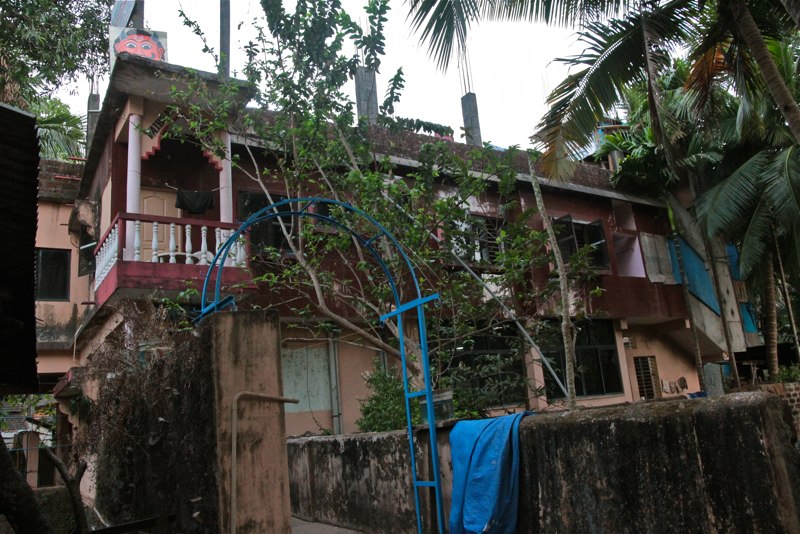 Can looks be deceiving? Outside of my lodge in Gokarna.
7.  Follow travelers who match your style
When hunting for a crib, I keep an eye out for other travelers. While middle-aged folk, backpacking couples, families and lipstick travelers may not match my travel style, they'll likely match my lodging one.  And if I'm shopping around and see any of these people, I might approach them and ask these 3 things–
• Where are you staying?
• How much is it?
• Is it clean and safe?
I was in Trivandrum for one night. I passed a hotel, where I saw young European couples emerging and older American couples dining. I used the three lines (above) and it led me to a decent business studio room with bathroom ensuite for 750 rupees ($19). It smelled of cigarettes from the person before me, but it was one of the nicer budget hotel options around!
8. Share a room with a fellow traveler and upgrade
When it comes to finding great bargain pads, it sucks to be single!  So I learned to find quick bed mates in other solo travelers.
Traveling with friends or fellow  travelers can also keep you in the company of good finds and by splitting the costs, you can upgrade the room to a nicer one!  Below is the room I shared with another traveler on my second day in Mumbai. This was in the tourist populated Colaba area.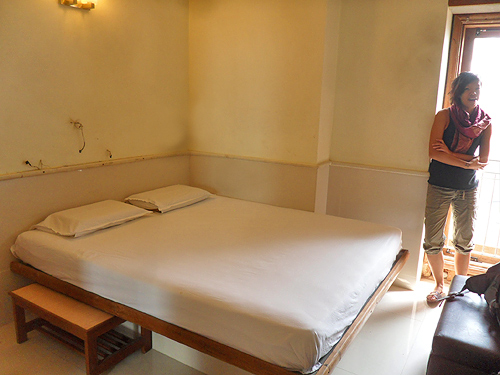 .In Kochi, I partnered with Lily- a German girl- for a chic 1,200 rupees/night room.  We paid 600 rupees each (approx $13/person) and got the room in the pictures below. Often, being "a couple" affords a nicer room (bath en suite) at the same price you'd pay for a cramped shanty single with a shared hallway toilet.  In Hampi, I split a 1,000 Rx bungalow with Maude, a French traveler I met on the bus.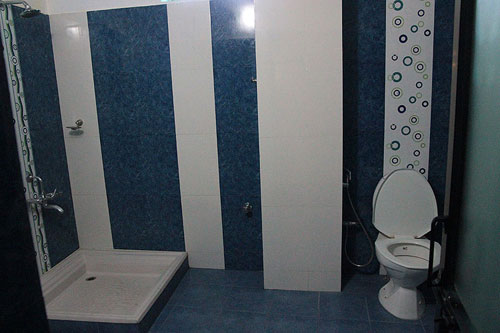 9.  What is a guesthouse?
As a traveler who only used to staying in hotels, my guesthouse vocabulary expanded in India. It only adds to the adventurous feeling of my travels.
My lodgings in Gokarna may have suffered from a lack of personality, style and luxury. But in torrid Indian heat and mugginess, one thing redeemed it all… a 100 rupee price tag and a fan.
My guesthouse in Alleypey was quite different. Located in a beautiful house with many bedrooms, it was converted into a guesthouse. Not bad.

10. Pack to prevent
Being American, I'm from a country prone to germaphobe habits. So if you're like me, you're not fine with collecting head lice, bed bugs and whatever germs exist in a used mattress or a train bed. One-third of my pack is chock-full of preventative aids:
• A silk liner
• Melaleuca/tea tree spray –  It cleans my room, kills bacteria & helps prevent bed bugs.
• A twin-sized hypoallergenic mattress cover
– Originally designed for people with dust allergies, it's the kryptonite cover which keeps bacteria and dust mites from penetrating. I cut up my old cover into a twin-bed sized layer; it folds to the size of a pocket hard drive and is lighter than my silk liner.
Read 5 Must Haves for Traveling India
11. Never trust hotel website photos.
Never trust photos on Indian hotel websites, unless they're photos posted by fellow travelers on sites like Agoda or Tripadvisor. If you find photos on Indian hotel websites, some act like e-Harmoney profiles.  They only show the best room or best angle, while eclipsing the rest.
My first guesthouse in Mumbai looked fabulous in photos!  I couldn't believe the price or that was selling a dorm stay.  It wasn't until I arrived and realized the guesthouse was in a very run-down residential apartment with dorm cots in two bedrooms.  The owner had turned his apartment into a dorm-styled guesthouse and it was in a residential area of town, that you wouldn't want to stroll around at night. There were foreign travelers from young to old there to lend some comfort of being a lone female traveler in this uncomfortable reality, but was my first and last night there.  No more.
I stopped looking at Indian website photos as reference.
.
12. How to Book Hotels in India
India is still taking time to catch up with technology, so many Indian businesses still rely upon guidebook advertising, which means not every hotel will have a website or be listed on hotel search engines online. You can still book most accommodations upon arrival.
However, these days, Booking.com and Agoda will hold some hotel listings. Booking.com is my favorite of the two as you can cancel your booking without a fee; additionally, I use this to book my hotel for my India visa application. I always check reviews before booking anything online. In the past, hotel websites proved too unreliable as photos were not always accurate. These days, everything is aired in a customer review.
Solo Travel and Finding Accommodations in India
I'm not saying that there's no decent cribs in India, but as a female solo traveler in India on extended travel, I'm hunting for a way to make my rupee stretch. But I don't want to compromise decent, safe and clean.
In India, suffering culture shock with your room can sometimes amplify the sense of loneliness for a soloist. From bugs whizzing from all directions, the stains on the walls, the rotted and warped hole around a ceiling fan, which threatens to unhook itself from violent shakes … to a tiny (pubic?) hair on shaded sheets.  It's easy to feel your scream imprisoned with a rusty bolt and padlock! A long and lonely journey for a night. You've experienced the best and the worst.
But then again, sometimes India surprises you with nicer accommodations.
At dawn, I smell a stench odor sliding under my door crack. I'm awoken by the most grisly, echoing sounds of my neighbor (another solo traveler), whose undergoing a brutal case of Delhi Belly and non-stop projectile vomiting .
Read: Food Tips: Avoid Getting Sick while Traveling
I thank Mother India for at least granting me good health– things for me, now seem better than worse!
I leave my room to go to the toilet down the hall and then, it hits me… my bathroom is shared.
Related articles
How to travel solo in India: Interview with Chiaki Nakashima
Lessons of a first-time Solo Traveler in India
I got into a motorbike accident in India
Traveling soon?
I highly recommend travel insurance. American travelers often pay a premium on travel insurance.  World Nomads offers economic solutions for travelers who seek security and peace of mind.  It covers 150 countries.
Disclosure: Some of the links in this post are "affiliate links." This means if you click on the link and purchase the item, I will receive an affiliate commission. Regardless, I only recommend products or services I use personally and believe will add value to my readers.