Last Updated on October 13, 2020 by Christine Kaaloa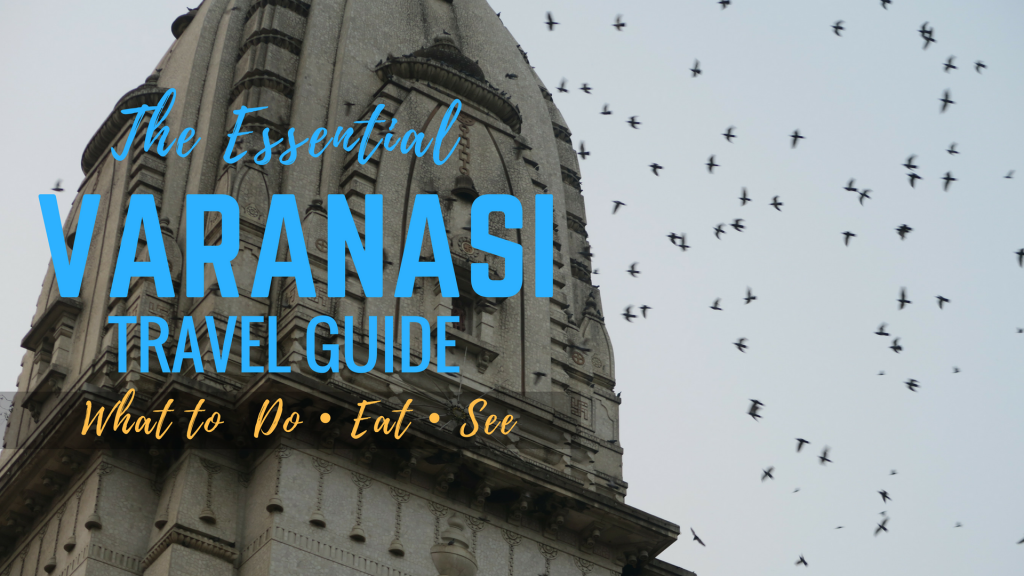 Varanasi. It's one of the holiest pilgrimage cities in India. Travelers either love it or hate it. With the mother Ganga running through it, it's got a powerful Shiva-ite vibe. Hindu pilgrims come to cleanse themselves of sins, prepare themselves for death or bring their dearly departed. Varanasi symbolizes the end of the cycle of life and reincarnation.
Many will take dip in the Ganges to wash away sins. Families also bring departed loved ones to be cremated at one of the two burning ghats. The ashes are thrown into the river after cremation. Sometimes a family will not have enough money for the wood and bodies aren't burned completely.
20 Things to Do in Varanasi
As the first Indian city I traveled solo, it shocked me and then cast a strange spell on me. I'm sharing my Best things to do in Varanasi / Varanasi Travel Guide video so you can navigate this crazy city.
1. Sunrise Boat Cruise on the Ganges River
A highlight of any trip to Varanasi is a sunrise boat cruise down the Ganges River, where you'll see life and death together. Famous ghats:
Manikarnika Ghat (the old burning ghat) where families bring their departed to be cremated.
Dasaswamedh Ghat (main ghat with lots of activity)
Scindhia ghat (it has a sunken Shiva temple)
Assi ghat (a peaceful but popular ghat; a 30-40 minute walk from Dasaswadmedh ghat)
Man Mandir is an old palace with Rajput architecture.
2. Visit the other side of the Ganges
If you want the flexibility to visit different parts of the Ganges or to get closer to all the ritual taking place, it's best to hire your own private boat.  My boat cost around 250 rupees and the boat man went anywhere I wanted to go. We also got closer to the bathers so I could photograph their worship as well as, he took me to Beharsh Kashi (the opposite side of the Ganges of which I had always wanted to see).
Boat information: Many boat cruises start around 7am or before sunrise. Rates fluxuate from 100Rs (group boat) to 250 (single person). My first boat was per Brown Bread Bakery. They operate a 100 Rs sunset boat cruise leaving from Scindhia Ghat, but the boat is at a distance from everything and you won't see many bathers. It's best to save that money for an upgraded private boat tour.
3. Explore the ghats on foot
After your sunrise boat cruise, take a stroll through the ghats and you'll get a feeling of what Varanasi means to Hindus. From pundits guiding Hindu pilgrims through devotional rituals to devotees getting their heads shaven, women drying saris, beggars, cows and Hindu tourists, the ghats are a fabulous place for people watching.
4. Altar spotting
You'll find a lot of altars and temples in Varanasi. Many are also tucked away in the alleys behind the ghats, anything from community temples to family and street altars. Due  the Ganges River being ruled by Shiva,  you'll find a lot of Shiva lingam altars (egg-like altars made of stone). 
After boat ride a small walk in to the oldest part of Varanasi which is famous for its narrow street alleys. Vishwanath Galli (the most famous of all lanes in Varanasi) leads to the old Kashi Vishwnath Temple , otherwise known as Golden Temple [Opens for Hindu only]. Stumble upon a funeral procession making its way to the burning ghat or stop by a pandan seller.
5. Shopping
Godaulia Road is a populated street lined with shops and restaurants, produce sellers, cows and pedestrian traffic, bicycles. This road takes you to the main ghat.  You can shop here for saris, fruits, street food and religious amulets and beads.
The ghat neighborhood is where you'll find spiritual shops selling amulets, statues, rudrukshah beads and stickers of Hindu gods. Fashion shops selling saris, clothing, bindi and bangles.
See  Tips for Buying Indian souvenirs
6. Evening Aarti at Dashashwanath Ghat
Every evening in Varanasi, aarti is performed along the ghats.  Dashashwamedh ghat is the main ghat where the largest arti is performed in worship of the Ganges River. Worship songs play over a loudspeaker, while bells, rituals and Sanskrit mantras chanted  in unison. You can watch aarti from a boat or on the ghats.
7. Durga Temple
Durga Temple, otherwise known as the Monkey Temple due to its abundance of monkeys is located in Durga Kund. It's recognizable by its red dome and is nearby another famous Varanasi temple, Tulsi Manas Mandir.  This temple is dedicated to the goddess Durga.
Shoes: You must leave them outside. There is a shoe collector that watches it for a few rupees.
Note: You can walk here (takes about 30-45 minutes from the main ghat), but it's easier to take a rickshaw. You can take Durga Temple, Tulsi Manas Mandir, BHU's Vishwanath Temple and Sankat mochen in one day via rickshaw. They're further away from the main ghat but spread along a row. Walking is not advised after Tulsi Manas Mandir.
8. Tulsi Manas Mandir
Located a stone's throw from the red domed Durga Temple, is Tulsi Manas Mandir, a popular cultural and historical temple in Varanasi. Dedicated to the Lord Rama, the temple was constructed in 1964 in the location where poet, Tulsides wote the epic Ramcharitmanas ("Lake of deeds of Rama"). The temple is a beautifully carved marble with the Ramcharitmanas covering the wall. Upstairs are reenactment scenes set with mechanical puppets.
Hours:  5:30a-12 noon, 3:30p -9pm.  Shoes: You must leave them outside. There is a shoe collector that watches it for a few rupees.  Admission: Free, Upstairs Museum Hall costs a few rupees, but highly recommended (watch my video)
9. New Kashi Vishwanath temple
Located on the Banares Hindu University (aka BHU), the New Kashi Vishwanath Temple is one of the cleanest, newest and most peaceful. Surrounded by a large garden the temple is large enough to roam for several hours.
10. Sankatmochen Temple (aka Monkey Temple)
Sankat Mochen temple (also known as the Monkey Temple due to its wealth of resident monkeys) is dedicated to the Lord Hanuman (the monkey-god). The temple is significant to Hindus as it is said to offer relief to problems. Hanuman  According to Vedic astrologers, Hanuman offers relief from the problems of Saturn (a planetary ruler of karmic lessons) .
 Hours: 5a-10p, Aarti hours: 4am and 9pm. Shoes: There are lockers inside which you can store them for a few rupees.
11. Bansphatak Flower Market
Bansphatak Flower Market (aka Bamboo Market Place) is not place you'll find many tourists. It's not even quite a proper market but a place I accidentally stumbled upon, where flower vendors come to sell their flowers. Unlike Kolkata's Flower Market where marigolds are commonly, you'll see a variety of colors here. Some flowers I only know by Hawaiian names;  flowers are not standard.
Location: Near Samudreswar Mahadev Mandir (near Shree Rajbandhu Sweets).
12. Explore the chowk
Exploring the streets outside the main ghat and around give you a larger and saner picture of Varanasi's daily life.   Care to take in a movie at Varanasi's modern CP Mall? Or do a little grocery shopping? One of my favorite strolls was from the main ghat to Durga Mandir, passing haveli type buildings, street barbers and vendors, and small new ageish boutique shop where I bought perfume.
13. Visit the Blue Lassi Shop
In Kachauri Gali on the way to the Manikarnika burning ghat is Blue Lassi Shop, a three generation lassi shop which sells over 80 flavors of lassi (including the infamous bhang lassi).  It's well-known on TripAdvisor and Lonely Planet. Lassi is a yogurt milkshake and it's a popular
14. Try Paan
Strictly for the adventurous traveler and one traveling with a partner. Varanasi is well-known for having some of the best melt-in-your-mouth paan in India. Paan is a areca nut and other herbs like tobacco, wrapped in betel nut leaf. It's said to have an intoxicating effect and taken too often, bad for your mouth and teeth (I've tried betel nut here). You'll see many workers chewing this and spitting it out, leaving red stains where they walk. There's different variations of them.
Keshaw Paan Bhandar near Ravidas Gate in Lanka (near Banares Hindu University) – very famous one
Gopalji Paan Walah  located opposite Jain Dharmashala, Bhelupur
15. Visit an akhara
 After watching Dangal, a Bollywood film about Indian wrestlers practicing the 5000 year old wrestling art of kushti, I decided to make this my bucketlist for my next trip. One of the characters of Varanasi happens its akhara,  a traditional Indian gym which trains wrestlers for the wrestling ring. Tulsi akhara on Tulsi Ghat, is run by Pehlwan Siyaramji is one of the oldest and most popular of Varanasi. Wrestlers maintain a strict diet and early morning exercise regimen so that they can be prime and focused for competitions. The ring itself is more like ring full of special soft dirt mixed with tumeric and oils for therapeutic effect for the wrestlers who are near the ground, grabbing, twisting and tumbling. Interestingly, the men of this akhara have daily lives on the outside.
[ This is not a common tourist attraction and i'm not sure if women are actually allowed into a wrestling camp but it would be an awesome cultural sight to see.]
16. Varanasi Day tours
If you don't feel like exploring Varanasi absolutely on your own and want a legal guide to show you around and shed insight into the culture, consider taking a private or group tour of the city through Vedic Walks,  Viator  or Urban Adventures (sister of Intrepid Travel- see Varanasi city tours). A popular day tour is to Sarnath.
17. Get your chaat on at Kashi Chaat
Banarsi chaat, aloo tikiki chaat, dahi puri… at Kashi Chaat you'll find an Indian crowd and chaat mixes to tempt your palette. But if you're looking for a snack,think again. Chaat can feel a little more filling than its small plate appears.  Read 5 Must Try Foods in Varanasi
Kashi Chat House, D.37/49, Luxa Rd, Godaulia  | Hours: Open today · 3–10:30PM | Ph: +91 542 241 2
18. Satisfy your sweet tooth at one of the oldest sweet shops in Varanasi
One of the oldest sweet shops in Varanasi, Shree Rajbandhu Sweets is in Kachauri Gali on the way to the burning ghat. Try Jelebi (fried dough pretzels in sweet syrup- the national dessert and certainly sweetest in all of India), gulab jamun (fried milk solid balls dipped in sweet syrup) or my favorite… barfi (sweet milk solids). Or just pick out a sample assortment!
19. Get organic and social at Brown Bread Bakery
If you're staying in the ghat area, where can you go to be social or to hang with a cup of chai?  Brown Bread Bakery cafe is a three-story building, with indoor seating on cushions and rooftop seating overlooking the Ganges.  They sell cheese and organic foods sourced from places in India. They also have a Raw & Vegan cafe behind the Brown Bread Bakery which offers schedule of events with live music (Saturdays)and Bollywood dance workshops (Thursdays).  The overall cafe also offers tour services, where you can book a sunrise boat tour or guides. Note: There is a fake Brown Bread Bakery so check their website for directions.
20. Stay at a guesthouse or hotel near the ghats at least for a couple of days.
To get a real feeling of Varanasi, I recommend staying at a guesthouse near the ghats. Being next to the Ganges, the vibe is the strongest, characters are interesting, cows and altars are everywhere and you will get the full experience.  And your sunrise boat cruise will be much easier to get to.
Must Try Foods in Varanasi
Common: Chaat, kachori sabzi and street golgappa (aka pani puri) are favorite snacks to eat in Varanasi.
Sweets to Try: Lassi (yogurt and sugar shake) , Jelebi (fried dough pretzels in sweet syrup- the national dessert and certainly sweetest in all of India), gulab jamun (fried milk solid balls dipped in sweet syrup).
Read 5 Must Try Foods in Varanasi
Is Varanasi Safe for Female Solo Travelers?
Varanasi has a intoxicating and excitingly dizzy side to it; it also has a seedy side to it. On my first solo trip in India, I was a partial witness to what I believe was a rape incident and there are touts, beggars and scammers. Varanasi will keep you on your toes.
Anything from children to boat drivers and fake 'holy men' may offer to take you to Manikarnika Burning ghat. Once there, another guide will lead you around the ghat and eventually take you to an area where unsavory characters will ask you for a donation for families, who cannot afford the cost of wood for their funeral pyre. While the latter may be true, it's highly unlikely a family will get your donation. This is mafia run. This is the most popular scam in Varanasi. Another is that many will also offer to be your guide (partially for the previous scam, but otherwise, to make a few extra bucks).
It's best to take a day tour through a reputable company or hire a guide through a travel agent.
ReadThings to Know Before you Go to Varanasi
Best Day Trips to take from Varanasi
Sarnath
Around 10 Km (20 minutes) from Varanasi, Sarnath is the place where Buddha delivered his first sermon in Deer Park. There are many ancient ruins at Sarnath, dating between the 3rd century BC and the 11th century AD. The Lion Capital of Ashoka pillar at Sarnath is the National emblem of India; it resides in the archaeological museum in Sarnath.   
Getting Around in Varanasi
Walking: If you stick near the ghat areas, you can cover a lot of territory on foot. 
Auto rickshaw or cycle rickshaw: Best to visit temples away from the ghats.  Cycle rickshaws cover 2-3km distances and shorter; auto rickshaws are best for longer journeys.
Olacabs or Uber: For day trips like Sarnath, you'll need a car/driver. Indians  recommend Olacabs (download the app on your mobile).  It's said to be like Uber and is cheaper than a taxi.
Share auto rickshaw: for the intermediate or advanced tourist.   Taxis wait until the taxi is full before leaving and can fit around 7-8 passengers. Tourists should expect to be charged a little more but the price might be discounted.
Getting to Varanasi
You can get to Varanasi by plane, bus or train. Varanasi has two train stations: Varanasi Junction Train Station (aka Varanasi Cantt or BSB) and  Manduadih Railway Station.  A train to/from Delhi takes around 12 hours.  A prepaid auto rickshaw from either stations to the main ghat area (around Godaulia Road/ Dashashwamedh ghat/ Ganges) will cost around 100-150 rupees and around 10-20 minutes depending upon traffic. (note: taxis and auto rickshaw cannot enter the ghat areas so they will drop you out in front of Godaulia Road).
Across the Varanasi Junction Train Station is the main bus stand for long-distance destinations from Delhi Allahabad, Lucknow, etc.. as well  Nepal (via Saunali and Kathmandu).
Varanasi airport is roughly 25km from the city center; an hour away by car. An auto rickshaw to/from the airport to Godaulia Road will run  around 400-600 rupees.  If you take a car taxi, travel time will be faster but expect to pay over 700 rupee.   
Where to Stay in Varanasi
Near the ghats
Ganpati Guest House (see on booking.com) My first guesthouse in Varanasi was Ganapati Guest House. Since then, it's gotten a bit more pricy and its renovated its rooms for tourist scale. It is right off the Ganges and rooms with excellent views of the ghats and Ganges.  Next door to Ganapati is the older but well-known Alka Hotel. Read my old review.
Suraj Guest house Tucked into the alleyways off Scindhia ghat, Suraj Guest house offers a travel home for weary travelers on a budget. Accomodations are decent, you get a free breakfast and there are dorm room options.  The dorm doesn't always feel protected as you can't lock it; it's near the common area and I've caught one male staff kinda peeking through the doorway, while trying to be friendly with the ladies inside.   Wifi is weak, so buying an Indian SIM card with a data plan is ideal. You'll find signs posts for the Tree Baba and that's another name for Suraj as it's located under a large tree and the owner also has a company which makes handmade cotton paper products for export.
Away from the ghats
Stops Hostel  A favorite backpacker haunt for travelers looking for a hostel experience.  Closest ghat : Harishchandra Ghat and Assi ghat. Is nearby IP Mall.
Zostel Varanasi is a new chain of hostels across India. Located in the Cantonment area. Book through Booking.com
What would you recommend to travelers for this Varanasi Travel Guide? 
Related articles
Things to Know before you Go to India
Planning your First Trip to India
Survival Guide to Indian Trains (Part 1)
For India travel, I highly recommend travel insurance. This is the one I take on my India trips
American travelers often pay a premium on travel insurance.  World Nomads offers economic solutions for travelers who seek security and peace of mind.  It covers 150 countries.