Five Gurus of my Yoga Teacher Training in India |Dharamsala

Five Gurus of Yoga Teacher Training in India
After a month long yoga boot camp at Himalaya Yoga Valley in Mcleodganj, Dharamsala, I finally graduated with my Yoga TTC (teacher training certification). Woot!
Muscles aching, belly battling waterborne parasites, while hurdling through two asana classes a day and intensive schedule of studies and teaching practicums…  It was a lot!
Along the way, you accept your body's shape-shifting to it's surroundings.
Your foreign environment molds you– injury happens, bad diets take form (aka carb-loading for lack of veggies) or horrible toilet habits, which come with getting sick in Mother India.
But good things come from it as well.
.
My five gurus of Yoga Teacher Training in India…
1. Friendship
I had formed a family and a lifestyle that was my a warm cocoon, in the secluded sanctuary of Dharamsala, away from the blistering stains and antagonizing bustle of Mother India.
I've met people, who's yoga practice was so focused, it blew me away. Others, who have unique backgrounds from designers, heath care practitioners, physical therapists and … me.  Every one is a teacher and like a family we occasionally have our moments. Cliques form, people mix and don't mix. Each person has their own individual way, philosophy, practice, belief… and from this fury of passion juices flowing in harmony and discord,  acceptance and flexibility is born.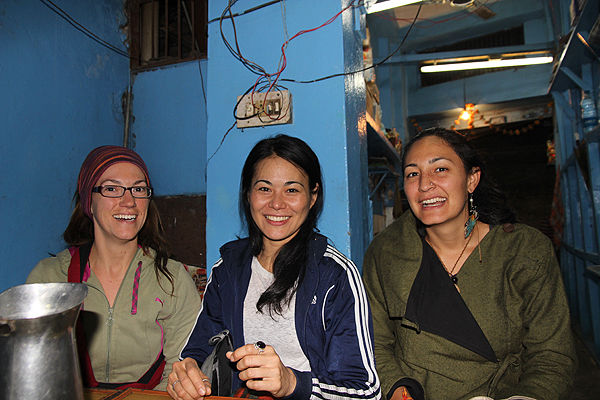 2. Living in Mcleodganj
Perched in the Northern mountains of India, you feel like you're worlds away beeping rickshaw horns, zig-zagging chaos and cows. It's hard to believe you're still in India. The mountain range is lush, green, majestic and frost-tipped. Watching eagles hover gracefully over mountain ranges, while contemplating the majesty of Tadasana (aka mountain pose), to hearing monkeys scamper over the roof while in lecture.
Focusing on the distant speckle of a goat herder and his pack as I gain my upright balance in Uttitha Padangustasana or absorbing the soft murmur of Tibetans chanting on their early morning prayer walks, as I follow silently behind them… are all peaceful ways of "finding center" and living within the grace of Dharamsala.
There are three fruit sellers I visit at least three times a week (two Indian and one Tibetan). Who I visit, depends upon who is charging more or sold me bad fruits the last around. (I try to go to the Tibetan seller more to give him and his community the business, but he doesn't have as much stock as the Indians.)
I discovered that a daily meal roughly costs me a hike up a crumbling 300+ stairway. It's our only access to town, where there are grocery stores and restaurants and believe me, after a day of developing aching limbs training in yoga, you'll wish you didn't have to eat.
But there are ugly sides to Dharamsala, which make you more aware of how your footprint and waste has an impact on the community and its cleanliness. Spaces for vendors are limited and some simply take to the roadside.
Trash disposal is separated by recyclables and perishables.  Due to the limited water supply, you're asked to not take long baths or to use your water wisely. I'm forced to develop a more eco-friendly awareness, knowing this is my temporary home and I must do my part to conserve water, eradicate waste efficiently and protect my home's loveliness.
Despite being April and other parts of India are spitting with sweat, Mcleodganj is cold. At nights, it can feel like it's 40 degrees Celsius and that brisk feeling can mellow out to 70 degrees Celsius by 11:00am. Street vendors sell wool blankets and scarves and they are a godsend if you haven't packed for winter.
And thunder storms… oh, how they howl and boom with rabid ferocity, only to pitter-patter and clear up the next day, releasing a mountain full of yellow butterflies!
I lived with occasional power outages, an eco-aware attitude about recycling and  got used to the fact that a 10- minute hot shower was necessary to keep Dharamsala clean and healthy.
All were gifts to be lived.
3.  Food
Dharamsala has international food at it's fingertips.  Japanese, Korean, Chinese, Italian, as well as, baked goods shops.  It's almost as if foreign travelers have been figured out-  keep them happy with some western baked goods like donuts, chocolate chip cookies, cheesecake…) It all feels a little odd and a bit like cheating if you're in Dharamsala wanting to experience native foods.
But there's also a nice selection of Tibetan and Indian restaurants to choose from.  If you want to go local', Tibetan is it. Tsampa (tibetan porridge) is a bit like oatmeal but made with sweet barley (Yum).  Momos (or Tibetan dumplings) are another easy staple, which travelers love and find filling.
Being anchored to a town and its restaurants options taught me a lot .
The food taught me about what my body liked…
…and what it didn't 
4. Clean Water
You don't think about clean water until you don't have it. Although Dharamsala had water tanks for practical uses of bathing, toilets, etc…, a sip of clean water always took either, money or effort. So I thought about it often–  how and where I was going to get my water, make it and use it.  There were water stations, where the water had already been boiled and sterilized and you could refill your drinking water for a few ruppees.  Our guesthouse also sold boiled drinking water too and I also had my own ways of boiling and sterilizing water on my own.
From using a sports bottle filter to a boiling wand, each either took time or effort. Either I got tired of fist-pumping my sports bottle for every sip or I got tired of drinking only hot water and tea. Pick your poison. Buy, boil, squeeze… it all boiled down to how lazy I was that day.
4. The Indo-Tibetan culture & its political unrest.
Each day, I pass a flock of red-robed monks enroute to His Holiness, the Dalai Lama's temple. Some hang out at cafes. I pass old Tibetan grandmas and grandpas faintly murmur "Om mane padme om" with jangling prayer beads and this is easily drowned under the cackle of Tibetan toddlers, just out of school.  All these subtleties of daily living make up different notes of a grand opera. They collide, clash and resolve together.
To live as a part of this environment is humbling. Each day I feel a mix of both, gratitude and awe. For me, there are no words to describe the privilege I feel to experience this. … to describe the realization of knowing I chose this place and got here on my own… solo. How can I be capable of such choices, such a bold act and such a daily lifestyle?
I don't know, but I'm living it right now.
I listen to stories of Tibetans who left their families behind to escape persecution in Tibet and watched as monks and nuns sat silently in daily starvation strikes to protest China's occupancy in Tibet. Earlier in the month, a young monk was said to have burned himself in protest; a fast was performed in honor of his sacrifice.
Unfortunately, the passionate voices of the Tibetan community are trapped in Dharamsala. These are things the media does not cover or see.
How far can these yoga arms stretch?
Maybe you can't change a whole world or even a community. But you can let them change you and in return, one act in the right direction, a kind gesture or word, a helping hand, all goes out to touch others, who'll touch others, etc…until you create a chain of change.
All of my gurus were part of a humbling chapter, forcing an uncomfortable, but necessary reflection on my world's work in the grand scheme of humanity. Now, it was all over.
We had been initiated into the school via a lovely puja ceremony. We exited with the same.  Lalit, our yoga guru sat along a priest, through a half-hour ritual of powerful chanting, burning herbs and performing prayers.  We each received a tikka between our eyes, a red string around our wrists and prassad. And finally, we received a big diploma!

A video summary of our graduation puja
I am now an Ashtanga yoga teacher, excited to have a deeper, more meaningful and broadened awareness into my yoga practice.  I'm thankful for the five gurus who have enveloped my life for a month, transforming me into the person I am today. They are a part of me, a part of my eyes and thoughts and heart.
But there's still a handful of nagging questions querying a larger picture… I'd trained in India, inevitably to return home to live and share what I've learned.
But what of the larger world out there that's searching for a yoga, which a downdog can't fulfill?
Or can it?
.
These are the five gurus of my yoga teacher training in Dharamsala. What do you think? Would you want to live and train here too?
Related articles about Yoga in India