After a month long yoga boot camp at Himalaya Yoga Valley in McLeod Ganj, Dharamsala, I finally graduated with my Yoga TTC (teacher training certification). Woot!
Muscles aching, belly battling waterborne parasites, while hurdling through two asana classes a day and intensive schedule of studies and teaching practicums…  It was a lot! Along the way, I accepted my body's shape-shifting to Dharamsala's Indian-Tibetan hill region surroundings. Injury and bad diets (aka carb-loading for lack of veggies) happen and horrible toilet habits are spawned as a result of getting sick in Mother India.
But good things come out of these things as well.
Table of Contents: Getting my Yoga Teacher Training in India, Dharamsala
Getting my Yoga Teacher Training in Dharamsala
I formed a family and a lifestyle that was my a warm cocoon, in the secluded sanctuary of Dharamsala, away from the blistering stains and antagonizing bustle of Mother India.
I've met people, who's yoga practice was so focused, it blew me away. Others, who have unique backgrounds from designers, heath care practitioners, physical therapists and … then there was me.  Every one is a teacher and like a family we occasionally have our moments. Cliques form, people mix and don't mix. Each person has their own individual way, philosophy, practice, belief… and from this fury of passion, juices flowing in harmony and discord,  acceptance and flexibility is born.
But what binds us all is that we went through a month-long yoga TTC in India… and survived.
What is it like living in Mcleodganj (Dharamsala)
Anchoring myself to a place means having time to  get to know its community and live its lifestyle.  For me, this is  an exciting perk of long-term travel and the part I've been looking forward to. You get to spend your time in a place, exploring it and gaining a deeper understanding of it.
I like to think it's about creating relationships.  Relationships are what makes the places you visit beautiful, meaningful.
On weekends, I can trek the mountains or visit the neighborhood town of Bagsu.  I wanted to live in Dharamsala, so I purposely chose a yoga school in Mcleodganj (the official base of the school is in Goa, but they run a program seasonally in Mcleodganj.
Of all the Indian ashrams and Ashtanga yoga training schools, I narrowed it down by location. I wanted to be in Dharamsala..  in the mountains,… in a Tibetan community. The Dalai Lama's residence is in Mcleodganj, so you'll be seeing a lot of crimson robed monks in the streets. The temple home of the Karmapa is a taxi ride away.  I wanted the Be attitudes of compassion and mindfulness to be a constant reminder to me in my environment.
Even though Tibetan monks are a very passionate sect and there is still much political unrest for Tibetans!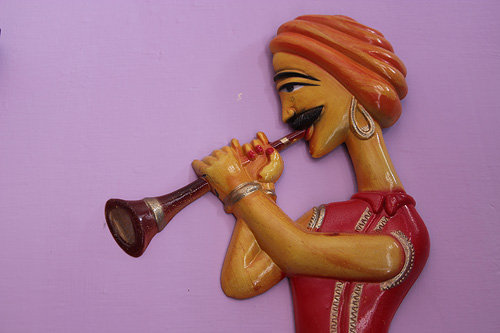 What's in a room name?
Each room at my guesthouse  has a theme and a name. For me, a name encapsulates an essence and an energy. I'm in "Music".
Originally, I was in "Ocean"… until I saw it.  First floor, basement-level, corner room, dark, lifeless, dead energy. No flow.  And though it opened to a lovely patio sun deck, I had no balcony to bring in light or air. It didn't sing.
Being in "Music" feels livelier and I literally, have musical instruments as decor in my room. I don't know how to play them…  But that doesn't matter.  Getting settled in, I've already met "Happy", "Taj Mahal" and "Sun".
So far the yoga student's (of this program) personalities are aligned to their room names. "Happy" (Autum) is bursting with bubbliness and Red Bull. The "Taj"(Kristina) is graceful and elegant, with a very statuesque demeanor. And "Sun" (Maria) is strong, confident and centered.  I'm hoping our room names are indicative  of the energy, talent or personality, we bring and will share with others in our teaching.
Food in Mcleodganj
Mcleodganj is a crosstown of Tibetan, Indian, hippy and Asian. Food wise, you'll find Tibetan, Indian, organic vegetarian, Japanese and Korean restaurants. Lots of  fresh fruit and veg stalls in town and grocery stores for basic necessities.  Practice standard food safety tips for traveling abroad, where it comes to street food.  Water is still quite bad here, so drink only filtered or bottled. There's a handful of vendors in town who will sell purified water whereupon all you need do is bring a pitcher or water bottle and pay them to fill it up. It's cheaper than buying bottled water.  Or you can bring a SteriPen water purifier
. Here's other options.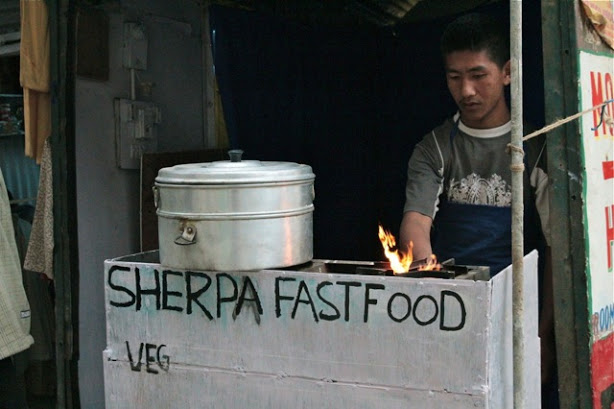 Sherpa Food vendor
 Best Travel Insurance for Yoga in India
My yoga school made travel insurance compulsory. For good reason. Yoga enthusiasts get hurt and the training program is like training for a mini yoga olympics. The worst case in our program was that one of the students broke her toe and had to go to the hospital. But several others were getting anything from pulled muscles, back spasms, … I got sick, we were all dropping like flies.
Although there are good doctors and hospitals in the big cities, you might not always have access to them. Also, traveling in India has its obvious risks–  standards and regulations are different from the U.S., so safety precautions and measures aren't always perfect. I went with World Nomads to cover my entire trip and it was the cheapest I found.
More Yoga in India Articles
Watch India Travel Guides for Solo Travelers!