Last Updated on July 15, 2020 by Christine Kaaloa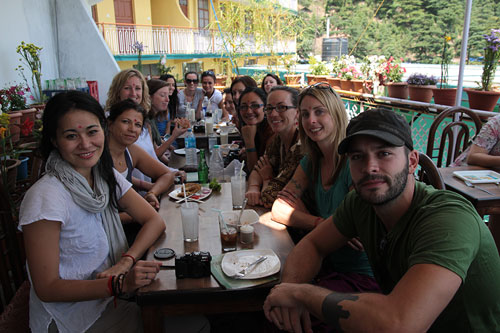 After a month of yoga boot camp at Himalaya Yoga Valley, I finally graduated with my Yoga TTC (yoga teacher certified) in India, Dharamsala. Woot! Getting a yoga teacher training in India is unlike any school training I've experienced. I am elated to have done this for myself.
Yoga in India is more than just coming to the mat. Muscles aching, belly battling waterborne parasites, while hurdling through two asana classes a day and intensive schedule of studies and teaching practicums…  It was a lot! Along the way, I accepted my body's shape-shifting to Dharamsala's Indian-Tibetan hill region surroundings. Injury and bad diets (aka carb-loading for lack of veggies) happen and horrible toilet habits are spawned as a result of getting sick in Mother India.
But good things come out of these things as well.
Note: I took this yoga training in India in 2012 but strive to keep my articles updated.
Getting my Yoga Teacher Certified in Dharamsala, India
I formed a family and a lifestyle that was my a warm cocoon, in the secluded sanctuary of Dharamsala, away from the blistering stains and antagonizing bustle of India.
Undergoing yoga training in India, I met travelers of different countries, whose yoga practice was so focused, it blew me away. Each yogi has a unique backgrounds from designers, heath care practitioners, physical therapists and … then there was me.  Every one is a teacher in some form and like a family, we had our moments~ cliques form, people mix and don't mix. Each person has their own lifestyle philosophy, practice, belief… and from this fury of passion, juices flowing in harmony and discord,  acceptance and flexibility is born.
But what binds us all is that we went through a month-long yoga teacher training in India… and survived.
Interested in yoga teacher training courses in India?
Read these posts where I go deeper into yoga in India and how I got my yoga teacher training course: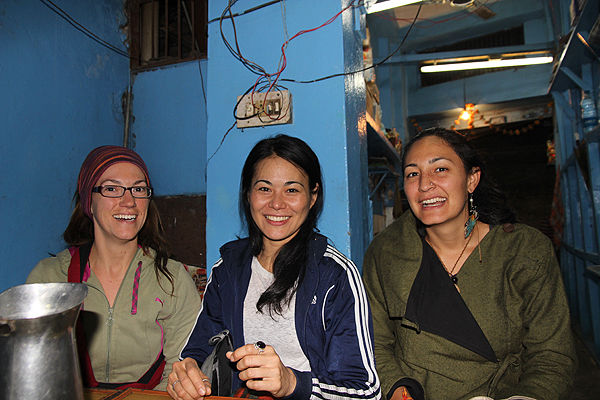 What is it like yoga living in Mcleodganj?
Traveling India is different from living in one spot in India for a month. Anchoring myself to one spot means having time to  get to know its community and live its lifestyle.  For me, this is  an exciting perk of long-term travel – you get to spend your time in a place and gaining a deeper understanding of it. You create a relationship with it.
Yoga living in Mcleoganj is its own Shangri-la. Many travelers choose to stay in (upper) Mcleodganj for extended periods to stay or study Buddhism, meditation, yoga, etc…, so apartments and guesthouses are open to rental and an expat community. Lifestyles are laid back, friendly and there is the fresh mountain air and tranquil scenery. There are enough cafes, restaurants and small grocery shops to feed your hunger and your need to be social.
If you visit lower Mcleodganj, you'll find more of the local community, household appliance shops, family cafes, etc.. It is not as pretty there, but it reminds you there is an active local community who is there to make their lives work and get their needs met. Upper Mcleodganj is more for the travelers and dreamers.
On weekends, I trekked the mountains or visit the neighboring town of Bagsu.  I decided I wanted to live in Dharamsala more than in a busy city, so I purposely chose a yoga school in Mcleodganj (the official base of Himalaya Yoga Valley school is in Goa, but they run a program seasonally in Mcleodganj).  If I had to live anywhere in India, I wanted it to be in Dharamsala, in the mountains, against an Indo-Tibetan community, eating momo and thukpa. Dharamsala does not feel as blunt as India. It is more Tibetans and so you won't feel like everything is a haggle, like you're having sales pushed onto you or you have to be on your toes. The Dalai Lama's residence is in Mcleodganj, so there's a lot of crimson robed monks in the streets. The temple home of the Karmapa is a taxi ride away.  And I guess I also felt more comfortable around faces similar to mine. Dharamasala is a different mindset. It is a peaceful oasis of calm, a hideaway… it does not feel like India.
My one month in Mcleodganj was filled with so many things outside my yoga training program.
My yoga apartment in Mcleodganj
When I arrived in Mcleodganj, I arrived a week early in order to get settled before my Himalaya Yoga Valley program started. I stayed at two other guesthouse buildings until I moved into the Siddarth House, a guesthouse my yoga school rented for our program. The yoga program worked from the rooftop studio of our guesthouse and the guesthouse was at the base of a steep hill lined with old rock stairs; it was about a 15 minute walk to the heart of town, closer to nature. Initially this felt like a lovely idea, until a couple weeks into the program, when you realize that after a long day of yoga training, sometimes, your calves and thighs are shot. The last thing you want to do is walk, much less climb!
All the rooms were spacious with a balcony opening to the scenic valley.  I had enough closet space to hang clothes and unpack my bags and a large bathroom. We each had a kitchenette so that we could choose between buying groceries and produce in town to make our own meals and snacks or going into town for a quick meal at a cafe or restaurant. No refrigerator.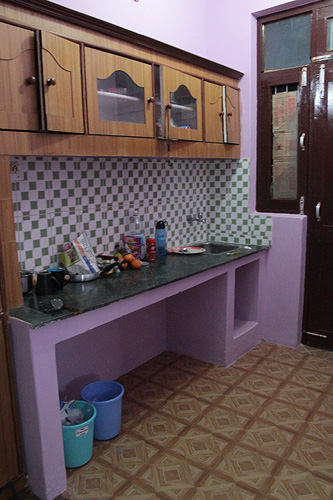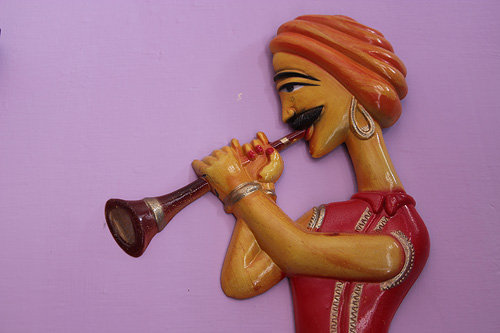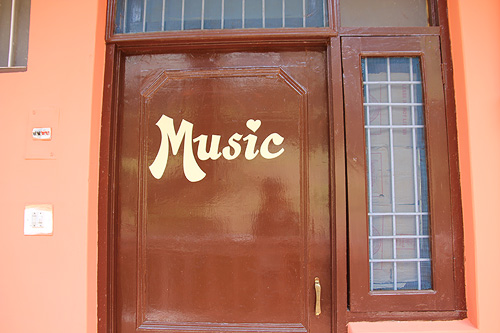 Each room at my guesthouse  has a theme and a name. For me, a name encapsulates an essence and an energy. I'm in "Music". Originally, I was in "Ocean"… until I saw it.  First floor, basement-level, corner room, dark, lifeless energy. No flow.  And though it opened to a lovely patio sun deck, I had no balcony to bring in light or air. It didn't sing.
Being in "Music" felt livelier and I literally, have musical instruments as decor in my room. Getting settled in, I've already met "Happy", "Taj Mahal" and "Sun". So far each student's personality matches their room names.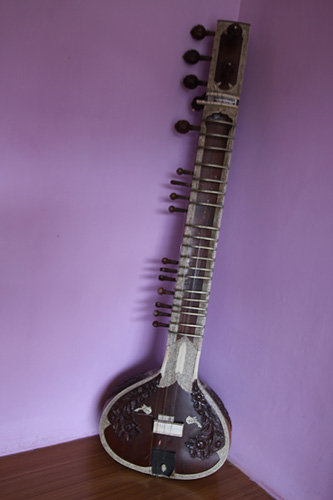 What is it like doing yoga teacher training in Dharamsala?
Note: After my yoga teacher training in Dharamsala, I stayed on in Mcleodganj and got my second reiki certification and eventually got my Master Reiki level a couple years later from the same teacher.
Doing a yoga teacher training course in India takes a great deal of discipline. Many of us assume this going in, but being in a surreal environment like India, somehow, you forget how hard discipline can feel. On one hand, your unconscious mind feels like it is on vacation due to the exotic surrounding. It feels dreamy.  Meanwhile, your body and your conscious mind is training in meditation, yoga practicums, chanting, anatomy lessons, spiritual classes, etc..
Mixing physical yoga training twice a day, with studying, note-taking and reading books for quizzes, my body was underprepared. There were days, after morning classes that just a five-minute hill climb to get to lunch felt exhausting. It inspired lunches at the nearby guesthouse cafe, despite the fact its food felt pricier and nowhere near as delicious. There were also days when I felt like my mind could not grasp some concepts, either because my anatomy awareness was not experienced as some others. Mind you, everyone is at different places in their life and knowledge. My program had a lot of holistic practice, massage and sports therapy type of yogis, who were spring boarding from their schools of learning or careers. I was a videographer turned ESL teacher. My learning curve was a little more.
Going to the Mcleodganj Hospital
The daily regimen and repetition of an intensive yoga training program can lead to burn out if you're not careful and towards the latter week, accidents and injuries were occurring more frequently amongst students. A few of us had to go to the local doctor or hospital to deal with injuries or mild illness. Luckily, Mcleodganj is a mecca for alternative therapies and some students would go to get massages or chakra healings…
Eventually, living in one place you get familiar with it, but also careless. Ultimately, I got sick with a parasite, but not in the usual form of Delhi Belly. Instead, it had me running to the bathroom during class and emerging from the toilet with a horrendous gaseous odor. Eventually, I went to the hospital to get antibiotics for it.
Read:
The realities of Mcleodganj
There are few harsh realities of living Mcleodganj. Instead, there are interesting realities, which locals and travelers navigate on a daily basis.  I visited in spring, when mornings and evenings in Mcleodganj are cold (around 50-60 degrees Farenheit). Alternately, the rest of India's weather during that time is warm to hot.  If you forget to pack warm clothes, you can buy beautifully designed woolen blankets from street vendors. They are inexpensive. Some stores sell jackets and parkas. There is even a consignment store where you can occasionally find sweaters, left by travelers.
Mcleodganj also experiences occasional electrical storms and power cuts and so heated water comes from the guesthouse's generator. There is a strong focus on rationing and limiting water usage.
Hot water and drinking water in Mcleodganj
I had a gas hot pot burner in my room and I bought a heating wand in town at a home appliance shop.
My boiling wand was unlike anything I had seen. We certainly do not have heating wands in the U.S., but with this, you plug your wand into a socket and stick it into your water to bring it to a boil in under a minute!  (Now I know how Indians have the patience to do the boiling water thing!)
Drinking tap water is unsafe in India.
All drinking water can be bought from your guesthouse or in town at a water refill station or a local cafe –it cost a few rupee to fill your water bottles. In an effort to save money, some students brought their own water filters~ one bought a hand pump, I brought a water filter sports bottle and a boiling wand, etc..
Eventually, I gave up on the sports bottle idea (too much effort). The hand-pump filter seemed even more ridiculous considering the yoga program will get physically tiring.  After two weeks, drinking wand-boiled anything really got to me.
Travel Tip: Buy the freakin water from your guesthouse or refill station. It's priced locally so its cheap. Don't put yourself through all that pain to save a few rupees, which are pennies. Or you can bring a SteriPen water purifier
.
Food in Mcleodganj
Living in Dharamsala for a month, I had international food at it's fingertips.  Japanese, Korean, Chinese, Italian, as well as, baked goods shops.  It's almost as if foreign travelers have been figured out-  keep them happy with some western baked goods like donuts, chocolate chip cookies, cheesecake…) It all feels a little odd and a bit like cheating if you're in Dharamsala wanting to experience native foods.
There's also a nice selection of Tibetan and Indian restaurants to choose from.  If you want to go local', Tibetan is it. Tsampa (tibetan porridge) is a bit like oatmeal but made with sweet barley (Yum).  Momos (or Tibetan dumplings) are another easy staple, which travelers love and find filling.
 My fave restaurants were located on the main center road of Jogiwara: Tibet Quality Bakery (mini shoebox bakery on the side of Jogiwara Road) Tibetan Kitchen (veg momo soup, fried and steamed momos; Located on Jogiwara Road), Lungta Restaurant (Korean food, Located off of Jogiwara Road)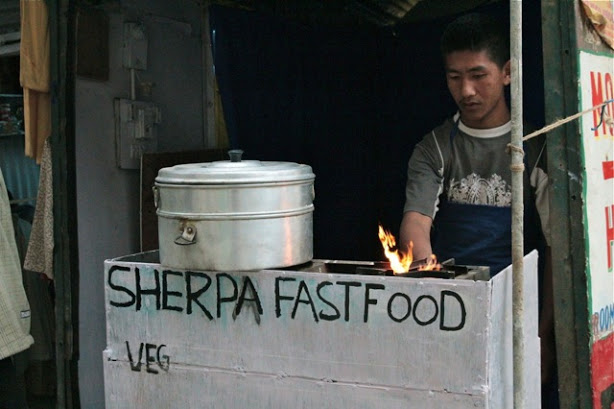 Sherpa Food vendor
Other yoga teacher certification courses in Dharamsala
While I enjoyed my experience with Himalaya Yoga Valley, it will not be for everyone. Yoga practices can be very personal and individualistic. Here are more teacher training courses in Dharamsala. It is up to you to research and find the best yoga teaching for you.
Yoga Vidya Mandaram– 22 Day 200 Hour Hatha & Ashtanga Teacher Training in Dharamsala- Dharamkot, starts $1599
Sarvaguna Yoga– 28 day 300 Hour Dual style Teacher Training in Dharamsala- $1606
Om Yoga Ashram – 25 day 200 Hour Yoga teacher training, starts at $750 (stay at an ashram over a guesthouse)
Aranya Yoga Ashram– 31 day 300 Hour Multi-style Yoga teacher training, starts at $1855 (includes ashram housing)
Getting from Delhi to Mcleodganj
Mcleod Ganj bus station is about 20 kilometers away from Dharamsala and is accessible by frequent buses and taxis. Always ask your school if they do airport pickups first. This is the easiest way.
Flight
You can fly into Delhi's Indira Gandhi International Airport (DEL) or Dharamsala's Gaggal Airport (DHM).   From Delhi, you will either take the train, bus, taxi or ask your school if they have an airport pickup. The Dharamsala airport is 40 minutes away from Mcleodganj
Tip: fly to Dharamsala direct. You might find yourself on a flight with the Dalai Lama (a couple of students in my program were!)
Bus
There is a 10-hour overnight bus from Delhi to Dharamsala. Buses leave around 8pm and drop you at Dharamsala bus stand, where you catch a public bus, shared jeep, or taxi to Mcleodganj bus station.  Alternately, you can take a bus from Delhi to Pathankot (my bus broke down and I got dropped away from the bus station and need to tuk-tuk there). Then take the government bus to Dharamsala and transfer to the bus to Mcleod Ganj.
You can book India trains and buses in advance here.
Train
Take an overnight train from Delhi to Pathankot (the closest station to Mcleod) takes approx 7 hours and will cost around 1400 Indian Rupees for a seat in second or third AC. Sleeper and day trains run  daily. From Pathankot, take the public bus to Dharamsala. The bus journey from Pathankot to Dharamsala is 90 kilometers or 55 miles and takes approximately three hours. There is a prepaid taxi stand outside of the Pathankot railway station. Read my Complete guide to Indian trains for Solo travelers.
Trip planning for India ? Start here.
Planning your first trip to India? Start here. What to Pack for India Backpacking? Check here.  Read about how to Get an Indian SIM , do you need a female urinary device?,  getting an Indian Tourist Visa for U.S. Citizens
Learn the India trip essentials from India scams, dress etiquette, itineraries, accommodations, food insights, how to take the bus, dealing with sexual harassment and indian trains, and staying at ashrams.
Best Travel Insurance for Yoga in India
My yoga school made travel insurance compulsory. For good reason. Yoga enthusiasts get hurt and the training program is like training for a mini yoga olympics. The worst case in our program was that one of the students broke her toe and had to go to the hospital. But several others were getting anything from pulled muscles, back spasms, … I got sick, we were all dropping like flies.
Although there are good doctors and hospitals in the big cities, you might not always have access to them. Also, traveling in India has its obvious risks–  standards and regulations are different from the U.S., so safety precautions and measures aren't always perfect. I went with World Nomads to cover my entire trip and it was the cheapest I found.
More Yoga in India Articles
Watch India Travel Guides for Solo Travelers!