Last Updated on October 13, 2020 by Christine Kaaloa
Things to Do in Delhi  48 hours | Delhi Travel Guide
.
Delhi, India, (नई दिल्ली) is the national capital of India, with both urban, political and historical sensibilities. Trains, scams, street food and sightseeing … what's the best things to do in Delhi with 48 hours and how much can you do?
Getting from Delhi Cannt station to Delhi airport
Arriving into Delhi Cannt Station  – there are twelve train stations in Delhi- at 5:00 am,  I had a 10 hour layover to burn through before flying out through Delhi domestic airport.  My original plan was to visit the international airport's lounge for a shower and to store my things in left luggage (I had seen it when I first arrived).
I hailed an auto rickshaw to the international airport 's free shuttle bus terminal. Supposedly, taxi's are not allowed to go further than that or so I was told. Either way, the shuttle bus to the airport terminal was free and only a 10 minute ride.
FYI : check out my Complete India Transportation guide if you're planning to stay longer!
I knew the Delhi International Airport had a nice and inexpensive lounge/spa at their Arrivals section. I had seen it and took a photo snap of the prices and services thinking it would be helpful for times like… now.
Delhi Travel Tip :
Both the international and domestic airports have strict security, so unless you have a flight ticket to leave, you aren't allowed to enter.  …So much for a shower in the international lounge. 
Plan A was out. Thankfully, left luggage storage was outside the airport and for around 500Rs, I was able to leave until my flight. However, just as I was set to jump on the  Delhi metro, I realized  I left my Delhi travel guide book in my bag at left luggage!  No way. Yeah…. way.
Traveling India, things don't always go as planned
There's one lesson I've learned in traveling India…. things don't always go as you've planned.  Whether it's lack of thorough research on my part or something breaks down or whatever, Indian culture reminds me to accept the unexpected and to go with the flow.
Indians don't fight the inevitable. Instead, they deal with it by casually going along with it, waiting and taking the next best option.
Having traveled Northeastern India (Kolkata, Darjeeling, Sikkim, Varanasi) for a month, when things haven't worked out, it's often led to me finding better resources and seeking options in directions, I never knew existed.
15 Best Things to Do in Delhi in 48 Hours
Thanks to the helpful folks at the Make My Trip airport counter, I was pointed to a perfectly inexpensive layover solution with HOHO Delhi.While the video will show you what I did in a day, I'll list other options for sights which I've seen in my past trips and which should not be overlooked.
1. See top Delhi attractions with the HOHO Delhi bus
HOHO Delhi is Delhi Tourism's Hop On Hop Off Tourist Bus and is Delhi's best kept tourist secret for skirting you around the city highlights with speed, value and ease. It's for both, foreign and Indian travelers. It stops at most main sights around Delhi, with a 40 minute period (70 minutes closer to lunchtime) between bus pickups. It allows you to choose the amount of time you want to spend at a stop and which sights you want to see. There are attendants onboard to answer your questions.  The only thing that might be able to get you around as well as this, is hiring a driver. Getting there: Finding the office at Connaught Place can be tricky. Make sure you don't go to the wrong tourism office or are led by fake guides. HOHO is a branch service of the Official Delhi Tourism.
Admission: 1,000 Rs ( 500 Indian) (I paid only 800Rs due to it being a holiday)  Ticket has 1 and 2 day validity.  Website: www.hohodelhi.com
2. Gurudwara Bangla Sahib
Gurudwara Bangla Sahib is quite possibly the most epic gurudwara I've seen in Delhi.  Step inside and you'll hear qwali music and see Sikh prayer rituals that will make you want to drop to your knees.  Interestingly, the ghat pool outside holds carp.  Free temple food is also offered.  Admission: Free .  Nearest Metro:Rajiv Chowk
In Sikhism, before you enter the temple, you'd wash your hands and feet to purify and prepare yourself for worship.
3. India Gate
The India Gate is a war memorial set in the heart of Delhi. See the India Gate from the road or see it up close. It's impressive and reminiscent of Paris' Arc de Triomphe.   Admission:  Free . Nearest Metro: Central Secretariat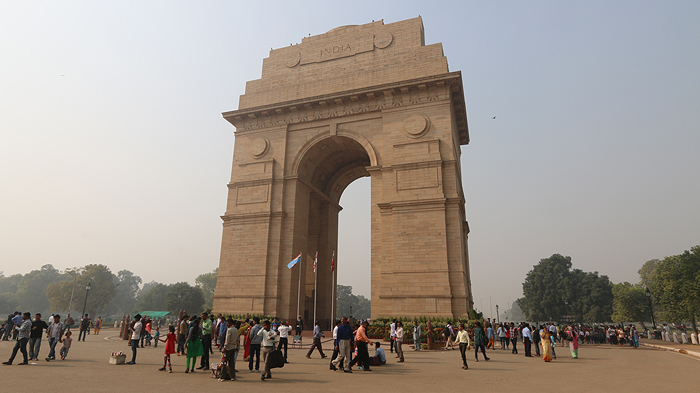 4. Indira Gandhi Memorial Museum
I didn't know much about the life of Indira Gandhi or her family. Step inside her estate turned museum and I quickly found out. The exhibition  resonates hard, showcasing photos, Indira's rooms & belongings, …even the last clothes she and her son were wearing upon assassination. Finally, the place on her property where she finally fell to her own guard's bullet. This is a highly underrated exhibition.  Admission: Free  Nearest Metro: Central Secretariat
5. Quatab Minar (a UNESCO site)
Quatab Minar is a World Heritage  site as it's said to be the tallest brick minaret in the world, but it's also a complex of historical monuments reminiscent of Rome's Collosium. Walking around the complex can take you several hours.   Made of red sandstone and marble, Qutub Minar is 240 feet tall and has taken over 75 years to complete.   Inside the tower, there is a spiral staircase with 379 steps leading to the top.  This spot can take a few hours to go through leisurely, if you have the time.  Hous:  7am to 5pm, daily   Location: Qutub Minar station  Cost: India/foreigner Rs 10/250 . Nearest Metro: Qutab Minar
6. Meet Indian travelers
There's always opportunities to meet other travelers and you'll find Indians love to travel neighboring states.  There's a real heart and spirit to meeting Indians who are touristing other destinations and you can get great insight and tips into their lives in the cities they come form and where you might want to travel to next.  A lot of Indians I meet are sincere, warm, generous and they'll treat you like family.  I've been traveling India for a month, meeting mostly Indian travelers and locals, I didn't feel lonely for a second!
7.  Meditate at the Baha'ai Temple (aka Lotus Temple)
The first time I saw the Baha'ai Temple was years ago from the street and I thought it was enough. I was wrong.
The architecture is like a blooming flower – it always reminds me of one of those deep-fried huge onion blossoms that you find at carnivals- and it's purpose is as a
Bahá'í
House of Worship
, where folks from all religions may come to worship.The Baha'ai faith is accepting of all religions and faiths, so anyone is allowed to enter and sit as long as they please .  You're allowed to go inside the temple but you must be silent (no photos, please).  The design of the domed ceiling is breathtaking. It's a beautiful place for a quiet meditation on life..  Admission: Free  Website: www.bahaindia.org
8. Eat at Chandni Chowk
Chandi Chowk  (chandeenee chowk) is the bustling heart of a 16th century Old Delhi. The chowk is one of the oldest and busiest markets with reminiscent of traditional times. You can still see aging havelis stand strong as tradesmen and craftsmen sell their wares, while rickshaws roam the streets and workers transport mountainous goods from one end of the chowk to another. By far, one of my favorite spots in Delhi!  Nearest Metro:  Chandni Chowk
9. Red Fort
Constructed in 1648 and located a stone's throw from Chandni Chowk, the Red Fort was an important part of Mughal period as the home of Mughal emperor Shahjahan. Today it houses museums. On Independence Day, the Prime Minister will make an address from this location. Hours: 9:30a-4:30p  Nearest Metro:  Chandni Chowk
10.Jama masjid
Jama masjid (built by Mughal emperor Shah Jahan in 1656, regarded as one of India's largest mosques). Nearest Metro:  Chandni Chowk
11. Haldirams
 Haldirams  is a popular sweets and snack shop located in Connaught Place and Chandni Chowk.
12. Hamayuns tomb
Hamayuns tomb Built in 1570, this is the first garden tomb in India. A UNESCO World Heritage Site, it's  the tomb on Mughal emperor Humayun. Its Mughal Islamic architecture and memorial has also been said to have inspired the Taj Mahal. More info here.  Nearest Metro: Pragati Maidan
 13. Shop and eat at Connaught Place
Connaught Place (otherwise known by Indians as CP) is a huge spiraling outdoor shopping mall housing restaurants, mobile service providers, boutiques and is a hub of commercial activity and for metro connections.  Make your way deeper inside through the streets and you'll find smaller businesses.   If you want to see the Indian metro at its busiest, just come to this stop and hang out.  Hours: Daily except Sundays. Metro: Rajiv Chowk/Connaught Place
14.  Khan Mall
A bit out of the way but accessible by metro is Khan Mall. It is a big U-shaped open aired mall of trendy clothing boutique stores and cafes. It is popular among tourists, expats and locals. It's not quite historical and the shops are mostly contemporary, but many people know about it as a place to visit and shop at. Nearest Metro: Khan Market
15.  Delhi Haat
Located on Sri Aurobindo Marg Delhi Haat is a craft store of Indian culture. Nearest Metro: INA Metro Station
Is Delhi Safe?
Safety Tips for Solo Travelers in Delhi
Delhi is one of the more trickier cities in India and yet, it's a top tourist destination. Indian locals know Delhi to have occasional scammers and cheats. I'd say you're more likely to experience this type of activity vs any physical danger like muggings. But walking the streets as a woman can feel intimidating when you see a sea of men all around and occupying all the main jobs. If you are wondering why that is, it is because Indian women usually stay indoors.
Ideally, book a hotel with an airport pickup service. Some hotels offer this service complementary. Mixed reports on travelers being scammed by the prepaid airport taxis. Meru and Easy Cabs are partnered with the airport, but these days more Indians are using Uber or Ola Cabs. If hiring a regular taxi or tuk tuk, always ask for a meter on.  For DIY solo travelers, I highly recommend taking the airport metro line. It goes straight into the city.
Beware of Tourist Scams in Delhi
Beware of taxis, tuk-tuk drivers or extremely helpful locals wanting to take you to the Delhi Tourism Office. This is often a misdirection scam to a tourist agency  where they will sell you a tour package. Some friends and I fell for this one on my first trip to India and it is how I became a solo traveler. Same goes if someone tells you that your hotel burned down or closed. Always call in advance to  verify or tell your scammer that you're meeting a friend at your hotel and must go there. Likely, you'll find your hotel in perfect working order.
Always count your money if you're getting it changed and notice the bills you're giving, so you get the correct change back.
Read  Dealing with Touts, Scams, Beggars
Getting Around in Delhi
Delhi is a city that's well-connected by its public transportation. If you didn't want to splurge around 1500 Rupees to hire a driver for the day (booked through a travel agent, Uber or Ola Cabs), then the local bus and metro  are well-maintained, clean, safe and can be your best survival tools for getting around.
Metro:
The metro system is fairly easy to use and there's a map at each station.  You can buy a Delhi tourist metro card.  A one day card is 100 rupees, a three day card is 300 rupees.
Alternate options:
Taxis, rickshaws (all are fair inexpensive but often haggling is required)
Read: Transportation Guide for India
New Delhi Airport Information
Delhi has an international and domestic (low budget air carriers) terminals, some of which are at least 20-45 minutes apart. Free Airport Shuttle bus:  Connects T1 and T3. Plan accordingly, especially during peak traffic times.
Taxis: All commercial vehicles (& taxis) are charged a 150rupee fee to get into T1 & T3 terminals of Indira Gandhi international airport, as the airport has a partnership with Meru Cabs.   There are prepaid taxis available and you can phone Uber or Ola Cabs (just be aware you'll be charged the extra 150Rs)
Metro:  Airport Metro Hours: 4:45a – 11:30pm.
From/To Airport T3,  take the Delhi Airport Express Train to New Delhi Metro Station (Opposite of New Delhi Railway Station, which is opposite of Paharganj).
From/To Airport T1, you will need to transfer to an airport bus at Delhi AeroCity Station.
Where to Stay in Delhi
Paharganj is a popular traveler's spot with loads of guesthouses and hotels. It's convenient leaping ground for your activities. However, the area can feel gritty. It houses small merchant shops and is much like a local bazaar.  While I'm not a fan of Paharganj per se, the fact it's now got a metro stop in its neighborhood, makes it homebound for me.  It's also a stone's throw from  Old Delhi Railway Station and the metro, making early morning departures easy.
Hostels aren't a term  in India, but recently, a hip and boutique hostel chain opened up for modern travelers (wifi available). I've seen a couple of their hostels; book in advance as spaces  fill up fast.
Zostel Delhi,(conveniently located across the street from the New Delhi Railway Station– side next to Paharganj, walking distance). Zostel is India's first chain of backpackers' hostels (they have locations in Agra, Jaipur, Pushkar, Jodhpur,  Varanasi and Goa)
Connaught Place is another place you'll hear travelers recommended because there are many budget hotels and it is in a large outdoor mall. It is not far from Paharganj.  I would not recommend it, because as it is a large commercial area attracting tourists, there are also hustlers and scam tour agencies. Also, the budget hotels feel depressing and I did not get a good feeling visiting some of them. Nearest Metro: Connaught Place
South Delhi is recommended, because the hotels in South Delhi (this is a hotel I stayed at in Bhogal)are away from all the tourist bustle and hustlers. South Delhi was recommended to me by local Indians because it is in the suburbs, thus, much safer. The one downside is depending upon where you stay, it may not be as accessible via metro.
Cottage Ganga Inn– clean,spacious and conveniently located near Ram Krishna Ashram Marg metro station. Around $20/night for a single queen bed.
 Hotel Grand Godwin – I stayed here almost 10 years ago, but this was well maintained, spacious with bathrooms ensuite. A stone's throw from the train station. Expect to pay at the lowest $20USD.
What is the Best Travel Insurance for traveling Delhi?
What would you add to this best things to do in Delhi list ?    
.Related Posts