Yuksom means "meeting place of three lamas" and is the historical capital of Sikkim established in 1642 AD. For Buddhists, it's a definite pilgrimage spot. Today, Yuksom is a small town, alive with a bazaar of a few small roadside shops selling produce and household items, a couple of cafes and happy locals. Yuksom is a little more of a social community, as it  intersects with travelers, who are there for as the base for trekking expeditions. Still, it's best to bring the basic necessities, as shopping in town is very limited.
Things to do in Yuksom
What to Eat in Yuksom
Tips for Getting Around Yuksom
Where to Stay in Yuksom
Safety Tips for Solo Travelers
Watch my experiential Yuksom Travel Guide
About West Sikkim
Sikkim does not feel like the rest of India. It feels more laid back, remote and tranquil. The panoramic landscape is hilly and nature is stretched as far as your imagination can lend itself. Small villages and housing settlements dot these hills in tiny colonies, going higher and higher.
Things To Know Before you Go
Due to the fact it borders China, foreign travelers are required to get a Restricted Access Permit before entering and additionally, before trekking. You can get this permit from Sikkim Tourism Offices in Delhi, Kolkata, Silliguri, Rangpo, Darjeeling and Melli (border) with your Indian visa and passport (have two passport photos, in case). Foreign tourists are allow 60 days on this permit. Indian travelers are excluded from this. The permits are free of charge but it takes a little effort to get.  I got mine in Darjeeling.
Religion in Sikkim
Buddhism takes a larger role in Sikkim. A popular Buddhist pilgrimage route of historical sites tend be largely be engineered by first king of Sikkim, Lama Lhetsun Chempo. They are: Sanghak Choeling Monastery, Pemayangstse Monastery, Khecheopuri Lake, Norbugang Coronation Throne, Dubai Monastery , Yuksom and Tashiding Monastery. But you'll find many noteworthy sites in between.
As a region in Northeast India, the population of Sikkim centers around its neighboring influences of Nepal, Bhutan, Tibet.   I found the ethnography of the people the most fascinating and beautiful. Major ethnic minorities are  Lepcha (aka Sikkimese), Bhutia, Nepali (Gorkha) and Tibetan.
Yuksom Travel Guide: Things to Do & See

This list of things to do and see in Yuksom can be joined with Pelling attractions.
1.  High Altitude Trekking
Yuksom's location is a launch spot for two well-known high altitude treks:  Dzongri Trail (8 days) and Singalila Ridge (10-19 days). You need a permit beforehand, which can be arranged in the bazaar by Raj Gurrung, Red Panda.
2.  Mani Hall
Mani Hall is a unique single glass-walled temple building, possessing 18 giant-sized prayer wheels, made of part-gilded copper. They're so large and heavy that it takes some muscle to move them.
3.  Yuksom Bazaar
The bazaar area of town can be quite lively with little shops on stilts where locals shop. The shops sell produce to snacks and small conveniences for the town. Don't expect a lot in the way of exceptional toiletries. A lot of what is sold is basic, but it's a lovely way to enjoy a stroll through town.
4. Norbungang Coronation Throne
The Norbungang Coronation Throne is the historical landmark of the 17th century's  first monarch of Sikkim – Lama Lhetsun Chenpo.  Entering the park you're greeted with streams of prayer flags.  The throne sits below a pine tree with an encased buddha statue.  Across the throne is a large stone commemorating the foot print of Lama. 
Location: It is near Karthok Lake and you will need to take a jeep taxi to get there.
4.  Karthok Lake
Not far from the Norbungang Coronation Throne, surrounded by white prayer flags, is a humble lake. It may not seem like much. Upon look closer, you'll see thousands of red/gold fish as far as the eye can see.  It is considered as the soul lake of Lama Kathok Kuntu Zangpo and locals believe it has the powers to grant your wishes if you pray from your heart. Each year, there is a purification ceremony by lamas.  Admission: 10 Rupee
5.  Dubdi Monastery
Dubdi (aka "the retreat") monastery is known as the oldest monastery in Sikkim, and is historically connected to the founding of Sikkim at Yuksom by Lhetsum Chenpo.
Located hilltop, it is an hour to walk from Yuksom.  It is also known as the Hermit's Cell.
List continued on Yuksom Travel Guide for West Sikkim
Must Try Foods of  Yuksom
Yuksom has a few small local cafes and a drinking spot in the heart of town, near the market.
Here's a list of Top must try foods in Sikkim.
Yak Cheese
You might yak cheese occasionally on the cultural menu for this region and it's something to try if you're in Yoksum. Yak cheese is slightly richer and healthier than cheese from cow milk. But in this shop, it has a distinct smoky rubbery flavor I can't quite get used to.  So what better way to wash it down with some sweet lassee, a sweetened Indian yogurt drink.
Tibetan Bread
Tibetan Bread is a thick rounded pancake bread with a fairly simple taste. It's different from other breads in India as it's very doughy, baked and … thick.
Where to stay in Yuksom
Limboo homestay is a secluded haven if you want a bit of pampering getaway in Yoksum.  A tour of their organic garden and view of their bungalows had me wishing for more. You can book tours and treks through them as well as, experience organic and vegetarian Sikkimese food. While I was there I met a guest, a Kollywood actor!  Website: limboohomestay.com
Hotel Red Palace – High ratings on Lonely Planet and Agoda,  location near Dubdi Monastery.
Safety tips for solo travelers to Yuksom
Many Indians will say that West Sikkim is a safe region for female solo travelers to visit and it certainly felt that way to me.  Getting to Pelling from Darjeeling was the first time I've ever been recommended to hitchhike in India. But the region is safe enough where hitchhiking in West Sikkim can be done. Buddhism takes a larger role in this hilly mountain community which is remote from the more modern and frenzied advances of India.  Of course, as a solo female traveler, one can never be too cautious as danger or accidents can happen anywhere. I highly recommend buying travel insurance for added peace of mind during your time in India.

How to Reach Yuksom
The nearest train station to Yuksom is New Jaigalpuri (NJP). The nearest airport is Bagdogra Airport (near Silliguri). I went to Yuksom via Pelling – Darjeeling– New Jaigalpuri route.
From Darjeeling, Gangtok, Silliguri or NJP, you can take a shared jeep or taxi to Jortheng. From Jortheng, go to the taxi stand building and take a shared taxi to Yuksom. Remember to have your RAP permit. Foreigners may need pass through the Meilli border before going onward to Joretheng.
From Pelling (approx 1 hour 39 min): via shared Jeep, tour, hired driver
Related Posts
India Tips for First Timers
Getting your Indian Visa
Getting a Foreign Tourist Quota in India
Getting from Darjeeling to Pelling
Planning your first trip to India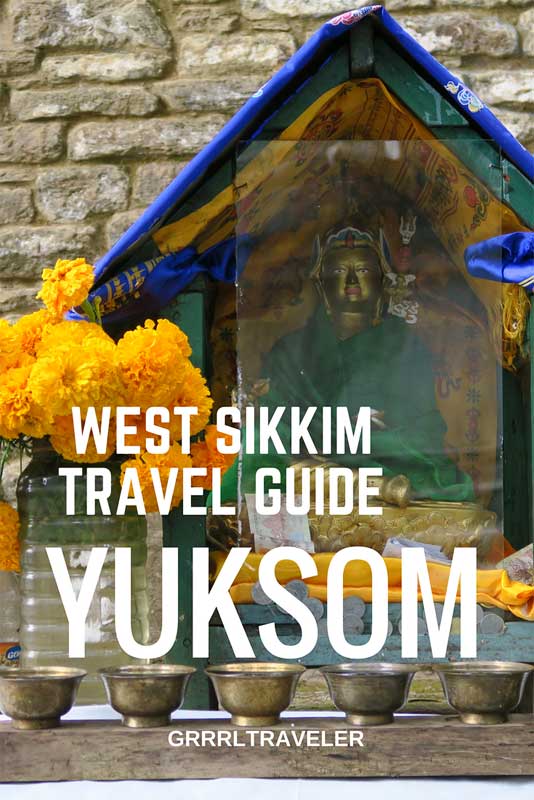 Looking for travel insurance?
American travelers often pay a premium on travel insurance.  World Nomads offers economic solutions for travelers who seek security and peace of mind.  It covers 150 countries.