Last Updated on October 26, 2017 by Christine Kaaloa
 How to Reach Pelling | Darjeeling to Pelling
It's 7am, starting out at the Darjeeling Bus station. Today's journey, I'll need to get from Darjeeling to Pelling in West Sikkim. Ideally, I'll need to take a jeep taxi to the Meilli Border, where I'll need to show my foreigner's permit to enter West Sikkim. From there, I'll need to catch a shared taxi to Jortheng, where I catch a bus to Pelling. If all goes well, I'll be in Pelling, West Sikkim by 2pm.
I still have a lingering cold and the exhaust fumes from the jeep won't be good for me. I'm wearing a sick mask I got bought from a pharmacy here.
Why go to Sikkim and is it safe for female solo travelers?
It's a challenge to find destinations, where you won't see tourists lined up, touts or vendors pressing hard to sell chachkies or that's been written about over and over by travel bloggers and guidebooks.  I wanted to travel somewhere, fresh, new,… I wanted to feel like a pioneer of a new world. I wanted for once, to feel like the Christopher Columbus of travel bloggers.  I didn't know anything about Sikkim or Pelling.
Pelling and Yoksum in West Sikkim was a recommendation my Darjeeling hotel manager, Renzing gave me when I asked him if there were any beautiful places to visit other than Gangtok (which I felt, might be similar to Darjeeling).
Reaching Pelling was not a straight shot, but required a few connections and an obscure stop over at the Meilli checkpoint border. Renzing assured me:
"Sikkim is one of the safest regions in India…Even as a woman traveling alone, you are okay and safe. No one will bother you. ..."
"What if there is no taxi to take me onward at the Meilli Border?" I asked.
"You wait. Someone will come. People will help you if you  ask. Maybe they will share their car," he responded.
The notion of hitchhiking in India didn't strike me fondly. I've never hitchhiked in my life for obvious reasons, I feel it's unsafe for women. Renzing read my facial reaction, and assured me if it were anywhere else in India he would not give me this advice.
How to Reach Pelling, Sikkim
Shared jeep taxis are common in Darjeeling  (and the hill station region of Northern West Bengal and Sikkim. The mountain roads can be zig-zagging, occasionally unpaved and narrow, fitting one and a half cars. Generally the TATA jeeps seat around 10-12 passengers.
At 5'8″ tall, I'm close to the cut-off height in this region. If I were any taller, leg room might be a problem. But the jeeps I've experienced thus far, weren't so bad in space.  There are buses also apparently, I have just not used or seen them.
Read Things to Know about Darjeeling
Getting from Darjeeling to Meilli
The landscape from Darjeeling to Meilli  is scenic and worth the labor. From sprawling tea plantations to villages and deep river gorges, it's a journey into a rural and hilly side of India I've never seen.
Lopchu Village rest stop
Our jeep took one 15 minute break in  Lopchu village. Lopchu village is a charming village known for making their own milk solid sweets. It's addictive and the cost is under 20 rupee per package, so you can stock up for the long ride. I made a local friend on the jeep and he bought and shared this with me. So sweeet!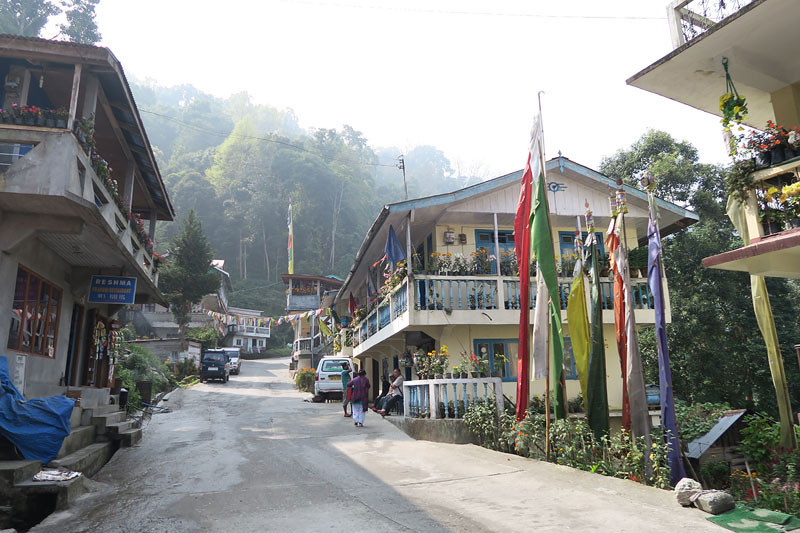 Foreigner Permits & Entry into Sikkim
Crossing into Sikkim and due to the fact Sikkim is close to the China border, foreigners will need to acquire a Restricted Access Permit/ILP. Indians do not require a permit.
The Restricted Access Permit is free and easy to get. Take your passport and visa to the Foreigner's Registration Office on Chauk Bazaar in Darjeeling and they will issue it to you. I got it further authorized at another governmental building in Darjeeling. If you are coming from another destination, there are other locations where you can get a permit. If you're doing a trek in Sikkim, you'd need to request a different type of permit.  More here.
Meilli Border Checkpoint for Foreigners
Many foreigners are required to stop at the Meilli Border Police Checkpoint and show a permit to enter Sikkim. It is a bit of a detour and extra effort compared to the route Indians can take direct to Pelling, Jortheng, etc… Had I gone through Gangtok (north of Darjeeling and in Sikkim), I might not have needed to enter Sikkim through Meilli.
The tricky part with the Meilli Border is that it is not a common transportation hub. There are no waiting taxi stands. You need to flag down a taxi if it passes through that zone or hitch a ride.  I waited about a half hour. Guards at the post are helpful and realize that travelers, who stop there are in a predicament of onward travel. They help you find a taxi or a safe method for onward transportation. In this case, they flagged down a school bus to see if it was going in my direction; luckily the supervisor of the bus, graciously let me on.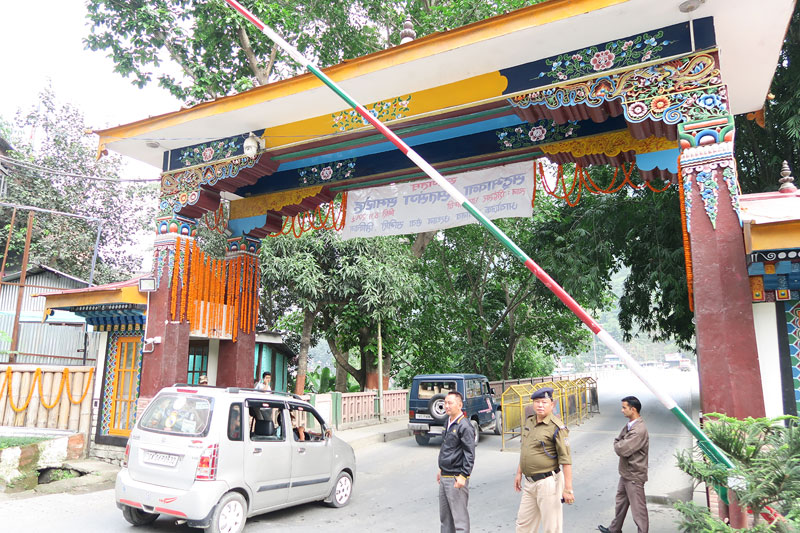 Note: While this route may appear scary for solo travelers, I've been reassured by several Indians that Sikkim is a safe state for solo travelers. I suspect it's because it's a little more mountain and country at heart, so crime is low.
It takes about 2 hours to get from Meilli to Jortheng, butt he road is bumpy, rough, dusty and there may be construction going on.  Watch my video for a more accurate depiction.
Entering Sikkim and getting to Jortheng
Jortheng is a transportation hub in South Sikkim. It's 3 hours from New Jaigalpuri Station and runs buses to Pelling, Gangtok, Yuksom (3 hours), Tashiding, Darjeeling and Siliguri.  However, the last bus leaves at 2pm.  There are shared jeeps that run to Pelling, Geyzing and Gangtok.
There are a few hotels in the area- if you had to bed down for the night and there is activity in the town. But I'm not sure there is much sightseeing to do in Jortheng. Near the Rangeet River, there are excursion tours you can take for white water river rafting and trekking, which are adventure activities Sikkim is known for.
Geyzing
I arrived late and didn't have time to stay overnight in Jortheng, so I took a shared taxi to Geyzing, where I'd take a car taxi to Pelling. The distance from Geyzing to Pelling is short.
Geyzing is the hillside capital town of West Sikkim. The streets run a little steep as the town is set against the slope of the mountain.  There is a main transportation hub where you'll see many jeeps and car taxis. The town boasts a colorful Friday market where locals sell their products. Pemayangtse Monastery and Tashiding Monastery are accessible through Geyzing as well as, Yuksom. There are tourism operated hotels and near Pemayangtse and there is one main three starred hotel, The Tashi Gang Hotel .
Pelling
A mere 10 km from Geyzing, Pelling is a small town, probably smaller in population than Jortheng. It's surrounded by a lot of nature and sits at an altitude of 7,200 feet high.  The town is a little sparse which makes it a perfect getaway for those who just want to lose themselves in the quiet of nature. Many waterfalls and mountain views make up Pelling's surroundings. The most famous monument is Sanghak Choeling Monastery near the Helipad and Pemayangtse Monastery and .  Pelling and Yoksum travel guide coming soon. There are a few guesthouse/hotels and hotel restaurants in the area. I stayed at Hotel Kabir.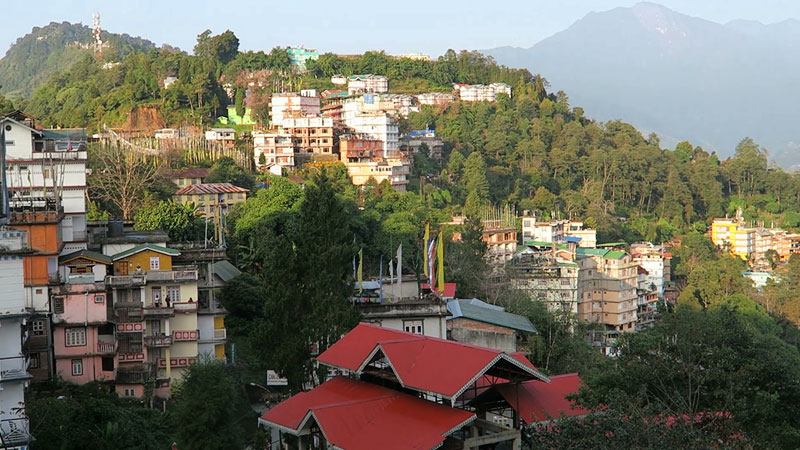 Conclusion
The journey I took was long but those going to Gangtok first or direct from New Jaigalpuri Station or Silliguri station might be able to take direct routes to Pelling.
Hope this was helpful in showing you how to reach Pelling, Sikkim from Darjeeling. Good luck!