Last Updated on October 1, 2017 by Christine Kaaloa
Watch how I got to Darjeeling by train and shared jeep taxi.
I was really nervous about getting to Darjeeling, because getting there was not a straight shot, like taking a train and then saying, "Oh hello, I'm here!" Instead, I needed to take  train and then a jeep taxi, which is a form of travel I've not yet encountered in India.  But getting to Darjeeling didn't turn out as bad as I thought. 
I shot this video primarily because reading it on the internet somehow felt more scary than actually doing it in person.
Getting to Darjeeling
As Darjeeling is set in the mountains you'll need to take two legs of transportation to get there- train (or toy train) and taxi.
By train
By train, there are two stations which will get you to Darjeeling:
New Jalpaiguri Station (NJP)
 Siliguri Station- Siliguri is a little closer to Darjeeling and it has a nearby airport, Bagdogra Airport.
You can reserve with makemytrip.com or irctc.com (Indian Railways), but presently only www.cleartrip.com is accepting bookings with foreign credit cards.
Read my guide to train travel in India and how to get a foreign tourist quota if trains are sold out.
I took an overnight train from Kolkata. Below is my train I took in my video (and alternate options I considered):
Uttar Banga Express

(13147)

 7:35p

 – 6:45a

 

Sealdah- NJP

 

*Slp-3A-2A*

 

11 hrs, Sleeper 350, 3AC 915- $14, 2AC

 

1290

 

$20
Kamrup Express leaves Howrah at 5:35p -6:15a  Howrah- NJP
Kanchankanya Express 7:35pm – 7:30a Sealdah- Siliguri.  The Siliguri main bus terminal is also located here.
On my return trip (video coming sopn), I planned to travel from New Jalgaipuri to Varanasi. But when I decided to extend my stay and travel to Pelling, my return plans changed.  I hired a shared taxi from Pelling to Silliguri. From Silliguri, I took local transportation to Bagdogra airport to Varanasi.
By  plane
Darjeeling does not have an airport. The nearest airport is 9km from Silliguri at Bagdogra Airport.  Once at Bagdogra airport you can hire a taxi to go to Darjeeling. It takes around 3 hours.
By toy train
Taking the toy train to Darjeeling was definitely something I wish I had done. But you need to book in advance and line your train travel up. A famed UNESCO site is the steam engine toy train and many tourists like to travel by it. Adventurous travelers with time on their hands, might opt for this route.  It takes about 7 hours one way and  passes through picturesque mountain landscapes, making stops at  at New Jalgaipuri (8:30a) Siliguri Town (8:45a) , Siliguri Junction (8:55a) , Sukna, Rangtong, Tindharia, Gayabari, Mahanadi, Kurseong, Tung, Sonada, Ghum.
The train is best booked in advance vs. upon arrival. Foreign travelers can seek advice from travel agents in India or consult the Indian Railway site www.irctc.co.in. If using a foreign credit card you may have to follow the instructions above for booking train travel.
The train (no. 52541) route goes from NJP to Darjeeling at 8:30a to 3:35p (Monday, Wednesday, Friday).
Return train (no. 52540) departs Darjeeling to NJP at 8a – 3:10p (Tuesday, Thursday, Saturday).
By taxi:
You can hire a private taxi or a shared jeep taxi. Watch my video to see what modes of transportation are available:
Personally, as a solo female traveler, I prefer shared or public transportation vs private. My sentiment is that if locals can trust it to transport their families, then I can too and with community travel, there are more witnesses should anything happen to me.  But if I were traveling with friends, I might hire a private taxi.
Jeep Taxi are a common mode of transportation once you get to to the mountainous region of upper West Bengal and Sikkim.   I got a seat in a shared 5 person jeep taxi (Tata Sumo) for 200 Rs (this seems the going rate for foreign tourists).  Along the way, the driver wanted to squeeze a fourth person into my 3-seat row. I and other passengers paid 250 to secure that seat. If you're large or require more room, paying a little more for your seat might help secure it.  
It can take 3-4 hours to get to Darjeeling. Roads get winding closer to Darjeeling and they can occasionally narrow to fit 1.5 cars. While tourists can feel an element of danger in this and I'm sure they've been accidents, these drivers are experienced in driving this region and do it often.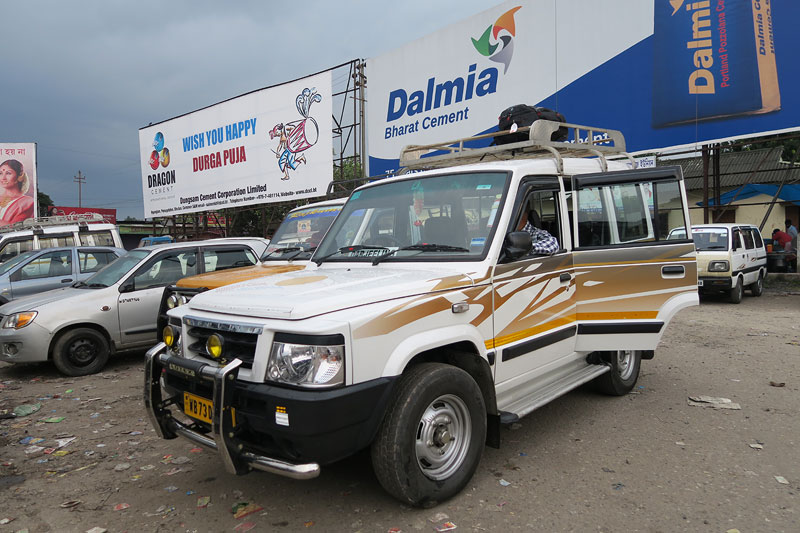 Note: Please check travel warnings before planning your trip to Darjeeling. As of June 2017, the town was closed due to political unrest. Generally, Darjeeling is a very peaceful town, so check alerts before hand.  Traveling to other destinations nearby such as Gangtok or Sikkim are safe.