Is getting around India easy if you're a female solo traveling India for the first time? What are the common types of transportation in India which provide a safe experience?
Traveling India can feel like an adventure because you never know what to expect. Your bus might break down, your train is delayed, or you might book a ticket on a sleeper bus and find a two person berth really just fits one person..  What's up India?
Female Solo Travel Guide: Transportation in India for Solo Travelers
This ultimate guide to transportation in India lists the various transportation you'll use and experience traveling India.
9 Common Types of Transportation in India
1.  Shared Jeep Taxi
Jeep taxis seat up to 10 passengers and cost around 200-250 rupees (approx $3USD) per seat. Travelers can buy two seats to be comfortable.  Shared jeep taxis are a form of transportation I've only learned about traveling Northwest Bengal and Sikkim. It's perfect for people of mountain and small village settings to get around, so you may find it used by locals.  For long distances, expect the price of hiring your own taxi to be roughly around 1500 rupees.
Tip for Female Solo Travelers: Tourists might opt to buy two seats so as to have ample space. You can also hire your own taxi. 
Read: How to Reach Darjeeling
2. Bicycle Rickshaw
Bicycle rickshaws are good for short distances. The prices for foreign travelers may be a little more than locals. If they quote you 100Rs (around $1.60) for a short distance, you're either getting a very tourist price.. sometimes, I think they must also be sizing us up by weight. But wait, before you haggle for a cheaper rate– their work is hard and they don't make it look easy. This is a human pulling you and you will feel a little guilt.
Foreign travelers tend to be a bit larger than locals, some are overweight or carrying a lot of luggage. Even someone like myself can weight a bit at 5'8″ , 140lbs + my gear day pack (another 20lbs?). I always feel a little somber knowing someone is slaving to take me to a place. Sometimes, I almost prefer to walk. But bicycle rickshaws need work too and with all the more zippier options pushing them out of the way, finding work can't be easy.
3. Government and Local Buses
I enjoy occasionally taking public and government buses, because it's public, the fees are set and it can be relaxing.  After boarding the bus, a fare collector comes around for your fare. Travelers should sit up front, close to the driver. The bus can get crowded. Sometimes, the driver or a local will put your bag near the driver so there is more space. Travelers carrying large bulky backpacks, should be courteous and cognizant. Your pack takes up the space of a human fare. This is why I take a carryon luggage over a backpackers backpack.
There are three types of buses which run long and short distances- the intercity bus, government bus (aka state bus) and tourist/VIP bus (aka bus run by a private company).
4. Autorickshaw
Autorickshaws can go a longer distance than bicycle rickshaws. They might be a little cheaper than car taxis; not by much.  Sometimes, I feel like there's a mafia-like comraderie with drivers.  They defend each other prices and even locals can find them difficult (you'll find many tips and comments left by locals on my YouTube video here). So when hailing an autorickshaw, it's best to hail it from the street and away from his buddies.   Autorickshaws can occasionally be hot-headed and temperamental if you are rude. Many are illiterate and don't come from good income brackets. I seldom feel like I can trust them because I feel like they see dollar signs if you're a tourist.
In one case late at night, I turned on my Google Maps voice directions just to keep tabs on him (because it turned out that a hostel I was looking for was in Paharganj but on the opposite end of a large Old Delhi train station). My driver got angry when I questioned his route, yelled at me and then left on the side of a dark-dark road. We're talking at around 11pm at night after my train got in. Luckily, another auto rickshaw was nearby and of course, he knew he could charge me a high price as I was quite stranded.
They may ask where you're going , then not pick you up if you're not going in their direction. They can be quite frustrating at times.  In some cities, there are also shared autorickshaws (as I discovered in Varanasi), where the rickshaw driver will wait for his vehicle to load until he leaves for a certain area. A
Solo Travel Safety Tip: Locals recommend taking Uber or Ola cabs (www.olacabs.com) as a cheaper and safer alternatives to dealing with autorickshaws. Download the apps in advance. If you use an autorickshaw, use your Google Maps to track your route and negotiate in advance or ask your driver to use the meter.
5. Domestic Airlines Carriers in India
Overall, domestic airlines carriers in India is easy, quick and not as costly as its western counterparts.  For those looking to avoid train travel, this is a good option. I have seen domestic flight costs start as low as $30 and as high as $200, with higher costs generally revolving around premier flights or festival dates. India airlines carriers are often very good, with an in-flight meal or snack included. Best domestic airlines carriers in India include: IndiGo Air, Air India, Spice Jet, Jet Airways, Air Asia, Vistara.
You can book airlines through Make my Trip or Indi
Note: Airports in India require a flight confirmation to enter. Airport entry is highly policed. They will not let you into the airport even to use the bathroom.
6. Auto Taxi
You can hire government prepaid auto taxis from the airport to your hotel or train station. You pay a flat rate in advance and they issue you a ticket for the driver. Otherwise, when hailing them on the street always look for a running meter. If the meter is not running ask them to turn it on or use another taxi.
In Kolkata Airport, I took a car taxi to Howrah Station. I felt like I had good auto taxi experiences in Kolkata, with either the airport or the hotel staff hailing my taxi and requesting they use the meter.  If you're in an airport, sometimes there are government taxi stands where you pay in advance for your trip. Kolkata has one of those, so I paid in advance and then my driver gave the airport exit gate my ticket as we left.  Howrah is a little over an hour from the airport, across Hooghly River. In this sense, there was no option but to use a car taxi. But cities like Delhi, offer metro options.

7. Hiring a driver
Some travelers like to hire a car/driver for the day for sightseeing activities and getting around. You can hire them through your hotel or an Indian travel agent (I use travel agents a lot for my onward travel bookings). Cost runs approximately 1500 rupees per 8 hour day.
Tip for Female Solo Travelers: Use the rideshare app Olacabs to book one. You can see where your driver is going and the route he is taking. If there is an emergency, the app will be a record and map where others might find you.
8. Metro
At the time of writing, six cities have a metro system: Kolkata, Delhi, Bangalore, Mumbai, Chennai. My favorite metro system is Delhi; it's expansive and just feels new. Kolkata is good but I wish it covered the airport and sprawled out just a little more. Mumbai was my least favorite; surprisingly, it didn't feel like a metro as it did an actual train station with old cars.
Tip for Female Solo Travelers:: Download a city metro mobile app for any city with a metro.  Also, ride in the Women's only car. All trains and buses have a section reserved for women. You will see a painted sign on the ground
9.  Indian Railways Train
Trains are a popular form of transportation and ideal for long distance travel. There are day and overnight sleeper trains and you can choose the class/quality.
Tip for Female Solo Travelers: Travel by day and 2nd class or Business class. Although I have not experienced anything in 2nd class sleeper trains, some females feel uncomfortable and if you are light haired, you might get some stares. 
How to Book Train Travel in India
As of May 2016, the Indian Railways (aka IRCTC) allowed foreigners to book train tickets in advance online. There's always been a bit of a snag in the past as foreign credit cards are not accepted by IRCTC and you need an Indian phone number!
In the past, the workaround was to open an account on the IRTC website and then open an account on Cleartrip.com and then attempt to merge the two together, booking through Cleartrip. Both sites are frequently used by Indians to book travel; they show you the bus, airplane and train schedules.
Another recent option has 12Go Asia. I used to use them to book buses and trains in Thailand but they've since expanded their city services to India. I have not tested train travel using this service so if you try it, let me know how it goes.
Other ways to book trains in India
Most travelers try to book their train travel in advance. Unless my travel dates are during holiday season, I like to wait until I get to India to book my train travel because I'm never sure how much I'll want to extend my stay in a city. Times like this I use either a ticketing agency or my hotel/guest house to book my onward travel. I find booking my train travel much easier this way, because I can ask for direct advice from a local. You can also go directly to the train station or train ticketing office to book. Often, I can check availability online via online services such as Cleartrip, Make my Trip or 12Go Asia or
Trip Resources for Getting around in India
Planning your first trip to India? Start here. What to Pack for India Backpacking? Check here.  Read about how to Get an Indian SIM , an getting an Indian Tourist Visa for U.S. Citizens
Learn the India trip essentials from India scams, dress etiquette, itineraries, accommodations, food insights, how to take the bus, dealing with sexual harassment and indian trains, and staying at ashrams.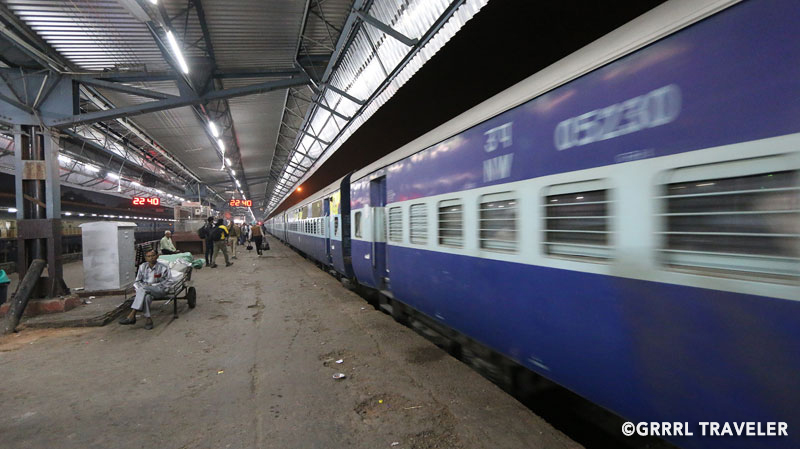 Getting from Pelling to Varanasi using 9 transports (Watch Video)
Book India transportation NOW!
Best Insurance for Solo Travel in India
American travelers often pay a premium on travel insurance.  World Nomads offers economic solutions for travelers who seek security and peace of mind.  It covers 150 countries.