Last Updated on May 3, 2023 by Christine Kaaloa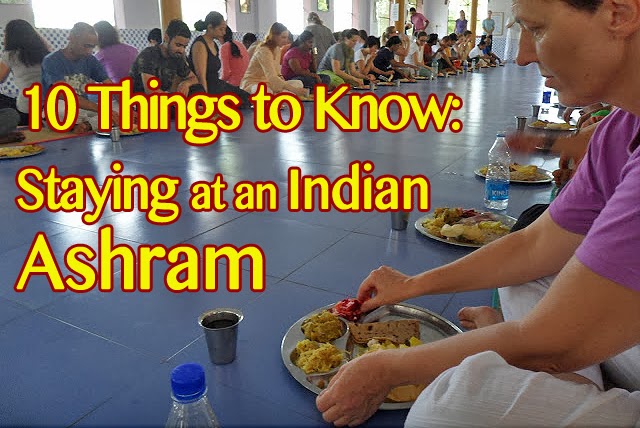 This post may contain affiliate links. I never leave home without my adventure travel insurance. Need trip insurance options? Check out this trip insurance finder tool.
10 Things to know about staying at an Indian ashram is everything you need to know about ashrams in India. It is based on my experiences of my yoga ashram in Kerala followed by practicing yoga in India through a month-long 200 hour yoga teacher training program in Dharamsala.
At 6 AM. the morning fog was lifting off the lake. Devotional music poured joyously over the loudspeaker of a neighboring temple and echoed eerily, as fly by birds bore life to the serene setting. Sitting in silence, I felt the sun spreading its rays across my body with an exquisite orange and gold. I inhaled.  OM.
Kerala was a perfect escape from the heat, haggling, piss-perfumed stains and madness I know as India. Lush green foliage and forest, the Keralan coast was degrees cooler and more welcoming. Still, an epiphany was coming through– that there were spots in India which could be peaceful, clean, beautiful and serene!
Universities, nice roads, lush forestry, posh and brightly colored mansions backed by Saudi money . Yes, "God's own country" (as the saying goes) was truly rich.
My first experience staying at an Indian Ashram
Finding a yoga ashram in India felt like a blessing. Each day at the Sivananda Yoga Ashram in Kerala (Neyyar Dam) I awoke to the early morning practice of satsang (aka "devotional chanting") and meditation. At first I did this with fervor, but by the end of the week, I started tiring of it and realized, chanting for a half hour really isn't my thing.
But when staying at an Indian ashram, you don't question things; you simply follow.
Sunrise devotion and song felt right today, though. I had found an idyllic haven complete with new yogi friends, where I could live my passion for yoga and meditation in a stress-free environment away from daily chaotic life. I didn't want to leave the ashram. It was one of the best experiences of my life!
Staying at yoga ashrams in India: What is ashram life?
There are many types of ashrams in India, with spiritual gurus who are well-known or said to be mystical healers. The Sivananda Trivandrum ashram was a gem of a yoga retreat in Kerala, secluded in the 12-acre fold of a tropical wildlife preserve. At night, I was lulled to sleep by the sounds of crickets, weird night animals and the husky deep heaves of tigers in mating-heat (not kidding).
This yoga ashram in India offered an all-inclusive stay with two daily yoga sessions, clean dorm accommodations, exquisite meditation halls dressed in Hindu mythology, two vegetarian meals a day and unlimited filtered drinking water. It also has a Ayurvedic doctor and massage room, where a lady rubs warm oil over your body as Ayurvedic treatment. (You have to wash it off with chickpea mix. It's a little grease but an interesting new experience).
Most people know Sivananda as a yoga teacher training center (Read How to Choose a School in India for your YTTC) . But if you'd just like to further your yoga practice , learn about Ayurvedic practices or experience a deeper spiritual cleansing, then Sivananda yoga ashrams offer a lot.
The campus bore amazing facilities that were geared towards western travelers. My every western need was conveniently provided for. This makes a monumental difference when you're in India.  The rigors of travel are often rife with the obstacles of food/water safety and sanitation. Ease is a luxury that's hard to come by here.

10 Things to know about staying at an Indian ashram
Like many yoga enthusiasts looking to practice yoga in India, I was inspired by the film, Eat, Pray, Love… But each ashram is different, varying in rules and codes of conduct.
Here's a peek into ashrams in India and 10 things you should know when staying at an Indian ashram.
1. Following a yoga ashram schedule is compulsory
Staying in an ashram in India is not a "vacation", but a retreat into deeper practice and focused discipline; thus, strict attendance to the schedule is required. While I may not care for or agree with everything on the menu, I'm here studying yoga in India to immerse myself in the yoga ashram environment. In return it is teaching me the rhythm of ashram lifestyle and yoga methodology.
My schedule was intense– from 5:30AM and driving until 10 PM.
6:00 AM Satsang
7:30 AM Tea time
8:00 AM Asana Class (Beginners & Intermediate)
10:00 AM Breakfast (Vegetarian)
11:00 AM Karma Yoga
12:30 PM Coaching Class (Optional)
1:30 PM Tea Time
2:00 PM Lecture
3:30 PM Asana Class
6:00 PM Dinner (Vegetarian)
8:00 PM Satsang (group meditation, changing, talk)
10:30 PM Lights out
2. Indian ashrams engage in spiritual practice
You don't have to be "religious" to stay at an ashram, but understand that in India, the term "ashram" is synonymous with Indian philosophy and spirituality. It's foolish to think of divorcing the two.  Stilly, many western yoga practitioners may be thrown off by how much spiritual teaching there is in physical yoga. It is especially hard for orthodox Christians, who do believe in the singularity of God or for those who see yoga as a gym workout.
Read what yoga in India is and is not.
Whether you are or are not a spiritual/religious person or Hindu, you will be expected to participate in key spiritual beliefs, inspired by Hinduism. You will see depictions of Hindu deities in the artwork and statues, devote an enormous time to chanting devotional songs in honor of these dieties (and your ashram's guru), meditating and taking part in spiritual ceremonies. There were times I found myself chanting Hare krishna hare ram… and felt like a hare krishna. But when you learn the meaning and energy force behind the words, it becomes more than shaved headed men in white robes.
If you're not ready to do this, you are not ready for an ashram.
Video of satsang (if you're unable to see the video, click here).
3. Remove your shoes
Understanding Indian etiquette is helpful as it can feel different than western ways. Some aspects may test your comfort level. For instance, Indian temples, you remove your shoes before entering to show respect and cleanly attitude; thus in an ashram, you remove footwear when entering buildings. For some, not wearing footwear can spell liberation; for me, I don't like baring my feet on walkways, even if they're paved! For me, walking into communal restrooms takes open-mindedness and cupped feet!
Read Things you MUST know about Indian Etiquette


4. Ashram rules of silence (and eating with your hands)
Staying in an ashram in India gives you the excuse okay,… eat with your hands. Observing silence during meals and eating with your hands is a practice you'll learn to enjoy.  While the meal time hush is a rule at Sivananda, eating with your hands isn't compulsory. Though you're not always supplied with utensils, you can bring them with you.
But before you reach for the silver spoon, give your hand a try first. As one Mumbaiknar told me– "I normally use utensils when I eat, but if I eat with my hands, the food tastes better!"
I'll tell you a secret– it does!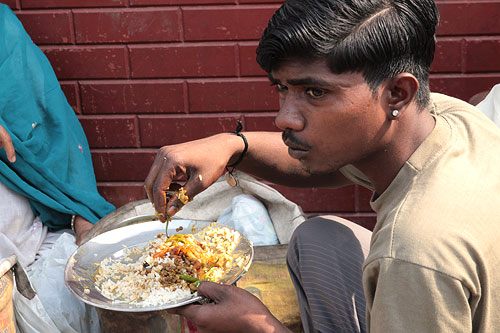 5.  Do ashrams have internet?
An ashram's focus is on spiritual development not your Facebook profile; thus,  accommodating your internet needs aren't a high priority. Internet hours are limited. During those hours, you could use the internet and hook your laptop up to the Wi-Fi.  However, the Wi-Fi was very spotty and the only three computers in the ashram's computer room, always had a long sign-up queue.  I'm glad I bought an Indian SIM card and a USB internet hub with me (Read 5 Musts for your India trip) and an India SIM card ! You can also turn your smartphone into a mobile hotspot.

6.   Vegetarian Food Only
Meat eaters may have difficulty surviving on a meatless diet, missing the feeling of gnawing into something of substance. For me, the ashram was a vegetarian dream. The food was tasty, Ayurvedic, healthy and best of all, safe for my western stomach. I could eat to my heart's content without worrying about how it was prepared or how the dishes were washed . Read Food Safety Tips for Eating Street Food 

7. Karma Yoga practice in the ashram experience
Cleaning the kitchen, serving food, cleaning the dorm floors, taking out the garbage, working in the store, taking out the trash…
One hour each day is required of each ashram attendee to spend in performing selfless service. This is called Karma Yoga. For guests, it's a chance to burn off some of your karma  by doing good deeds.  My job was to mop the hallway of my dorm I stayed in.
Indian ashrams in general, support the idea that their attendees help maintain the ashram grounds. This is fair, as ashrams don't always make or charge a lot for their room, board and classes. But it is more than economy.The practice of karma yoga  breeds mindful care and a self-less consciousness working towards the greater good.
If Indians honor the god in every guest, that guest is also a god capable of cleaning up after themselves.
8. What are the lodgings in Indian ashrams like?
Ashram lodgings tend to be spartan and basic. Accommodations in ashrams may have double and single guest rooms available, but the standard is most likely, dorm style living quarters.
My yoga ashram did not offer lockers for security. If you have any valuables, you might ask to store them at the front desk. But this is at your discretion.

9. Making friends at an ashram
Making friends at an ashram is simple. You'll meet both, travelers and locals, who share your purpose and spiritual passions. Sometimes, the ashram will have planned activities to enjoy too.
My ashram organized a Holi celebration on their grounds to keep practitioners safe during Holi festival in India. Another weekend, some of the yogis gathered a group to go to the beach.
Engaging in ashram activities and sharing a relaxed downtime makes your time lively and enriching.
Note: Celebrating Holi in public can be cautioned against for women as there are a lot of drunken men who have been known to use that time to grope females.
In lieu of Holi festival (and the fact we couldn't leave campus for it) the ashram prepared their own celebration for us.
10. The yoga ashram experience takes you deep into the spirit of Indian culture
An ashram is a bit like a homestay. You get to experience local customs and spiritual practices as if you are an insider. You will be guided and some religious etiquette will be explained.
We all want to know why Indian culture worships the way they do and as foreigners, we want to feel like we can participate in it to take our experience deeper. Indian ceremonial rituals take place – it's nice not have to press our nose to a glass pane to look in.
Priest performs a puja ceremony for initiating Yoga teacher training students at Sivananda yoga ashram.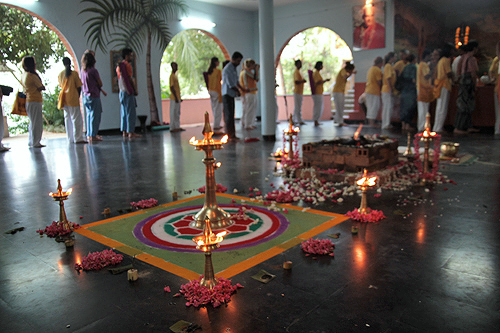 Best Ashrams in India : Are they for you?
There are many types of ashrams in India as there are gurus and false gurus everywhere. How do you find the best ashrams in India?
I went with Sivananda yoga ashram because they have a world re-known reputation for yoga in the West, but their yoga did not inspire me as much. Traveling India you'll find a wealth of ashrams revolving around spiritual interests such as yoga and meditation practices. It's best to find an ashram which aligns with your current spiritual and yoga practice . There is Amma, the Huggging Saint, who has her ashram in Kerala. Osho is a famous tantric yoga and meditational guru and his main ashram is in Pune. Then if you enjoy meditation and want to learn raja yoga at an ashram at Mount Abu, there is my long-time practice at Brahma Kumaris meditation. I'm a huge practitioner of their meditation practices although some of their spiritual theology can make you go hmmm..
Are ashrams in India safe for solo female travelers?
Ashrams are known for their inclusivity and safety. I certainly experienced this at my ashram.
However, it is important to always question safety in any ashram. There is a level of surrender, trust and vulnerability many of practice at an ashram. Unlike western tradition, there is little "questioning" of ashram practices or gurus and there have been shocking news of big Indian gurus, who sexually abused their haloed-authority with female devotees. It happens a lot in India.
Be eyes wide open and thoughtful of what you are digesting in theology and practice. In India, gurus are seen as spiritual teachers and masters that you should not question, but they are human and often, male.
Know yourself and what feels right for you. If anything feels sketchy or wrong, avoid it. You may feel it in your gut when you see a photo or a website– trust your intuition.
Seek out reputable ashrams. I would start with well-known ashrams until you gain more experience and confidence.
Choose an ashram with comfortable and hygienic accommodations. Do your research reviews, ask questions, check the ashram website and try to find photos taken by visitors or guests. If it is available, email past guests or read reviews to get an idea of what you should expect and how to prepare.
Where to find yoga retreats in India?
If after reading this post you get to wondering if an ashram is really up your alley. If it's too intense for you, that's okay. Many western travelers confuse Indian ashrams with yoga retreats in India. A retreat may allow a different experience of practicing yoga, while also having personal time for sightseeing India.
Staying at an ashram, I initially thought it would be a flexible yoga vacation and it was not that. While I did not regret my experience and would highly recommend it, an ashram is not for everyone.
Maybe you're uncertain if you want to commit to a long duration at an ashram.
Perhaps you'd like to explore something a little alternative like Tantra Kundalini yoga, looking for a yoga school in India with teacher certification programs or a yoga vacation retreat. 
India is a wonderful way to deepen your spiritual practice.

Travel insurance is recommended for traveling India
When traveling India, getting travel insurance is recommended. Some yoga teacher certification schools in India make travel insurance compulsory, whereas ashrams can be laid back.
Traveling in India has obvious risks–  it is not only about getting a bout of Delhi belly, which happened to me when I was doing my yoga teacher training program in Dharamsala. There can be unforseeable accidents like my motorbike accident to yoga training injuries. Many yoga students in my teacher training program got injured, because yoga training programs can feel like training for a mini yoga olympics of practicing morning, noon and sometimes night.
Although there are medical facilities on the ashram premises, it's impossible to know if they are equipped to support whatever accident or ailment you come up with.
I went with World Nomads to cover my India trip; as an American traveling India, it was the cheapest I found.
How much does it cost to stay at a yoga ashram in India?
The cost of staying at a yoga ashrams in India varies with the length of your stay.  Costs can range from drop-in classes on yoga and meditation to full board and housing with full ashram schedule of programs. Yoga ashrams in India typically cost less than the cost of a western weekend retreat. Meditation ashrams can cost less than yoga ashrams.
At Sivananda Yoga Ashram in Trivandrum , I paid 50 rupees ($8) per night. There was a one week minimum stay required so you can get into the rhythm of the program, but you can stay up to two to three weeks or longer to study yoga in India. The beginner's yoga and meditation courses are very popular. Yoga vacations and yoga teacher training certifications, were also offered at this ashram.
Getting to Trivandrum
By Train:  Trivandrum Central Station is connected by rail to all main cities in India. When you reach Trivandrum, the bus station is situated across the street, where there is regular service to Kattakada/Neyyar Dam.  The Ashram is about one hour drive from Trivandrum (28km). Prepaid taxi is available at the airport, and prepaid auto rickshaw and taxi outside the train station. They give government rates, approximately Rs 350 for an auto rickshaw and Rs 800 for a taxi.
How to get to Sivananda yoga ashram Neyyardam:
http://www.sivananda.org/neyyardam/travel.html
Hotels in Thiruvananthapuram
Where I stayed:Hotel Regency, Majalikulam Cross Road, Thampanoor, Thiruvananthapuram, Tel: 2330377,

Other Hotels located near this ashram
Traveling India for Solo Travelers (playlist)
City Guides and India Travel Tips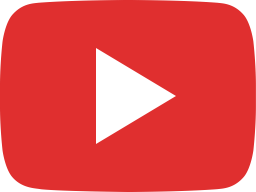 10 TOP STREET FOODS OF KOLKATA | INDIA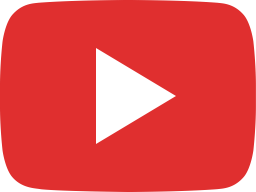 TOP 5 INDIA TRAVEL TIPS for FIRST-TIME Travelers 🇮🇳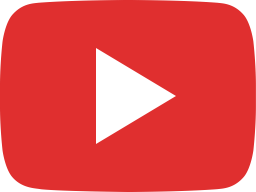 16 BEST THINGS TO DO IN KOLKATA (Calcutta) INDIA | KOLKATA TRAVEL GUIDE
Related articles
Things to Know before you Go to India
Packing list for India
Finding Budget Accommodations in India