Eat, Pray, Love… 10 Things to Know about Staying at an Indian ashram?
At 6 AM. the morning fog was lifting off the lake. Devotional music poured joyously over the loudspeaker of a neighboring temple and echoed eerily, as fly by birds bore life to the serene setting. Sitting in silence I felt the sun spreading its rays across my body with an exquisite orange and gold. I inhaled.  OM.
Kerala was a perfect escape from the heat, haggling, piss-perfumed stains and madness I know as India. Lush green foliage and forest, the Keralan coast was degrees cooler and more welcoming. Still, an epiphany was coming through– that there were spots in India which could be peaceful, clean, beautiful and serene!
Universities, nice roads, lush forestry, posh and brightly colored mansions backed by Saudi money . Yes, "God's own country" (as the saying goes) was truly rich.
Each day at the Sivananda Yoga Ashram in Kerala (Neyyar Dam) I awoke to the early morning practice of satsang (aka "devotional chanting") and meditation. At first I did this with fervor, but by the end of the week, I started tiring of it and realized, chanting for a half hour really isn't my thing.
But in an Indian ashram, you don't question things; you simply follow.
Sunrise devotion and song felt right today, though. I had found an idyllic haven complete with new yogi friends, where I could live my passion for yoga and meditation in a stress-free environment away from daily chaotic life. I didn't want to have to leave the ashram. It was one of the best experiences of my life!
What is a yoga ashram like?
The Sivananda Trivandrum ashram was a gem of a campus, secluded in the 12-acre fold of a tropical wildlife preserve. At night, I was lulled to sleep by the sounds of crickets, weird night animals and the husky deep heaves of tigers in mating-heat (not kidding).
The ashram offered an all-inclusive stay with two daily yoga sessions, clean dorm accommodations, exquisite meditation halls dressed in Hindu mythology, two vegetarian meals a day and unlimited filtered drinking water. It also has a Ayurvedic doctor and massage room, where a lady rubs warm oil over your body as Ayurvedic treatment. You have to wash it off with chickpea mix. It's a little grease but an interesting new experience.
The campus had awesome facilities that were geared a little more towards western travelers. Most people know Sivananda as a yoga teacher training center (Read How to Choose a School in India for your Yoga Teacher Training) and they offer that too. But if you'd like to experience yoga in India, learn about Ayurveda or experience a deeper spiritual practice, then Sivananda ashrams offer a lot.  Check out some of my photos below.
.
Every need was conveniently provided for.
This makes a monumental difference when you're in India.  The rigors of travel are often rife with the obstacles of food/water safety and sanitation. Ease is a luxury that's hard to come by here.

10 Things you should know about staying at an Indian ashram
Like many yoga enthusiasts or travelers, I've seen the film, Eat, Pray, Love… But each ashram is different, varying in rules and codes of conduct. Here's a peek inside my ashram experience and 10 things you should know about staying at an Indian ashram, you can expect.
1. Following the schedule is compulsory.
Staying in an ashram is not a "vacation", but a retreat into deeper practice and focused discipline; thus, strict attendance to the schedule is required. While I may not care for or agree with everything on the menu, I'm here to immerse myself in a new learning environment and it's teaching me it's lifestyle.
My schedule was intense– from 5:30AM and driving until 10 PM.
6:00 AM Satsang
7:30 AM Tea time
8:00 AM Asana Class (Beginners & Intermediate)
10:00 AM Breakfast (Vegetarian)
11:00 AM Karma Yoga
12:30 PM Coaching Class (Optional)
1:30 PM Tea Time
2:00 PM Lecture
3:30 PM Asana Class
6:00 PM Dinner (Vegetarian)
8:00 PM Satsang (group meditation, changing, talk)
10:30 PM Lights out
2. Engaging in spiritual practice
You don't have to be "religious" to stay at an ashram, but understand the term "ashram" is synonymous with a spiritual philosophy. It's foolish to think of divorcing the two. Duh. But still, a lot of yoga practitioners are thrown off by the amount of spiritual teaching yoga is in India. It's especially hard, for those who see yoga as a gym workout.
Read what it's like learning yoga in India (and why the definition feels different.
Whether you are or are not a spiritual/religious person, know you'll be expected to practice the ashram's key spiritual beliefs, which is predominantly Hindu. You will see depictions of Hindu deities, devote an enormous time to chanting devotional songs in honor of these gods (and your ashram's guru), meditating and taking part in spiritual ceremonies.
If you're not ready to do this, you're not ready for an ashram.
Video of satsang (if you're unable to see the video, click here).
3. The Bare Foot Etiquette
Some practices may test your comfort level. In Indian temples, you remove your shoes before entering; thus in an ashram, you remove footwear when entering buildings. For some, not wearing footwear can spell liberation; for me, I don't like baring my feet on walkways, even if they're paved! For me, walking into communal restrooms takes open-mindedness and cupped feet!
Read Indian Etiquette


4. Observing silence and eating with your hands
Staying in an ashram gives you the excuse to wear the cultural suit. Observing silence during meals and eating with your hands is a practice you'll learn to enjoy.  While the meal time hush is a rule at Sivananda, eating with your hands isn't compulsory. Though you're not supplied with utensils, you can bring them with you.
But before you reach for the silver spoon, give your hand a try first. As one Mumbaiknar told me– "I normally use utensils when I eat, but if I eat with my hands, the food tastes better!"
I'll tell you a secret– it does.


5.  No  Internet?
An ashram's focus is on spiritual development not your Facebook profile; thus,  accommodating your internet needs aren't a high priority.
At the ashram, the internet hours were limited. During those hours, you could use the internet and hook your laptop up to the Wi-Fi.  However, the Wi-Fi, but it was very spotty and three PC computers  they had at the internet room always had a long sign-up.  I'm glad I bought an Indian SIM card and a USB internet hub with me (Read 5 Must Haves for India) and an Indian SIM !
Generally, many spiritual centers and ashrams have some form of connection with outside technology. Gurus and administration offices have to have  some internet access.
If all options fail, they can direct you to a location in town, where there is an internet cafe.

6.   Vegetarian Food Only
Meat eaters may have difficulty surviving on a meatless diet, missing the feeling of gnawing into something of substance. For me, the ashram was a vegetarian dream. The food was tasty, Ayurvedic, healthy and best of all, safe for my western stomach. I could eat to my heart's content without worrying about how it was prepared or how the dishes were washed . Read Food Safety Tips for Eating Street Food 

7. Performing karma yoga
Cleaning the kitchen, serving food, cleaning the dorm floors, taking out the garbage, working in the store, taking out the trash…
The ashrams generally support the idea that their attendees help maintain the ashram grounds. This is fair, as ashrams don't always make or charge a lot for their room, board and classes. Thus, one hour each day is required of each attendee to spend in performing selfless service. This is called Karma Yoga. For guests, it's a chance to burn off some of your karma  by doing good deeds.  My job was to mop the hallway of my dorm I stayed in.
8. Basic dorm facilities
Ashrams may have double and single guest rooms available, but the standard is most likely, dorm style living quarters. Many don't offer lockers for security, however. If you have any valuables, you might ask to store them at the front desk. But this is at your discretion.

9. Making friends
Making friends with travelers and locals, who share your passion is another perk. Engaging in ashram activities and sharing a relaxed downtime makes your time lively and enriching.
In lieu of Holi festival (and the fact we couldn't leave campus for it) the ashram prepared their own celebration for us.
10. Participating in spiritual ceremonies and rituals
We all want to know why certain cultures worship the way they do. Ceremonial rituals take place and it's nice not have to press our nose to a glass pane to look in.
An ashram is a bit like a homestay. You get to experience local customs and spiritual practices as if you are an insider.  Unless you have good English translations, you may not completely understand what everything is about; yet it's wicked to experience a ceremony, nonetheless.
Priest performs a puja ceremony for initiating Yoga TTC students.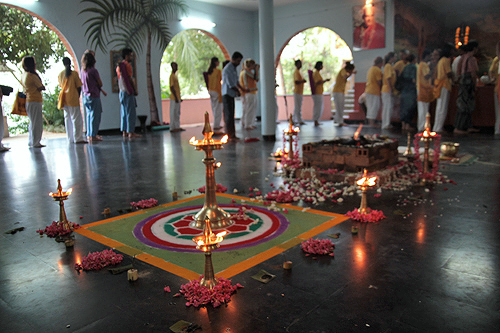 Getting There to Trivandrum
By Train:  Trivandrum Central Station is connected by rail to all main cities in India. When you reach Trivandrum, the bus station is situated across the street, where there is regular service to Kattakada/Neyyar Dam.  The Ashram is about one hour drive from Trivandrum (28km). Prepaid taxi is available at the airport, and prepaid auto rickshaw and taxi outside the train station. They give government rates, approximately Rs 350 for an auto rickshaw and Rs 800 for a taxi.
Getting There: http://www.sivananda.org/neyyardam/travel.html
Accommodations in Thiruvananthapuram
Where I stayed: Hotel Regency, Majalikulam Cross Road, Thampanoor, Thiruvananthapuram, Tel: 2330377, 484 Rs/Night== $10

Other Hotels located near this ashram
Recommended Essentials for India . Click to Shop.
Looking for travel insurance?
American travelers often pay a premium on travel insurance.  World Nomads offers economic solutions for travelers who seek security and peace of mind.  It covers 150 countries.