Things to know before traveling to Dharamsala | Getting my Yoga Teacher Training in Dharamsala
Mcleodganj is a backpacker enclave high in the hills, where travelers love feeling a part of the Indo-Tibetan community. Crimson robes filled the streets reminding you that you are in a place of Buddhism. This Dharamsala travel guide shares things to know before traveling Dharamsala.
26 Things to Know Before Traveling Dharamsala
1. Mcleodganj
Traveling to Dharamsala most travelers stay in Mcleodganj and they stay from weeks to months. On one side, you have a city of monasteries and temples and red-robed monks roaming the streets, eating at restaurants and cute cafes. On the other side, you have scenic valley vistas, towering mountain ranges and the feeling of being closely connected with nature. There's a surprising amount of things to do for such a small town.
I arrived in Dharamsala and got a month-long rental room in an guesthouse so I could have a home base for an  intensive yoga teacher training certification class program with Himalaya Yoga Valley.
2. Hiking
You can trek to Triund or visit Bhasu Falls nearby in the neighboring town of Bhagsu. There are a lot of pastures to explore in these hills where you might find goat herders, travelers or monks laying their clothes out to dry.
3. Bhagsu Falls
Located in the neighboring town of Bhagsu, Bhagsu Falls is an impressive waterfall for this hilly region.
4.  Momos and taking a Tibetan Momo cooking class
Indo-Tibetan food is at the heart of cooking in Mcleodganj. You'll find many Tibetan food cafes and of course, momos from the street to restaurants. I took a Tibetan momo cooking class with Llamo Cooking Class. It was my first cooking class and it took place in Llamo's humble home. It was surprisingly fun and relatively easy to make. When I got back home to New York, I made it a lot!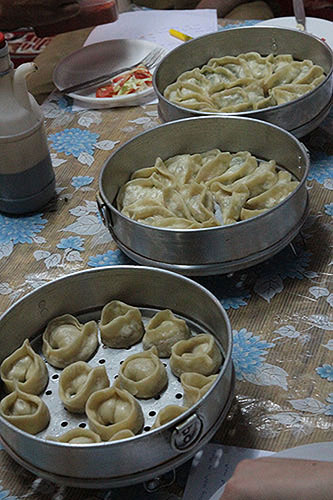 5. Attend a Dalai Lama sermon
Tsuglagkhang Complex (aka the Dalai Lama Temple) is a definite must. It houses a Tibet Museum (Hours: 9a-5p) and you'll find many residential monks roaming the grounds for spiritual training, debate and sermons. Check out the His Holiness the Dalai Lama's sermon schedule. Hours: 5am-8pm . Address: Temple Road, Central Chapel (near the main square)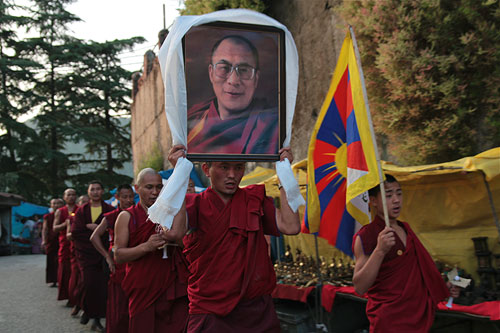 6. Watch monks debate
One of the monk practices and training in Tsuglagkhang monastery is debate. You'll find that compassion and calm is not a monk's only emotion. During a monk debate, they are known to get pretty fiery!
7. Get blessings from the Karmapa
Not far from McLeod Ganj, situated in Gyuto Monastery in Sidbhari, Ogyen Trinley Dorje is the 17th Karmapa.There are different sects in Buddhism and each sect has their own spiritual leader. The karmapa is similar to the Dalai Lama but a different sect of Tibetan Buddhism. Read my incredible experience meeting the karmapa.  Check out the Karmapa's schedule for meeting and sermon updates.
8. Study yoga or alternative healing
Dharamsala has many reputable yoga schools offering 200 and 500 hour teacher training programs along with drop in classes.   There is also an Iyengar Institute located in a woodsy area on the edge of McLeod Ganj ; it's a perfect escape into nature.
Yoga teacher training courses in Dharamsala
Here are some teacher training courses in Dharamsala. It is up to you to research and find the best yoga teaching for you.
Yoga Vidya Mandaram– 22 Day 200 Hour Hatha & Ashtanga Teacher Training in Dharamsala- Dharamkot, starts $1599
Sarvaguna Yoga– 28 day 300 Hour Dual style Teacher Training in Dharamsala- $1606
Om Yoga Ashram – 25 day 200 Hour Yoga teacher training, starts at $750 (stay at an ashram over a guesthouse)
Aranya Yoga Ashram– 31 day 300 Hour Multi-style Yoga teacher training, starts at $1855 (includes ashram housing)
9. Get spiritual healings and readings
Dharamsala has a community of visiting and resident teachers, who offer a variety of workshops, healing sessions and classes. Learn and/or practice healing: Reiki, Ayurvedic, Energy. I also took a reiki advanced certification workshop and had an energy healing to help heal my muscle fatigue during my yoga session. I also had a local astrology reading. Look for signs advertising classes posted on community walls around town. They all cost a fraction of what I might pay in the U.S.
10. McLeod Ganj's Main Street
McLeod Ganj's Main Street is Jogiwara Road. The street is lined with businesses from cafes, restaurants with rooftop views of the valley, bookstores, souvenir shops. McLeod Ganj's main street is Jogiwara Road.
11.  McLeod Ganj is easy town to live long-term
Dharamsala is a city in Himchal Pradesh. It is so removed from the craziness of India that it doesn't feel like India. Mcleod Ganj is a small town in Dharamsala (nicknamed Little Lhasa) . It is also the home to the Dalai Lama.  The lush hills and valleys tell a different story of beautiful skies, nature and laid back Indo-Tibetan community which seems for the most part, content. There is a strong backpacker-traveler flux which comes through this town, so the streets are lined with businesses from cafes, restaurants with rooftop views of the valley, bookstores, souvenir shops.
You'll find many travelers extending their stay in this town, sometimes for a month or longer.
12. Learn astrology
You can learn astrology at Men-Tsee-Kang, the Tibetan Medical & Astrological Institute.
13.  Mcleodganj will test your fitness
Due to the hilly setting, you're practically hiking daily getting from shop to shop. Having my apartment and yoga shala located at the base of a hill, it was  a daily StairMaster hike  up a crumbling 300+ stairway just to get meals. That one steep stair was my only access to town, where there are grocery stores and restaurants and believe me, after a day of developing aching limbs training in yoga, you'll wish you didn't have to eat!
14. Limited water supply
There is a lot, lot, lot of beauty in Dharamsala and it feels like such a sanctuary. But there are ugly sides  which make you more aware of how your footprint and waste has an impact on the community and its cleanliness. Spaces for vendors are limited and some spill over into the road.
Trash disposal is separated by recyclables and perishables.  Due to the limited water supply, you're asked to not take long baths or to use your water wisely. I'm forced to develop a more eco-friendly awareness, knowing this is my temporary home and I must do my part to conserve water, eradicate waste efficiently and protect my home's loveliness.
15. Beware of Monkeys
Dharamsala has wild monkeys which roam and scamper on rooftops. Remember to close your windows and doors and never leave belongings outdoors unattended.
16. Thunderstorms and occasional power cuts
Despite being April and other parts of India are spitting with sweat, weather in McLeod Gganj can be freakishly cold. At nights, it can feel like it's 40 degrees Celsius and that brisk feeling can mellow out to 70 degrees Celsius by 11:00am. Street vendors sell wool blankets and scarves and they are a godsend if you haven't packed for winter.
And thunder storms… oh, how they howl and boom with rabid ferocity, only to pitter-patter and clear up the next day, releasing a mountain full of yellow butterflies! I lived with occasional power outages, an eco-aware attitude about recycling and  got used to the fact that a 10- minute hot shower was necessary to keep Dharamsala clean and healthy.
17. Visiting Mcleod ganj Hospital
Staying a month in Dharamsala, I got comfortable and slacked where it came to food safety. So I got sick with amoebic dysentary. India is great because it has a lot of local pharmacies and they are easy to find. Nevertheless, I visited a doctor (who's diagnosis wasn't accurate), then ultimately, ended up at  Mcleod Ganj hospital, a five minute drive from my apartment. As a small hospital servicing a small hill community, the facilities were old but good. I was clear health in a week.
18. Clean & Filtered Water
You don't think about clean water until you don't have it. Although Dharamsala had water tanks for practical uses of bathing, toilets, etc…, a sip of clean water always took either, money or effort. So I thought about it often–  how and where I was going to get my water, make it and use it.  There were water stations, where the water had already been boiled and sterilized and you could refill your drinking water for a few ruppees.  Our guesthouse also sold boiled drinking water too and I also had my own ways of boiling and sterilizing water on my own.
From using a sports bottle filter to a boiling wand, each either took time or effort. Either I got tired of fist-pumping my sports bottle for every sip or I got tired of drinking only hot water and tea. Pick your poison. Buy, boil, squeeze… it all boiled down to how lazy I was that day.
Tip: Take a water sterilization pen (Read my SteriPEN review)
19. Indo-Tibetan community
Each day, I pass a flock of red-robed monks enroute to His Holiness, the Dalai Lama's temple. Some hang out at cafes. I pass old Tibetan grandmas and grandpas faintly murmur "Om mane padme om" with jangling prayer beads and this is easily drowned under the cackle of Tibetan toddlers, just out of school.  All these subtleties of daily living make up different notes of a grand opera. They collide, clash and resolve together.
To live as a part of this environment is humbling. Each day I feel a mix of both, gratitude and awe. For me, there are no words to describe the privilege I feel to experience this. … to describe the realization of knowing I chose this place and got here on my own… solo. How can I be capable of such choices, such a bold act and such a daily lifestyle?
I don't know, but I'm living it right now.
20. Volunteer programs in Mcleodganj
There are many programs for travelers like myself (even short-term ones) to have a positive impact on the community, and it doesn't entail dishing out gross amounts of money on "voluntourism programs". I'm actually surprised how easy it is to find and take part in volunteer programs in Mcleodganj.
I've seen Tibetan volunteer programs in Mcleodganj take short-term and long-term travelers. Usually, there are three types of volunteer programs:
English Conversation: You show up in a room filled with travelers and Tibetans, find a Tibetan and converse with them to help them practice their speaking skills. Usually, there is a facilitator, who might have prepared questions written for you to ask. If you have more time to commit, you can tutor people or teach at one of the facilities. (There are a few of these programs)
Environmental cleanup: Dharamsala has a bad littering problem. You go out and help clean this up.
Daycare/Babysitting: You babysit and accompany Tibetan toddlers to where the program needs to take them.
21. Where to volunteer in Mcleodganj

Volunteering with non-profit organizations in Mcleodganj is as easy and open, as donating an hour or more of your time to pick up trash in Dharamsala or joining an informal English conversation group with Tibetan students. Many organizations are flexible to travelers and their schedules.
For travelers, it's a great opportunity to meet people, get involved in the community .
Rogpa ( www.tibetrogpa.org) runs a child day care center and a coffee shop with a clothes donation clothes section. Located on Jogiwara Road (just before the steep steps going down the hill to other guesthouses, they are a small shop which also posts fun events and performances around the town. Volunteers needed: companions for the children and babies and people to work in their shop. Clothes donations are welcome and will either be donated to refugees or resold for charity.
Gu Chu Sum Movement of Tibet (www.guchusum.org) provides help to Tibetan political refugees and former political prisoners. Their classes (from 4:30pm-6:30pm).
Tibet Hope Center (www.tibethopecenter.org) is a center in which volunteers can offer their time to conversation classes (from 4:30pm-6:30pm), community cleanup, being nanny's to children and English language classes.
22.  Food in Mcleod Ganj
Living in Dharamsala for a month, I had international food at it's fingertips.  Japanese, Korean, Chinese, Italian, as well as, baked goods shops.  It's almost as if foreign travelers have been figured out-  keep them happy with some western baked goods like donuts, chocolate chip cookies, cheesecake…) It all feels a little odd and a bit like cheating if you're in Dharamsala wanting to experience native foods.
There's also a nice selection of Tibetan and Indian restaurants to choose from.  If you want to go local', Tibetan is it. Tsampa (tibetan porridge) is a bit like oatmeal but made with sweet barley (Yum).  Momos (or Tibetan dumplings) are another easy staple, which travelers love and find filling.
 My fave restaurants were located on the main center road of Jogiwara: Tibet Quality Bakery (mini shoebox bakery on the side of Jogiwara Road) Tibetan Kitchen (veg momo soup, fried and steamed momos; Located on Jogiwara Road), Lungta Restaurant (Korean food, Located off of Jogiwara Road)
23. Finding an apartment in Mcleodganj
Mcleodganj is the most convenient town to stay in as it has the best traveler infrastructure with things to do, restaurant options and a buzzing community of Tibetan Buddhism. To awaken each day to the lush green of mountains and occasional goat herders with their pack and Tibetan flags… To stroll the streets, to pass a cobbler running his business part street-part shack, buy groceries from street fruit vendors and wait for a donkey to pass so you can continue your stroll on the narrow stone walkway to your guesthouse.  The streets are small and winding, so you essentially see some of the same faces daily. The next town beyond Mcleodganj is a ten minute walk to Bagsu. It is significantly smaller with less shops, but further into the hills.
24. Accommodations in Mcleodganj
There is wealth of guesthouses in McLeodganj, with dorm rooms starting at 150 rupees per night.
Long-term rooms can be found with cooking facilities and range from 3000-6000 rupees (US$60-$120) per month. Jogibara Road, below McLeod Ganj, and around Bagsu Road are quieter and are out of town.
Finding my apartment in Mcleodganj is simple as there is a lot of housing for travelers. From small hotels to apartment buildings, you'll find accommodations in the heart of Mcleodganj as well as on the outskirts. The further you go from the center of town, the less it costs. So I stayed in the cluster of apartment buildings on a lower street along the valley where the view of the mountains were breath-taking and I could see the other nearby towns of Bagsu across the way.
When I arrived in Mcleodganj a week early, I stayed at two other guesthouses in the vicinity, before moving into the apartment recommended by my Yoga Teacher Training program,  Himalaya Yoga Valley. We stayed at the Sidarth House, where there was a studio space on the rooftop. I had a large studio room with a mini kitchen, a TV, closet and dressers and an outdoor balcony .  My room was just below the yoga shala. It was quite nice for budget accommodations in India. After a month of traveling India, it felt nice to root down!
25. Best travel insurance for India
American travelers often pay a premium on travel insurance.  World Nomads offers economic solutions for travelers who seek security and peace of mind.  It covers 150 countries.
26. Getting from Delhi to Mcleodganj
Mcleod Ganj bus station is about 20 kilometers away from Dharamsala and is accessible by frequent buses and taxis. Always ask your school if they do airport pickups first. This is the easiest way.
Flight
You can fly into Delhi's Indira Gandhi International Airport (DEL) or Dharamsala's Gaggal Airport (DHM).   From Delhi, you will either take the train, bus, taxi or ask your school if they have an airport pickup. The Dharamsala airport is 40 minutes away from Mcleodganj
Tip: fly to Dharamsala direct. You might find yourself on a flight with the Dalai Lama (a couple of students in my program were!)
Bus
There is a 10-hour overnight bus from Delhi to Dharamsala. Buses leave around 8pm and drop you at Dharamsala bus stand, where you catch a public bus, shared jeep, or taxi to Mcleodganj bus station.  Alternately, you can take a bus from Delhi to Pathankot (my bus broke down and I got dropped away from the bus station and need to tuk-tuk there). Then take the government bus to Dharamsala and transfer to the bus to Mcleod Ganj.
You can book India trains and buses in advance here.
Train
Take an overnight train from Delhi to Pathankot (the closest station to Mcleod) takes approx 7 hours and will cost around 1400 Indian Rupees for a seat in second or third AC. Sleeper and day trains run  daily. From Pathankot, take the public bus to Dharamsala. The bus journey from Pathankot to Dharamsala is 90 kilometers or 55 miles and takes approximately three hours. There is a prepaid taxi stand outside of the Pathankot railway station. Read my Complete guide to Indian trains for Solo travelers.
What would you add to this Dharamsala travel guide and list of things to know before traveling Dharamsala?
Trip planning for India and want to know where to start?
Learn the India trip essentials from India scams, dress etiquette, itineraries, accommodations, food insights, how to take the bus, dealing with sexual harassment and indian trains, and staying at ashrams.
More Yoga in India Articles
Watch India Travel Guides for Solo Travelers!