Last Updated on
Finally, travel with a purpose.
Today, I started my yoga intensive teacher training classes with Himalaya Yoga Valley and I'll be staying in Dharamsala for a month.
Many travelers come to Dharamsala with a purpose
In Mcleodganj, Dharamsala you'll come across many travelers, who have come for a purpose.
Some come to study yoga at the ashrams, do a Buddhist meditation retreat, study Ayurveda or take Tibetan Buddhist studies. Others, come to participate in volunteer projects, teaching English to Tibetans and monks, ridding the natural environment of trash that's been thrown into the valley or come on pilgrimage to meet his Holiness, the Dalai Lama (or the Karmapa)!
There's not a lack of purpose in Mcleodganj. In fact, if you came without a purpose, you might feel a little out of place. But not to worry, Mcleodganj welcomes all.
Already I've been here a week and  did so many things that I hadn't planned. I went hiking, took a cooking class on Tibetan momos, met some long-term Mcleodganj squatters, volunteered at an English center for Tibetans, explored the Dalai Lama's temple, the list goes on…. But yesterday, I finally dropped my bags!
Food in Mcleodganj
Mcleodganj is a crosstown of Tibetan, Indian, hippy and Asian. Food wise, you'll find Tibetan, Indian, organic vegetarian, Japanese and Korean restaurants. Lots of  fresh fruit and veg stalls in town and grocery stores for basic necessities.  Practice standard food safety tips for traveling abroad, where it comes to street food.  Water is still quite bad here, so drink only filtered or bottled. There's a handful of vendors in town who will sell purified water whereupon all you need do is bring a pitcher or water bottle and pay them to fill it up. It's cheaper than buying bottled water.  Or you can bring a SteriPen water purifier
. Here's other options.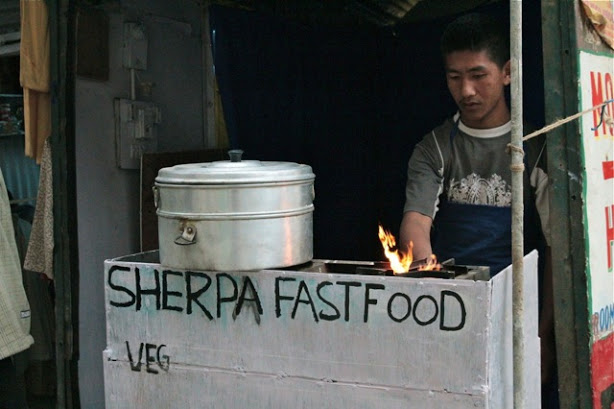 Sherpa Food vendor
My apartment in Mcleodganj
For the next month, I'm living in Dharamsala. More specifically, Mcleodganj. I'm doing my Yoga Teacher Training Certification program (read here).  I'm staying at the Sidarth House.
I've stayed at two other guesthouses at Mcleodganj, before I could move into the Sidarth House in preparation for my yoga teacher program. All of the guesthouses I stay in had spacious rooms for a single person. This is the nicest, with the most accommodations to make it feel like an apartment. I have an large room with a mini kitchen, a spacious bedroom with a TV, closet and dressers and an outdoor balcony.  I'm just below the yoga shala (which is on the top floor) and the rest of the yoga TTC students will be staying in this guesthouse, as well. It's quite swank, especially for lodgings in India.
Best of all, after a month of traveling India (from Mumbai-Goa-Hampi-Gokarna-Cochin-Alleypey-Trivandrum-Kanyakumari-Madurai-Trivandrum-Delhi)… I finally get to root down!
Anchoring myself to a place means having time to  get to know its community and live its lifestyle.  For me, this is  an exciting perk of long-term travel and the part I've been looking forward to. You get to spend your time in a place, exploring it and gaining a deeper understanding of it.
I like to think it's about creating relationships.  Relationships are what makes the places you visit beautiful, meaningful.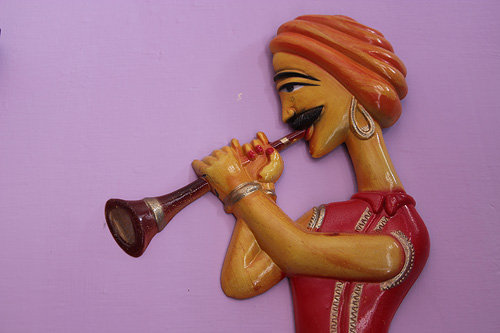 What is it like living in Mcleodganj (Dharamsala)
To awaken each day to the lush green of mountains and occasional goat herders with their pack and Tibetan flags… To stroll the streets, to pass a cobbler running his business part street-part shack, buy groceries from street fruit vendors and wait for a donkey to pass so you can continue your stroll on the narrow stone walkway to your guesthouse.  The streets are small and winding, so you essentially see some of the same faces daily. It's calm and a place you could call home.
On weekends, I can trek the mountains or visit the neighborhood town of Bagsu.  I wanted to live in Dharamsala, so I purposely chose a yoga school in Mcleodganj (the official base of the school is in Goa, but they run a program seasonally in Mcleodganj.
Of all the Indian ashrams and Ashtanga yoga training schools, I narrowed it down by location. I wanted to be in Dharamsala..  in the mountains,… in a Tibetan community. The Dalai Lama's residence is in Mcleodganj, so you'll be seeing a lot of crimson robed monks in the streets. The temple home of the Karmapa is a taxi ride away.  I wanted the Be attitudes of compassion and mindfulness to be a constant reminder to me in my environment.
Even though Tibetan monks are a very passionate sect and there is still much political unrest for Tibetans!
Volunteer programs in Mcleodganj
There are many programs for travelers like myself (even short-term ones) to have a positive impact on the community, and it doesn't entail dishing out gross amounts of money on "voluntourism programs". I'm actually surprised how easy it is to find and take part in volunteer programs in Mcleodganj.
I've seen Tibetan volunteer programs in Mcleodganj take short-term and long-term travelers. Usually, there are three types of volunteer programs:
English Conversation: You show up in a room filled with travelers and Tibetans, find a Tibetan and converse with them to help them practice their speaking skills. Usually, there is a facilitator, who might have prepared questions written for you to ask. If you have more time to commit, you can tutor people or teach at one of the facilities. (There are a few of these programs)
Environmental cleanup: Dharamsala has a bad littering problem. You go out and help clean this up.
Daycare/Babysitting: You babysit and accompany Tibetan toddlers to where the program needs to take them.
Where to volunteer in Mcleodganj



Volunteering with non-profit organizations in Mcleodganj is as easy and open, as donating an hour or more of your time to pick up trash in Dharamsala or joining an informal English conversation group with Tibetan students. Many organizations are flexible to travelers and their schedules.
For travelers, it's a great opportunity to meet people, get involved in the community .
Rogpa ( www.tibetrogpa.org) runs a child day care center and a coffee shop with a clothes donation clothes section. Located on Jogiwara Road (just before the steep steps going down the hill to other guesthouses, they are a small shop which also posts fun events and performances around the town. Volunteers needed: companions for the children and babies and people to work in their shop. Clothes donations are welcome and will either be donated to refugees or resold for charity.
Gu Chu Sum Movement of Tibet (www.guchusum.org) provides help to Tibetan political refugees and former political prisoners. Their classes (from 4:30pm-6:30pm).
Tibet Hope Center (www.tibethopecenter.org) is a center in which volunteers can offer their time to conversation classes (from 4:30pm-6:30pm), community cleanup, being nanny's to children and English language classes.
What's in a room name?
Each room at my guesthouse  has a theme and a name. For me, a name encapsulates an essence and an energy. I'm in "Music".
Originally, I was in "Ocean"… until I saw it.  First floor, basement-level, corner room, dark, lifeless, dead energy. No flow.  And though it opened to a lovely patio sun deck, I had no balcony to bring in light or air. It didn't sing.
Being in "Music" feels livelier and I literally, have musical instruments as decor in my room. I don't know how to play them…  But that doesn't matter.  Getting settled in, I've already met "Happy", "Taj Mahal" and "Sun".
So far the yoga student's (of this program) personalities are aligned to their room names. "Happy" (Autum) is bursting with bubbliness and Red Bull. The "Taj"(Kristina) is graceful and elegant, with a very statuesque demeanor. And "Sun" (Maria) is strong, confident and centered.  I'm hoping our room names are indicative  of the energy, talent or personality, we bring and will share with others in our teaching.
How to get to Mcleodganj from Delhi
Mcleod Ganj is about 20 kilometers away from Dharamsala and is accessible by frequent buses and taxis.
Bus: From Delhi, take the overnight bus directly to Mcleod Ganj or to Pathankot. If you get to Pathankot, you will need to transfer (likely you'll get dropped away from the bus station) via tuk-tuk to the Pathankot station; from there you'll take the government bus to Dharamsala and transfer to the bus to Mcleod Ganj.
Train: A train from Delhi to Pathankot (the closest station to Mcleod) takes approx 7 hours and will cost around 1400 Indian Rupees for a seat in second or third AC. Sleeper and day trains run  daily. When you arrive in Pathankot station you can get a taxi  to  Mcleod for around 2500 Indian Rupees and approx 2 + hours.
Flight:  The airport is 40 minutes away.
Accommodation: There is wealth of guesthouses in McLeod Ganj, with dorm rooms starting at 150 rupees per night. Longer-term lodging, rooms can be found with cooking facilities and range from 3000-6000 rupees (US$60-$120) per month. Villages near Jogibara Road, below McLeod Ganj, and around Bagsu Road offer quieter accommodation out of town.
Note: Above is appended information I got through my yoga school, volunteertibet.org and information I discovered on my own.
.
Best travel insurance for India
American travelers often pay a premium on travel insurance.  World Nomads offers economic solutions for travelers who seek security and peace of mind.  It covers 150 countries.