Last Updated on January 27, 2018 by Christine Kaaloa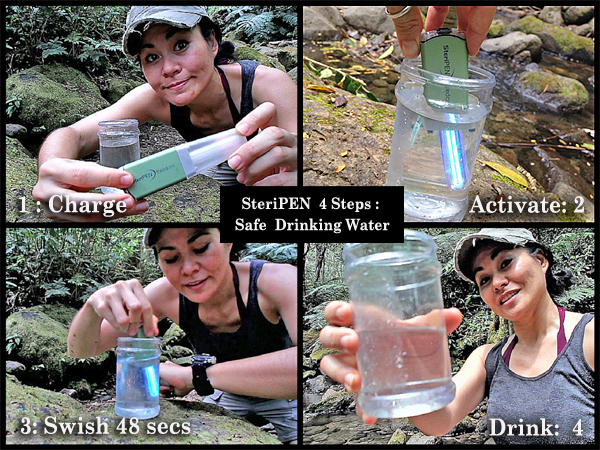 Clean water.
It's something you take for granted if your country offers it up freely.  Just turn on the spigot of your faucet and bam. Insta-water. But travel to a country which doesn't have the luxury of clean water and it will change your way of thinking.
Ironically, I love traveling to countries with bad drinking water. When I was doing my month-long yoga teacher's certification in India, a sip of clean water always took either, money or effort, so I thought about clean water often–  how and where I was going to get my water, make it and use it. I didn't always want to buy water daily for a month, that would add up. So at first I used a sports bottle pump. Another girl in my program brought a hand-pump.  Both pumps worked, but over time, one gets tired of spending so much energy and effort for a drink. Later I bought a boiling wand and that worked like a charm. …If only I didn't get tired of drinking tea.
If you're traveling in a country with bad water, thankfully, there's a handful solutions in water-purification, from hand-pumps to iodine tablets, boiling wands and more. Here is a solution, which has made my top travel gadgets list and one I've  used which I like a lot…
What is a SteriPEN?
SteriPEN is a company, that's known for making tried-and-true devices which help purify water in countries and places where water is undrinkable or unclean. It treats the bad water with a UV light which stops bacteria from reproducing. I was given a SteriPEN Freedom Solar Bundle to review and was very excited about it as I've been greedy to get my hands on one for some time.
As Hawaii is known for having clean water, I decided to try it out on one of my hiking spots, on mountain stream water.  Most hiking spots in the mountains have wild boars, which occasionally urinate in the water. When passing the idea of test driving my SteriPEN out on the stream water,  sentiment from local friends and family was – Don't risk it.  Watch my video below to see how I tested it and what VIP makes a cameo appearance.
.
Water Purification vs. Filtering
People often get confused between water purification and filtering. I did too. The SteriPEN promises to purify and eradicate 99.9% of waterborne illnesses and microbes, such as bacteria, viruses and protozoa. It won't filter out worms and parasites, which can live in water, nor will it dissolve dirt or sediment. It should be used on clear water; hence, a source of flowing water such as a stream, river or tap water are recommended.
.
SteriPEN Freedom Solar Bundle Review
What makes this SteriPEN Freedom different from others in the past SteriPEN devices, is that this model charges by USB and not double AA batteries.  If you didn't have access to electricity then you can get the SteriPEN Freedom Solar Bundle, which comes with an external solar charger.
Here's a breakdown of the advantages (and some disadvantages) of using the Freedom Solar Bundle.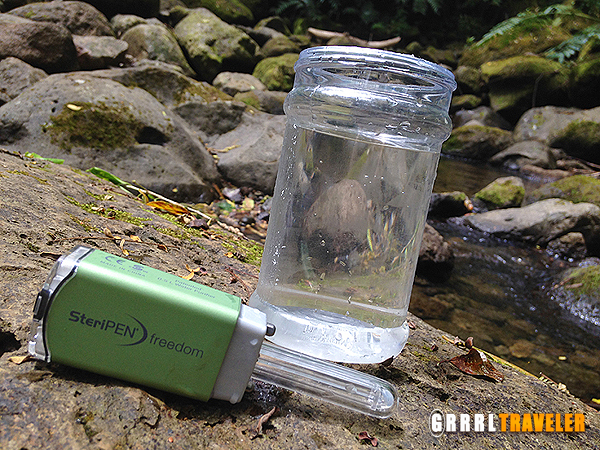 Travel friendly & light-weight
Unlike earlier versions, I love that the SteriPEN Freedom comes in a travel-friendly size. It's small, light-weight and easy to slip into your pocket.  It also has a plastic cover to protect its glass filter from damaging.
Light indicators
The light indicators on the PEN may take time to get used to.   There's at least 9 different signals, but the main ones are the most necessary to know.
Green shows you that it's been fully charged and that the treatment was a success.  Red warns you when your battery is low and if your charge water treatment is unsuccessful
A flashlight
With camping or rugged terrain comes the need for a flashlight, I guess, so SteriPEN has added this side feature. It turns on with the flick of a wrist. The flashlight can take a few tries before you're comfortable with it; but it's a handy tool if you need it.
No AA batteries
The SteriPEN Freedom is light-weight because it doesn't use AA batteries. At first, this was something I didn't trust too. Afterall, AA batteries have long been a fail-safe backup battery solution, if ever you are unable to get to an electrical source.
This is why the SteriPEN Freedom is best used with an external charger and why I'm grateful it has a long-lasting charge.
Long-lasting charge
The Freedom quotes "to treat 40 half liters of water on one charge", which means you can be off-the-grid for days without an electrical source. Essentially, it means the Freedom pen makes five 16oz water bottles/day over a span eight days.
I haven't been on a long enough trip to test the validity of that promise.   But what I did not expect, was for my SteriPEN Freedom to still have a strong charge after two months of non-use!  Yeah, I pulled it out of the cobwebs of my drawer after two months and it still worked! This which means the Freedom's internal battery holds its charge better than my iPhone.
A 2000 mAh external solar charger 
The SteriPEN Freedom will probably work with any external charger, but with the SteriPEN Freedom Solar Bundle, you get a 2000 mAh solar charger.  This is your backup battery, where you'd originally use AA batteries. The charger has its hits and misses, but it's probably one of the better solar charges I've used.  I've used it, not only on my SteriPEN, but for devices like my iPhone and pocket camera. For me, it's ultra practical in this day of USB chargeable technology and useful.
Three ways to charge it:
•  (1) Direct sunlight (I mean "direct", as in laid flat in an area which gets strong sun): 16-18 hours;  (2) Computer USB: 3-5 hours;  (3) Outlet: 2-3 hours
The pro: Electrically charged, the charge will last a substantially longer time (for days) and your device charging will be quick.
The con: As a "solar charger", it's decent but not perfect. Charged by the sun, it takes almost a day to charge and the battery's charge doesn't last long. I left it out in direct sunlight for almost two days (I actually forgot it on my truck dashboard and I park outside); then two days later, I went to charge my iPhone only to find the charger empty.
All in all, if you want a convenient and travel-ready water purifier this is a great option to choose. I'll certainly be using my SteriPEN more in my future travels… and I can't wait to take it back to India!
.
Unboxing the SteriPEN Freedom Solar Bundle:
Where to Buy it
SteriPEN Freedom Solar Bundle on Amazon   $106
SteriPEN Freedom on Amazon   $79.95
 Visit SteriPEN Website
.
+++++ OFFICIAL RULES +++++
I'm holding a contest giveaway on GRRRLTRAVELER.  The prize is a SteriPEN Freedom (not Solar Bundle).

P.S. This entry form may have difficulty showing on certain browsers. Apologies for the inconvenience.
ELIGIBILITY:
Open to U.S. Residents only. (To my international readers, I'm sorry!)
ENTRY DATES/TIMES:
The contest giveaway runs from September 29th, 2013  to  October 12, 2013 at 11:00pm Pacific Standard Time Hawaii is practically the last time zone on earth) .
PRIZE:
The winner will get (1) SteriPEN Freedom water purification device.
HOW TO ENTER:
In order to enter for a chance to win this SteriPEN Freedom, enter below and you'll be asked to do the following:
1. Share or Like this Post and/or Follow me on — Facebook, Twitter, YouTube, Pinterest or Google+.
While it's not necessary to do this to enter, each action gives you an additional entry.
2. The winner of the giveaway will be chosen at random and contacted via email.
If there is no response or claim within a week, the prize will go to the next winning candidate.
Thank you to SteriPEN for sponsoring this giveaway! All opinions expressed in this review are solely my own.