5 Travel Must Haves for India
Reflecting on my recent 3 month trip to India, you might want to know what items were my travel gems and saviors. There were things I was grateful to have packed for my India trip and thankful for having found in Indian stores, as they either made life easier or gave me much peace of mind.
 5 Travel Must Haves for India
.

1. Do you drink the water in India?
Does India have safe and drinkable H2O? No. Having battled waterborne bugs for having brushed my teeth with the water, I'd list a backup water solution as a must-have. Here's the low-down on some of the options out there:
Water pump water purifiers
These claim to catch 99.9% of the bacteria in bad water. Not bad. I bought a Sport Berkey Portable Water Purifier
for $25. The only drawback is the pump and water bottles require labor. In short, you're getting a workout for each mouthful of squirt you make! These filters work, but if you lack patience like me, you'll easily find yourself running back to the stores to buy sketchy bottled water or worse– risk brushing your teeth with the tap!! They're also pretty bulky and not very light-weight either.
Coffee/Water Heater
It's a little travel size plug-in heating wand that you put in your water, bringing your water to a boil in seconds! It comes in several sizes (mine is about 5 inches) and you can also find them India household and appliance shops! As for cups to boil water in– India has a wealth of stainless steel cups for mere rupees.
Tea, anyone?
.
Water sterilizers
I haven't used the SteriPEN Freedom UV Water Purifier
yet, but if I had to do it all again, I would. I've only heard good reviews on this forefront. The electric water purifier, doesn't need hand-pumping, is the size of a screw driver and runs on AA batteries. Supposedly it makes 1 liter in 90 seconds!  Read my review of the SteriPEN Freedom Solar Bundle!
Another recent development is the Life Straw.  It's easy to use– just put in the water and use it like a straw! You'll have to suck a little harder than a normal straw, but it still makes water purification a breeze.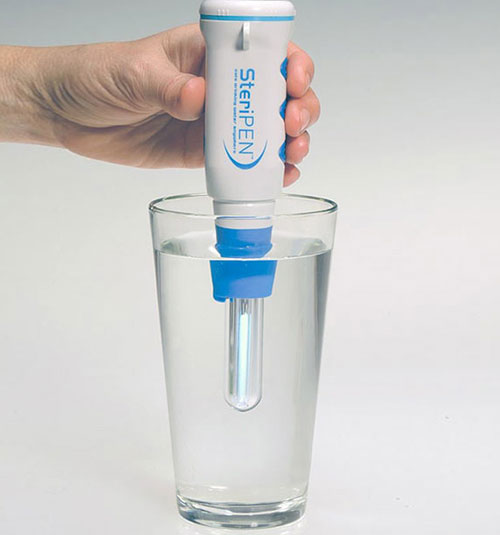 .
2. The best way to get internet in India
USB Internet Stick

Say goodbye to internet cafes and hunting for free wi-fi; now connecting your laptop on the road is a breeze. I bought my first Reliance USB Internet Broadband stick in Goa. These wonder-babies offer convenience and flexibility for the flashpacker who wants to touch the net world from a mountain peak, beach or moving train.
India has a few USB broadband companies– Reliance, Photon, Idea and Airtel. The downside of purchasing from an Indian USB broadband company is that your USB stick will only work in India. For 1,500-2,800 rupees (approx $33-$63) for the stick and a 5 – 50 GB of data plan, it's a decent option if you plan to use a lot of internet.
Read How to Get an Indian SIM card
My recommendation: The Micromax 3G USB stick is universal-friendly.
These days, I've gradually noticed a variety of open SIM USB sticks hitting the market of SEA mobile or telecommunication shops which sell SIM cards. Generally, they're quad-band devices, which takes SIM cards from most countries, letting you surf (within the country where you've bought your SIM ) for cheap. Due to the fact it's open SIM, it should already be unlocked. Just buy a country SIM with data plan, slip it into the USB's SIM slot and you're good to go!
When my Reliance USB stick connection went wonky and customer service sent me in circles with no success, it sent me seeking a more effective solution.  I have a Micromax 3G USB stick which I bought in Malaysia. So far, I've been able to use it in India, Thailand and Malaysia at hotels, tourist sights, beaches, on moving trains and buses on their way to border crossings.  But if you're in the U.S. looking to get an unlocked MiFi for your trip, the Huawei E5531 Unlocked 3G internet stick is a dreamy net travel solution and it can be used in Europe, Africa, Asia and the Middle East.
Tip for iPhone Users:
Say goodbye to roaming charges when you use the internet via your mobile. You can skip the USB internet stick and just get a SIM with a data plan. Easy peasy. Moreover, I have an Unlocked iPhone  7
 and used its hotspot feature to attach my computer to the internet. All I needed was an Indian SIM with an internet data plan.
.
3. Coping with mosquitoes when you  travel
An electric plug-in mosquito repellent
So the mosquitoes are having an international feast on your skin. Sure, mosquito repellent spray works, but if your mosquitoes are anything like mine, they'll find that one place between your toes that your spray missed!
When I found myself in the height of mosquito season and I didn't want to continually shower in repellent before going to sleep, I bought an electric repellent. The electric plug-in device has a screw-in bottle of repellent liquid and when plugged into an electrical socket, it heats up and releases unscented vapors in the air, which keeps mosquitoes out of the room.
4. Avoiding bed bugs in guesthouses, hostels and train beds
Hypoallergenic mattress protector
Silk Liners are awesome, but a vinyl hypoallergenic mattress protector and/or bed bug proof pillow protector that protects me from bacteria, bed bugs and dust mites, gives me  peace of mind for sleep. It's great for beds, sleeper trains/buses and you can even use it as a blanket for a picnic! Originally designed for folk with dust allergies this vinyl or plastic mattress cover locks out everything from bacteria to spilled water.
How to use it: I had an old cover which I was throwing out. I cut it in half and tucked it into a small pocket ziplock.


Related post: Where to lay your head in budget India?
.
5.   Staying clean and refreshed
Baby wipes
Baby wipes ROCK as one of the most versatile travel tools and these days, they're found almost everywhere. From sanitizing your train beds, wiping down your hotel room's surfaces and pampering yourself with a refreshing wipe post-trek to taking a swab bath when your accommodations are less than inviting… India, will test your creative use of wipes and you will be glad you have them!
What are your travel must haves for traveling to India?
Related Posts on India
The Anatomy of an Indian Hotel
Things to Know Before Planning your Trip to India
Surviving Indian Culture
48 Hours in Delhi