Last Updated on August 16, 2017 by Christine Kaaloa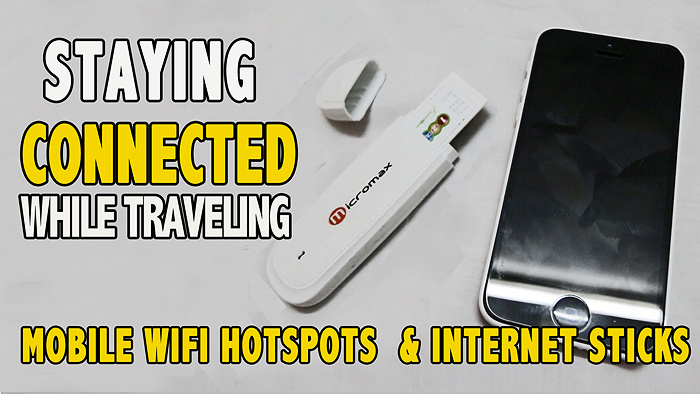 .
Internet access and staying in touch with friends and family through social media is important to many of us, even when we travel. How do you stay connected while traveling abroad?
When I arrived into Kolkata and realized that my hotel didn't have internet, anywhere in the vicinity and there were no internet cafes, it felt like a first world problem. I panicked and immediately ran out to buy an Indian SIM card with a data plan.   Check.
Now I could make FaceTime calls, check into social media and navigate via Google Maps.
But the next conundrum arose, of…  how to get internet on my laptop?
So today I thought I'd go talk to you about cellphone hotspots aka mobile internet and USB internet sticks.
Four ways to stay connected while traveling abroad:
Watch the video for a quick summary of how to set some of these devices up!
1. Unlocked Mobile Phone
Often, buying a SIM cards and data plan of the country you're visiting, is far cheaper than taking on roaming charges from your service provider at home .   Unlocked means that your phone is not tethered to a service provider but open to using any. So investing in an "unlocked" phone opens you to freedom and flexibility of using SIM cards in other countries.
I have a factory [easyazon_link identifier="B00F3ISEUC" locale="US" tag="gt0d8-20″]Unlocked iPhone 5C[/easyazon_link] that I bought directly from Apple.  It was my one big splurge a couple of years back, knowing I love to travel but that there wouldn't be any way I'd be hefty roaming fees.  Secondly, while I can easily find "unlocked iPhones on eBay and Amazon, I knew I was risking whether they were actually unlocked, refurbished or hacked. When a phone is originally tethered to a service provider contract, there's some confusion.
2.  Mobile (wifi) hotspots  – Turning my iPhone 5C into a mobile hotspot
Luckily, I remembered watching a friend use her iPhone4  personal hotspot feature, which meant being a 5C version, mine was certain to have one too!
Some phones can be turned into mobile wifi hotspots, which act like routers, allowing multiple devices to tether onto its internet connection.  For instance, I insert my Indian SIM card into my phone, go into the 'Settings' -> Personal Hotspot and turn turn on the my hotspot feature; thus, transforming my phone into a wifi router for my laptop to hook into.   Devices are paired via bluetooth or WiFi, so you'll be asked to turn that on as well .
Note:  It's best for you to occasionally change the 'identity name' of your phone, along with its password to something secure, as anyone in the vicinity will notice your phone as a router. You can change these name and password in 'Settings' -> General –> About -> Name.  Also, remember that the Personal Hotspot feature drains battery when it's on. My phone actually heats up some, so I usually plug it into my laptop to charge while I'm using it. Remember to turn it off when it's not in use.
3. MiFi  (Mobile Wifi)
A MiFi ("mobile WiFi" ) is a pocket-sized internet routers, which allow multiple devices to use its internet. Note: Unless you buy it unlocked, many mifis are tied to a mobile service providers.  A popular MiFi brand is Huawei.  While I've never used it, a friend of mine, who travels for business and to visit his family in Hong Kong, swears by his [easyazon_link identifier="B00INXBW3U" locale="US" tag="gt0d8-20″]Unlocked Huawei E5330 Mobile Wifi[/easyazon_link] as able to connect across the continents in both, GSM and CDMA networks .
4.  Unlocked USB Internet sticks
[easyazon_link identifier="B0055310KQ" locale="US" tag="gt0d8-20″]Unlocked USB Internet sticks[/easyazon_link] enable you to surf the internet on your laptop.  They require a working SIM (with a data plan) be inserted into the stick, while the USB portion be inserted into a laptop  It only provides internet to the device it's plugged into.
.
.
How do you stay connected while traveling abroad? Let me know in the comments or by sharing it on social media.  Don't forget you can follow me on Facebook,Instagram and Twitter!
.