Last Updated on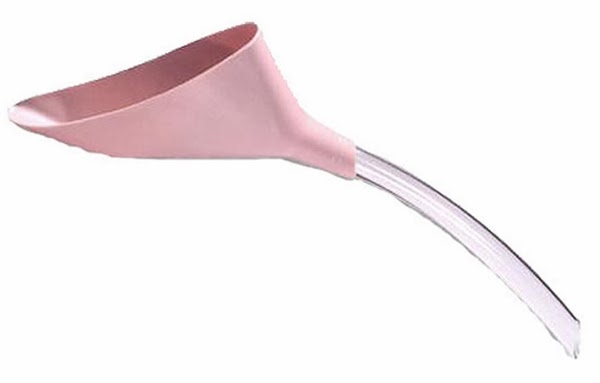 Ladies, would you pee standing up? | Female Urinary Devices  (Click here for video)
–
Ladies, does the idea of using a squat toilet freak you out? …Is finding restrooms a challenge when you're sightseeing or hiking? …Do you hate waiting in a long queues at the restroom or accidentally, sitting on a gross, slimy toilet that others have used and left their drips on?  If the answer is Yes to all of these questions, then consider peeing standing up.  Okay, don't be shocked.
Table of Contents: Should you Use a Female Urinary Device?
How to use a feminine urinary device for travel
I'm talking about a female urinary device (aka female urinary diversion device (abbreviated: F.U.D.D.) or in my simplified way of explaining it… a "pee cup". I've already written a post Ladies, Would you Pee Standing Up? a couple of years ago, where I shared my first female urinary device, The Freshette.  A female urinary device is a game changer in travel and outdoor activities.
Initially used for women doing outdoors activities like camping or hiking, the feminine urinary device is a urinary director. It allows you to urinate standing up and sometimes, you don't even have to unzip your pants. You simple place the cup under your vagina and let it all flow from there. You can direct your urine as if you were holding a penis.  Cleaning it is as easy as washing it out with soap.
Watch my video on how to use a feminine urinary device
Leave the squat toilet to the squat pros
While it's ideal to learn how to use a squat toilet if you plan on traveling a lot, many women initially feel squeamish about the possibility of peeing on themselves. Some folks even claim bad knees. It's not a problem if you take a pee cup.
No more penis envy or holding your bladder in uncomfortable situations. Just remember to pack your pee cup and you're set.
Female urinary devices for your personal style
Have you used a female urinary device yet?