Last Updated on June 10, 2020 by Christine Kaaloa
Tonight I'm taking the overnight sleeper train from Jodhpur to Delhi.
Shahi Palace had their driver take myself, Margaret and Dan to the train station in Jodhpur. We are all a bit tense knowing that we'll need to deal with the scam tour agency when we get back to Delhi. Now with a new driver, we feel the freedom to speak and talk about how we'll approach the agency to get our money back.
Regina stayed behind to stay a few extra nights in Jaisalmer.
When we go to Nepal, she'll stay back in India and follow a different route. Likely, we'll eventually meet her again at some point.
My first time using a female urinary device
I didn't see the blue architecture of Jodphur city, but arrived just in time to settle into Jodphur's train station and use the bathroom. Public bathrooms in India are what I wish I could avoid.  That's the only thing I'd like to say counter to loving India.
This bathroom toilet was well…  nasty. Mosquitoes and flies buzzing, the smell was so bad my eyes wanted to tear. There was no way I'd drop pants in this environment. But then I remembered my new travel weapon– The Freshette
! It's a female urinary device.
To be brutally honest, the Freshette is a cup with a spout allowing women to pee, standing up like a man. If you do it just right, you don't even have to take off your pants.  It was a weird feeling at first. It felt so wrong to cross Adam, but overall the Freshette is a genius device for women. I could even write my name in urine standing up but the greatest feature is that I don't have to expose my butt to the scary hole. …Don't have to risk peeing on my shoe.  I'm grateful to the inventor!
Tip: Don't forget to bring a plastic ziplock bag, hand sanitizer and a roll of toilet paper or tissue as many trains will not have running water to wash up.
Inside Indian Sleeper Trains
I hopped aboard my Mandore Superfast Express train (schedule here) which I think meant, it didn't make all local stops.  An Indian train is like one long metal can on wheels. After seeing most of Rajasthan through a tour, I didn't mind it. I could move around more and I liked that train travel finally let me meet and talk with Indian locals.  Around meal times, local families will unwrap their home packed meals and there is a chai and food vendor that makes rounds through the train to hungry travelers. But yes, the train bathroom has squat toilets and there's an unheavenly odor which makes you want to avoid them. There's western toilets too, but you don't really want to sit on them. Again, the Freshette comes in handy.

Indian Train etiquette & tips
•  When you start out, all the bunk beds are folded up and you just have the two rows of seats (photo above).  Everyone sits, according to their ticketed assigned seats.
•  Backpacks and luggage must fit under your seat,  but as you're sharing that space with three other seat mates, you may not always have space. It really depends upon how much luggage your seat mates bring.
• I've heard you should chain up your backpack to avoid people from your bag getting stolen. Everyone in my cabin seemed pretty trustworthy and I didn't encounter a problem with this. The idea of someone making off with my backpacker's backpack seems kind of funny. Still, if you booked a berth that's higher than seat level,  your backpack is best stored on your berth when you sleep.  Yes, your luggage will fit, unless you brought a lot of luggage.
•  There is a time when all your cabin mates will decide to eat. Food vendors on the train periodically go around selling food, but most locals seem to bring their own food.  I've read that the food sold on the trains is not very tasty and overpriced.
Tip: Prepare snacks or a meal to bring on the train with you
•  Around bed time there is usually a silent agreement among your "cabin mates" . Everyone pulls down their bunk and sets up their beds. Margaret and I wiped ours down with baby wipes.
• If you're booking an overnight Indian train, avoid the bottom berth if you want to go to bed early or sleep until late. This is the seat/berth that everyone sits on and your sleeping times will be determined by other passengers who either want to stay up late or wake up early.
• If you are on one of the higher berths, you can pull down your berth earlier and just hang out there. You don't have to fold up or down your seat at any particular time.
• Trash: Indians don't have a problem with littering and it is just a cultural difference, as you won't find many designated "trash cans". Don't be surprised if you see Indians throw things outside the window or stuffing their litter in available pockets of the cabin.
•  Recommended: Always bring hand sanitizer and a roll of toilet paper or tissue as many trains will not have running water to wash up.
Read my Ultimate Train Survival Guide for India and How to book a foreign tourist quota ticket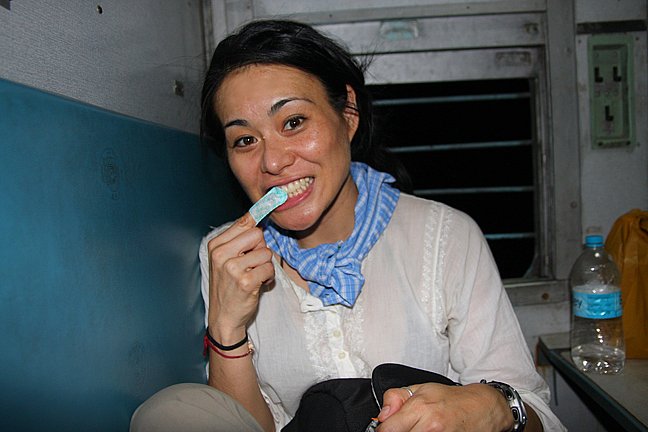 Indian sleeper trains: Preparing for Bed
Obviously, you don't want to use the water in the trains to brush your teeth. Dan actually offered us an interesting travel toothbrush. It's a fingerpad with toothpaste in the fabric. Your saliva activates the paste.
The sleeper train compartments house six fold-up berth beds (bottom, mid, top on both sides). After dropping my berth, wiping it down and throwing a silk liner on it, I couldn't sleep immediately. This was my first time riding on a train and sleeping on one. My excitement kept me awake.
Warm air rushed into the cabin from our gated window, while fans above circulated the warmth around.  I split my time between looking out the window (it was near my head) and watching some Bollywood music videos on my iPod. A boy, who was sleeping in the middle bunk across of me, recognized one of the Bollywood music videos that I was playing. He leaned over and watched some of it with me.
Railway Slums in the morning
When I arose in the morning, Indian life had already awoken outside. The slums of the poor line the railway tracks in a long procession. They stretch out further than my eye can see. Shack housing unrolled for miles!
Most of these folks are going through morning routines: brushing teeth with Neem stick twigs, bathing with buckets of water taken from a community faucet, doing ritual yoga sun salutations, or… taking a squat dump by the side of the train tracks.
Morning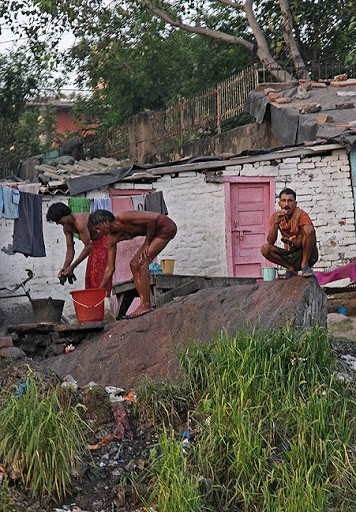 Sometimes, you see a procession of men squatting with their pants around their ankles, spaced out and behind bushes or even in plain sight. You don't see any tissues; only bottles of water, which is what gives rise to the idea that in India, the left hand is cosidered unclean, while the right hand is used for eating.  Most houses don't boast much, neither a bathroom nor running water. There's a public facet which everyone shares.  Yet, this is more of a home than many transients in New York City see in their cardboard box.  Such a drastic extreme but interesting cultural difference in regards to poverty.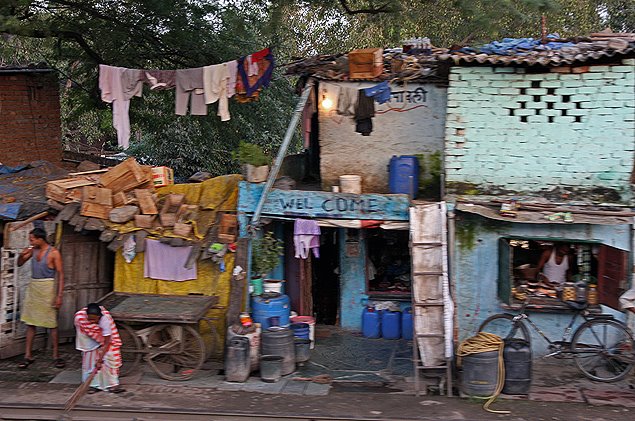 Track houses run one long procession…

 Arriving at  New Delhi station
The crowd gets off. Bags, boxes, luggage are unloaded. There are red-suited porters for hire. They offer to carry your luggage out of the train station for a fee. Many of them can carry the suitcases of an entire family, balancing bags on their heads like blocks, while another hand carries a bag or two more! If it's a large family, sometimes two porters are required.
Men unloading cargo

Porters to help you carry your bags
Information on Indian train travel:
India Railways (website)
Seat 61 info on India train travel (website)