Last Updated on July 16, 2023 by Christine Kaaloa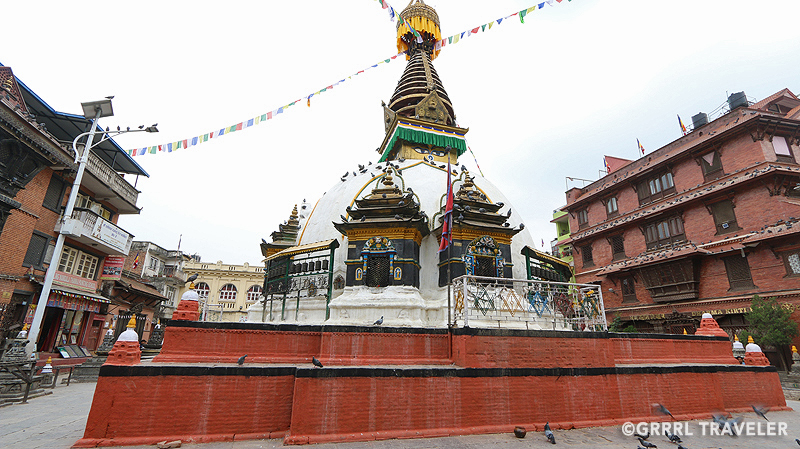 Top Things to Do in Kathmandu, Nepal
I like to dedicate one day to sightseeing all the famous landmarks, so that I can spend the rest of my trip wandering and creating unique experiences. Here are some reasons and things to do in Kathmandu.
Thamel's Durbar Square
Thamel's Durbar Square is a UNESCO World Heritage site and used to be the plaza of the royal palaces. Today, it's a hub of activity as a working marketplace for venders selling produce, spices and youth looking to hang out with friends on the steps of a pagoda. The ancient architecture is reminiscent of days past and there's a government entry fee of 300 Rs (Note: 2017 prices at 1000Rs; 150 Rs for SAARC countries )  to get in.. There are ticket booths at both entrances of the square.
There are three Durbar Squares and all are UNESCO sites:
Thamel
Bhaktapur (1500 Rs; woodwork temples and architecture)
Patan (500 Rs admission: the most amount of temples)
Tip:  Dine or take your afternoon chai at one of the Durbar Square rooftop restaurants. The best view comes at the cost of chai or a Nepali meal. It's opportune to visit during festivals and events; although it will be crowded.
NOTE: Since the earthquake, Durbar Square has been greatly reduced.  Bhaktapur and Patan currently have better Durbar Square, with Patan having the most visible square attributes as it once held in the past. However, they are all currently under construction.

Visiting Durbar Square in Kathmandu
House of the Living Goddess, Kumari of Basantapur
Constructed in 1757 sitting in Thamel's Durbar Square, is the House of the Kumari, Living Goddess (aka Kumar Ghar), a red brick building housing the Kumari, the Living Goddess.
The Kumari is a girl child who has been carefully chosen similar to Tibetan lamas. She must have 32 attributes which deem her as the living incarnate of the divine goddess and protector, Durga. The Kumari is chosen from girls  of the Buddhist Shakya clan, aged three to five. She must relinquish her title when she menstrates. Read more here.
Around morning and afternoon, the Kumari appears from her window of her house to send blessings to followers. There are eleven Kumaris in Nepal for the eleven district they reside in.
Ason market
In the morning before shops have opened and traffic started, produce sellers and buyers from all around Kathmandu and Nepal, come to Ason market to buy wholesale produce.  Produce vendors line the streets and outside closed shops in the early morning. YOu'll find produce, spices, stalls selling milk tea and see roti.  A walk down Jyayatha will take you down a strip of meat sellers.  Note: the market occurs only in the morning. Once shops open and traffic starts buzzing, the sellers are driven away.
Hours: Around 5:00 am -9:00 am

Visiting Durbar Square Marketplace in Kathmandu
durbar square at night
Bhairav Temple
There are many temples in Thamel but the Bhairav Temple (a UNESCO site) is a prominently seated in the heart square of Thamel near Asan Market.  Akash Bhairav is an intimidating deity which is known as a Shiva-like destroyer and I would hate to see him upset.  Light a candle and send a prayer to the deity who sits in the middle of the temple guarded by a temple attendant. The view from this temple is also magnificent, allowing you to see the crazy traffic inundating the square.  It's smaller but crazier than Tokyo's Shibuya crossing. For more attractions and insight into this temple,  see here.
Food Tours of Kathmandu
Eating street food in Nepal can feel sketchy for western travelers. I've read blogs saying to avoid the street food and opt for restaurants. I love street food, so I researched food tours in Nepal and found Backstreet Academy tours, where I can merge my eating skills with calorie burning sightseeing. Read more about my Kathmandu food tour experience here.
Read: Safety Tips for Street Food
Freak Street
Near Asam market is Freak Street, the notorious hippie enclave of the  late 60s and early 70s. Hippies gravitated here to find marijuana and spiritual experiences. Today, you won't find hipped, but boutique shops, famous tattoo parlors and restaurants in its place.
Kathesiumbhu Stupa
Kathesiumbhu Stupa is a smaller version of Swayambhunath Stupa that is located in Thamel. It's hidden behind the main streets tucked in a residential area with thanka shops and pigeons. It's impressive gem of Thamel and you wouldn't know about it unless someone told you. There's a frozen treats shop tucked away in one of the alleys and a hole-in-the-wall cafe selling momo and laphing.
Garden of Dreams
Garden of Dreams is a historical garden which lies on the edge of tourist Thamel, hidden inside the white walls. It's a beautiful and poetic park of neo-classical architecture and a pond. It's a lovely haven for relaxation, reading a book or just taking restful snaps.  You can have lunch there. Hours: 9:00 am to 10:00 pm. Admission: 100 Rs Nepali,  200 Rs for Non-Nepali.  Seniors, Children 50% off.
Nepali Festivals
There are two more things to know about Nepali people: they LOVE to shop and have a love for celebrating festivals!  Thamel with its winding maze of streets is like a one-stop shop for both, tourists and locals.  It is said that festival time is a time of great traffic and people flood the markets as sales signs come out advertising "festival discount". Currently, in Nepal everyone's getting ready for Dushain festival.
Festival sales in Thamel
Shopping in Thamel
Thamel is a shopper's paradise.  Wanna buy some cheap NorthFace hiking gear? Or need a Lonely Planet guide? Kathmandu is home of some of the best knock-offs and counterfeits.
Stroll through the market areas and spend your money on Indian pajama pants, hippie dresses or funky-boheme knitwear, which has a style that you might only find in trendy boutiques in the U.S. selling for $40-60.
Trekking
Thamel has a lot of trekking agencies offering sightseeing tours of Kathmandu, helicopter rides over Everest and of course, popular trekking tours such as Poon Hill, Anapurna Circuit, Everest, Lantang, Mustang, etc…. Travelers trek to see the mountain view, the simple lifestyle of villagers and to experience the untouched purity of remote mountain regions, which you can only reach on foot. You can book challenging or simple treks.  I booked a two day/ one night trekking tour of Bhaktapur-Changhu Narayan-Nagarkot. It was my first trekking tour and I got my own personal trekking guide;  it was a memorable experience I'd recommend to everyone!
Avoid booking a trekking tour during monsoon season (June- August) as the trekking will be muddy and dangerous. Also check the weather so as not to travel on a hazy day. Hazy weather will impair your view of the Himalayas.
Note: Interested in hiring a trekking guide or booking your Nepal trip with a good agency, email me and I'll send you recommendations.
 The Monkey Temple or Swayambuth Stupa
The temple is a five to ten minute drive outside of Thamel. This is the one temple I HAD to go to. They don't lovingly nickname Swayambunath Stupa, the Monkey Temple for nothing.  Monkeys are hanging from trees, sitting upon statues and monuments, crossing your footpath. Climb to the top of the 395 stairs, you'll find a giant golden stupa decorated with prayer wheels and a prize view of Kathmandu.
Pashupatinath Temple
One of the top four important religious sites in Asia for Shiva devotees, Pashupatinath Temple was built in the 15th centuy by Malla kings.  It is known as the cremation temple. Only Hindu devotees may enter the temple. Non Hindus are welcome to stroll the grounds and view cremations. Admission: 1,000 Rs. There are freelance guides at the gate who will take you on a tour of the temple grounds.
Tip: Saddhus will pose for a photo for you for 1000 Rs. You'll find the two below in many travel photos. They must make a killing.  Real saddhus are not supposed to handle money; they have left worldly and material things.
Boudha
From the outside, the streets of Boudha feel like a string of shops, clothing stores, a mall, laced with dusty air from the roads.  It doesn't appear very attractive. But exploring this area may be of interest of travelers looking for deeper finds.  Boudha and Bodhanath have it's own Nepali-Tibetan community and you can visit hidden monasteries, parks and Tibetan restaurants.  Boudha to Thamel costs around 500 Rs per trip via taxi.  Boudha is closer to the airport than Thamel. Read more here.
Boudhanath

 Stupa
Getting to Boudhanath Stupa requires a car/driver to get to but it's worthwhile. Located in Boudha, a little outside of Thamel, the massive stupa stands impressive. It's more of a stupa complex surrounded by a strong Buddhist community. The stupa is circled by devotees at all times of the day. Monks and devotees circle the stupa, doing occasional prostrations on their stroll. Walking the perimeter is like walking a race track. Heaviest times of activity are around 4-6 pm.  You'll find souvenir shops and restaurants in the perimeter area for exploration. Meanwhile, explore the side streets to find more restaurants, monks dwellings and parks.
Kathmandu Valley
Explore Kathmandu Valley
Chobhar, Kritipur, Patan…. Staying in Thamel, I only saw one glimpse of Nepal and it was nowhere near as lovely as Kathmandu Valley. Escape the dust, busy streets and pollution of Kathmandu and spend some time in the valley. Located approximately 20 minutes outside the city, the lush surroundings of the countryside is what many associate with Nepal in country villages, rivers, hillside beauty and fresh air.  I stayed in Chobhar Village (at time of writing there was a guesthouse resort which no longer exists) and it was the best experience of exploring neighboring villages and Kritipur on foot.
Getting there: Located 2 hours from Kathmandu and 45 minutes from Bhaktapur (you'll have to transfer buses in Bhaktapur).
Must try foods in Kathmandu | Kathmandu Foods
There's a wide array of must try foods in Kathmandu. I'm only listing the main and obvious dishes. Highly recommended is taking a Kathmandu food tour which will expose to the variety of desserts, street snacks, festival and breakfast foods Nepali love. Read more here.
Momos
Momos are Nepali comfort food and there are different types of momos. Often they're steamed dumplings sold on the streets for cheap and in large quantities. Don't worry, as a hungry traveler, you'll be able to down them all. But if not, I'm sure you'll have a hungry stranger next to you to share them with. Momo fillings range from buff (aka buffalo meat), cheese and veggie momos, but you'll find a variety of different types of momos out there from cabbage, chocolate, soup, spinach, etc…  I've never tasted dumplings so delicious.
Daal Bhaat /Thali/ Thankali
Daal bhat is the national dish of Nepal. It's a yellow lentil soup and rice set meal with pickles, vegetables and potatoes. It is simple to make, inexpensive and is said to keep the body strong and for Nepalese families which cannot afford much, it can be eaten for breakfast, lunch and dinner.
Chatamari
Chatamari is a Nepali pizza. It's made on thin flour dough with a variety of toppings from veggies to meat. It's easy to eat one whole. I found this at a hole in the wall cafe near the street entrance of Durbar Square.
Where to Stay in Kathmandu
Accommodations can range from hostels and guesthouses, to boutique hotels and luxury. During off-season you can find great deals on cute boutique hotels which drop to AirBnB prices- great deals.
Tibet International. Boudha, luxury. Read review.
Hotel Tibet . Lazimpat, boutique, 10 minutes walk from Thamel. Read review
Kantipur Temple Guesthouse, Thamel, green and boutique. Read review. Kantipur Temple House is an 8 minute walk from the Garden of Dreams and 15 minutes from Ratna Bus Park.
Hotel Vajra (Double, Under $30) Read review
Cute, stylish & artsy hotel/resort with Nepalese art, free internet, restaurant has good food, free candles for use during blackouts; Cons: located a 8 min drive outside of Thamel, near Monkey Temple.
Getting around Kathmandu
Thamel is easy to get around on foot and there's a lot to do in restaurants, cafes, temples and Durbar Square. Otherwise, many of Kathmandu's larger attractions are based outside of Thamel in different neighborhoods. You'll need to look at a map and plan your route wisely.
Ratna Bus Park is central to Kathmandu on the edge of Thamel. It is not a standard looking bus station, but has several buses, small shacks selling tickets to individual buses.You will have to  ask locals to find your bus. You can pay for your bus when onboard. An attendant will collect fares.
Ring Road is a road that takes a circular route from Kathmandu to Kathmandu Valley.
You can hire a taxi to get around for single point destinations or hire a car and driver for the day. I hired a driver through LeChobar resort, where I was ending at for my stay in the countryside of Chobhar. Hiring a taxi for the day can cost around $2,000 ruppess. It depends upon the routes and destinations. A set menu for a day's worth of sightseeing starting fromThamel was Swayambhunath Stupa, Boudhanath Stupa (in Boudha), and the Kathmandu Valley. This is a common route for day trips.
You can take a bus to get around. Many buses operate from Ratna Park on the edge of Thamel.
Popular Day Trips from Kathmandu
Bhaktapur
Bhaktapur means "city of devotees" in Nepali and it's one of the main ancient cities and cultural gems of Kathmandu and Nepal. It's a UNESCO Newari city gleaming with old Newari traditions,  people watching, ornate wooden pagodas, palace courtyards and shopping . Bhaktapur also has its own magnificent Durbar Square. This is a must on the itinerary. 
Getting there: Located 12 km from Kathmandu, you can take a direct bus from Ratna Park in Thamel. Read more on Bhaktapur.
Panauti
Panauti is a well-preserved ancient town in the lush Kathmandu valley. It's not as well-known as other tourist cities, but it's ideal if you want to escape the dust and noise of Kathmandu for a few days to immerse yourself in a beautiful, charming and peaceful surrounding. Panauti's old town still practices old Newari customs, you'll find a lot of emblematic ducks, an auspicious river confluence which becomes a pilgrimage spot every 12 years and beautiful woodwork architecture reminiscent of a smaller and more quaint Bhaktapur. The village town is surrounded by farming of potatoes, rice and wheat. It's actually exemplary of the real beauty and countryside of Nepali living.
You can do a homestay and experience home-cooked Nepali food and learn the lifestyle of a local Nepali family (more here).
What are your top things to do in Kathmandu?
Travel Essentials to Shop for Nepal
What are things to know before traveling Nepal ? Share your recommendations in the Comments below.
If you enjoyed this article, we'd love it you share it with other travelers!

Looking for travel insurance?
American travelers often pay a premium on travel insurance.  World Nomads offers economic solutions for travelers who seek security and peace of mind.  It covers 150 countries.