Last Updated on June 7, 2023 by Christine Kaaloa
Bhaktapur is a gleaming town of old Newari traditions,  people watching, ornate wooden pagodas, palace courtyards and shopping . A goat sprawls out lazily, sunning itself on a pagoda's steps, as old Newari men donning traditional topi hats, take communion under a shaded rest spot. Daily life continues as older sari clad women make their way through the streets of the town. But something about this town feels just a little different from others.
Bhaktapur : A Window into Newari Past
"Nepal's Cultural Gem", "Living Heritage",  "Ancient Newari town"… Bhaktapur is known by many names. Today this town makes  me feel displaced.  Each step forward, feels a step backwards in time.  I look at my digital watch and the date to remind me I am here…2017.
Bhaktapur is 92% Hindu and 63% Newari in caste system and arranged marriages is the reigning tradition here. The heart of this ancient Newari kingdom wears its reputation with unpaved dirt roads blocked off to four-wheeled traffic and pagoda temples constructed mostly of hand-crafted woodwork, terra-cotta stone and gilded rooftops.
"People here still live very traditional Newari lives. Always ask them if you wish to take a photo of them as they may feel like you're stealing their soul", our guide informed us.
Another aspect which makes Bhaktapur special in Nepal and internationally, is that this city is reknown for their quality woodwork and wood craftsmen. Everywhere you look, you'll find find detailed carvings of temples, buildings, windows, entirely of wood.
How many heritage sites did the 2015 Earthquake damage?
When the 2015 earthquake hit, it reported irreparable damages to 67 of the 116 heritage sites. You'll see the rubble  in piles around the city. Some building hold their upright frame by wooden props.   But I'll be honest,  for a traveler who's never visited Bhaktapur, the amount of existing temples might still make you feel a little templed out.  Temples and shrines seem to occupy every square.
Things to Do in Bhaktapur in 24 hours
Getting around  the ancient center of Bhaktapur is best done on foot. Aside from two wheeled transportation, no vehicles are are allowed in.
Bhaktapur can be visited in a day trip (which is what I did) or you can stay a week (…which is what I wish I did). The clock ticks slower in this town; one can easily get lost in the streets and its wooden, historical detail.
1.  Take a day tour
There are many day tours from Kathmandu and half day tours to Bhaktapur. I did a half day tour, so I saw a lot of main attractions straight off.  I was grateful for a well-informed, English speaking guide. However, I also slightly wished I had just a little more time for photography and personal exploration.
That said, travelers with little time in the city will feel satisfied with a day tour. But you wouldn't do this city justice without an overnight stay and two or three days, at least.
2.  Taumadhi Square
Taumadhi Square is a large open square lined with two main temples, restaurants, a few souvenir shops and a converted temple restaurant. It was the most impressive spot for me, due to Nyatpol Temple and the view from the top.
Built in 1702, Nyatpol  Temple is dedicated to the Goddess Lakshmi and its a must-see. It's Nepal's highest pagoda at five stories, with steps lined by stone wrestlers and animals. Climb to the top for a view of Taumadhi Square and beyond.
Note: The stairs are small and rise at a steep incline. You might want to gently hold onto the statues as you make your way down.
Once a year, there is a festival in the square celebrating the goddess Lakshmi. Locals celebrate and pray for wealth.
The other temple is for Lakshmi's counterpart and holds an altar many come to pay respect to.
 3.  Dattatreya Square
Dattatreya Square was one of the first squares I came upon from the main entrance.  The square, erected in the 15th century, is said to be where royals once resided. You will find old palaces, mansions, temples and glorious woodwork architecture in the surroundings buildings.
The impressive three-storied Dattatreya temple is a noteworthy landmark as it's said to be carved out of one piece of timber. The big burly fellows next to trident staffs are Rajput wrestlers.
4. Take a pottery workshop at Dattatreya Square
In Dattatreya Square is Potter's Square where you'll see potters at work, sun drying their pots in the open air. If you're interested in throwing clay , you'll find workshop studios where you can learn  how to make traditional pottery.
5.  Bhaktapur Durbar Square
In Bhaktapur's Durbar Square resides Big Bell, a giant bell that is rung to pay homage to the Goddess Taleju and to call town meetings. It rings twice a day and each time it rings, the dogs of the city are said to be inspired to bark.
But let's get this straight, there are actually three Durbar Squares in Kathmandu.  Each square resides in one of the three old Newari kingdoms of Nepal:  Bhaktapur, Thamel, Patan.  They are all major UNESCO sites with stunning pagoda architecture. No cars or four wheeled vehicles are allowed in.
While the media reported that the 2015 earthquake hit certain sites in "Durbar Square" it really had three cities to choose from. Apparently, Patan has the biggest square of all three, but as I explained earlier– Bhaktapur is reknown for its woodwork.
6.   55 Window Palace
55 Window Palace sits in Bhaktapur Durbar Square. It was built by King Bhupatindra Malla and is used for ceremonial purposes these days. You cannot enter the palace and it has suffered damage from the earthquake. Next to it is a very ornate Golden Gate, the entry to an inner courtyard with a temple and a very mossy green royal bathing pool. Note: you may not enter the temple unless you are Hindu.
7.  Souvenir Shopping
You'll find a lot of souvenir shops ranging from crafted masks to ceramic pottery, singing bowls, jewelry, mandala paintings and hippie clothes.  During tourist off-season or holidays, prices may drop to make bargaining a little easier.
Tip: The more you buy from a merchant, makes it easier to ask for a discount.
Admission
Admission is $15 and $5 for SAARC countries.  You only need to pay it once and you will have access to Bhaktapur ancient city as long as you have your ticket.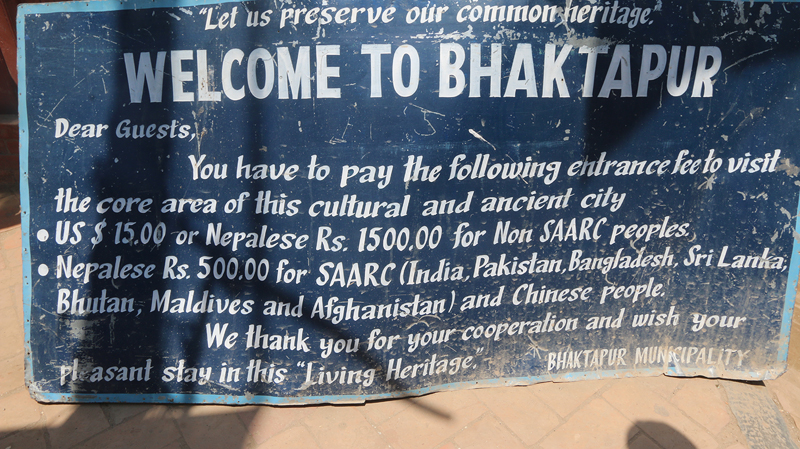 Getting Around
Inside the ancient city of Bhaktapur, four wheeled vehicles are forbidden. Outside this preserved area, you'll find cars, buses and taxis to take you where you need to go.
Getting To Bhaktapur from Kathmandu
Bhaktapur is only an hour away (12km east) from Kathmandu and is a hub for other destinations, like Nagarkot (around 45 minutes), Panauti (45 minutes) and Patan. Take the Bhaktapur bus from Ratna Park/ Bus Pad.  Cost: 50 rupees. Bus will drop you in front of the entrance of Bhaktapur ancient city where you'll see that blue sign (in photo above).
Top Accommodations on TripAdvisor
Hotel Planet Bhaktapur $29/night
Shiva Guesthouse 1 & 2 $23/night
Hotel Heritage Bhaktapur $93/night
Watch my Bhaktapur video experience
Keep posted for the YouTube video guide to Bhaktapur!
Related Posts
Things to Know Before Traveling to Kathmandu
32 Things to Know Before you Go to Nepal
Reasons to Visit Kathmandu
How to Catch a Country bus in Nepal
Pokhara Travel Guide
Note: This trip was sponsored by PATA Nepal and Himalayan Travel Mart and I had an amazing time exploring more parts of Nepal I had not known about.  There are affiliate links in this site, which help me to maintain this site and its video work.