Last Updated on July 16, 2023 by Christine Kaaloa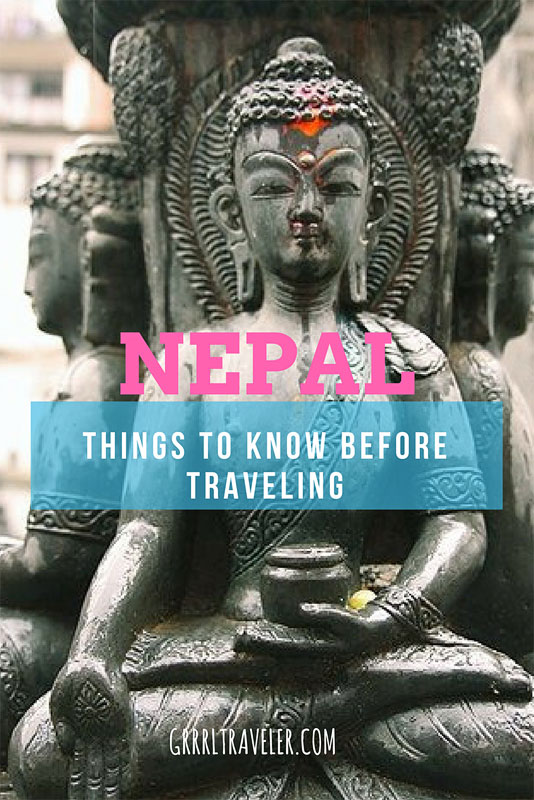 Nepal is a lovely country with a fascinating and warm culture. It was my first successful solo trip abroad and it broke my fall into India. For solo travelers intimated by India, Nepal is much tamer country to traveldespite it can at times feel technologically slower. The tourist route is more visible with foreign travelers and the Nepalese are easy going. There are many things to know before traveling Nepal and this post will kick off a series of posts about understanding the culture and traveling Nepal.
32 Things to Know Before Traveling Nepal
First Impressions Kathmandu & Culture Shock
Travel Facts for Travelers
Culture in Nepal
Travel Essentials to Shop for Nepal
Disclosure: This post contains affiliate partners which I use to book my own travels.
First Impressions & Travel tips for Kathmandu (Watch Video)
Here's my first impressions of Nepal and interesting travel tips for Kathmandu insight. As a Kathmandu travel guide this offers insight into Nepal culture which may surprise travelers.
Nepal Travel Facts for Travelers
A decade ago, I did a Things to Know Before you Go to Kathmandu article.
1. Getting a Nepal Visa upon Arrival
Nepal offers visa upon arrivals when you arrive into the airport. Most travelers arrive into the airport in Kathmandu, which is the largest airport in Nepal. The cost for a single-entry Nepal visa costs US$30/50/125.  The price is determined by the duration of your Nepal trip, which is set at 15/30/90 days. In order to get your Nepal visa upon arrival you must pay in cash, but all forms of major paper currency are accepted. There is an ATM machine for you to withdraw money.
SAARC travelers can get a 30-day visa for free on arrival.
2. The commonly spoken language in Nepal
Nepali is an Indo-Aryan language similar to Hindi,  is written in Devanagari script and is the first language of Nepal. Indian travelers should understand enough to get around. English is a secondary language spoken mostly in large cities like Kathmandu. Outside Kathmandu, English is spoken a little less, but getting around is still manageable. Simply smile with a Namaste and the Nepalese will help you in any way they can.
3.  The 2015 earthquake's affects on Nepal UNESCO sites
In 2015, a 7.8 magnitude earthquake shook Nepal, causing damage to roads, homes and historical sites. This was the second biggest earthquake in Nepal's history (the first was an 8.1 magnitude in 1934). Many news outlets splashed "Nepal UNESCO sites reduced to rubble", claiming it's cultural heritage destroyed. This was partially true. The 2015 earthquake was truly tragic and the government is undergoing recovery efforts. Walking in the footprints of the earthquake's destruction, you will notice mounds of rubble and wood beam supports on building structures to hold it up.
But I'll be absolutely honest with you ~ unless you're a historian, you won't notice what's missing. Nepal has a shit ton of temples and historical buildings and after a while, even the most amazing begins to blend. Nepal is a country of temples, similar to Thailand and after spending half a day in one of the temple cities, Bhaktapur,  I was templed out! 
4. Which Durbar Square?
When the media focused on ruins in Kathmandu's Durbar Square, it sounded like Boom, everything was gone. But did you know Kathmandu has three Durbar Squares?
Each city has encountered some ruin but all is not lost. Patan's Durbar Square is my favorite. It's under reconstruction but the square is still in rather visible condition. Bhaktapur is the largest and most spacious but it doesn't feel as statuesque as Patan's Durbar Square.
5. Blackouts in Nepal
In the past, Nepal had regular blackout periods, which meant most of the city would go dark and don lanterns or power generators to keep business flowing. Today, the Nepal Electricity Authority (NEA) has turned on the lights, making blackouts a thing of the past. But the newfound electricity has made Nepalese people suspect that the NEA purposely left them in the dark all these years, as a ploy to force them to invest in power generators. Some locations still experience some darkness as seen in my YouTube video above.
Kathmandu is fairly lit and most westernized hotels and restaurants have backup power generators for traveler's convenience. In more remote areas and trekking trips, take a flashlight or headlamp.
6. Wild Marajuana fields in Nepal
If it smells like someone is lighting up, you might want to check your surroundings. You will find a prolific growth of wild marajuana plants all around Nepal.  The plants are literally "weeds" which pop up in the most random spots. What is that?
Nepal used to have a hippie history in the 60's and getting high was rampant as a hippie tourist attraction in areas like the infamous Freak Street in Thamel. The drug scene grew to include hard narcotics like cocaine, heroine, etc… In a 1973 agreement with the U.S., marajuana was banned as illegal, the streets were cleaned and replaced with more suitable tourist attractions like trekking and culture. marajuana was banned as illegal. Today, marajuana is still sold and travelers are often approached by illicitly dealers. While hashish is very available, tourists are also an easy target for policemen or undercover cops looking to catch bribes to avoid jail (or depending on the situation, you could get slapped around a bit and then propositioned for a bribe).  To be in possession of hard drugs is two years in jail.
7. Squat toilets in Nepal
While westernized hotels and restaurants and tourist attractions have western toilets, you'll find more local joints and public restrooms bearing squat toilets. Tip: Always pack a packet of tissue and hand sanitizer. 
New at this? Watch my video  (below) and read how to use a squat toilet.
Nervous about bad aim or bad knees?  Buy a Freshette or a GoGirl feminine urinary device (read more)
8. Should you drink the water in Nepal?
Yes and No. Tap water is not filtered or purified in Nepal. Thus, tap water is often boiled before consumption. So if you're out traveling and sightseeing, it's best to fill your reuseable bottle before you leave your hotel or  buy bottled water. It's relatively inexpensive.  Avoid any fruits and veggies foods washed in tap water. Read more food safety tips here.
However, some hotels have filtered water, refill stations and/or offer complimentary water bottles in your room each day. Ask the front desk!
These days, Nepal is getting better so some restaurants might use filtered water as well. Ask your waiter about it.
Alternatively, some travelers take a backup water filtration solution like a SteriPEN filter (review) or Lifestraw.
9. Traveling by Bus in Kathmandu
Catching the bus in Nepal is a lesson I learned on my first trip and it can feel tricky for western travelers. Bus signs showing destinations are often written in Nepali and not all bus stops have obvious bus signs nor do they look like bus stands. Fare collectors hang out on the side of the bus shouting out their destination. Fare is charged according to distance and you pay your bus fare when the bus attendant approaches you.
Travel Tip: Kathmandu has two main bus stations
Kathmandu (Gongabu) Bus Terminal and Ratna Park Station (click respective links for map location).  Ratna Park is the easiest to reach if you're in Thamel. Gongabu Bus Park is further out near the Embassy District.
Read: How to catch a bus in a foreign country
10. Shopping NorthFace Knock-offs
If those NorthFace jackets or trousers sound too cheap to be true, it's likely a knock-off. Nepal has excellent seamstresses and they are good at counterfeiting NorthFace apparel. As a trekking hub, you will find a wealth of stores in Thamel and Pokhara carrying the brand. It bears the label but the quality is just shy of the original. Similarly, they used to counterfeit Lonely Planet books, by xeroxing pages. I bought one myself just to have a souvenir!
Outside of trekking gear, Nepali boutiques offer hip looking fashion apparel for tourists, with funky knitted items to neuvo hippie themed shirts and dresses.
11. Roads, Dust & Face masks
Roads in Nepal can occasionally be in disrepair, due in part to the earthquake. The government is said to be working on improving them. Still, you'll find large potholes and a lot of dust, especially in the more urban areas of Kathmandu. You'll see Nepalese wearing face masks when driving on the road. Women cover their faces with saris or scarves.
12. Eating "Buff"
You'll see "buff" as an item on many Nepali food menus (i.e. Buff momos, buff burgers, etc… ) This does not mean you eat naked. Buff is a common term for buffalo. Hindus treat cows with reverence and similar to India, many refrain from eating cow; instead, they eat buffalo.
13. Getting your Nepal SIM card
If you want consistent internet throughout Nepal, buy a Nepalese SIM.  I recommend buying your SIM at the airport, where there is proper help activating it. There is an NCell booth at the airport. They have a few plans to choose from and all are under $10, so while the airport may charge a little more, it will save you time so you can enjoy the rest of your trip without hunting one down.
Some travelers try to cheap it by getting it in Kathmandu (or locally) and I regret having been one of them! I took advice from a hardened backpacking influencer who traveled through Nepal for months. I had two weeks! Finding a SIM shop is hit or miss and Kathmandu is large. I was looking for a shop that sold SIM cards for several days until I finally came across an Ncell shop in Panauti and had to have a local girl – thankfully I was staying at a homestay in Panauti– help translate for me so I could buy it, …And there were still difficulties with it a few cities later. Trust me- the few ruppees you save are not going to be worth sacrificing days searching for a SIM card locally.
You need a copy of your passport, a shop that can authorize your SIM purchase (as you're a tourist vs local) and setting up your plan through locals be challenging without proper translation.  The SIM plans are inexpensive and I'll add more details later on my Kathmandu guide.
14. Should you avoid street food in Nepal?
I'm a big street food foodie, so I hate having to list this. Nepalese street food has been known to cause many bold adventurers a case of traveler's stomach issues. Refrigeration is poor in Nepal so street food isn't always refrigerated and food can be reused after a day of being out.  Stick to well-maintained and busy restaurants. Read: Street food safety tips for travelers.  But i'm going to share my game-changer with you…
Tip:  take a street food tour!
I used  Backstreet Academy and recommend the: Breakfast tour(my review) and Secret Street Food Tour(my review).
Honestly, I recommend both and it's likely you'll be able to afford it- both are insanely inexpensive in comparison to food tours in other countries!  Sampling was a lot, all the food choices were delicious and healthy portions! Solo travelers can use it for their dinner or lunch! Go on an empty stomach.
Recommended: Love momos? Nepal loves momos too. It's their national comfort snack. Take a momo cooking class with a local!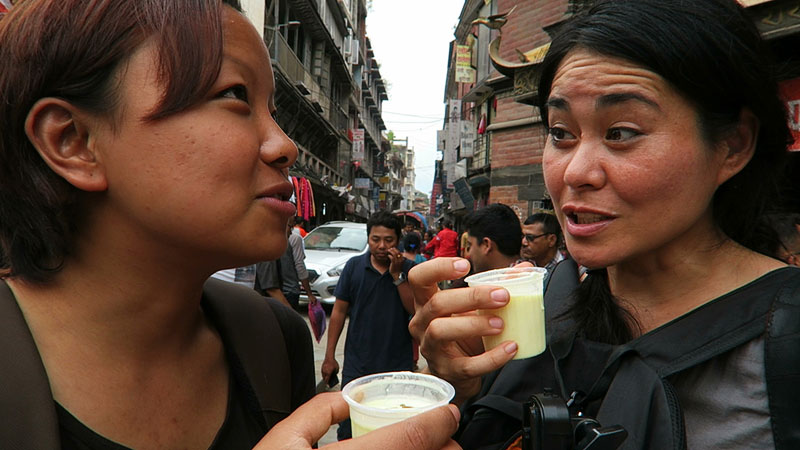 15. Ring Road
If anyone refers to Ring Road, know they are talking about one main road that circles the heart of Kathmandu and Lalitpur. It hits many main points of Kathmandu such as Swayambhunath, Patan, Pashupatinath, Tribhuvan International Airport, Gongabu Bus Terminal and even runs through the countryside. This is helpful to know if you ever used a bus in Kathmandu.
16. Cost of tourist attractions
Nepal is a relatively inexpensive tourist destination, with costs between Southeast Asia and Asia. But the cost of tourist attractions are on the rise. Some say this has to do with making tourists help with recovery and restoration of UNESCO sites. Others say, government administration salaries are pocketing the funds. Either way, I found the attractions cost three times more than 2009.
Good news for travelers: many attractions are not patrolled late in the afternoon or at all.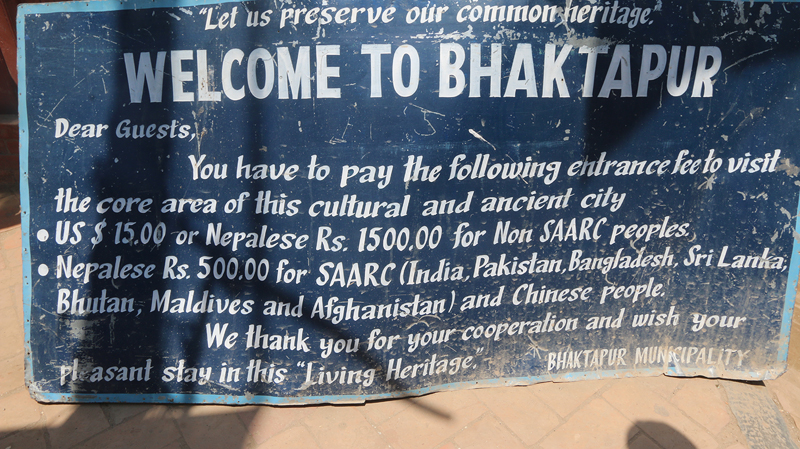 17. Best hotel deals in Kathmandu
I've had awesome opportunities to experience a range of Kathmandu hotels from local boutique, luxury boutique to eco-friendly (see review here ) to your standard 4-5 star luxury hotels. Some prices are less than a western hotel, but the standard can be same in quality. I like to check Booking.com due to ease in finding hotels that match my interests and the ratings and reviews which help me narrow my decision.
Note:  In Nepal, you will reserve and then pay when you stay. Due to Nepal's tension with accepting payment through foreign credit cards, many small accommodations will request cash payment instead. They are quite laidback and you can pay when you depart.
18.  Rideshare in Kathmandu
Kathmandu has rideshare apps that allow you to hail anything from motorbike to car rideshare. The two main rideshare apps are Pathao and In-Drive. In-Drive is said to be the cheapest but Pathao is the more reliable. You do not put your credit card on the app but pay the driver directly after you are deposited at your destination. Otherwise, the apps work similarly to apps like Uber in that you can rate your driver and give them shining reviews.
19. Nepal is a cash-based culture
Nepal is a cash-based society. Although you may be able to use your credit card at large institutions like luxury hotels, most places will request you use cash.
Part of the problem lies in the banking institutions and government which do not allow payments from outside Nepal, due to the skepticism of crime. International transfers are regulated against money laundering, funding terrorism, corruption etc  Thus, Nepalese do not have PayPal, Stripe or various international money transfer services that are popular in the U.S.
20. International multi-plug outlets
When I traveled Nepal in 2023, I discovered that many hotels in Kathmandu and beyond had international multi-plug outlets that take any foreign plug! It saved me from having to use my chunky international plug adapter and Asia plugs. Instead, I got to jack in my U.S. multiport plug and we were off to the races in charging!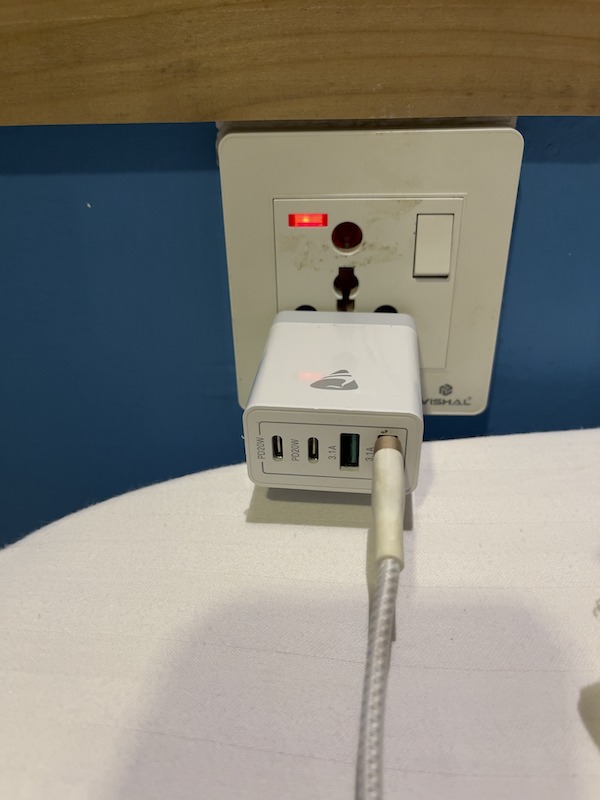 21  Traveling during Monsoon season
Mid-June to August is monsoon season in Nepal. Traveling during monsoon season is horribly hot and humid and the visibility  for seeing mountains in the distance is not great. It's not a great time to trek because trails can get muddy and slippery. On one of my visits I traveled during mid-June, which was the start of the monsoon. It was an insufferable heat at times, although temperatures drop if you travel to the hill stations.  Nepal experiences torrential rains which can flood areas. The interesting thing is that after it floods, the roads dry up quickly due to the heat.  Vendors will sell umbrellas and ponchos. If you didn't pack for the rains, visit a trekking shop; they will have windbreakers and rain jackets.
Nepal Travel Essentials: Things to Know about Nepal Culture
22. Hindu or Buddhist
If you ask a Nepalese person if they are  Buddhist or Hindu, their response will be "Yes".
The major religions and religious festivals are a cross-pollination of both. Surprisingly, 80% of Nepali folks are Hindu and only 10% are Buddhist.  In marriage, a Buddhist may marry a Hindu and religious affiliation is less a concern than caste.
23. The red dot worn on foreheads
As a guest at an auspicious occasion, there might be  a red dot placed below your forehead (between your eyes) called tikka. Nepalese hosts may place a tikka on your forehead to welcome you with warmth. Being a delegate for a travel mart conference, we were tikka'd a lot into many events.  
Locals use the tikka daily as a way to take prasad ('blessings') after visit to a temple for prayer.
24. Mirrors on temples and colored powder on statues
Some religious statues or altars have red and yellow powders on them and a mirror above temple entrance. This is so you can afix your own tikka in the case a priest is not there to do it for you.
25. Remove footwear
When visiting temples and homes in Nepal, always remove footwear. This is a common etiquette you'll find often in India, Asia and Southeast Asia. Streetwear is considered dirty and disrespectful. Removing your footwear and walking barefoot is a sign of respect for these sacred places.
More Things to Know about Nepal Culture
26. Saying Hello and Thank You  in Nepali
Many Nepalese know Hello and Thank you, but hearing you speak in their language is still a sweet sound of respect. When saying Hello in Nepal, you say "Namaste" and fold your hands into a prayer.  Thank you is "Danyavad" (pronounced: dahn-ya-vahd).
27. What is a topi?
You will see older men donning hats called topi. This is a symbol of national pride, national dress and is commonly worn by Indian Gorkha men and hill-dwelling Nepali.
28. Nepali, Nepalese… Newari
Nepali, Nepalese, Newari… I get these terms confused. They are all Nepal. Nepali is a language similar to Hindi (and sometimes, it can be referred to as the people/culture). Nepalese are generally, people of Nepal. Newari is specific, a unique lifestyle and age-old traditional Newar culture and language, where the old traditions and beliefs are still adhered to. Newars are descendants of the first dwellers of Kathmandu.
29.  Nepal caste systems
Caste systems are still alive in Nepal. The caste systems govern arranged marriage partners, diets, even schools children attend from an early age.  While Nepal is occasionally influenced by modern thinkers and youth, the caste system is still very strong and children who go against the system in search of free love, can face the threat of disownership from the family.
30. A Sherpa is not always a sherpa
It's easy to confuse the term Sherpa in Nepal. The word automatically strikes the idea of trekking porters and guides. However,  in Nepal it can also mean an specific ethnic caste of mountain people in the Himalayas.  Ethnic sherpas can be porters and guides, but not all sherpas belong to the ethnic minority group of Sherpa. They can be Tamang, etc…
31.  "Daal Bhat Power 24 hours"
"Daal bhat power 24 hours" is humorous Nepali saying you'll either hear about or read around town (usually on tourist tee shirts). This refers to Nepal's love for daal bhat. Daal bhat is a yellow lentil soup and popular but basic meal of Nepalese (especially trekkers and sherpas).  It's said that Nepalese can eat daal bhat three times a day and that simple dish can keep one strong and sustained through the day. However, generally brunch and dinner are the two main meals.
32. Daal bhat is a dish with a couple names
Daal bhat — the dish of lentil soup or stew- is known by a few names such as Thankali and Thali. These latter names refer mostly to a combo plate of daal bhat, rice, vegetable and pickle. But you can call them Daal Bhat as well.
33. Electricity in Nepal
Look up towards the phone and electrical lines and your jaw will draw open upon witnessing electrical cords wrapped in a large jumble, like tangled hair. Unfortunately, it makes the street look disorganized and chaotic. But yes, there are electricians who work to sort through the jumbled mess to troubleshoot electrical problems. And as I said earlier, there are still occasional power cuts at night.
Travel tip: If you're worried about being in the dark, bring a small flashlight. If a power cut happens while you're out shopping around town, not to worry, Nepali shop owners are equipped with candles and backup generators.
34. Eight of the world's ten highest peaks are in Nepal. Do not make the mistake of calling a "hill" …a "mountain" in Nepal
In Nepal, if you mistakenly confuse a "hill" with a "mountain", you might get a Nepali chuckle. Eight of the world's ten highest peaks are in Nepal.  Mount Everest is a "mountain" by Nepalese standard. What you might have at home is a hill. A mountain is defined as something that is snow-tipped and above a certain sea level. Over 14 peaks in Nepal stand above 22,000 feet above sea level. Everest itself, stands over 29,000 feet.
According to Nepalese, the majority of "mountains" in the world are hills.   
35. Nepal has a trash problem
You will find an abundance of trash and a prolific growth of wild marajuana plants.  Locals will burn piles of trash but obviously there is a problem with littering in general. As a traveler, save your trash until you can find a place to dispose of it.
36. Nepal's heavy lifting uses cranial power
In Nepalese culture, heavy objects are strapped to the head to be carried. The belief is that the head is the strongest part of the body.
37.  Nepali women doing the heavy lifting as well (sometimes, more than men)
You'll find many physically laborous jobs being performed by women (i.e. carrying heavy construction materials from a construction site, quarry work, etc…) Women handle a shocking amount of manual labor, that you might attribute to being a man's job!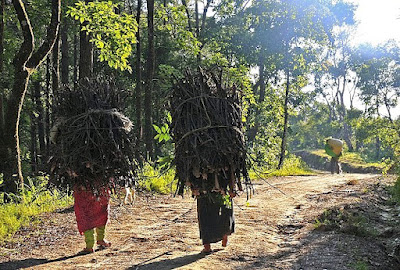 Shop Travel Essentials for Nepal
Recommended Essentials for Nepal.  Click to Shop.