Last Updated on October 13, 2020 by Christine Kaaloa
Pokhara is the 2nd largest city in Nepal and is a city rich in lakes, caves, mountains and is rich in natural beauty. It is also known as the gateway to the Annapurna Circuit.
With 48 hours in Pokhara: The perfect Pokhara itinerary will include boat rides on the lake, trekking, and enjoying pokhara town beauty. Here's the best things to do in Pokahara.
Best Things to Do in Pokhara

When is the best time to plan your Pokhara itinerary? Peak season is April to June, when days are warm to hot and nights are cool.  Around June to October is the rainy or monsoon season.  These might not be the best time for trekking as trails may be challenging and muddy. Winter is said to be chilly. I probably had 48 hours in Pokhara. I traveled late May and early June.
Here's some of the things I did and some that are still on my bucket list for a return visit!
1. International Mountaineering Museum
A top Pokhara attraction is visit the International Mountaineering Museum.As Nepal owns eight of the world's highest peaks and is world reknown for trekking,  it seems fitting there is a museum dedicated to honor this history.  We arrived on National Everest Day (May 29),  celebrating the day Tenzing Sherpa and Sir Edmund Hillary summited Everest in 1953. Due to the celebration, we got free admission and to see Kazi Sherpa, who set the Everest climbing speed at 20 hours 24 minutes.
The museum is a spacious  center full of historical, geological and mountain climbing artifacts.  You'll find clothing from historical periods and kitchenette wear for sherpas.. an interesting look into the dangerous and historical world of mountaineering. Website
Note: There are two definitions of Sherpa: 1) a porter that assists on mountain trekking and 2) an ethnic minority group in Nepal.  Not always are the combined. For instance, you can be a part of the ethnic group but not be a porter.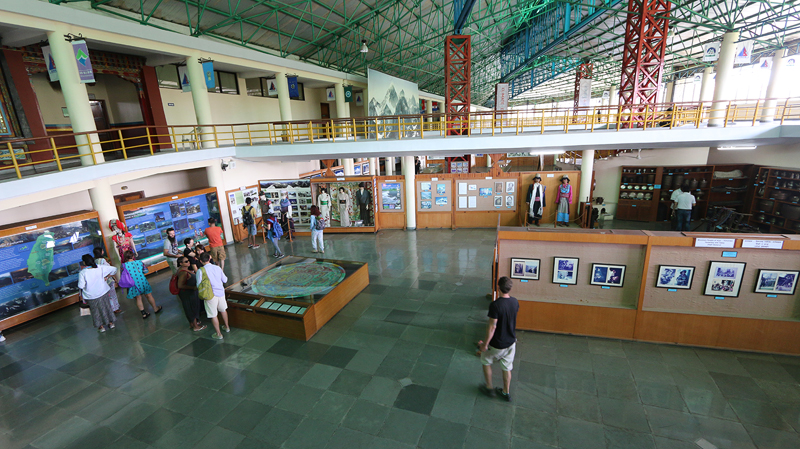 2. World Peace Pagoda
The world peace pagoda (map here) was constructed as a response to buddhism spreading around the world. There are 100 world peace pagodas constructed in places around the world with large buddhist populations.  On the way up to the pagoda, as well as the hike down, you'll find wonderful views of Pokara Valley, Phewa Lake and Lakeside Pokhara.
 Getting there: Take a taxi to the pagoda (you'll need to walk about 10 minutes from your drop), then some friends and I hiked down to the boat docks and took a boat across the lake.
3. Phewa Lake
Phewa Lake is the top Pokhara attraction. It is a freshwater lake in Pokhara and a visual and sightseeing landmark for the town.  Surrounded by rolling hills, it's probably the most serene part of town. Entrances is near the Tourist Police Station. Tip: Next to the entrance of Phewa Lake are trees filled with egrets
4. Lake Boats in early Morning
Every photograph of Pokhara showcases its iconic lake boats. In order to get that shot you'll need to wake up early in the morning. Photographer's Tip: To get a good photograph of the boats in tranquil lineup, come around 5:30a.
5. Boating on Phewa Lake
One of best things to do in Pokhara is boating on the Phewa Lake.  Whether you take a public boat, rent a boatman or rent your own boat, wearing a life jacket (cost : 70 rupees) is mandatory. Boat drivers can get fined if you are caught without one.
Boat fees are stated on a large mural board before entering the dock.  I rented a boat with blogger friends, so we split costs but it was roughly $8.00.  You'll my experience in my video.
Note: The canoe boats shift very easily with weight. Maybe it's because I had seven people in my boat -counting the tiny child boatsman- but the slightest shift made our canoe dip close to the water. Next time I'd either try a ride with less people or take one of the public ferries.
6. Barahi Tal Temple (aka Barahi Lake Temple)
Barahi Tal ('Lake') Temple is a small two story pagoda on an island which sits in Phewa lake. You can only access it via boat. The temple is the temple of Durga, protectress of gods. You might catch locals, carrying sacrificial male animals to the temple on Saturdays.
Tip: Buy a bowl of fish food to feed the fishes in the lake and create good karma to help erase your sinful deeds.
7. Get a Blind Massage
Getting a massage in Pokhara is a way to rest your weary travel bones.  Seeing Hands Blind Massage Nepal is blind massage center, with branches in Pokhara, Kathmandu and Lalitpur. The masseuses there are blind and their hands are sensitive to touch and strong; great for hitting those pressure points (I've already tested them out in Kathmandu)!  They offer sports massage, swedish and foot massages. 45 minutes starts at around $19USD/ 1.5 hours is $26.  Located: Ammat Street. Hours: 10a to 5pm. Ph:+977 61-465786
Note: As practitioners are visually impaired they may not be understanding of visual clues like bandaged wounds, dressings, etc… and occasionally need to feel around their surroundings (sometimes even for your head). It's important to indicate any ailments or physical conditions you have in advance.
If you're into a massage that's closer to your hotel and more convenient, a fellow travel blogger  Noel got a massage and couldn't recommend it more. Rates were quoted to him at $28 /hour but he was able to bargain it down to $20, due to off-season.
8. Paragliding
The Annapurna Circuit is one of the Himalaya's most scenic treks. Thus, paragliding in Pokhara is an activity many travelers feel worth the splurge to experience. Costs will range around $120 (we negotiated this as a group, but it was still too high for some travel blogger budgets) -$180 so you'll have to try your best to bargain down .
9. Mahendra Caves & Devi Falls
A 30 min ride from Pokhara, you will find Mahendra Caves, Devi Falls and supposedly Bat Caves.
Mahendra Caves is a famous large limestone cave which houses many stalactites, stalagmites and many bats. Some travelers have noted it as a simple cave with some rocks and a sculpture of Hindu deity Ganesh. There is a metal stairwell, so those with bad knees or mobility problems may want to think twice. There is a charge to enter the Mahendra caves. Unfortunately, I never made it out here but this traveler did.
Devi Falls, otherwise known as Patale Chhango (Hells Fall) was originally named after a trekker, Deven David was accidentally swept into an underground passage under the falls.  Devi falls is said to be worthwhile a visit of Pokhara and located 2km southwest of Pokhara Airport. Located near Mahendra Caves.
Tip: Don't forget to bring a torch. It's said to be poorly lit.
10. Lakeside Pokhara
But Lakeside Pokhara is a popular tourist district and it's mainly one long street with everything from hotels, restaurants, convenience stores, boutique shops, trekking accessory stores, travel agents. If you're a traveler, you'll likely be staying here and this will be all you know of Pokhara. In reality however, Pokhara is so much larger; it's a metropolis. Phewa Lake can also be accessed from here (see map).
11. Shopping & Dining
On Lakeside Road (the main road going towards the lake), you'll find many shops and restaurants to cure your shopper's longing. You'll find shops selling knock off Northface clothing, backpacks, cool Nepali boheme hippie wear (pajama pants) to cashmere scarf shops, etc… Towards the furthest part of the road past the lake you'll find restaurants and bars. Some apparel shops will require haggling– usual discounts occur if you buy more than one item.
12. Explore on Motorbike
I've only heard about this word-of-mouth from another blogger but you can rent a motorbike for around 500 Rupees a day and more top Pokhara attractions in more distant parts.
13. Yoga in Pokhara
In 2010, a New York Times article named Pokhara as Nepal's yoga home.  I'm not sure what the differences between yoga in India vs Nepal, but you'll find yoga classes in Pokhara and long term yoga retreats. I've seen prices start at $5/class up to $85 USD/for a single day of retreat stay (a little pricier than a week's stay at an ashram in India)
14. Sarangkot
Known for its sunrise and panoramic mountain views, a trip to Sarangkot will surely be on your list of things to do in Pokhara. Sarangkot is a smalle village on the mount Sarangkot, which is known for paragliding.
15. Take a Cooking or Crafts Workshop with Locals
Wanna learn how to cook momos, sel roti or daal bhat in a local home? Or maybe you want to learn craftsmaking from Nepali locals. Backstreet Academy offers workshops and local tours by employing locals to share their experiences with traveler.
Trekking in Pokhara
As the gateway to the Annapurna Circuit (ABC trek),  Pokhara is known somewhat as a trekker's launch base. Pokhara houses a handful of treks to make it Pokhara a popular trekker's destination. You can book a day hike to Sarangot or go for a few to several days trekking expedition: Poon Hill Trek, Upper Mustang Trek, Jomsom Muktinath trek, Mardi himal trek and many hiking trails in and around Pokhara.
Book a trek from one of the many travel agents in Pokhara.  Some will post a menu board outside, listing the treks and activities they handle. If you'd like to book through a trekking guide I'd recommend, email me!
Traveler's Insurance is always recommended for trekking.  As a solo traveler, I would not recommend trekking on your own — you could twist an ankle, get lost, get into trouble and no one would know to find you.  Always take a hiking buddy for short treks. For longer treks, it is advised to take a guide.
Tipping for Trekking Services:   If you're taking a trekking tour, "you are expected to pay tips to both guide (15% of salary or one day's pay per week) and the bus driver (maybe $5 /day)".. and porter if you have one (as per TripAdvisor). The amounts is from the entire group and not from each individual trekker.
Dining Out in Pokhara

There are many Tibetan settlements around Pokhara, so aside from Nepali food, Tibetan is your next best bet. Menu signs are posted outside for restaurants that reside upstairs. International foods like pizza and burgers, you'll find cafes which cater to tourists.  Although Nepali food is a top food I'd recommend, by the time I got to Pokhara, I wanted a little variety in my diet. I wanted something momo-ish.
Note:  There is a VAT tax and/or service charge fee. Most hotels and high end restaurants charge one or both taxes (VAT tax 13% and service charge 10%). The sales tax/VAT is compulsory and in higher end places or places of sale, they will automatically add it to the bill so always check first before you tip.
Tipping:  Overtipping can in some cases be like throwing someone a $100USD bill. Be responsible and understand the value of the money you give, because it affects others. For instance in my bus group, I sat with fellow bloggers, two Indians, a Malaysia and myself an American. I wasn't sure how much to tip each, as they've been with us for a week (U.S. values are different), so I quoted $5.  There was a slight panic amongst the others because I was pretty much giving the entire tip. Kat, the Malaysian blogger explained to me that in her country the tip I gave is exhorbitantly high and they could not match my tip. Thus, I realized the responsible thing for me to do is to stick to what their portion was to normalize the tip expectation. I was glad they caught me on that.
Potala Tibetan Restaurant, Lakeside-6 (upstairs) . Hours: 7:30a-11p  
Potala Tibetan Restaurant is a Tibetan family run restaurant located upstairs.  There is a full menu of Tibetan and Nepali dishes but we were hungering for Tibetan momos– my friends had steamed and I had the veggie momo soup.  Momo dishes cost in the $2 range and were delicious and well-prepared. I'd happily recommend it to others!
Where to Stay in Pokhara
The best Pokhara itinerary revolves around where to stay in Pokhara. I recommend staying in Lakeside Pokhara. It is the most tourist friendly, accessible to many highlights and it's easy to get around on foot. As I mentioned earlier, you can rent a motorbike for the day to explore places like the caves, Sarangkot, Devi Falls or get up to the World Peace Pagoda.
You'll find many ATMs and money changers in Pokhara. I found money changers cheaper than ATM withdrawal fees as they ran roughly 500 ruppees/$5USD per withdrawal.  Most money changers in Pokhara do not charge a commission fee and the exchange rate was good.
Getting Around Pokhara
Walk
The tourist heart of Pokhara is easily walkable and you might get caught up in shopping along the way. Lakeside Road is the main road where a lot of  shopping and nightlife goes on.
Rent a Motorbike
Getting to further destinations such as Mahendra Caves is manageable on a motorbike but destinations such as Sarangkot or Peace Pagoda might be a little steep. Best ask your rental shop.  Prices can start around 600 rupees/$6  a day.
Taxi
For most locations near or in Pokhara, expect to be quoted anywhere from $1-$3 for short distances and $5 and up for longer distances. Taxis allow you convenience and flexibility.

Getting To Pokhara
Pokhara is located in central Nepal, just west of Kathmandu and northwest from Chitwan National Park and Lumbini.
Flights: You can fly from Kathmandu to Pokhara via Buddha, Yeti or Simrik. Cost: Starts around $120 Duration: Approx 30 minutes.  For the best views of the Himalayas, sit on the right side of the plane away from the wing.   If you've paid online then the airlines might ask you for a scan of both sides of your credit card.
Bus
 Take the Greenline Bus from Kathmandu.  Cost: $25 Duration: Around 6 hours. Website
Safety Tips for Solo Travelers in Pokhara
Tourist Police in Pokhara
One thing to note about tourist safety in Nepal is that they have a tourist police. That said,  Pokhara has a tourist police station located in Lakeside Pokhara nearby the entrance to Phewa Lake or you can call +977 61 462761 or you can visit their Facebook page and breathe a little ahhh when you see how they've helped tourists!
Money & Best time to travel to Pokhara
Where to Change your Money
You'll find many ATMs and money changers in Pokhara. I found money changers cheaper than ATM withdrawal fees as they ran roughly 500 ruppees/$5USD per withdrawal.  Most money changers in Pokhara do not charge a commission fee and the exchange rate was good.
Best time to visit Pokhara
Peak season is April to June, when days are warm to hot and nights are cool.  Around June to October is the rainy or monsoon season.  These might not be the best time for trekking as trails may be challenging and muddy. Winter is said to be chilly.
Pokhara Travel Guide (Experiential Video)
---
Enjoy this post? Pin it to Pinterest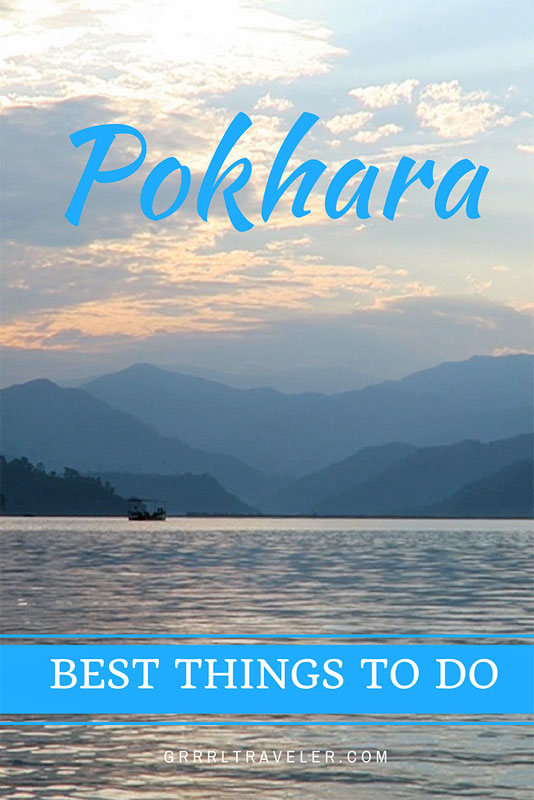 ---
Best Travel Insurance for Nepal
American travelers often pay a premium on travel insurance.  World Nomads offers economic solutions for travelers who seek security and peace of mind.  It covers 150 countries.