Last Updated on May 11, 2022 by Christine Kaaloa
Lumbini is said to be official birthplace of Siddharth Gautama, otherwise known as Buddha.
I wanted to share a Lumbini travel guide because you might ask yourself, what are the best things to do in Lumbini ? and only see that the best things to do are temples and monasteries.
Also, Lumbini in Nepal can be mistaken for a Lumbini in India and other prominent pilgrimage spots in Buddhist history. Lumbini in Nepal is not to be confused with Sarnath in India where Buddha gave his first sermon. Nor is it Bodh Gaya where Buddha received enlightenment under a bodhi tree, nor is it Lumbini Park in Hyderabad India, which is a park honoring Buddha. It is to be confused with the many temples which house an artifact of Buddha, like bone or hair.
This is the actual birthplace of the man now known as Buddha.  As such, today it's a famous pilgrimage destination filled with monasteries devoted to Buddhism.
The area housing this famous spot is the Lumbini Development Zone.
Lumbini Travel Guide
How to Get Around Lumbini?
The best ways to get around are to rent a  bicycle through your hotel, hire a tuk-tuk (I've heard around 500-900 rupees for a full day of monastery sightseeing) or hire a tour or guide.
Lumbini Park is spread out and spans approximately 3 miles wide and 1 mile long. There's a wealth of Lumbini attractions.
The Lumbini Development zone is split into three main zones:
• The  East Monastic Zone (Theravadic monasteries)
• The West Monastic Zones (Mahayana monasteries)
• The Sacred Garden surrounding the Maya Devi Temple.
The new Lumbini Village Zone is the town area before entering the development zone and houses hotels, guesthouses, and restaurants. Within construction, plans are a museum, library and institute.
Buddhism around the globe: What monastic temples are represented?
As far as main Lumbini attractions, there are around sixteen monastic temples from a countries around the world where Buddhism has represented: Korea, Myanmar, Thailand, Japan, Vietnam, China, Cambodia,  Australia, Sri Lanka, India, etc…
In some cases,  temples can resemble famous temples in their resident country, like in Myanmar's case of erecting a temple reminiscent of the Shwedagon Temple in Yangon.
There is also a Peace Pagoda (which I missed).
Myanmar Golden Temple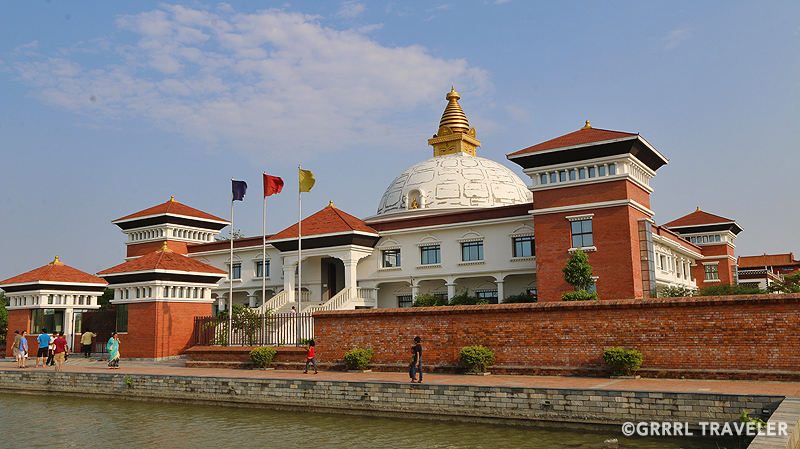 The Chinese Temple – constructed by the Chinese takes up 6.25 acres of land and is one of the more important sites for pilgrims.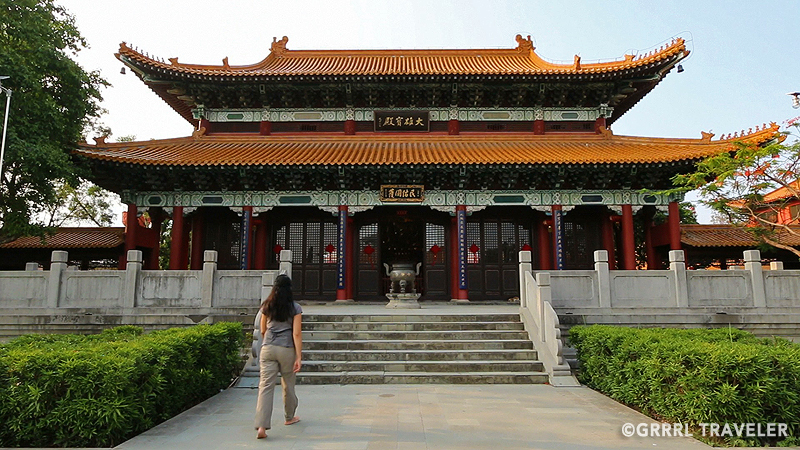 Chinese Monastery
Maya Devi Temple: The birthplace of Buddha
Maya Devi Temple is a UNESCO World Heritage site and a temple covering built over the birth spot of Siddharth Gautama, the future Buddha.  The temple isn't particularly stunning but humble. There is a bodhi tree with prayer flags streaming everywhere ( I loved this ), some ruins and a walled pond, where Buddha's mother was said to have bathed before giving birth. It's a peaceful area, which might inspire you to sit, relax and meditate.
Tip: It's best to visit Maya Devi Temple at either sunrise or sunset if you want a great photo.  There is no photography in the temple museum however.
What else can you do in Lumbini?
I was visiting Lumbini for a short while, but the pilgrimage spot is the only main tourist sight or thing to do in the town.   The tour can either take a half day or full day depending upon how many temples/monasteries you want to visit.  There is the new Lumbini Village Zone area, which has basic necessities for travelers. Lumbini Market Road is the main road you'll find with guesthouses and hotels, shops and cafes. There are hotels in the vicinity as well. An Oshodam village is nearby for those looking for a peaceful Zen retreat.
If you're visiting during Buddhist festival season, reserve your hotels in advance rooms fill up fast.
Getting to Lumbini:
Getting to Lumbini  from Kathmandu is a 5-9 hour drive. Getting to Lumbini from Pokhara is 6-8 hour.  I did this route from Chitwan– Lumbini- Pokhara.
Information:
Lumbini Development Zone
Taulihawa Road, Lumbini Sanskritik, Nepal
Hours: 9a – 9pm, daily
Admission: 200 ruppees for foreign travelers and 15 rupees for SARC countries.  Additional costs for video cameras and filming.
Will you pilgrimage to Lumbini, the birthplace of Buddha? What Lumbini attractions would you add to my Lumbini travel guide?
Related Posts
Things to Know Nepal
Best Things to Do Kathmandu
Kathmandu Food Tour review of Backstreet Academy