Last Updated on July 15, 2023 by Christine Kaaloa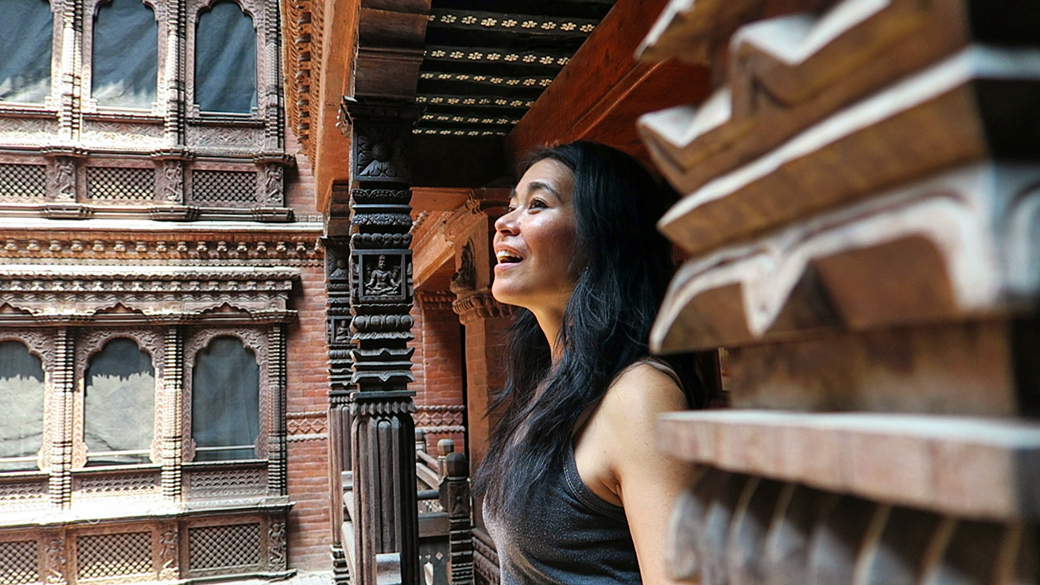 Travelers don't always recognize how their actions impact the communities they visit.  We see, we conquer, take a lot of photos and leave with a stamp on our passport and a bucket list checked off. For some time, I've been growing conscious of responsible tourism practices and I'm continuallyopen to learning how to improve my traveler ethics. Choosing accommodations and tours, which imbibe that responsible or eco-friendly spirit helps me stay on track with this goal.
I saw photos and heard praises from travel bloggers staying at Kantipur Temple House. Boutique, eco-friendly hotel in Kathmandu, hospitable, organic, sustainable, free yoga… these were trending words and I was surprised to hear them in Kathmandu.  I reached out to the hotel– perhaps it could make me a more responsible traveler! This is what I experienced…
Take a tour inside my Newari Temple adventure!
Disclosure: This article contains affiliate links.  My stay at Kantipur Temple House was provided without charge in exchange for an honest review. I wanted to share ethical tourism operators with my audiences. As always, all thoughts expressed in this article are fully my own.
Kantipur Temple House: My first eco hotel in Kathmandu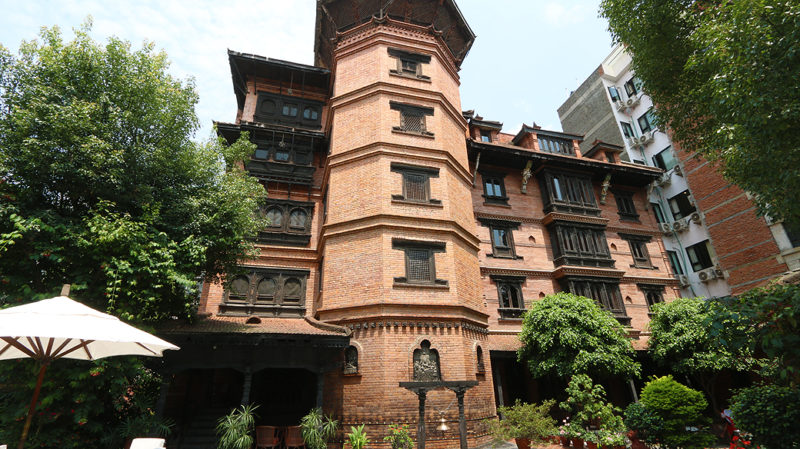 Located on the edge of Thamel, Kantipur Temple House is tucked away from the dust and noise of the neighborhood. The Newari eco-hotel is a living and breathing embodiment of peaceful, eco-, sustainable, responsible clauses. It is run by solar power, food  from their kitchen is from their organic garden, and there's free morning yoga. Incidentally, it also has bang gorgeous teak wood architecture for selfies!
Please forgive my indulgence in the selfies.
Trip planning? Check out awesome things to do in Kathandu
My rustic eco hotel room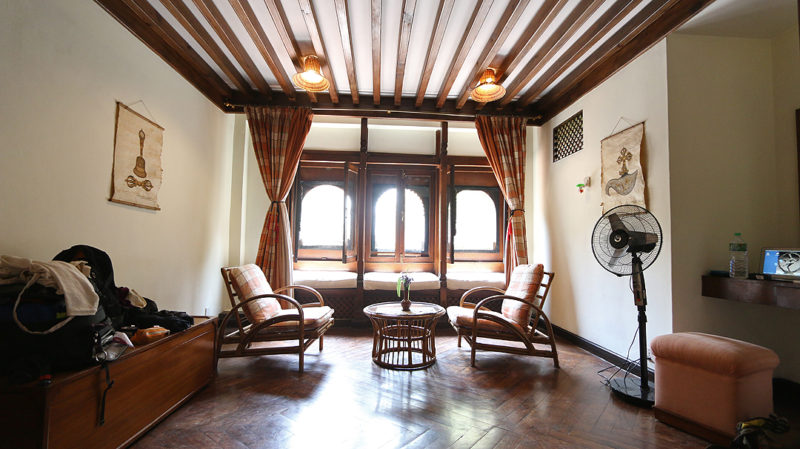 An eco-friendly hotel in Kathmandu
The rooms in Kantipur Temple House do not have a tv or air conditioning.
Normally, these are not comforts I insist upon. But Nepal was starting to get hot and I was getting into the mood of having my Bollywood blaring on hotel room television sets. Would not having these things matter to me now? I gulped hard…
My door opened to a room with a rustic feel and a lovely alcove sitting area overlooking the outside courtyard.  The bell person flipped on the switch and instantly the fan shot jet stream air through the room. Cooling was not a problem.
Kantipur owner Bharat Basnet is a staunch environmentalist and there is a strict "no plastics" philosophy the hotel abides by. No distribution of plastic water bottles or bags. Instead, guests quench their thirst through a tradition copper pitcher by your bed, which you can freely refill at the dining room's water cooler. Copper cups and dining sets are common in Nepal.
The copper pitcher was a bit of workout to lift, so instead, I  carried my reusable plastic bottle everywhere for refills.
Stepping into my bathroom, there stood a lone water bucket.
"The water does not get hot immediately because we are powered by solar, so as to not waste water, just put the water bucket under the spout and our hospitality service will remove the water each day and use it to water plants and the like, "
Next to the toilet, was a toilet paper roll of recycled tissue.  On the door of the bath, there was a courtesy sign telling hotel guests, if they did not need refreshed sheets or towels, simply keep the towels on the towel rack.
Every encouragement of sustainable practice felt thoughtful and considerate of the environment and your way of experiencing it (Read the hotel's sustainability facts). It was like doing yoga in a temple. I could feel my molecules shifting to an enlightened state… no joke.
Preserving Nepali heritage
The hotel and its architecture gave into a sense of a time past. A rustic feel of old Newari traditions with wood-carved windows reminiscent of the details of Bhaktipur artistry.
Okay, let's indulge in more selfies…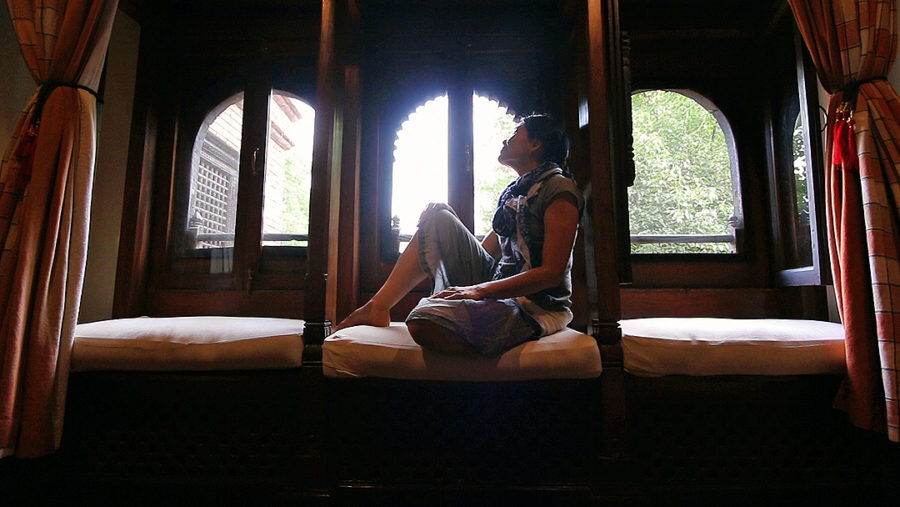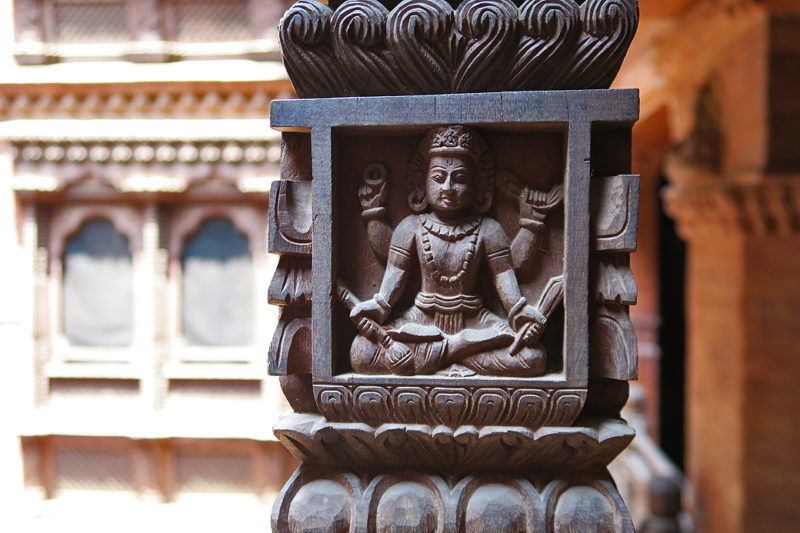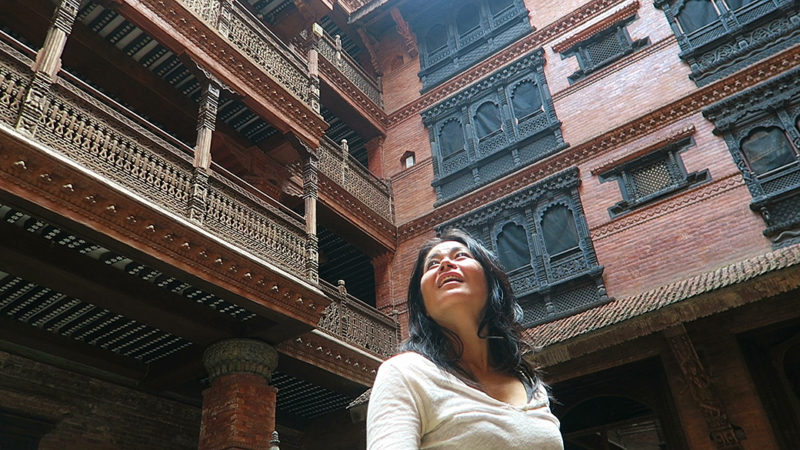 Agro-hotel and Authentic Nepali dining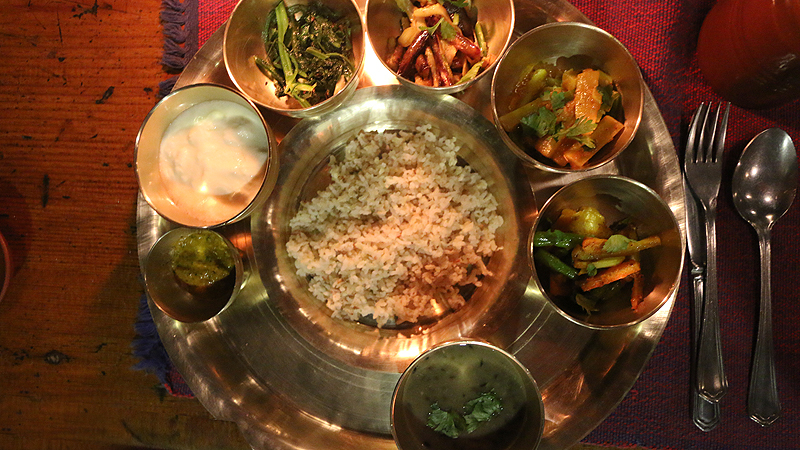 I had dinner with Mr Basnet the first night. His hospitable demeanor looked at once stern as an advocate of responsible tourism and then peacefully disarming upon a smile.  We talked about the state of tourism, how tourism trends are changing in Nepal and around the world. We agreed how more tours and hotels should promote self-sustainability, help preserve traditions, rather than going in for the quick buck!  Our earth was reaching its limit and even we, as travelers and tourism industry,  needed to practice awareness.
The main plate at dinner is thankali, a traditional Nepali dish with dal bhat and several side dishes to aid the taste. As an agro-hotel in Kathmandu, vegetables were organic, grown from Kantipur Temple's garden. It was hard not to feel like I was in some type of Nepali ashram of conscious and healthy living.
A server came over with a house rice wine. He wielded an ornate brass pitcher high in the air and proceeded to pour my wine into a tiny cup on the table. It was a lethal height (approximately four feet). Not a drop was spilled.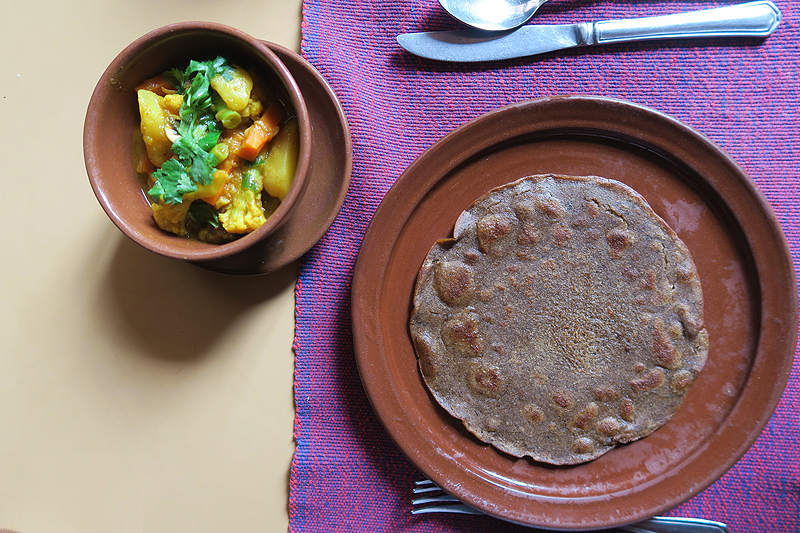 In the morning for breakfast, one of the  house specialties is buckwheat pancakes. Buckwheat pancakes are in fact, a traditional Nepalese breakfast for farmers, who grow wheat. Secretly, I'm not a pancake person, but I was glad I tried them. The pancakes had a firm crisp (the perfect crunch factor). It mixed well with a side dish of curried cauliflower and potatoes.
Free morning yoga
Highly recommended is the free yoga with Yogi Yam at 8 am. Yoga mats unrolls in a lovely courtyard garden, which was once a neighborhood dumping ground.  Now it was a haven of practicing OMs. Blogging has been the downfall of my body with long hours hunched at the computer screen.  I was about to find my body again and realize how badly out of shape I was. We chanted OM.
Other services
Kantipur Temple House has its own sister travel agency in the case you wanted to travel to other parts of Nepal. They also have an authentic Nepali restaurant with cultural performances, Bhojan Griha. I attended a cultural dinner performance there with other bloggers. It's a separate establishment but similar concept to Kantipur's responsible tourism, organic food and sustainability. You'll need to call for the address (it's not listed on their website).
Conclusion
It was a truly unique experience and highly recommended for green travelers and anyone who wants to travel responsibly and have a peaceful experience of Kathmandu.
Hotel Information
Kantipur Temple House
Address: Chhusya Galli, Jyatha, Thamel, Kathmandu
Getting there: Kantipur Temple House is an 8 minute walk from the Garden of Dreams and 15 minutes from Ratna Bus Park.  Call the hotel if you're lost and need directions and they can guide you.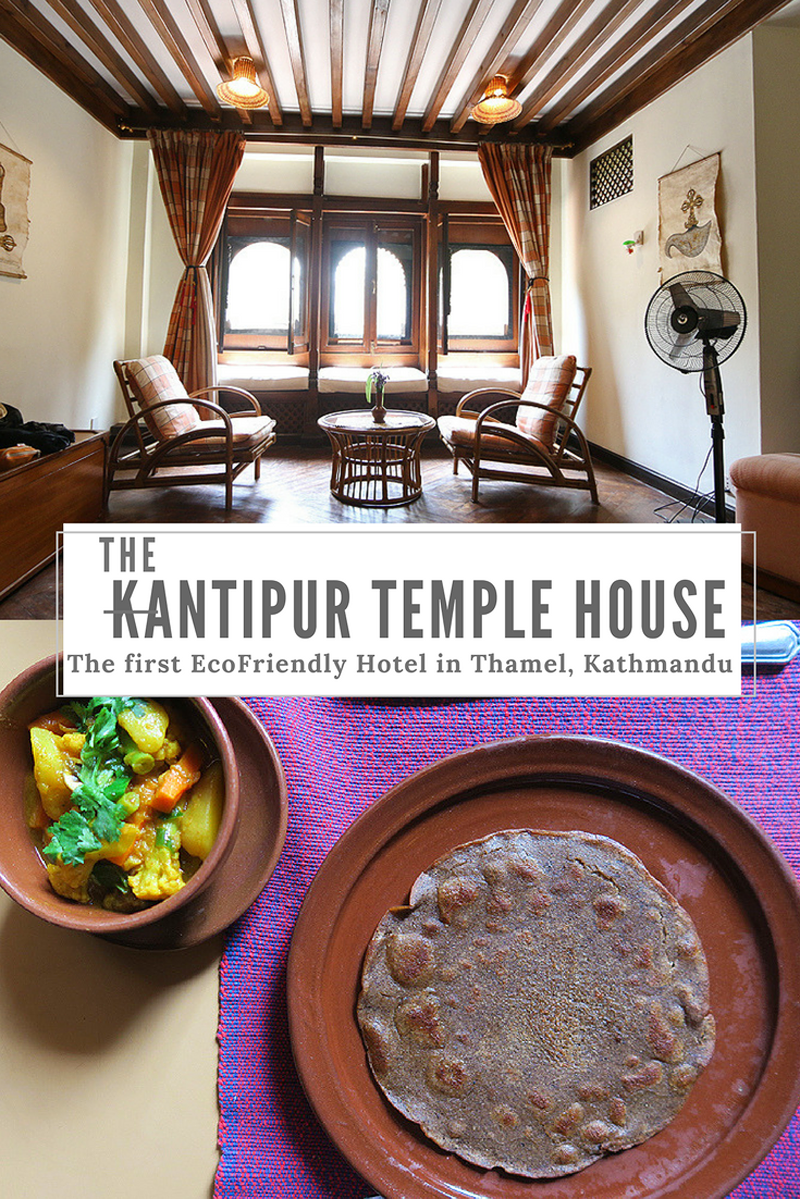 Related Posts
Things to Know Before Traveling Nepal
Reasons You'll Love Kathmandu
Swayambhunath Stupa: A Monkey Temple in Kathmandu
Bhaktapur: The Wooden City of Nepal
Trekking Nepal – Bhaktapur, Changhu Narayan, Nagarkot
Best selling reef-friendly sunscreen: