Last Updated on June 7, 2023 by Christine Kaaloa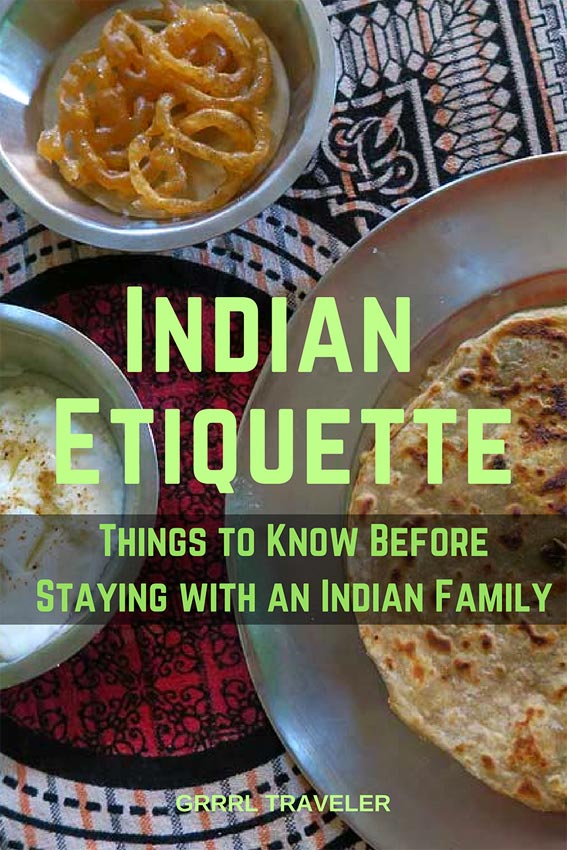 Staying with my Indian family in Varanasi, I couldn't have asked for a more pleasant orientation into the inner workings of an Indian family. When I stayed with my India family I initially, did not know how to act around them . I did not know what was expected of me or where I should help out in the kitchen.
13 Things to Know before staying with an Indian family
1. Always remove shoes before entering the house
Just as you are expected to remove your shoes outside Indian temples and some stores, always remove your shoes before going into an Indian home.
2. Dress conservatively.
The youth of India are changing to embrace modern and western ways. But many Indian adults and elders still embrace conservative values, propriety and respect. Respect the tradition and cover up shoulders, refrain from low cut cleavage blouses, going braless under tight shirts or wearing tiny shorts.  In traditional cases, the tighter and more form fitting the clothes, the less the wearer is seen with respect. Outfits like a Salwar kameez, which doesn't show the feminine figure is appropriate, appreciated and is seen as friendly.
2. Taking a gift
Giving a gift to your host is not necessary or expected, but always appreciated. Find something useful you think your host will likely use. You can either bring something from your home country or buy it in India. Sweets are a nice gift, like milk solids or something you think appropriate to the family. Sometimes, for homestay gifts, I might go to the market and buy fruits that the family can enjoy.
If your host declines your offering you can always offer to help in the kitchen or with clean up after meals. It's likely they'll decline your offer as well. But it's nice to offer.
Tip:Avoid gifting alcohol and any beef/meat items, unless you know their diets.
3.  Refrain from smoking
Tobacco is also something to be avoided. You can ask your hosts if it's okay to go outside for a cigarette, but generally, women are not known to smoke.
4. Avoid hugging and kissing
Affection between strangers is generally not shown in public and certainly not between sexes.  While western ways can occasionally greet with hugs and kisses, it's best to refrain unless you are on very familiar terms.  If you are a couple,  refrain from public displays of affection and save it for the privacy of your room or you may offend your hosts.
5.  Avoid passing things or eating with your left hand.
In India, the left hand is used to take care of human waste and toilet duties, thus it is seen as the unclean hand.  Meanwhile the right hand is used for eating.
6. Eating with your hands is not a requirement
Eating with hands is common in India. Yes, they own utensils like forks and knives but there's something about feeling connected to your food and its flavor which makes India prefer the alternate.  If you are not comfortable with eating with hands,  request utensils. Indian folks understand westerners may feel uncomfortable adopting those practices. They will not be offended.
7.  Meal times
Indian hosts take hospitality seriously and try their best to make certain their guest has comfort and is well-cared for. As such, you may be expected to return home to take meals. While western ways can focus more on independence, Indian families act like "families" and if you're requested to be back in time for meals, it won't matter what your itinerary of the day is… just try to be back.
Indian food overall is delicious, filled with spices and curried flavors. If you're staying with a Hindu family, you might only be served vegetarian dishes. However, some Hindus do eat meat.
8. Wash hands before and after each meal.
What your momma told you about washing your hands before every meal was right. In India, washing hands after a meal is important too. In some cases, food is preferably eaten with the hands.
9. Western toilet:  Your Indian family may not have one
Depending upon the lifestyle, the age of the house, etc…, some Indians may have or prefer squat toilets over western toilets. It's a hit or miss, really.  If you're not comfortable with using a squat toilet, I recommend buying a feminine urinary device.   Your host will have toilet paper and everything else, otherwise. The house I stayed in surprisingly did not have a western toilet. Luckily, I already know how to use squat toilets!
10. Accept Indian hospitality
Indian hosts perform hospitality with pride, trying their best to treat their guest warmly and comfortably.  They treat their guests like family. Try your best to abide by the house rules and follow Indian etiquette. Accept that your family will come with cultural differences and learn to adapt to Indian standards vs. impress your western ways, freedom and independence upon the household. Try not to  decline your host and if you must do it, do it gracefully.
11. Avoid eating or requesting meat in a Hindu house.
A majority of Indians tend towards Hindu or vegetarian diets, so if you're a meat eater, consider your time with an Indian family as a fast.    Cows are considered sacred in India , due to its usefulness and its similarity to mother. Thus, it is not allowed to kill or injure a cow in certain states of India. Some Hindus do eat beef, but it's best to abstain unless it's offered to you.
12. Indian family are tight knit
Don't be surprised if your Indian family has other family members tucked away in the house. Indian families are tight and can occasionally,  live together in the same house. For instance, traditionally a newlywed couple may live with the male's parents.
At the Kanchandanis  I began noticing their nephew -Sonny- making surprise visits, appearing and reappearing out of nowhere. I came to learn that while Mr Kanchandani owned the house, his brother's family lived upstairs !
13. You might sit cross-legged at your meals
[Due to reader questions/answers after my article posting, I'm adding this one.]   While some Indian families eat at western dining tables, there's still many middle class and rural class Indians who eat sitting cross-legged either on the floor or on a raised platform called a 'patiya'.  This is quite normal.  Attending a temple meal after worship or staying at an ashram, this was something I had already been familiar with. So when I stayed with my Indian family, it had not been my first.  Bringing food to your mouth can feel a little awkward at first, but it's a fun cultural difference to participate in.
Watch my video stay with my India family
What are your tips for staying with an Indian family? Share your comments below.