Last Updated on June 7, 2023 by Christine Kaaloa
I awoke with the most wretched raw throat. Fortunately, I packed a bag of meds and hopeful remedies, we'll see… Today I'm exploring Kathmandu Valley towns.  From Chobhar Village I'll be walking to the next town of Kritipur, exploring the countryside along the way.
A Nepalese token of friendship
My garlands from yesterday's pujas and the girls are a pleasant memory. The garlands consist of two small neck ropes and a red cloth rope and I realize these are girls' own prassad for puja. Yesterday, on the bus home, the Reija and Latika asked if i would be their friend. When I affirmed it, they shook my hand and gave me 2 bobby pins to put in my hair. First, I thought that my own bobby pins had fallen out & they'd picked them up for me. Lookingat them today, I notice it's NOT mine but theirs & this is a token of friendship! It's amazing how 2 bobby pins can feel so precious. I'm still feeling the jittery effects of my bus incident last night, so today- NO bus. And I will make sure to return before nightfall.
Greeting people in "Namaste"
Namaste
I say with a slight head bow and folded prayer hands. It collects warm smiles from villagers.
"Hello- How are you?" is the giggled response from children, who know a little English and are excited and curious to speak to a foreigner.
I Namaste'd every person i met along my way in the village, asking for directions to Kritipur, a neighboring city. While the Chobhar lacks a touch of economic prosperity, the open hearts and warmth on the faces of the young and old will say otherwise. Children are happily playing, mothers are nursing and laughing. ..
I ask directions from an older woman returning home from her morning work at the quarry. She notices my hair in braids, then shows me her own to let me know – "We are alike! " I ask her if I can take her picture and with bursting pride she tucks her work bag under her armpit and raises her cigarette to strike a pose!
Further along, girls are playing "dress up" in back of their houses. Curious of me and me of them I stood nearby, waiting, making my confusion with their costumes clear and comical. "I am… a Leaf!!!", one girl shouts and scampers to hide, as her friends begin to emerge from the bushes. She has sewn leaves together to make a crown and necklace for her play! Chobhar is so untouched from the spoils of excess and technology, that each person seems childlike and prosperity is not gauged by having the latest novelty or gadget but by possessing imagination and resourcefulness.
Kritipur is a city town in the Kathmandu Valley
About a 45 minute walk from Chobhar Village, it is nowhere near as hearty or warm as Chobhar and its people.
Kritipur is larger, busier, less smiles, less warmth and its dusty. Ads and marketing billboard signs are plastered everywhere. New apartment sectors sprout up in the middle of open fields. Kids here have a street edge, with some understanding that a tourist camera might draw rupees. There is something a bit colder in this environment and people are a bit more weighted. If there is a charm, I don't have patience to figure it out….
Dusshain and kite flying
Dusshain celebrations draw kite flying all around town. If you've seen the movie The Kite Runner, you'll know that there's more to kite flying than innocent play, but it's also a friendly competition of trying to cut your neighbor's strings. While I haven't seen this activity in full blossom, I see its occasional trail of kite flyers, abandoned kites whose strings are cut, the popularity of spool and kites being sold at shops. I was at a buddhist temple in Kritipur when a child's kite had gotten cut. The nearby kids squealed and eagerly raced to catch newly fallen kite.
 Nepalese women: Cranial power moves mountains
In Nepalese culture, married women are housewives, but they also handle a shocking amount of manual labor, that you might attribute to being a man's job! It is not surprising to see a sari-clad woman, working at a construction site, piling bricks into a basket strapped to her head or transporting enormous sacks of grains and sticks back to the farms. In the quarry, women workers have little simple stick tents to shield them from the sun as they hammer down boulders. Life has never been easy for a women; here, it's physically demanding!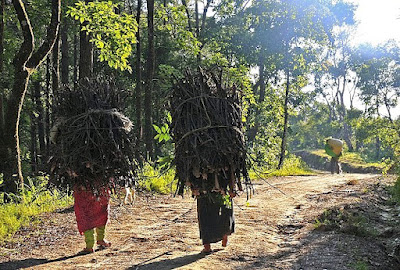 Hollywood, Bollywood … Nepali-wood?
At the base of the hill, I notice crew trucks and bounce boards which lets me know that either filming or a photo shoot is taking place. In the quarry, a Nepalese action film is shooting a fight scene while passing locals hang out to watch. It's a bit humorous to me that I've left my entertainment industry environment only to travel several thousands of miles to a developing country only to find it again. However, Nepal's film industry is still in its seedling stage due to its struggling economy. It's a young industry that began around 1965. Well, this isn't quite Bollywood but perhaps someday…
Nepalese hospitality & Momo Cafes
On the walk back to my room, Shankar, the guesthouse manager, hails me down to kindly invite me to his house for chai. Wednesday is his day off, and I am not one to decline this kind of invitation. It is a treat to spend time with him and his wife. His house is "palace-like" next to his neighbors' and he has servants to maintain his property. His wife prepares chai for us and he gives me a tour of his house.His lifestyle is more affluent than the average Chobhar resident; yet, his living is still simple, minimal and basic.
Chai time with Shankar is nice. He enlightens me to different things about Chobhar Village, Nepali culture and things in general I didn't think to know.
For instance, did you know flour is made from corn? Never gave it much thought but now I know why everywhere I look, almost every home in Chobhar, displays exponential bushels of dried corn husks! What? Villagers make their own "flour"?!
It seems to me so impressive.
Back at my guesthouse, everyone- manager, groundskeeper, cook…ALL quietly wait for me while I eat and it makes me mildly uncomfortable that there aren't more people to spread this attention around. It's hard to believe that this entire house, the cafe food, resort people and the gorgeous view that's greeted each morning is there for me to embrace! I feel privileged, safe, welcome.  Their hospitality feels extravagant for me.
The food here is prepared with care, is quickly "made from scratch" (which is probably why the simplest foods can generate mouth orgasms for me) and makes a non-foodie like me look forward to these thoughtfully cooked  meals after a long day. While the menu is surprisingly extensive and versatile for any hotel standard, I've consistently only eaten the same thing. I have a Nepali momo mouth and secondly, am addicted to their  tomato onion soup. "Dumplings" are common to asian food culture but here, dumplings are called Momo's. In Thamel, Momo Cafes are a popular replacements to Noodle shops that exist in popularity in other countries. Momo cafes and cafes in general here, however, don't invite much of the light, airy feel but that of a dark basement (not sure why that is…)
It's been a long day trekking through the villages and now I must hurry back to my room and prepare for 6PM when night falls and all the power goes out!