Last Updated on November 29, 2019 by Christine Kaaloa
 One of my favorite travel pastimes is eating street food. So one of my goals of things to do in Kathmandu was learning about the best foods of Nepal.
But eating Nepal street food can feel sketchy for western travelers. So called in help from my Nepali food guide, Kanti of the Backstreet Academy, who took me on my second Kathmandu food tour: The Secret Tour.
A Food Tour of Kathmandu… a secret one!
If you're like me, you love learning local secrets, learn about the foods of Nepal and traveling deeper. So I was pretty sold by the idea of a Kathmandu food tour. Throw in hidden gems of Kathmandu and you've got a winner. The Secret Tour definitely was that– a deletable winner!
Backstreet Academy's Secret Tour is a walking tour showcasing some of the best foods of Nepal. You'll find yourself slipping through darkened doorways which opened to residential courtyards and temples. You're taken to popular local haunts and visit streets that are known for housing specialty items.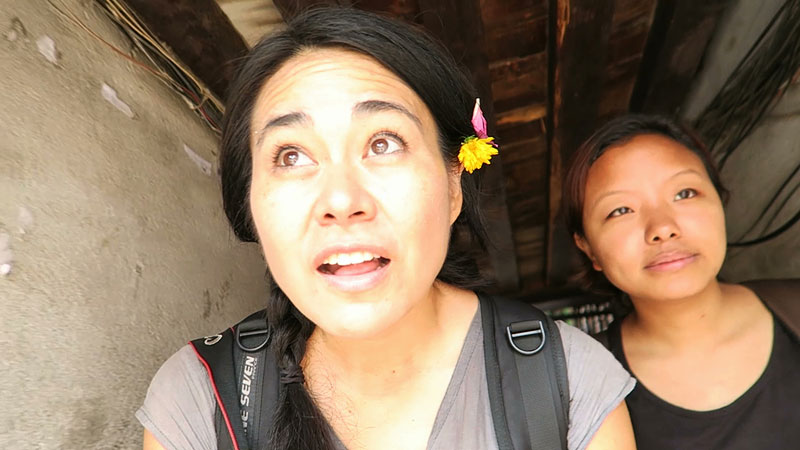 Meat lovers tour vs a vegetarian tour
Backstreet Academy's Secret Tour offers five dishes and two variations of its secret tour. One  tour is a menu and route for meat lovers. Another route and menu was  for vegetarian/vegan lovers. The meat lovers tour is a little more customary for Nepali culture, as Nepal is not a predominantly vegetarian culture. While Nepalese culture is not known for eating beef (as cows are considered sacred) they will indulge in buffalo meat.
Popular meat choices are choila and chewa, a spiced grilled buffalo meat with beaten rice.  Foods like momos occasionally have options called "buff" (aka buffalo meat).
Contrarily, I took the vegetarian tour, where my substitute for the buffalo was potato samosa. It doesn't sound like a comparable tradeoff, but the route and the popular local haunt I visited was very interesting and I was not disappointed. Backstreet Academy gives equal indulgence to both gastronomical worlds.
Memorable foods from my secret Kathmandu food tour:
Bara
After feeding pigeons at a local temple, which is said to improve dharma, we went through a darkened doorway, upstairs to a non-descript Bara shop. It was clear there was no way I'd have found this shop on my own and even had I, I wouldn't have known to trust the food there. But it was a popular local shop for bara and yomari.
Bara shops have gotten popular in Kathmandu. Originally a festival food, bara is a Nepalese pancake, made of lentils. It's often served with either a side dish of curried soy, mushrooms or potatoes.
Yomari
Yomari is a festival food easily recognizable as a unique shape reminiscent of a large seashell or pasta shell. It is made of steamed rice flour with a variety of fillings from bitter molasses, chocolate, khuwa (sweet thickened milk or curd; similar ingredients of the Indian/Nepali sweet 'barfi"), etc…  The dish is served in Newar households during winter as a way to combat the cold; it is said to be a food which keeps you warm.
Malpuwa
Kanti took me to a 100 year old family-owned sweet shop in Thamel where we tried malpuwa. Malpuwa is a popular Nepali sweet. It takes haluwa (a sweetened semolina paste) and wraps it in a thin flour pancake.
Momos
Slipping through another doorway alley, we entered a courtyard to Ranjana Soda, an outdoor food cart selling their specialty of momos. In Nepal you'll find a large variety of momos:  the most common are buff momos, chicken momos and vegetable momos. If you ever see "Buff" on a Nepali menu, that term is abbreviated for buffalo meat. There are parts of Nepal in which it is against the law to slaughter a cow.  Each type of momo was distinguished by their shape– that's a good way of telling them apart.
Lassi
Tucked off to the side in a square not far from Durbar Square, we visited a local lassi shop selling delicious lassis as low as 40Rs a cup. Gauging from the local crowd it was drawing in the mid-day heat, it was a popular lassi shop. Sweet lassi is a favorite in both, Nepal and India. Scooped from a large container, the shop was manned by three men and was popular with locals. There were sprinkles of walnuts and seeds on them and going down, it was super refreshing.

Samosa
We didn't try the Nepali pizza. Instead, Kanti took me to Tip Top Sweets, a popular tucked away joint off New Street where they sold samosas and Nepali sweets. Samosas are a deep fried wrapped dough crust filled with spiced, curried and/or mashed potatoes.   This particular shop is known for its crust, fluffy, light, like a cookie with a secret sweet sour sauce. They also sell kachori, a similar deep fried dough crust filled with lentils.
Dahi Puri Chaat
I've tried the common street pani puri and chaat in Varanasi from a street food hawker. Dahi puri chaat is a different form of pani puri. This dish we tried from a popular local street truck in the New Street area. Dahi means yogurt, puri is a deep fried hollow ball, chaat is a mixture of things of chutney, onions, lime juice, fried noodles. You can get a plate of puris for 70Rs on the streets and it is heaven in one mouthful bite.
Sightseeing Kathmandu
The walking tour of the neighborhoods of Thamel were a welcome balance to the Nepali foods we gorged on.  On our way to the next food vendor, Kanti would point out a popular local temple ritual, a secret local temple,  or a street you'd shop at for wedding celebrations.  She'd tell me the history of the area or its popularity with locals. Each neighborhood introduction paved the way for a type of food.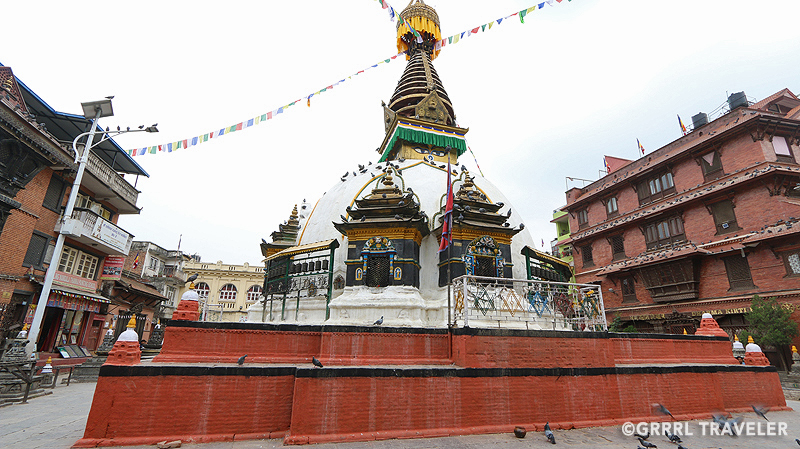 Conclusion
Go on an empty stomach. Although the menu looks small, the tour will feed you a lot. I had an absolutely wonderful time. The biggest secret Backstreet Academy and their food guides shed light on are the popular mainstay foods that are close to Nepali hearts, traditions and palates.
To book your foodie or cultural tour, visit Backstreet Academy and tell them I sent you!
---
Watch my food tour of Kathmandu :
(Part 1: Secret Nepali Food Tour: Going deep into Kathmandu)
( Part 2: Mouthgasmic Nepali Snacks to Gorge on)
---
Enjoy this Food tour? Pin this to your Pinterest Board
---
Disclaimer: I researched this tour and requested sponsorship so I could share it. I  received a tour in exchange. I always keep it real- all opinions are always my own. Personally, I highly recommend Backstreet Academy for the value it provides to all travelers looking to experience an authentic Nepal. I thoroughly enjoy both tours. Keep an eye out for the second tour I took with them!