Last Updated on November 25, 2018 by Christine Kaaloa
Note: Affiliate links are in this post. Any purchase made through these links helps with the support and maintenence of GRRRLTRAVELER at no extra cost to you. All of these are linked to my favorite shopping site where I buy most of my gear.  I truly think these are great ideas and  I own many of them.
In lieu of the holidays, I wanted to do a holiday gift guide for travelers. As there are lots of travelers out there and we all travel for different reasons I thought I'd do something a little different and share an ultimate gift guide for travelers.
I've covered the range of travel types and styles. These travel  ideas to help you gift your favorite wanderluster (and even yourself)!
The Ultimate Gift Guide for Travelers
The items included range from budget to luxury depending upon taste. Some of these items I've bought or been given in the past. Others, are on my wish list.  I'll let you be the judge…
Gift Ideas for Business Travelers
The business traveler wants to travel light, organized and wrinkle free. They prize their travel reward points from continual hotel stays, white linen sheets, and a hotel gym to unwind.  Business travelers also love efficiency and a professional appearance.
Read my Guide to Staying at Hotels
1.   Anker PowerCore 10000 mAh External Battery
(one of the Smallest and Lightest Batteries) $23.99 
2.  Silk Pillowcase for Travel
(Good for Skin and Hair) $14.99
3. Go Travel Carry Clip
$11.98
4. Lewis and Clark Wrinkle Whiz
  $5.99
5.  Hydroflask
 $29.95
6. Eagle Creek Pack it Specter Garment Holder
   $26.99
7.  Manduka Superlite Travel Yoga Mat
 $35.99
8.  Fire Tablet
, 7″ Display 8GB, Wi-Fi   $33.99
---
Gift Ideas for D.I.Y. Travelers
These do-it-yourself, no-fuss travelers have it all down. They stay at hostels and guesthouses, know they can buy anything they need on the road. Forgot your swimsuit, no problem, just go down to the market and haggle for one. They're on a budget and can afford the occasionally splurge.  What can you get them? …What haven't they thought of?
1. Eagle Creek Pack-It Specter On Board Toiletry
  $44.95
2.  Vichline Aluminum RFID Blocking Wallet Identity Protection Credit Card Holder
$7.99
3. Havianas Slim Flip Flops $17.95
  4.  DevaCurl No-Poo Quick Cleanser
, 1.5 oz (2 Pack)  $15 (see video review)
5. Travelon Packable Backpack
(self folding) $18.99
6. Travelon Set Of 3 Mesh Pouch
 $10.70
7. Eagle Creek Pack-It Cube Set
– 3pc Set  $22.36   *See my  travel gear
8.  Make The Most Of Your Time on Earth 3 |  Kindle $9.99  Paperback #13.71
9. Amazon.com eGift Cards  (Any amount)
.
---
Gift Ideas for Travel Influencers
Your friend is the next Instagram, YouTube or Instagram star. They need good photos, are always 'connected' and in-the-know of the hottest places for great food and great escapes. They travel fashionably (hey, gotta get great lifestyle shots for Instagram) and need to appear breezy,  light and travel saavy.
See my Travel Camera Equipment List or get my free equipment list guide for more recommendations
1.   Anker PowerCore 10000 mAh External Battery
(*one of the Smallest and Lightest Batteries) $23.99
2.  Digipower Extreme Selfie Monopod
( for pocket cameras, GoPro, mobile phone)
*See my travel gear
3.   Sholdit tread scarf purse
   $25.75
4.  Moleskine Classic Notebook
  (3.5 x 5.5) $9.79   *See my travel gear
5. DJI OSMO Mobile Stabilizer Gimbal
$291
6.  Canon G7X
Mirrorless Point and Shoot Camera  $429  (See travel gear)
7.  Fisheye Lens & Macro Lens & 0.4X Super Wide Angle Lens
  $11.99
8. Havianas Freedom sandal
 $19.95 (See my Summer Travel Essentials )
9.  Apple iPhone 10 Factory Unlocked Phone 32 GB  $727  (Best bought at Apple Store)
.
---
Gift Ideas for Adventurous Travelers
The outdoorsy folks love a sporty adventure. These folks are always booked for either a diving liveaboard, hill tribe trekking, jungle safaris, river rafting, camping, caving or something that makes them sweat. They want to be physically challenged even if just a little. They enjoy a little ruggedness, love being in nature and prefer a starry night to a four-star hotel.
1.  Lifestraw
 $13.99
2.  GoPro Hero 7 Black
 $399
3. Sea to Summit Lightweight Dry Bag
, Water-Resistant $14.95
4.  Hydroflask
 $29.95
5.  Joby Gorillapod 1K (up to mirrorless cameras)
  $25
6.  Trekker NO1 Outdoor 2 Person Hammocks
  $25.99
7.  Xtreme Solar Bank
, Waterproof External Battery $49.99
8.  Petzl Tikkina Headlamp
$19.95
.
---
.
Gift Ideas for Male Explorers
This gift guide for travelers wouldn't be complete without our male explorer. He's got grit, but also an urban, tech saavy flair. He's an exceptional lad who travels simply, but prizes comfort, knowledge and novelty gadgets.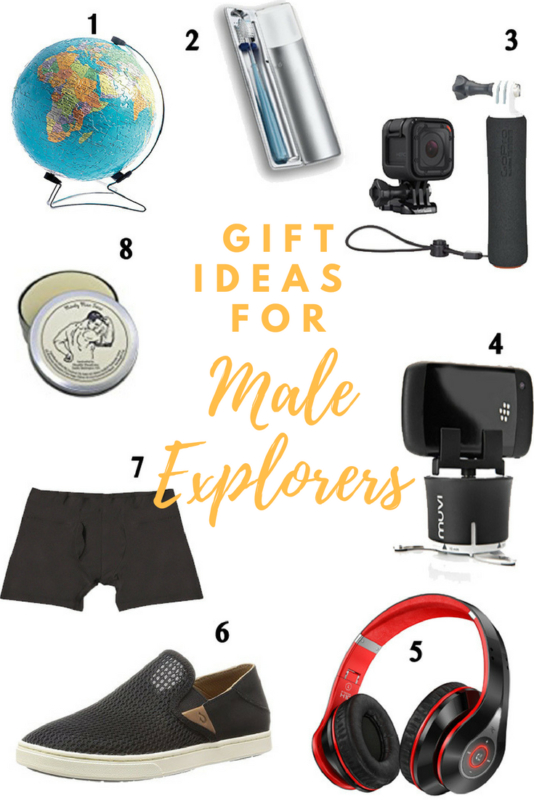 1.  Ravensburger 3D The Earth Puzzleball
– 540 Piece  $32.47
2.  Violife VIO200B Travel Ultraviolet Toothbrush Sanitizer
$21.99
3.  GoPro Hero 8 Session  $110
4.  Veho X-Lapse 360-Degree Photo and Timelapse Accessory
for iPhone/Action Cameras  $17.86
5.  Sentey B-Trek H10 Bluetooth Headphones
with Mic $35.99
6.  OluKai Nohea Mesh Shoe – Men's Mustang
  $85
7.  Clever Travel Companion Men's Underwear
with Secret Pocket  $29.90
8.  Manly Man Soap
 -100% Natural $9.50
.
---
The Ultimate Gift Guide for Vacation Travelers
Relaxing on the beach or pool in Hawaii, Goa or the Bahamas is this traveler's ideal vacation. She/He worships the sun and basks in the laze. Traveling light isn't as important to them as traveling flirtatiously and fashionable.
.
1. Kindle E-reader
– White, 6″ Glare-Free Touchscreen Display, Wi-Fi  $79.99
2. Kooringal Marcoola Floppy sun hat
 $34.95
3. COOLA Organic Suncare, 4 Piece Travel Set
,  $39.99
4. La Blanca Island Tunic Cover up
$97.19
5. Bumble & Bumble Surf Spray, 4oz
  $27.45
6. Seafolly Women's Carried Away Indian Summer Tote
   $50
7. Pali Hawaii Classic Jandals Sandals
   $10.99
8. Travelon Waterproof Smart Phone Pouch
$8.44
9. Pareo Scarf Swimsuit Cover-up
$8.99
.
---
.
 Gift Ideas for Travel Photographers
Whether they're hobbyists or professional, the travel photographer is all about their camera and camera gear.  Urban or outdoors, they're always armed to capture that perfect shot~ a sunset, the architecture of a church, epic landscape or maybe they want to film the local culture. They are always on the move but when they rest, it's charging batteries, unloading footage onto their laptop and repacking to hit the streets again.
1. Think Tank Shape Shifter
$199.75
2. Patu Roll Up Folding Travel Organizer
(for Cables, batteries, etc).. $10.99
3. Seagate Backup Plus Slim 2TB Portable External Hard Drive $69.99   *See my travel gear
4. Pelican Memory Card Case
for 12 SD cards + 6 Mini + 6 Micro Cards  $26
5.  Manfrotto Be Free Travel Tripod
 $199.99
6. Canon DSLR 70D camera
with 18-55 lens  $999   *See my travel gear
 7. DJI MAVIC Pro
$1247
8. Airbnb $50 Gift Card
---
.
Stocking Stuffer Ideas under $25
Looking for a stocking stuffer for gift baskets or just some inexpensive travel inspiration? Look no further.
.
1.  World Map Digital Art Mousepad
  $4.49
2.  Moleskine Classic Notebook
  (3.5 x 5.5) $9.79
3.  Pocket Magnifying Mirror
w/ suction back  $4.75
4.  Dr. Bronner's Peppermint Liquid Soap,
16 oz  $5.77  (CVS Pharmacy)
5.  Rest Easy
– Environmentally Friendly Bed Bug Spray  $7.49
6.  Burt's Bees Fabulous Mini's Travel Set
, 6 Travel Size Products $9.95
7.  Eratio World Map Neoprene Laptop Sleeve
13 Inch $19
8.  Powercube USB Surge Protector
w/ 4 adapters  $17.41
9.  Travel Inspira Universal Adapter w/ 4 USB ports
  $19.45
What would you add to my gift guide for travelers? 
Watch my video review of some of these products:
Note: This post has affiliate links. Each purchase made from them greatly helps GRRRRLTRAVELER in being a self-sustaining blog. It is at no additional cost to you and Amazon is a brand I wholly recommend.